By Trip Styler, on April 21, 2016
10 breathtaking photos of Zion National Park
When I first drove in to Zion National Park via Las Vegas (the gateway city where I landed), I was flabbergasted by the scale of the sandstone monoliths rising from the crust of the Colorado Plateau. Being in the presence of such pure and untouched beauty almost made me fall to my knees. (Let's just say I understand why people refer to nature as a cathedral.)
It was just past sundown during "golden hour" when photos come alive, so along with my husband, we started pulling over every few miles to capture a different perspective and precipice.
I quickly learned that the wide-angle lens I almost purchased for the trip would have been a good accessory to bring. The park's 149,000-acre landscape is so colossal, I resorted to my iPhone camera's panorama feature in an attempt to capture a portion of what I was beholding.
The next morning I was keen to explore the canyon from an alternate point of view: Looking down. Sure, feeling like an ant—think: Honey I Shrunk the Kids—is fun, but as the sun broke over the southern entrance illuminating Zion Canyon like Shangri-La, the peaks were practically begging me to explore. Here's what I found inside Zion, meaning "place of refuge."
En route to Zion National Park from Las Vegas we saw this vista by the roadside prompting us to stop and be still.
The view from the asphalt inside Zion National Park.
Just pass the South Rim entrance, pull into the Zion Human History Museum, and head to its "backyard." Here, I dare you not to take a photo of West Temple, one of the highest objectives in the park, and if you're feeling "up" to it, there's a technical 6.6-mile trek requiring a harness, rope, and about a gallon of water to name a few basics!
If you go to Zion National Park, almost anyone who is familiar with one of Utah's many odes to nature will ask, "Did you hike Angels Landing?" This hike, which begins along a flat and dirt path adjacent to the Colorado River, quickly rises into switchback territory ascending sharply to Scout's Lookout (where the above photo is taken). From here, with the help of metal chains bolted into the cliff, intrepid hikers take very careful steps along two ridges that lead to Angels Landing, where on a clear day it feels like you've reached hiking heaven with views that vie for the world's most scenic outlook.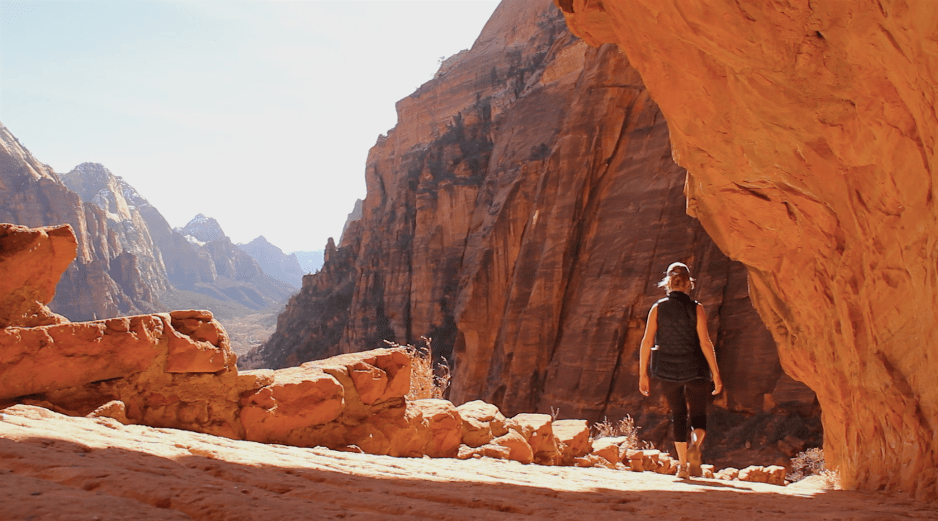 Carefully walking down from Scout's Lookout on the extraordinary trail carved into the cliff face.
One of my favorite hikes in Zion Canyon is the Canyon Overlook Trail. At once technical and unusual as your navigate the slot canyon and tread over a platform suspended cliffside, the 45-minute hike culminates at the lookout. Here, one of the most unbelievable vistas in the park awaits with views gazing over lower Pine Creek, the Streaked Wall, the Beehives, Altar of Sacrifice, and Mt. Spry. My only regret was not bringing a baguette, cheese, and grapes with me in my daypack—I could have stayed at the top all day!
Each day, a few hours from sundown, the sun's position creates a fascinating interplay between light and dark as it casts contrast onto the steep walls of the canyon. This photo was taken as we were descending from the Emerald Pools hike, a journey "splashed" in water features such as waterfalls, quiet pools, and trail-side streams.
At night, a literal kaleidoscope of color blankets the park's rust- and sand-hued horizon, providing the perfect backdrop to relax outdoors with a mug of hot chocolate (in winter), or a glass of rosé (in summer).
Because we flew in and out of Las Vegas, the closest major gateway to the park, we spent a night at the end of our Zion adventure taking a gander at a different set of wonders—this time man-made. As you might have gleaned, I'm a huge fan of taking in a destination from root to roof, so we booked a 15-minute helicopter tour of the Glitter Gulch by night. And, because it's Vegas, the flight started with a flute of bubbly. Cheers.