By Chloe Mulliner, on November 27, 2017
20 best places for snowbirds this winter
Everyone loves fall: The air turns crisp enough for you to finally open the windows, pumpkin-everything becomes a main staple on the menu, and you find yourself actually excited about slipping into your favorite sweater. Fall is great, that is, until it turns to winter, and suddenly everyone is willing warmer temperatures and sunnier skies.
This winter, instead of willing the season away, do as the snowbirds do. What is a snowbird, you ask? Someone who migrates to a warmer destination to avoid the wrath of winter. If you dread scraping the ice off your car windshield, fall on black ice left and right, and swear you must be cold-blooded, you just may be a snowbird at heart.
Earn your snowbird wings by traveling to one of these destinations this winter. Here you'll find comfort (and warmth!) in our list of the best snowbird destinations, where snow plows and ear muffs have no place. Through our research, we identified cities across the nation that have not only pleasing, spring-like temperatures, but also their own unique allure. Each of these hot spots have outdoor attractions and activities that will have you thinking spring has already sprung. Quit wishing winter away; ditch your wool socks, grab your sunglasses, and get ready to see a whole different side of winter in these destinations.
Average high in January*: 58 F
Aiken is one of the most northern destinations on this list, but that just means you won't have to travel as far to defrost from those frigid winter temperatures. As far back as the 1800s, Aiken has been known as the Winter Colony, offering a warm escape for cold-stricken northerners, who in turn, brought their horses down to enjoy the pleasant weather, too. Today, Aiken is still an equestrian-centric destination, where almost any day is a good day for a trot on the 65+ miles of trails.
Snowbirds love to: Gallop through the Hitchcock Woods with Rebel Ranch Horse Tours, followed by a pint of Ole' Aiken Ale on the outdoor patio of Aiken Brewing Company.
Average high in January: 60 F
Hugging the coastline, charming Georgetown is South Carolina's third-oldest city, so you better believe there's a lot more to appreciate than just the sunshine and toasty temps. In the height of winter, you can easily spend all day exploring the attractions in Downtown Historic Georgetown, while wearing only a light jacket—no need for mittens and parkas in this neck of the woods!
Snowbirds love to: Go winter fishing for sea trout and black drum on Winyah Bay. After a day on the water, nothing beats an Italian feast outside at Alfresco Bistro and a stroll along the Harborwalk.
Average high in January: 63 F
If you're looking to chase the sun this winter, venture to Georgia, and then go as far south as you possibly can. Once you've hit the southernmost tip of the state, you have arrived in beautiful St. Marys. This seaside village is the epitome of a winter retreat, where you can fool yourself into thinking it's still summer as you chow down on crab legs at Lang's Marina Restaurant with a view of the shrimp boats cruising in the grassland marsh.
Snowbirds love to: Take the Cumberland Island Ferry from downtown St. Marys to Cumberland Island National Seashore, which is reopening after hurricane damage. Here there are more than 50 miles of hiking trails through maritime forests, and the 1898 Plum Orchard is a fascinating stop along the way.
Average high in January: 79 F
In search of your own eternal summer? You'll find it in Hilo, where the winters are so warm that a dip in the Pacific actually sounds refreshing even in January. We know we don't need to twist your arm into visiting a paradise such as this, but winter is especially magical, as you can snorkel at lava-surrounded Four Mile Beach, while your friends are shoveling their driveways back at home.
Snowbirds love to: Pick up locally grown strawberry papayas at the year-round Downtown Hilo Farmers Market, and search for the rainbows that appear in the morning at Wailuku River State Park.
Average high in January: 78 F
We know what you'll say, Lihue is an incredible vacation spot anytime of the year, but isn't it even better when you're basking on the shores of Kalapaki Beach during a blizzard back east? The balmy winter temperatures are sure to impress, but so are the colorful orchards at Kilohana Estate, the cascading Wailua Falls, and the spectacular sunsets.
Snowbirds love to: Order rum in a pineapple (La Pina) at the Duke's Barefoot Bar with a ridiculously good view of Nawiliwili Bay, and attend traditional imu ceremonies at Luau Kalamaku—the hula dancers are memorizing!
Average high in January: 70 F
A lot of cities seem to shut down during the chilly months, but not Yuma. With the sun still shinning and the mercury resting in a comfortable range, this southwest city keeps its calendar full. Every January, the Yuma Medjool Date Festival puts on a show, celebrating the sweet fruit grown in the desert area. The wintertime is also ideal for hosting the Yuma Territorial Marathon and Half Marathon—you just might find yourself trading your mittens for some sweatbands.
Snowbirds love to: Rent wheels from Mr.B's Bicycles and cruise along the Yuma River, passing the West Wetlands Park along the way.
Average temperature in January: 68 F
There really is no reason to subject yourself to subzero temperatures when there are places like Peoria on the map. With the sun shining and warming your skin, it's here where you can get your peanuts and Cracker Jacks out as early as February as the Mariners take the mound and kick off Spring Training at Peoria Sports Complex. Nothing says spring is on its way quite like cheering on a home run during the preseason.
Snowbirds love to: Enjoy happy hour on the patio of Slicks Garage, and rent a sail boat from Go Sail Arizona for a spin on nearby Lake Pleasant.
Average high in January: 71 F
Sunshine and palm trees await in this desert haven. No matter the season, it's always the right time to order a cocktail and lounge on a chaise poolside in Palm Springs. However, the winter months are arguably the best time to visit as the desert heat eases up, leaving ideal temperatures perfect for all the best things to do in Palm Springs, like a stroll through the Palm Springs VillageFest and a hike on Andreas Canyon Trail.
Snowbirds love to: Stake a spot at the trendy Ace Hotel & Swim Club when a DJ's on deck, and venture to nearby Desert Hot Springs for a pampering spa day—relaxation just hit new levels.
Average high in January: 66 F
Feel the warmth under the California sun in Riverside, where you'll find yourself not only sticking around for winter, but lingering around for spring and summer, too. Lose track of the seasons in this SoCal spot, where you can romp around the UCR Botanic Gardens any day, and get your literary geek on at the Riverside Dickens Festival in February.
Snowbirds love to: Sample fruit straight from the source during a tour of California Citrus State Historic Park (the winter harvest yields the freshest and juiciest crops!), and visit nearby House of Mouse when the crowds are thinner and lines are shorter.
Average high in January: 66 F
This winter, wouldn't it be nice to draw open the curtains and see sand and waves instead of ice and sleet? The seasons make no difference in Hermosa Beach, where the seaside is always welcoming. In fact, the cooler months bring bigger waves, so a wetsuit and surfboard are always in order. And because the weather is practically perfect, the oceanfront farmers market at Hermosa Beach Pier Plaza sets up shop every Wednesday all year-round—fresh produce for everyone!
Snowbirds love to: Start the day off right with breakfast at Good Stuff and a front-row view of the Pacific, followed by renting bikes at Hermosa Cyclery and wheeling around the waterfront.
Average high in January: 65 F
If your idea of a winter wonderland includes shorts weather and desert backdrops, then flap your snowbird wings and land in Laughlin. Sitting along the Colorado River, this Nevada hot spot has game rooms galore for those who get a thrill on the craps table, and endless nature for those who like to cast for striped bass and rainbow trout. No matter if you're eyeing the buffet spreads or boating on nearby Lake Mohave, one thing is certain: Laughlin's weather sure beats the frigid temperatures back home.
Snowbirds love to: Hike around the petroglyphs at Grapevine Canyon, and then chow down at one of the seven eateries at Tropicana Laughlin.
Average high in January: 55 F
When it comes to finding the best snowbird destinations, look no further than the small desert city of Alamogordo. Quiet, inviting, and most importantly, warm, this southwestern retreat is the ultimate place to ride out the winter months. Aside from its comfortable temps and dreamy desert skylines, you'll soon find yourself cracking open pistachios at any chance you get—this is home to the World's Largest Pistachio after all. Admire the famous 30-foot nut at PistachioLand and take a tour of the orchards to appreciate the local crop.
Snowbirds love to: Pair a glass of local vino with some pistachio ice cream on the patio of The Heart of the Desert, and then tee up at Desert Lakes Golf Course with the Sacramento Mountain range in the distance.
Average high in January: 69 F
Snowbirds are so prominent in this region that there's a name for them: Winter Texans. Discover why they flock to the very southern tip of Texas with a visit to Harlingen, a southern city in the Rio Grande Valley. Just like people, birds migrate to this warm spot. Even in the height of winter, the mild weather affords you the opportunity to explore the Arroyo Colorado, where you can search for Great Kiskadee and 500 other species of birds that have been spotted in the area.
Snowbirds love to: Marvel at the masterpieces painted on the walls of downtown businesses, which are a part of the city's beautifying Mural Project. The monthly Jackson St. Market Days are also a favorite, where vendors sell their vintage treasures and fresh produce.
Average high in January: 62 F
Wintertime doesn't get much sweeter than a visit to Sugar Land. Just southwest of Houston, this Texas city will fool you into thinking it's already springtime as you spend your days hiking around Brazos River Park and attending events at Sugar Land Town Square. From Movies Under the Moon to live musical performances, the activities on the square alone are enough to keep your calendar packed through the winter months.
Snowbirds love to: Stop in at Flying Saucer Draught Emporium to sample new arrivals on tap (or go with their tried-and-true Texas favorites), and visit one of the state's largest pecan trees at Duhacsek Park.
Average high in January: 61 F
Escape to Orange Beach this winter and you'll make all your friends and family green with envy—that is, unless you have a guestroom to spare. It might be too chilly to take a swim in the ocean during January, but just seeing the white sand and lapping waves will remind you summer will be here soon enough. But don't rush the seasons, winter in Orange Beach is prime oyster time, which is your cue to roll up your sleeves and start shucking!
Snowbirds love to: Slurp down some fresh oysters at Doc's Seafood Shack, and attend the annual Snowbird Fest in January. This year's event will include tributes to Johnny Cash and Lucille Ball.
Average high in January: 61 F
This winter, vow to leave black ice behind for the sun-soaked shores of Gulfport. This coastal escape lures snowbirds in with the promise of sandy shores along Gulfport Beach, and the excitement of the annual Lizana Mardi Gras Parade each January. You'll soon realize sampling fresh seafood is practically a hobby down here, so be sure to scarf down some local Mississippi Gulf oysters, which peak between September and April.
Snowbirds love to: Place an order for a basket of oysters at Shaggy's Harbor Bar & Grill (the view of the Gulf is breathtaking from the patio). They also get a kick out of cheering on the races down at the Gulfport Dragway.
Average high in January: 63 F
Make your way down south to this barrier island in the Gulf of Mexico, and you'll be spoiled by summertime vibes in the height of winter. You—and the flocks of other snowbirds in Florida—won't be tempted to spend any time indoors thanks to the pleasant weather and local nature attractions. Take an offshore fishing charter with Reel Screamers (red snapper and grouper, anyone?), or search for the yellow palm warbler birds that make their home at Grand Isle State Park in the wintertime.
Snowbirds love to: Grab a picnic table outside of Starfish Restaurant and order some po'boys, krawfish kickers, and seafood jumbo for an authentic taste of Louisiana. They also enjoy taking a boat out to Fort Livingston to roam the coastal fort's remains.
Average high in January: 63 F
You could spend all winter holed up waiting for the snow to melt, or you could spend it on the sunny coastline of Fernandina Beach—we know what we'd choose! This delightful beach town where the sand meets the sea is located on Amelia Island; pass the winter months away exploring Fort Clinch State Park and cruising Lofton Creek with Amelia Island Kayak Excursions.
Snowbirds love to: Slip into Palace Saloon—Florida's oldest bar—for a Pirate's Punch made with the bar's secret recipe. Then come January, no one can resist eating their way through Amelia Island Restaurant Week.
Average high in January: 68 F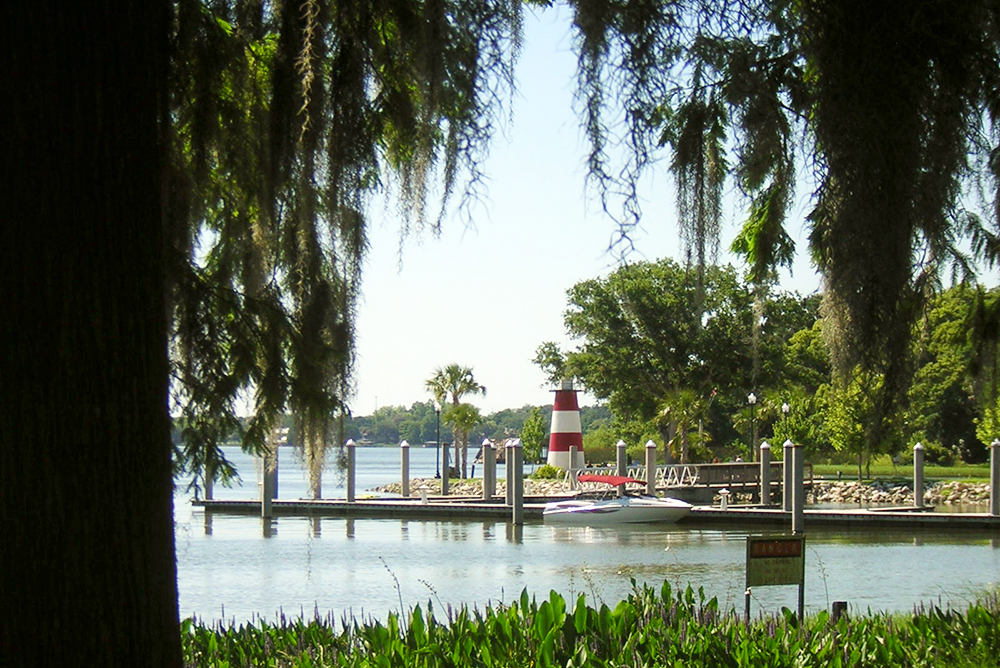 It's easy to pretend it's still summertime with a visit to Mount Dora in the winter months, where it's not unheard of to spend a January day out on Lake Dora casting a line. What else is one to do in the Bass Capital of the World? Besides baiting fish, you'll come across events and festivals almost every day throughout the winter, from the Annual Arts Festival in February to the Annual Mount Dora Music Festival. It's no wonder this is one of the best snowbird locations!
Snowbirds love to: Take a Cat Boat Tour on Lake Dora, and join a Taste of Our Town Tour to nosh on local grub while strolling around town.
Average high in January: 71 F
Just an hour from the Gulf Coast Beaches, Ocala is a lovely winter haven. Go on, feel the warm winter breeze fly through your hair as you gallop along the trails—this is the Horse Capital of the World, don't you know? Cactus Jack's Trail Rides are a favorite pastime, but if you'd rather stay on your own two feet, you can still admire the majestic animals at any number of the HITS Ocala Winter Circuit horse shows.
Snowbirds love to: See the Stallions of Gypsy Gold at the American Foundation of the Gypsy Vanner, and spot wildlife at nearby Silver Springs State Park.
In your opinion, what are the best places for snowbirds?