By Chloe Mulliner, on July 24, 2017
29 epic places to witness the 2017 solar eclipse
[ssba-buttons]
---
Expedia is traveling to the line of totality to capture the eclipse! Tune into our social channels to follow along.
Twitter – Instagram – Facebook
This August 21, 2017, something amazing will happen. A total solar eclipse will sweep over the nation from Oregon to South Carolina. For a few short minutes, the regions along the eclipse path will witness totality; a phenomenal experience in which the moon's shadow temporarily blocks out the sun, making it appear like twilight in the middle of the day—planets, stars, and all.
Traveling diagonally from the West to East Coast, the celestial wonder, known as the Great American Eclipse, will transcend 12 states, with visibility on the outskirts of Montana and Iowa as well. Areas that fall outside of the totality zone will get a show, too, as they experience a partial eclipse, where only portions of the sun will go black.
What's the big deal?
While total solar eclipses are not entirely rare, it has been 38 years since one has been visible on the nation's mainland and 99 years since a transcontinental one took place in the U.S. If you don't catch the solar goodness this year, another one won't pass through the U.S. until 2024, but why wait when you don't have to?
According to Space.com, 200 million people live within a day's drive of the zone of totality, but even if it'll take longer than that for you to get to the region, the trek to admire the August 2017 solar eclipse will be so worth it.
[one_third]
Safety Tip
Looking directly at the sun can damage your eyes, so NASA suggests using special eclipse glasses, solar viewers, or pinhole projectors. Many of the destinations within the path of totality are providing glasses with solar filters for your safety.
[/one_third]
When it comes seeing this spectacle, close just isn't close enough. You need to be well within the eclipse 2017 path to see the full shebang. To help guide your solar chasing mission, we've pinpointed 29 of the solar eclipse 2017 best locations, where you can look up and see the ring of fire. Not only will these towns and cities provide a front-row seat to the minutes-long blackout, but they are also hosting "solar-brations" to acknowledge the epic event. These destinations also have plenty of attractions, from eateries to nature trails, to keep you amused once the few minutes of glory have passed.
Something else to factor is the sheer number of people who are excited about this event. If you're traveling to one of the following cities for the 2017 total solar eclipse, keep in mind there may be heavy traffic and road closures in certain areas, so plan ahead by packing food and water in the car. Also, be mindful of restroom and gasoline stops along the way to prepare for any unforeseen delays.
Oregon
Lincoln City
Time of totality*: 10:16 a.m.
Length of totality*: 1 minute 55 seconds
Why it's a hot spot: Let the countdown begin! Of all the cities, Lincoln City is ultra-special because it's getting the very first glimpse of the eclipse. Calling it First Landfall, the city is ready for the on-set of solar seekers in areas such as the scenic Roads End State Recreation Site, right along the shore. Arrive early and stake out a swatch of sand anywhere along the seven miles of coastline, like Siletz Bay, and you'll see the shadow appear as it travels east over the Pacific Ocean. After observing the awesomeness of totality, fuel up at Mojo Coffee with some local Stumptown coffee or an old-fashioned Tillamook milkshake before hitting the road again.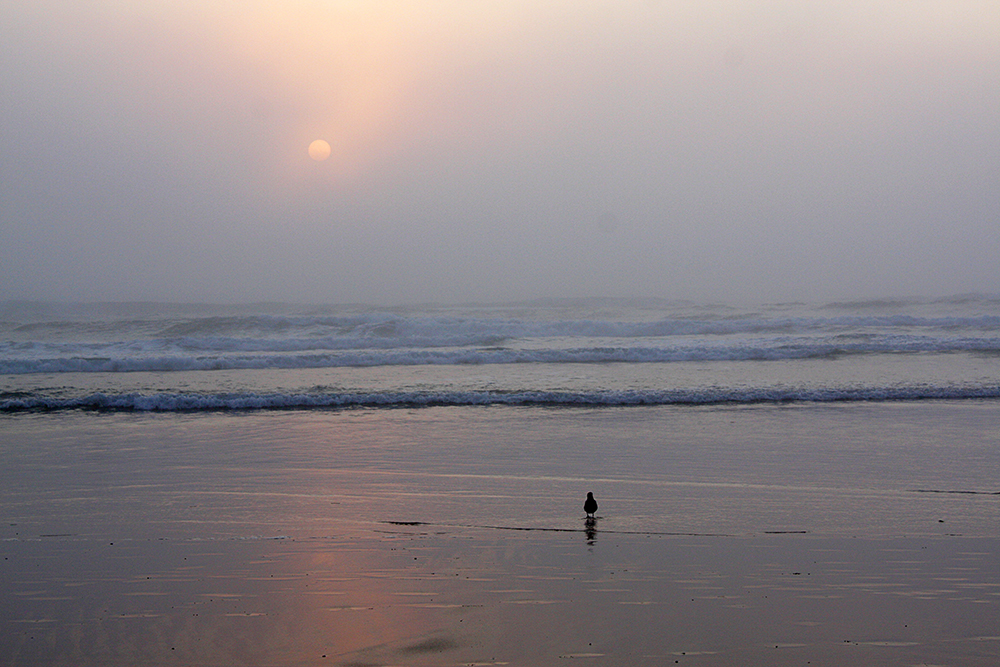 Silverton
Time of totality: 10:17 a.m.
Length of totality: 1 minute 46 seconds
Why it's a hot spot: To honor this ridiculously unusual occurrence, Silverton is hosting a legendary 4-day Eclipse Viewing Festival at the Oregon Garden, where you can set up camp under the stars on the 80-acre grounds. The eclipse is just an added bonus to the music, activities, food, and libations that they're serving up all weekend in Oregon's Garden City. On the day of the big production, Silverton High School will be hosting NASA-coordinated experiments to go along with the science theme. Wondering what to do once the sky goes back to normal? Make a pit stop at Silver Falls State Park, where you can hike to 10 different waterfalls—hello, natural beauty!
Prairie City
Time of totality: 10:22 a.m.
Length of totality: 2 minutes 6 seconds
Why it's a hot spot: Known as the Gateway to the Strawberry Wilderness, Prairie City has its fair share of wide open spaces, perfect for camping out to see the splendid sun-sation. Several areas, such as the McDaniel Ranch and Prairie City School District are welcoming overnight RV and tent campers from near and far. Join Roadtreking's Total Solar Eclipse gathering at the Emmel Ranch for a 4-day event and get some face time with a local astronomer before witnessing the rarity for yourself. But before getting the heck out of dodge, stay a while: explore some history at the DeWitt Museum or stop in for a bite to eat at OxboW Restaurant & Saloon.
Idaho
Stanley
Time of totality: 11:28 a.m.
Length of totality: 2 minutes 13 seconds
Why it's a hot spot: The Gateway to the Sawtooth Wilderness is starting the solar festivities early with astronomy lectures at the Stanley Museum on August 18, and a Star Party with The Boise Astronomical Society at Sawtooth Valley Pioneer Park over the weekend. On the day of the total eclipse, take the road less traveled and observe the sky while floating down the Middle Fork of the Salmon River. Adventure Sun Valley is hosting a Solar Eclipse Launch rafting trip, giving you perhaps the most unique seats in the house!

Rexburg
Time of totality: 11:33 a.m.
Length of totality: 2 minutes 17 seconds
Why it's a hot spot: Rexburg's high altitude in the Upper Snake River Valley makes it an especially sweet spot to see the eclipse. Many of the local parks are open for public viewing, while Riverside Park is setting up Vendor Village for a 4-day affair. The local college campus at BYU Idaho is also hosting a number of solar-themed events throughout the weekend, including eclipse lectures and star observing parties. Before making the journey home, trek the Cress Creek Nature Trail and explore the nearby St. Anthony Sand Dunes to see more of nature's handiwork at play.
Wyoming
Riverton
Time of totality: 11:39 a.m.
Length of totality: 2 minutes 13 seconds
Why it's a hot spot: Often called Rendezvous City, Riverton is no stranger to community gatherings, and the eclipse is just another excuse for locals to come together and celebrate. Wyoming's Wind River Indian Reservation is hosting a multiday Arapaho Eclipse Celebration with star viewing parties and eclipse presentations, while the Original 1838 Rendezvous Site, another historically significant location, is featuring a Solar Eclipse Camping event, complete with a "Western Rag" duo and square dancing lessons.
Casper
Time of totality: 11:42 a.m.
Length of totality: 2 minutes 26 seconds
Why it's a hot spot: Casper may be a small place, but they're going big. All around this western town, you'll find solar-centric events, from the day-long Solabration at Bart Rea Learning Circle to the Eclipse Festival at the Central Wyoming Fairgrounds. Even the days leading up to the big moment will be filled with lectures and presentations at ASTROCON 2017. But while you're focused on the sky, don't overlook the lush scenery at the base of Casper Mountain—reserve a viewing spot at the National Historic Trails Center or venture out to Garden Creek Falls to really soak it up.
Nebraska
Stapleton
Time of totality: 12:53 p.m.
Length of totality: 2 minutes 33 seconds
Why it's a hot spot: Nebraska boasts the longest stretch of totality than any other state, so step right up to Stapleton, where you'll witness the umbral shadow in the beauty of the Nebraska Sandhills. The Logan County Fairgrounds and Augusta Winds Golf Course are playing host to the big event, but the town is showing off its Western manners all weekend long with rodeos, wild horse races, and chicken scrambles. After the shadow makes its appearance, stick around for the After Eclipse Bash & Beer Garden on Main Street for some live music and grub.
Kearney
Time of totality: 12:57 p.m.
Length of totality: 1 minute 54 seconds
Why it's a hot spot: Kearney is stretching out the sol festivities over the course of five days, beginning with a space-themed presentation by NASA Astronaut Mike Fincke and NASA Engineer Renita Fincke on August 17. Astronomers and musicians will present and perform through the weekend leading up to the big bang, with watch parties across the city, from Cope Stadium and Cottonmill Oldfather Prairie Trail to Yanney Park and the Archway. Want to avoid the flurry of people leaving after the eclipse? Wait for the crowds to disperse by lingering at The Flippin' Sweet, a small pizza joint that's got everyone talkin'.
Beatrice
Time of totality: 1:02 p.m.
Length of totality: 2 minutes 35 seconds
Why it's a hot spot: For something as special as this, you'll want to hang with the experts, and by experts, we mean Bill Nye the Science Guy. Make your way to the Homestead National Monument, which has been designated as a NASA Broadcast Site, where Billy Nye will make an appearance as NASA scientists livestream the occasion. Relating the "homestead frontiers of the past" to the "homestead frontiers of the future," the monument will feature scientific and heritage activities all weekend. The Gage County Fairgrounds and Hidden Acres Golf Course are also entertaining with a range of events and viewing parties up their sleeves.
Kansas
Marysville
Time of totality: 1:03 p.m.
Length of totality: 1 minute 11 seconds
Why it's a hot spot: Marysville, aka Black Squirrel City, is gearing up for the astronomical occasion with a scavenger hunt, eclipse presentation, community dinner, and even a Squirrel Jam music festival. Long before the clock strikes 1 p.m., migrate to one of the designated viewing spots, such as 7th Street Corridor Park/City Park or the Lakeview Sports Complex and wait for the stars to come out in the middle of the day. But instead of joining the mass exodus after the eclipse, hang around for a visit to the Pony Express Original Home Station and wait for the crowds to clear.
Atchison
Time of totality: 1:06 p.m.
Length of totality: 2 minutes 19 seconds
Why it's a hot spot: Looking to kill some time before the moon's shadow blocks out the sun? Plow into one of the area's largest banana splits at The Snowball ice cream parlor or nosh on some Iron Horse BBQ, and you'll realize that Atchison is good for far more than just star gazing. Once your belly is full, it's go time. Make a beeline for the Eclipse Aire Fest, where the Amelia Earhart Airport is featuring a solar shebang, with astronomy presentations and biplane rides. Put your name in the raffle and you could get the chance to fly in the sky during the darkness of the eclipse!
Missouri
Fulton
Time of totality: 1:13 p.m.
Length of totality: 2 minutes 34 seconds
Why it's a hot spot: Begin the epic eclipse countdown at Fulton's Light & Shadow weekend events, which starts on Friday with an art exhibit that plays with the theme of lightness and darkness. As the waiting game continues, venture to the Sip with the Eclipse event at Serenity Valley Winery for some live music and a hot air balloon glow. Once Monday morning rolls around, snag a section of grass at Morgan Soccer Complex or William Woods University and settle in for the out-of-this-world show. As you find yourself still reeling from the incredibleness of the eclipse, explore Fulton's other wonders with a stroll through the downtown Brick District.
Augusta
Time of totality: 1:15 p.m.
Length of totality: 2 minutes 19 seconds
Why it's a hot spot: The next total eclipse to sweep through this area won't be until the year 2505, so it's kind of a big deal for you to see it this time around. The Katy Trail State Park Augusta Trailhead is a prime place to whip out your eclipse glasses and look toward the heavens, but the region is also celebrating with its Total Eclipse in the Park. Three local parks, including Klondike Park, Broemmelsiek Park, and Quail Ridge Park are spearheading the celebrations. But once the eclipse passes through, knock back a cold one at Augusta Brewing Company and let the crowds disperse before leaving town.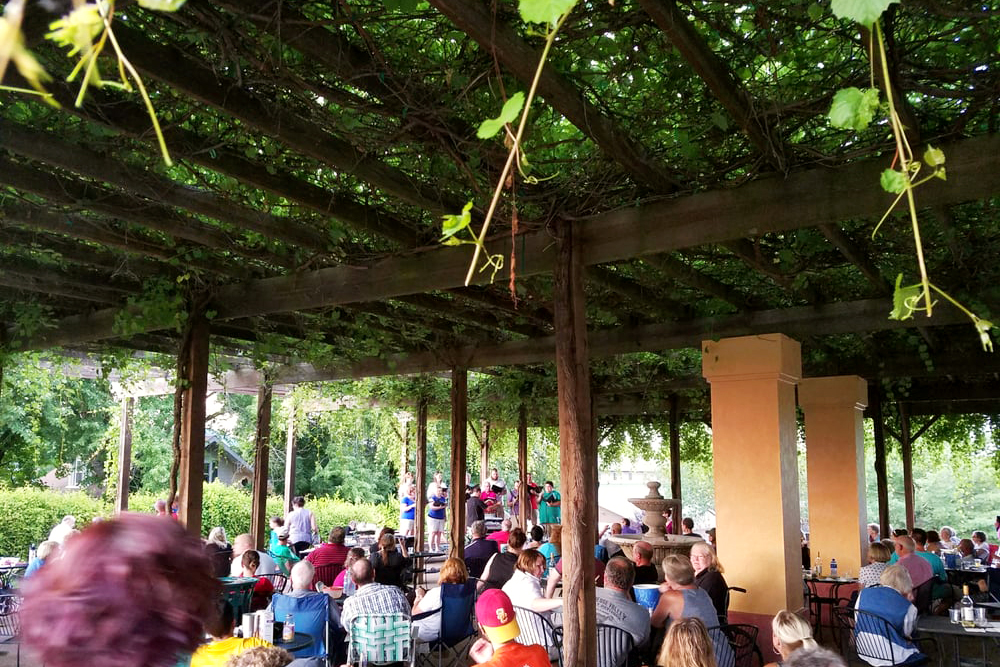 St. Clair
Time of totality: 1:15 p.m.
Length of totality: 2 minutes 40 seconds
Why it's a hot spot: At a whopping 2 minutes and 40 seconds long, the eclipse in St. Clair is up there with some of the longest viewing times, and you better believe this city is recognizing it. From Friday onward, you'll find events all over town, from a parade and movie night to a scavenger hunt and Blue Grass Festival. As for the day of, "Get Your Eclipse on Route 66" at one of the many gathering spots, including Orchard Park, St. Clair Library, and the VFW Post at Old Skylark Motel, which is the closest viewing station to the midline.
Illinois
Waterloo
Time of totality: 1:17 p.m.
Length of totality: 2 minutes 10 seconds
Why it's a hot spot: The celestial spectacle is making an appearance in Waterloo, and the city's creating a day-long event out of it. The Monroe County Fairgrounds will be decked out for the city's Solarbration; set to be the ultimate fete with artisan stands, food vendors, and live music—they'll even have a panel of eclipse experts on hand. After the sky darkens and the sunlight reemerges, praise those rays as you take a stroll around the Historic District before road tripping home.
Carbondale
Time of totality: 1:20 p.m.
Length of totality: 2 minutes 37 seconds
Why it's a hot spot: Just a few miles north of the point of longest duration, Carbondale is ultra-unique in that the nation's next solar eclipse will cross over the very same spot in 2024. But forget about waiting seven years, the cosmic celebrations begin now. Shadow Fest is jump starting the show with three days of music, and the Eclipse Marketplace is following suit with musical acts of its own through the weekend. Once you're all pumped, join fellow sol seekers at Saluki Stadium and catch the NASA coverage as the eclipse rolls through town.
Makanda
Time of totality: 1:20 p.m.
Length of totality: 2 minutes 40 seconds
Why it's a hot spot: All eyes are on Makanda as it steals the spotlight for the longest period of darkness. Not only will the town experience the eclipse at its peak, but like Carbondale, it will see another one in seven years, which is let's just say, astronomically rare. Celebrate the hoopla at Blue Sky Vineyard's 4-day extravaganza, eye the hand-painted line of totality that runs through the Rainmaker Studio, and get a special edition solar eclipse stamp from the local post office. Come eclipse day, meet the Astronomical Association of Southern Illinois at Giant City State Park, and get ready to witness history in the making.
Kentucky
Hopkinsville
Time of totality: 1:24 p.m.
Length of totality: 2 minutes 40 seconds
Why it's a hot spot: With an impressive 2 minutes 40 seconds of total darkness, it's no wonder Hopkinsville has earned a new nickname: Eclipseville. Starting the revelry early, the weekend Summer Salute Festival and Hopkinsville Eclipse Con are officially responsible for getting everyone hyped up for the viewing. Anyone in Hopkinsville can step outside and look up, but not everyone can witness the eclipse from under water. Pennyroyal Scuba Center is giving divers the most epic opportunity to slip below the surface and experience total darkness from the depths of the Kentucky rock quarry. Who else can say they "dove the solar eclipse?"

Madisonville
Time of totality: 1:24 p.m.
Length of totality: 1 minute 47 seconds
Why it's a hot spot: It's got to be something terribly fascinating to get everyone to stop in their tracks for nearly two whole minutes, and the solar eclipse promises to do just that in Madisonville. This unusual experience deserves more than a few seconds of your time though, and Solar MADness 2017 Festival is ready to fill your itinerary with its MadCity Street Market and Solarpalooza merriment. When the moon does finally shade out the fiery orb, get a good seat at the Hopkins County Fairgrounds, Western Hills Golf Course, or even the Casey Jones Distillery.
Tennessee
Clarksville
Time of totality: 1:25 p.m.
Length of totality: 2 minutes 18 seconds
Why it's a hot spot: See what Mother Nature's got in store in Clarksville. The moon and sun may align for mere minutes, but the party will just be getting started. Beachaven Vineyards & Winery is putting on an all-day solar soiree with live music, games, and food trucks, while the Roxy Regional Theatre is hosting a cook-out, complete with a bloody mary bar and tunes by Murph & The Starliters. The fun doesn't have to stop after the eclipse though; get a taste of town at the Old Glory Distilling Co. or see if you break out of jail at the mind-boggling Excape Games.
Crossville
Time of totality: 1:30 p.m.
Length of totality: 2 minutes 32 seconds
Why it's a hot spot: Don't be left in the dark when it comes to the celestial celebrations in Crossville. Of course, we are talking about the Golf Capital of Tennessee, so it's perfectly fitting for the Bear Trace at Cumberland Mountain Golf Course to host a solar eclipse jubilee. Firing off the fun with a Solar Eclipse 5K on Monday morning, the event will include musical entertainment, ranger-led programs, and plenty of moon pies to eat. After the big showdown, wait for the traffic to thin with a craft brew and Farmhouse burger at The Pour House Bistro.
Georgia
Blairsville
Time of totality: 2:34 p.m.
Length of totality: 1 minute 59 seconds
Why it's a hot spot: Star light, star bright, the first stars you should see tonight are in Blairsville, where darkness will cast over the town just past 2:30 p.m. This city is certainly giving into the solar spirit. When the time arrives, mosey over to Paradise Hills Winery, Resort, and Spa for music with the Steel Drum Band; explore the waterfalls at Vogel State Park, or venture to Brasstown Bald, the highest point in Georgia. However you decide to admire the moonlight, you won't want to miss having a home-cooked meal at The Hole in the Wall, the oldest diner in the county.
Toccoa
Time of totality: 2:36 p.m.
Length of totality: 1 minute 59 seconds
Why it's a hot spot: Witness totality at Totally Toccoa, Main Street's blackout bash in Historic Downtown Toccoa. The good eats and concert vibes will pair perfectly with the planetary phenomenon, and the live-streaming NASA program at the Ritz Theatre is just an added perk. For something a little more along the lines of nature though, consider eyeing the eclipse from the base of Toccoa Falls, one of the tallest free-falling waterfalls east of the Mississippi. After witnessing the moon's spooky shadow, recharge with a cup of Joe at Java Station & Cafe before the trek homebound.
North Carolina
Andrews
Time of totality: 2:34 p.m.
Length of totality: 2 minutes 38 seconds
Why it's a hot spot: Two minutes and 38 seconds doesn't seem exceptionally long, but it will when you realize it's up there with the longest times of any city to experience totality. On the day of the eclipse, you'll want to soak up every single one of the 158 seconds that the sky is dark in Andrews, and there's no better viewing spot than Hall Park. Local breweries and wineries, such as Calaboose Cellars and Hoppy Trout Brewing Company are organizing the gig, so you know it's gotta be good! Don't just jet out of town the minute the sky brightens back up though, kick it with the locals at MakAly's on Main and stick around for a pint or two.
Sylva
Time of totality: 2:35 p.m.
Length of totality: 1 minute 44 seconds
Why it's a hot spot: Sylva's time of totality is just shy of two minutes, which naturally calls for an entire weekend of celebrating. Downtown Sylva is leading the charge with live music starting on Friday at Bridge Park with Concerts on the Creek, followed by Moonlight Madness on Saturday night, when the local shops stay open extra late and offer exclusive deals. Then, on the big day, Bridge Park will have it all, from live music and food trucks to astronomy educational panels. After the solar eclipse does its dazzling performance, check out something perhaps equally quirky in town: The American Museum of the House Cat. A day's worth of solar celebrations and cat memorabilia is certainly one for the books.
South Carolina
Greenville
Time of totality: 2:38 p.m.
Length of totality: 2 minutes 10 seconds
Why it's a hot spot: When the sky starts to darken, there's no better place to experience the eeriness than Greenville. But with so many astral events all over town, you'll have trouble deciding which spot to stake out! Quest Brewing Company is inviting SC band Phuncle Sam to jam at their Standing on the Moon party, while TCMU is hosting astro-themed activities for all ages. You can even watch the sun disappear from Up on the Roof's celestial rooftop party, catch some live music at Lake Conestee Nature Park, or belly up to Roost's cash bar at Eclipse over NoMa Square.
Columbia
Time of totality: 2:41 p.m.
Length of totality: 2 minutes 30 seconds
Why it's a hot spot: Get ready for the sun and moon to align with you in Columbia, which is being called the Solar Eclipse Capital of the East Coast. With such a prestigious title, this metropolis must put on a show with more than 100 events to kick off the longest viewing time in the region. You do you: feel the burn during Summer's End Solar Run, fire up the grill at the South Carolina State Fair Total Eclipse Tailgate, or even watch from the rooftop of the Sheraton, the city's oldest high-rise. Between the Soda City Viewing Festival at the speedway and the paddling out parties, your schedule will be filled for far more than two-and-a-half minutes.
Charleston
Time of totality: 2:46 p.m.
Length of totality: 1 minute 33 seconds
Why it's a hot spot: Give the solar eclipse a proper send off into the Atlantic Ocean! Charleston is one of the very last places to see it in its totality, so let's make it go out with a bang. Attend Eclipse on a Warship, a special event where you can marvel at the sky aboard the Fighting Lady, or join the solar shindig at MUSC Health Stadium, a family gathering with science activities galore. For an even more mystical view, venture to Folly Beach's Pier 101 and watch the stars form over the lapping waves as the solar eclipse travels more than 1,500 mph out to sea.

Where will you celebrate the total eclipse in 2017?
*According to Eclipse2017.org data
[expediafittybreaks-widget-author photourl="https://viewfinder.expedia.com/wp-content/uploads/2017/07/chloe.png "]As a staff writer for Expedia, Chloe Mulliner is dedicated to providing top travel tips for your jaunts around the world. She believes there are adventures to be had on every inch of the globe from surf spots on the Peruvian coast to the charming villages of the English countryside. Chloe specializes in showcasing all the must-see attractions on your travel wish list. She lives by the belief that every adventure is a story worth sharing.[/expediafittybreaks-widget-author]