By Expedia Team, on July 26, 2021
7 spectacular spots for leaf peeping in the US
We love a good road trip. But when the scenic drive is surrounded by Mother Nature's own artistic masterpieces, it becomes a bucket list-worthy adventure. Ready to revel in the beauty as the seasons change and green leaves turn brilliant shades of yellow, orange, and red? Read on to discover our favorite US fall foliage destinations to witness autumn's amazing transformation, plus when to go and where to stay while you're in town.
Stowe, Vermont
For iconic New England views, it's hard to beat Stowe, Vermont. Touted as "Fall's Color Capital," the village tops foliage lists year after year for its stunning kaleidoscope of landscape hues. Use Stowe's website to track exactly when and where peak leaf peeping is happening along its most popular scenic routes. And if you'd like to get out of the car and stretch your legs, check out guided tours from area breweries, seasonal festivals, hiking and biking trails, and even zip line experiences that will turn your fall foliage escape into a true adventure.
When to visit: Early September to late October
Where to stay: The Lodge at Spruce Peak, a Destination by Hyatt Residence
Aspen, Colorado  
Golden aspens and crisp mountain air. What more could your fall getaway need? You'll want your camera to capture the autumn scene in Aspen, Colorado—as the colorful views will soon be fleeting once colder temperatures and winter snow sets in (many times as early as October.) Catch the views in September, when the Maroon Bells Scenic Area becomes painted with yellows as dazzling as the sun, paired alongside the adjacent blue waters of Maroon Lake. Also not to be missed is a ride down Aspen Mountain on a gondola, for a unique bird's eye view of the scenery.
When to visit: Throughout September, before snowy season
Where to stay: The Little Nell
Ozark Mountains, Missouri & Arkansas
"The Show Me State" and "The Natural State" take their nicknames very seriously during the autumn months, showcasing natural beauty in true fall foliage splendor. Cruise by car around the areas of the Ozarks in both Missouri and Arkansas for gorgeous views, or park and enjoy great weather and fall activities such as hiking, biking, and rock climbing. As the sun sets, cozy up under the stars at a campsite, or if you prefer a more urban version of R&R, check out our pick for where to stay below.
When to visit: Late October to early November
Where to stay: Big Cedar Lodge
Taos, New Mexico
Grab a map and tour the Enchanted Circle in Taos, New Mexico, an 85-mile national forest scenic byway that explodes with color every fall. Along with sensational leaf peeping, the area is also home to some of the oldest rocks in the southwest, with a history so rich it dates back two billion years. Start in Taos, then travel through Questa, Red River, Eagle's Nest, and Angel Fire, before settling back into a serene spa resort in Taos after your adventure.
When to visit: Mid-September to early October
Where to stay: El Monte Sagrado Living Resort & Spa
Great Smoky Mountains, North Carolina and Tennessee
The Great Smoky Mountains are a popular fall destination and for good reason. According to the visitation numbers released by the US National Park Service in 2020, the Great Smoky Mountains ranked #1 as the most visited national park with a whopping 12.1 million guests. Why not add to that number and visit this beautiful stretch of land on the border of North Carolina and Tennessee? Come during the fall months and you're in for an extra treat, as the surrounding scenery becomes Mother Nature's own work of art. Marvel at the vibrant colors as you drive through the mountains, spot nearby wildlife and eventually hop out of the car to explore hiking trails, enjoy a picnic lunch… or simply relax and breathe in that fresh mountain air.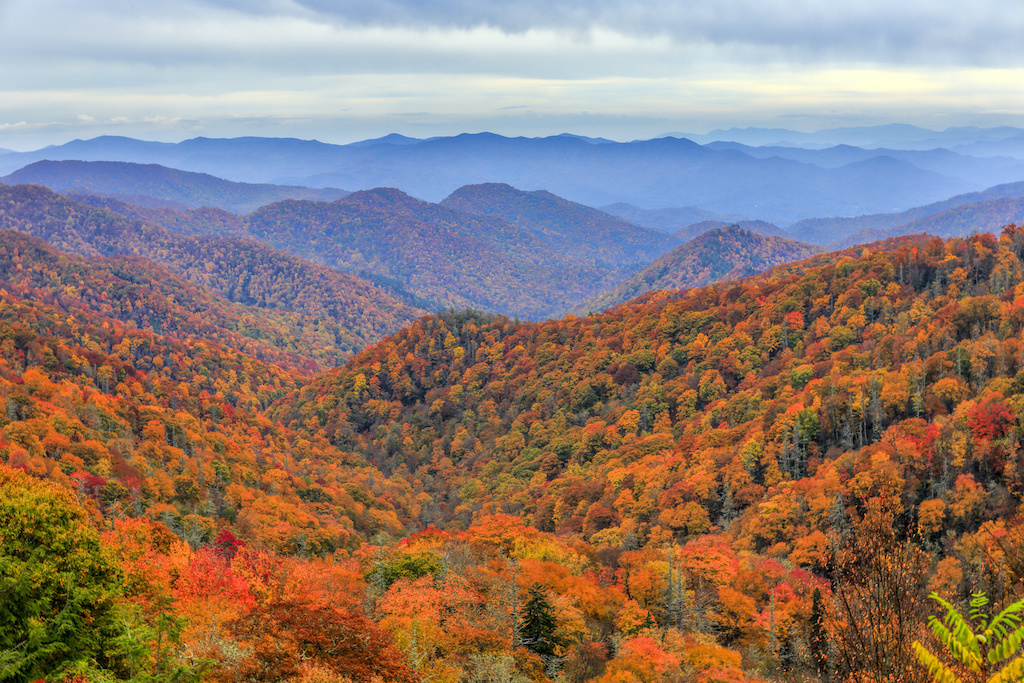 When to visit: Mid-October to early November
Where to stay: Smoky Mountain Resort or Dollywood's DreamMore Resort (Dollywood is a 30-minute drive from the national park)
White Mountain National Forest, New Hampshire
If you like your fall foliage escape paired with moose sightings, crystal-blue lakes, and spectacular scenery, New Hampshire's White Mountain National Forest is for you. Hit up the Kancamagus Highway (known by locals as "the Kank") to enjoy a 34-mile stretch of awe-inspiring views set between Lincoln and Conway. Want to take a walk? Explore the Franconia Notch State Park, set in the heart of the White Mountain National Forest. Here you'll find plenty of opportunities for sightseeing adventures, including Flume Gorge and an aerial tramway to Cannon Mountain (note: both require advance reservations).
When to visit: Late September to mid-October
Where to stay: Omni Mount Washington Resort
Columbia River Gorge, Washington and Oregon
Jaw-dropping waterfalls + peak season foliage? Yes, please! The Pacific Northwest is no stranger to natural wonders, and fall is definitely one of its finest moments. Head to the Columbia River Gorge, which runs right through the Cascade Mountains to form a border between Washington and Oregon. Here you'll find the tallest waterfall in Oregon, Multnomah Falls, which becomes even more breathtaking when framed by the yellow and orange hues of fall leaves in transformation.
When to visit: Mid-September to mid-October
Where to stay: Columbia Gorge Hotel and Spa
For more fall travel inspiration, check out these 10 national parks to visit in the fall.