By Expedia Local Expert, on May 27, 2018
Active outdoor adventures in Queenstown, New Zealand
Feel your pulse race as you zipline through a pine forest, plunge down natural waterslides while canyoneering, or leap from an airplane in a tandem skydive. For a more relaxed adventure, you can kayak through teal water to picnic on a secluded island, hike through an ancient beech forest, or sample wines and cheeses while biking through scenic wine country. Whether you're a veteran outdoor adventurer or just a beginner, here are 8 activities to fully embrace Queenstown's natural beauty and satisfy your inner adrenaline junky.
Hiking the Routeburn Track
Lace up your hiking boots, grab a daypack, and set out on a breathtaking trek filled with waterfalls, captivating views, and native wildlife. Designated as one of New Zealand's Great Walks, the Routeburn Track traverses Mount Aspiring National Park and will take you through a 130 million-year-old beech forest. Look for endemic birds among the mossy branches such as the tiny green rifleman, the bright yellow Mohua, or the friendly South Island robin that may perch on your shoelaces when you stop for a snack. Your knowledgeable guide can tell you how the Maori and European pioneers used this mountain path and point out alpine parrots at Routeburn Falls.
Climbing Via Ferrata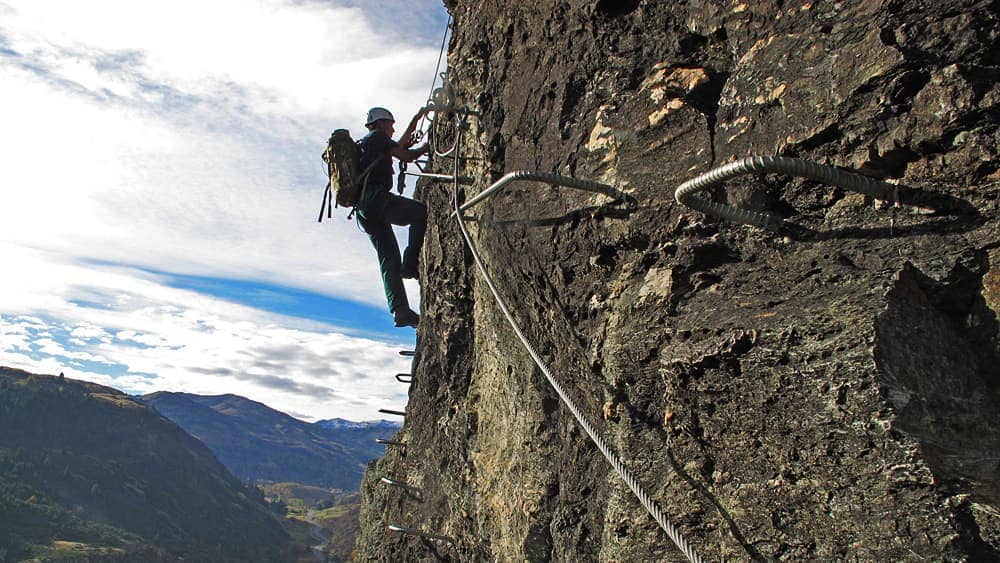 The iron road awaits. Are you ready to climb? Metal rungs set into the sheer cliff face of Queenstown Hill allow you to climb to the top for majestic views of Queenstown and Lake Wakatipu. For centuries, European farmers accessed high mountain pastures by via ferrata, or iron road, and now it's become a popular sport for adventure seekers. With 12 different routes, beginners to expert rock climbers can find a challenging path to suit their skill level. Gear up, clip on, and climb!
Kayaking the Glenorchy Islands
Dip your paddle in the gorgeous teal water surrounding the Glenorchy Islands. Forested mountain peaks rise from the lake's edge to join puffy white clouds in the blue sky. During your relaxing kayak journey, your guide tells Maori tales and shares interesting facts about the history and ecology of the region. Have a picnic snack on either Pig or Pigeon Island and maybe catch a glimpse of one of New Zealand's flightless birds, the weka.
Ziplining and Kiwi Birdlife Park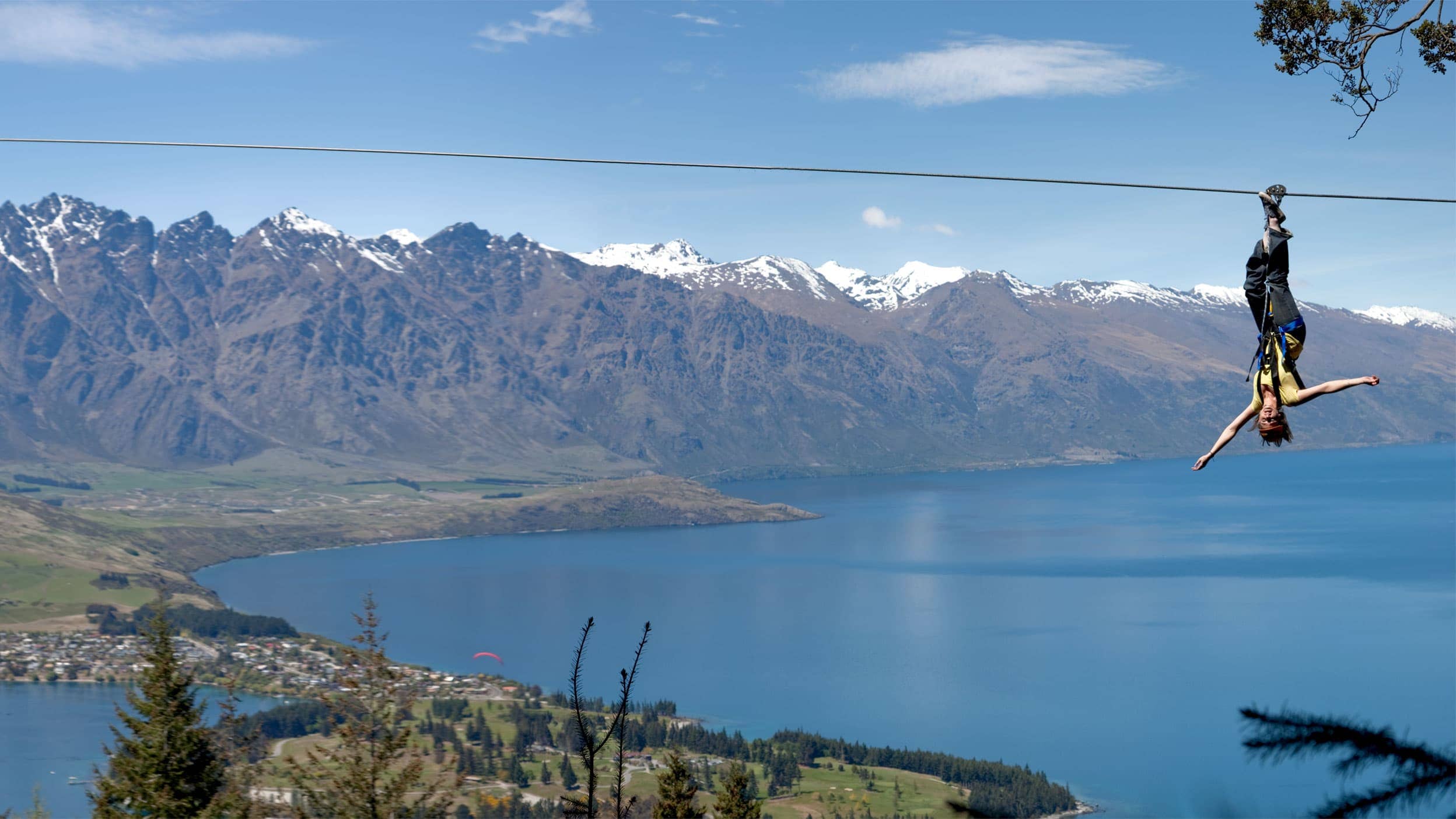 Launch from a treetop platform and zip through the forest with the agility of a New Zealand falcon. A ziplining and Kiwi Birdlife Park combo allow you to feel the exhilaration of flight before visiting over 20 different species of New Zealand's birds and reptiles. On the Moa Tour, you can reach speeds up to 31 mph (50 km/h) on a zipline that stretches 787 feet (240 m) long. After you finish all four lines of your guided aerial tour, head to the nearby Kiwi Birdlife Park to view flightless kiwi and the dinosaur-like tuatara lizard up close. Be sure to catch the twice-daily show to learn about the park's conservation efforts and watch animal experts work with trained birds of prey.
Whitewater Rafting on the Kawarau River
There's no better way to cool down on a hot summer day than with a whitewater ride through the rapids of the Kawarau River. Prepare to get wet as you splash through class 2 and 3 rapids perfectly suited for first-time rafters. During calmer sections, you can hop off the boat to float alongside and enjoy the mountainous scenery that surrounds the river's winding bends. Lord of the Rings fans will note the familiar scenery as the Kawarau River had a starring role as the River Anduin.
Biking through Wineries
What's one way to make a bike ride better? Add wine! Pedal through Queenstown's gorgeous Valley of Vines and visit more than 8 wineries along the way. Choose your own route as you follow an informative winery map on this self-guided tour. The well-maintained trail will take you along the beautiful Arrow River and across a suspension bridge. Taste various vintages and sample local cheeses as you bike at your leisure. And don't worry about balancing bottles by bike if you decide to pick up a few varietals to take home, your driver will pick up your purchases before your ride t the end of the day.
Canyoneering
Rocket down natural waterslides, leap into turquoise pools, rappel down cliffs, and zipline across gaps on an adrenaline adventure called canyoneering. Before your exhilarating journey, your guide will outfit you with all the necessary gear including wetsuit, water boots, and helmet with optional GoPro mount. No previous canyoneering experience is required as expert guides demonstrate techniques and encourage you through tougher sections, and provide alternate routes around the most daring obstacles.
Skydiving
New Zealand's iconic kiwi can't fly, but you can! Strap on a parachute with your tandem master and jump out of an airplane for a high-flying adrenaline rush. Reach up to 125 miles per hour (200 km/h) while free falling over the beautiful Wakatipu Basin. When your parachute deploys, glide gently back down to earth as you absorb a spectacular view of the Remarkables mountain range and the green forests and pastures of farmland below. Select a 15,000-foot (4,572-m) dive for the longest time in the air.