By Erica Lamberg, on September 3, 2019
AmaMora, the new star of AmaWaterways
Traveling in Europe can be expensive and to justify the price, I think it's best to have a plan in place that maximizes your vacation time and budget. I always believe that you get what you pay for in life, and travel is no different. Having an itinerary in place that offers authentic experiences, culinary flair and immerse opportunities are important to me when I travel.
When I was researching river cruise lines for my summer travels this year, I felt that AmaWaterways would be a great fit based on my interest in wellness programs, itineraries and a younger audience. A family-owned company, AmaWaterways has ships sailing Europe's Danube, Rhine, Moselle, Main, Rhône, Seine, Garonne, Dordogne, Dutch and Belgian Waterways and Douro Rivers, Southeast Asia's Mekong and Africa's Chobe River.
With no more doubts, earlier this summer I sailed AmaMora, the newest addition of AmaWaterways.
1. AmaMora's first impressions
My voyage began in glorious Amsterdam, Netherlands and traveled the Rhine River to stunning Basel, Switzerland. What I especially liked about experiencing Europe on a river cruise is that I unpacked once, and became immersed in history, splendor and scenery in each port. I was also drawn to AmaWateways because of the swimming pool and sundeck with walking track.
My cabin aboard AmaMora was a mini-suite which offered a comfortable king bed, desk, large bathroom with roomy shower and double sinks. The best part of the cabin was AmaWaterways' signature "twin balconies" – a Juliet balcony and a true outdoor balcony. The concept is very innovative and having both options was pleasing for us. I also selected AmaWaterways because of the reputation of wellness, inclusive excursions and a level of service that has a reputation of excellence.
2. Focus on wellness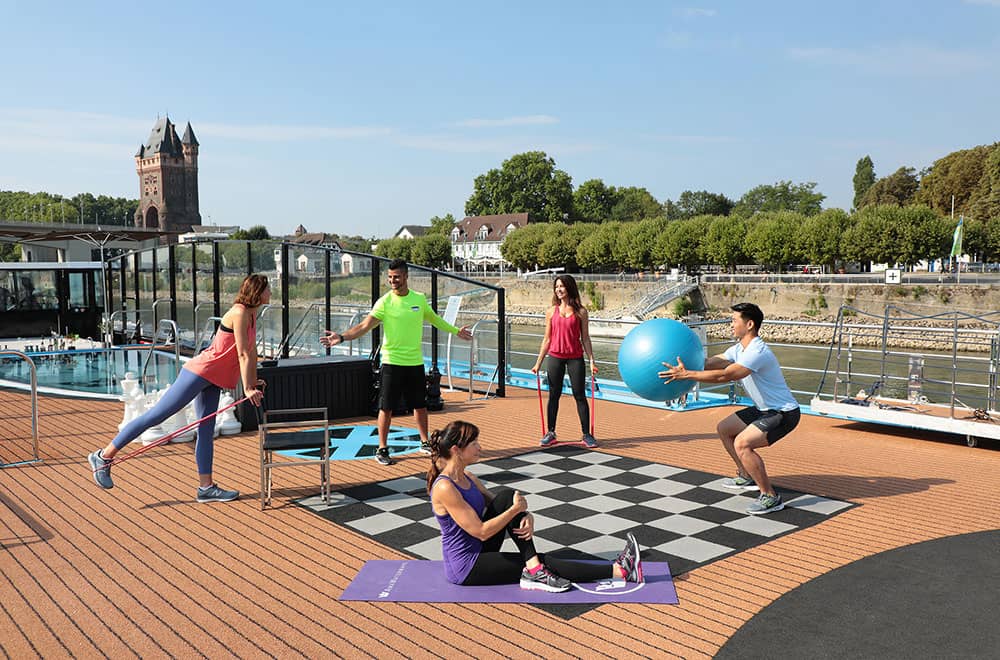 In my opinion, AmaWaterways is a trailblazer in the river cruise industry. Its wellness activities including a wide choice of included shore excursions featuring biking and hiking options for the active traveler completely changed my perception of a cruise. On our cruise, the Wellness Host offered several early-morning classes before breakfast like stretching and low-impact exercises to start the day in a healthy mindset. During about a dozen cruises I have taken, I noticed too many opportunities to be sedentary and over-indulge. This was not the case on AmaMora. Wellness is a priority for guests.
Other activities included brisk walks through ports to not only burn calories but capture the sights and sounds of the beautiful towns. For example, while in Amsterdam, the fitness expert led about 20 guests on a 5-mile walk through Amsterdam. Not only did we meet great friends during that walk, I was able to see less touristy corners of Amsterdam like beautiful parks and lovely scenes of the canals.
The menus offered on my AmaWaterways cruise were truly a welcome change. Breakfast had fruit, cooked-to-order eggs and wholesome choices, and lunch offered vegetarian selections and a bountiful salad bar with endless opportunities to walk the healthy line. For dinner, there was a fish selection each evening and several vegetarian specialties. Also included are complimentary fine wine, beer and soft drinks with lunch and dinner. The desserts were a delicious finale on enjoyable meals.
3. Inclusions which promote value and service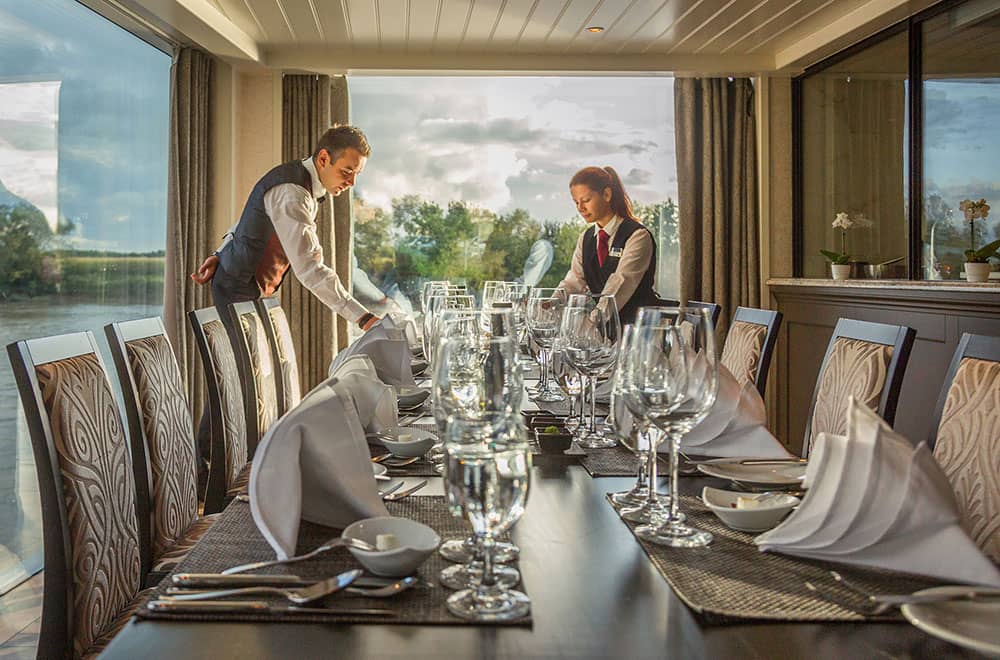 One of the nicest amenities on my river cruise was my dining experience at the Chef's Table, a gorgeous venue that is separate from the dining room. The Chef's Table location offers views of the water and scenery which promotes a high-style vibe. The 7-course tasting menu is complimentary to all guests, once per cruise. The entire meal is paired with wine. This was definitely a highlight of my river cruise.
What's also included in your AmaWaterways cruise fare is a choice of included excursions. In every port, there are several to select from based on interest and activity level. In every port during my cruise, there was a bike excursion and if there was a walking tour, groups could be separated by gentle and active pace guides. The ship has a fleet of bicycles that can be used for personal use in port or as part of the planned excursions. Although I didn't bike ride during my cruise, I saw many friends enjoy 10-mile plus rides and shared their thrilling and memorable experiences with me.
4. Service is top-tier
Imagine being walked to your cabin by a housekeeper who is dressed in a suit with white gloves. This level of elegance really outshines other cruise lines I've sailed. The respect and courtesy of every crew member were evident from the bartenders, to the front-office staff, to the wait staff, to the cruise manager, Wellness Host and even our experienced Captain. Everyone had a genuine personality, and their devotion to guests was appreciated and noticed.
5. Why pick AmaWaterways?
I have several important reasons to recommend AmaWaterways for your next river cruise. First, I appreciated that lots of well-designed planning went in to making my vacation special. Each morning I was excited to see what the day would welcome. AmaMora carries a fleet of complimentary bicycles and organizes guided hiking and biking tours for guests to explore each destination while cruising.
After an exhilarating day touring in port, we would look forward to the nightly Sip & Sail cocktail hour which offered complimentary cocktails, beer and wine in the lounge before dinner. This was a time when we would mingle with guests and friends.
Furthermore, AmaWaterways is continuing to meet the needs of discerning travelers and their multigenerational families with connecting staterooms. When traveling with younger guests, this can be helpful. I also want to stress that the group fitness classes led by a Wellness Host, well-equipped fitness room, pool and walking track are really highlights for staying active and healthy on vacation.
If you're considering a river cruise, I would recommend AmaWaterways. True, all the river cruise lines have strengths, but AmaWaterways excels in everything.
Book your AmaWaterways River Cruise
By Erica Lamberg