By Kohleun Adamson, on October 5, 2017
America's 13 hottest up-and-coming coffee cultures
Scoot over, Seattle. Keep pedaling your hipster street cruiser, Portland. Artisan roasters and unique java houses are filling some surprising cities with cool coffee culture. Cities once known for surfing and margaritas—as well as other unusual suspects—are now on the rise as coffee kingdoms. We've gathered a list of the country's up and comers—the thirsty 13—presented in no particular order. Check out the local coffee shops and craftspeople who give them all this character…and caffeine.
How can we tell when a coffee culture is on the rise? We tasted quite a few shots of espresso for "research," so hold on tight. We also put an ear to the conversations happening on social media around the best coffee shops and roasters, favorite times to sip, and the most unique places to get your java fix. Nationally, the conversation takes place predominately on Twitter and buzzes most on Wednesdays and Thursdays, though each city varies. But no matter what else you take away from this read, remember not to mess with anyone's a.m. imbibing time—it's a revered part of the day, especially in these coffee-loving cities.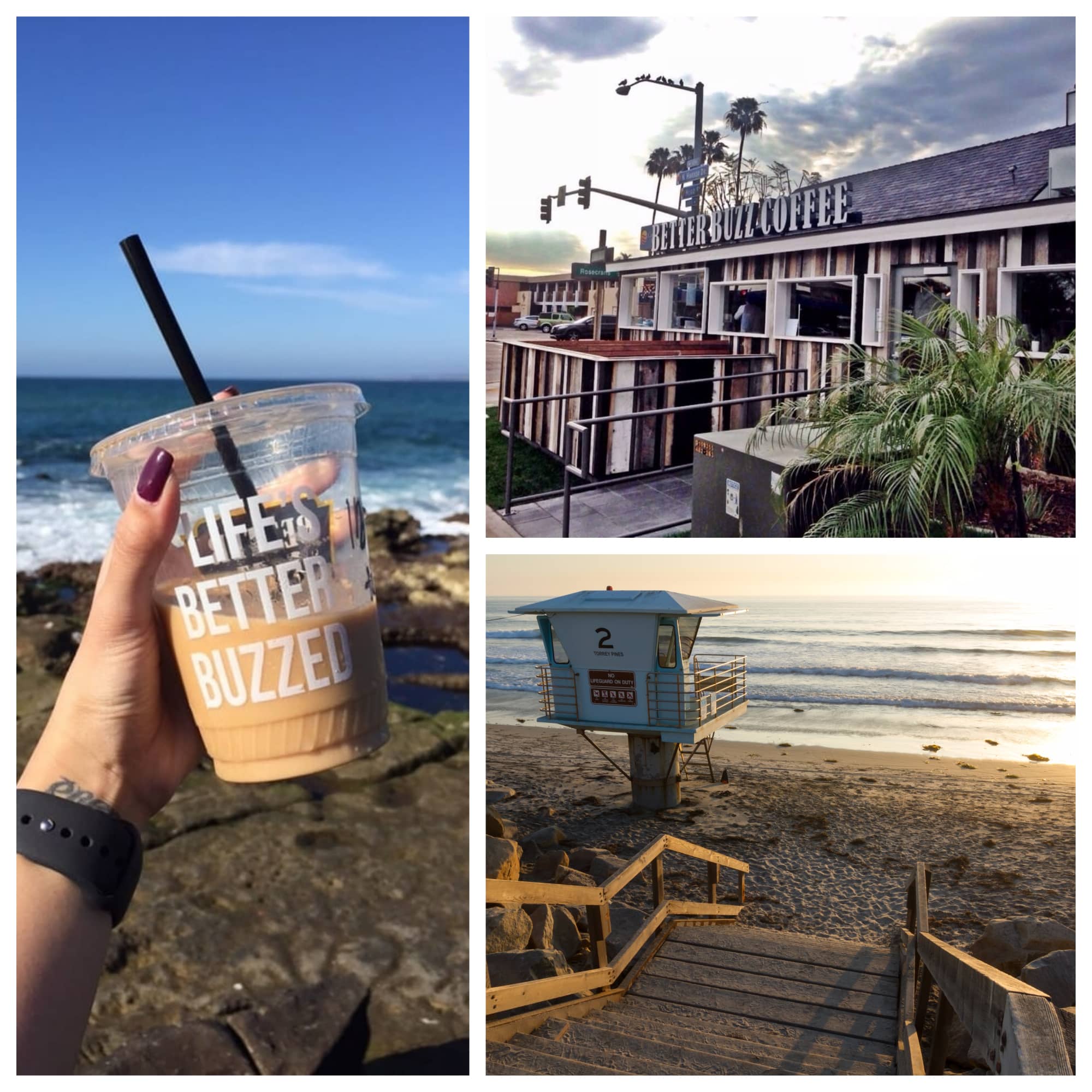 America's Finest City serves some of the country's finest coffee. Sure, the weather is warm about nine months outta the year, but San Diego specializes in cold brew in addition to espresso and pour-over coffee. San Diego is, at its core, a craft beer city, but even some of its local beer makers roast outstanding coffee. Modern Times has two tasting rooms in town, where they top up your pint and pour their own house-roasted coffees. Order an espresso, pour-over, or cold brew on nitro for a true coffee-meets-brew pub experience.
What makes this coffee culture unique?
Meshuggah Shack in Mission Hills proves that good things come in small packages. This longstanding coffee hut backs up their "come one, come all" message with a menu of signature drinks that has something for any coffee or tea lover. The drinks have fun names, too, like Ian's Make You Wanna Hula, which does indeed make you wanna hula. We checked. Roasters are popping up all over the seaside city, and our favorites include Achilles Coffee Roasters downtown, Dark Horse Coffee, and Bird Rock Coffee Roasters, which both have multiple locations around San Diego.
San Diego chain Better Buzz Coffee boasts locations all over the county, especially in waterfront neighborhoods, like Mission Beach and Point Loma, and the newest location in Pacific Beach. In addition to espresso drinks, Better Buzz makes lunch items and seasonal juice teas, like the summertime blackberry mint green tea over ice. Grab that before you chase the waves or hit up your favorite San Diego attractions.
Boulder is a busy college town and outdoor adventure destination all in one, which means people are gonna need some coffee! Many of Boulder's most beloved caffeination havens line up along downtown's Pearl Street. Pace yourself—it's an embarrassment of riches. Farther north, you'll find fewer coffee options, but indie haunts like Red Rock Coffeehouse and Logan's Espresso Café are some of the first coffee shops in Boulder to start spreading the good news to the north side: "It's coffee time!"
What makes this coffee culture unique?
For coffee with a local soundtrack, stop for your favorite drink at the Laughing Goat Coffee House, where live bands play every night and Mondays feature a poetry slam. On the west end of Pearl, Amante Coffee feels like a little cup of Italy in Northern Colorado. Order a traditional espresso, watch a soccer match, and chow down on piping-hot panini.
Boxcar Coffee Roasters—a no nonsense craft coffee maker—has coffee houses that are perfect for meeting with friends or getting some work done in peace and quiet. Sit in with a foam art-topped latte and a fresh pastry, then take a bag of beans to go, because mornings are hard.
Syracuse is more than a college town in Upstate New York, but the studious campus atmosphere adds to this coffee culture. Much like the diverse demographics of the city itself, the aesthetics of Syracuse's independent coffee scene create quite a spectrum, especially in Westside. For example, Salt City Coffee fills a renovated old house with exposed brick, while Kind Coffee Company brings retro punk vibes and a dog-friendly venue to the neighborhood.
What makes this coffee culture unique?
Café Kubal's founder, Matt Godard, was inspired while traveling in Guatemala in 2004 by the ways coffee could enrich a village's culture. He soon started Kubal with one roaster in the Eastwood neighborhood and a desire to bring that community feel back to his hometown. Admire the perfect foam and latte art of this shop's traditional espresso drinks.
For a historical sip, check out Recess Coffee, a roastery and cafe. Opened back in 2007 in the Westcott neighborhood, Recess has since expanded to another location downtown in the historic Courier Building. Their motto, "Drink coffee. Shoot lightening," inspires us all.
Ah, Astoria. We love this riverfront city in northwest Oregon, located right on the waterfront of the Columbia River, near the Pacific Ocean. Astoria is encircled with coastline and riverbanks, and it's everything you'd hope from a misty Northwest hideaway, including being a coffee haven. Bucking the Twitter trend, Astoria's social media conversation takes place predominately on Instagram, which makes sense when you look around.
What makes this coffee culture unique?
Astoria may be small, but their roasters bring out the flavor! Opened in 1992 in the Uniontown District, Columbia River Coffee Roaster, names their blends after Oregon landmarks and aspirations, like Saddle Mountain and World Peace. Plus, they call their café 3 Cups Coffee, which seems like the right number to us. When it comes to sitting down with your favorite cuppa, Coffee Girl is the top shop in town. This local gem is located in an old cannery building and famous for intricate latte art.
Astoria Coffee House & Bistro is another beloved venue, located in the heart of downtown. Weekend brunch is a great time to sample the best of both worlds: delicious gourmet coffees and flavorful cuisine. Vegan options are plentiful and hearty. Looking for a sanctuary? Journey's End Espresso and Kick Ass Koffee are two more indie shops in town with lots of character.
Missouri may not be the first place you'd expect to see a blossoming coffee culture, but KCMO gives a special spin to the concept of a coffee city. Don't believe us? Wake up early for KC Cars and Coffee, a recurring event for auto enthusiasts to bring their favorite set of wheels and enjoy a hot morning coffee and social time. The java enjoyed at these gatherings is simple, but it's an essential part of the community feeling.
What makes this coffee culture unique?
We said KCMO did coffee its own way, and Blip Roasters is a prime example. This roaster tackles craft coffee stereotypes with lots of love from the local motorcycle community, proving coffee drives everyone…somewhere. Colony is another hometown hero. They pour craft beer and coffee in North Kansas City, with a side of hearty pub food, like fried mushrooms and jalapeno poppers. Come in for your morning joe and stay for a pint and live music in the evening.
The coffee experts at The Roasterie love to share their craft, and they offer group and private behind-the-scenes tours multiple times a week. You'll have to wear a hairnet, but anything for coffee, right? When you're in the mood for a more bookish buzz, look no farther than Thou Mayest Coffee Roasters in the Crossroads neighborhood. Founded in 2012 in a garage and named after a quote in John Steinbeck's "East of Eden," this shop and roaster offers the prettiest coffee products with latte art at the bar and beautiful packaging for their artisanal beans.
The small city of Spokane is home to some of the most unique concept coffee shops in the country. We're pretty sure you've never had a hard root beer espresso float, have you? If you have, you must have been to Cannon Coffee & Cone while our backs were turned!
What makes this coffee culture unique?
Most of the city's specialty espresso slingers are located downtown, including Spaceman Coffee, where you can sip espresso next to an astronaut. OK, just a full astronaut uniform, but still. We're not sure what more we need to say about this quirky experience besides the fact it is owned and operated by three wildly creative friends, and they serve beans from Spokane's own Vessel Coffee Roasters.
Want to feel like a local with one sip? Drink freshly brewed bliss at Indaba Coffee in a neighborhood house setting. Bobby Enslow, opened Indaba in 2009. After growing up in Spokane and traveling the world, Enslow came back to town with a desire to help "lift up ignored and excluded communities" in Spokane. Enslow chose the close-knit area of West Central and has watched his childhood community grow around this welcoming gathering place that happens to serve good coffee and, more importantly, acceptance and friendship.
Miami is a resilient city. It has been dealt some hard times recently, and we want to lift it up for the many ways this coffee culture keeps locals (and the many visitors it hosts) going strong. It's worth noting that 63 percent of Miami's social posts about coffee express emotion, and 94 percent of that emotion is joy, which is unusually high for any emotion, and makes it clear that coffee makes the people of Magic City very happy.
What makes this coffee culture unique?
If you haven't ordered a colada or cortadito, have you really been to Miami? Locals would say no. These small but mighty Cuban espresso drinks are Miami's lifeblood, and this is best sampled from the old school cafes in Little Havana. Los Pinarenos Fruteria is a colorful, family-run fruit market that serves authentic Cuban coffees as they've been served for generations—from big Styrofoam cups with plenty to share. To sit and sip in a vintage Miami scene, get a table at Versailles, a historic neighborhood restaurant with all the charm of old Havana.
For a more contemporary coffee experience, roll over to Box Coffee in Wynwood. This coffee truck specializes in creative cold brew and tea, and the venue is bright, bold, and Instagram-ready. The Mojito Mint coffee is strange and amazing—like your morning java and happy hour in one. Panther Coffee has become a household name for coffee lovers across the region. Visit the South Beach location for views of Biscayne Bay while you enjoy your elevated cup of joe.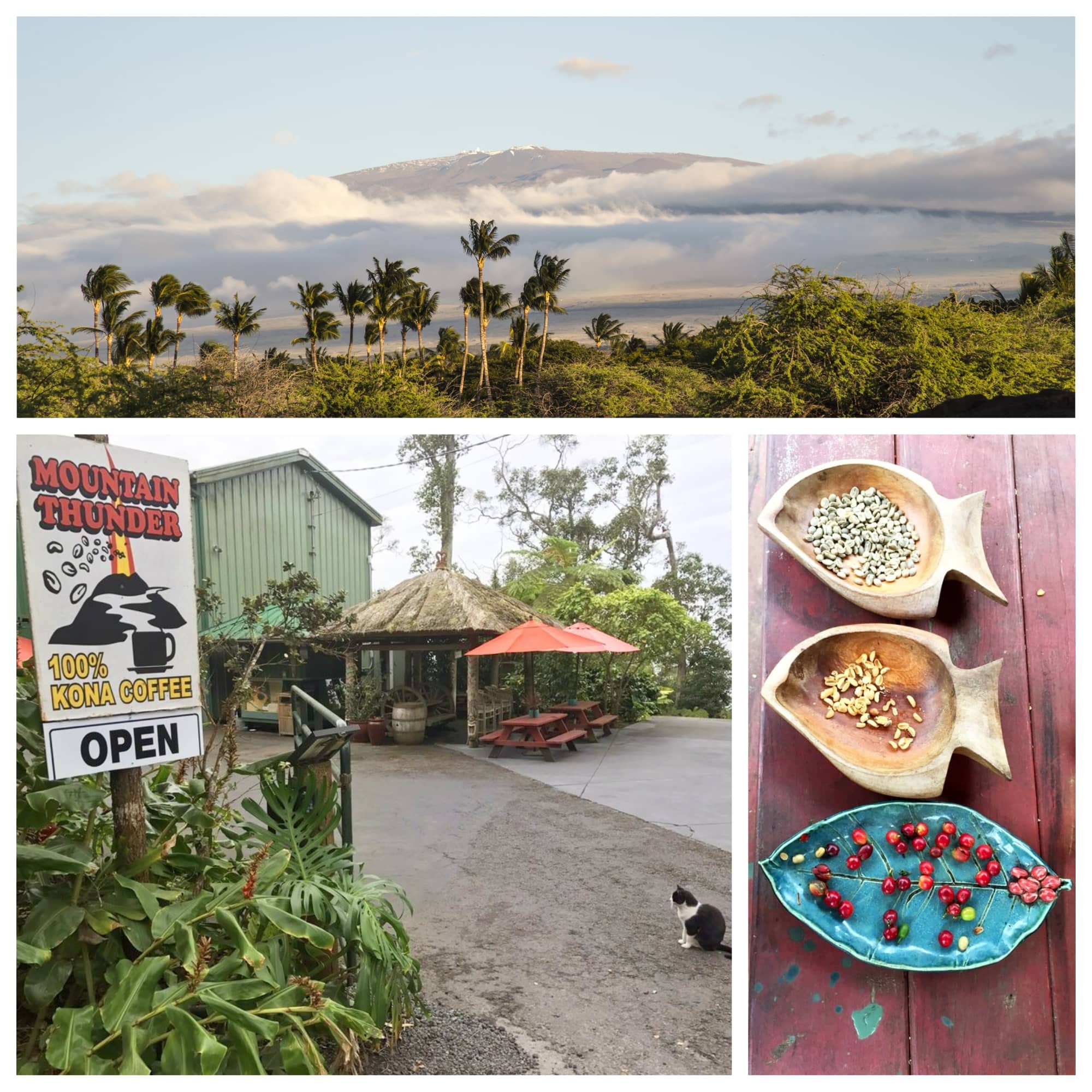 We all know how delicious Kona coffee is. If you haven't tasted these aromatic and buttery beans before, you need to book a nonstop flight to the Big Island right now! While the rest of the country drinks coffee to get through the week, social media in Kailua-Kona tells a different story. Social shares are concentrated around the weekends, and people post all day, especially in the afternoon and early evening, rather than in the wee hours of morning. If that's what they mean by "island time," we'll take it!
What makes this coffee culture unique?
The salty sea breeze and mountainous landscape are ideal for growing coffee, and the laidback coastal culture is the perfect context for sipping away the day. Learn all about the region's signature beans at Daylight Mind Coffee Company's coffee school! You'll get an inside scoop on the coffee process and business from planting to roasting, and don't miss enjoying a beautiful drink with an equally elegant food pairing. Speaking of pairings…if you think chocolate and coffee are a match made in heaven, join the Private Chocolate & Coffee Day Tour with 3-Course Lunch with the folks at OARC for so many reasons to say "Yum."
Green Flash Coffee & Cafe is a cozy hole-in-the-wall shop with lots of flavor. Located in a picturesque marina, it's a brunch retreat with a vast menu of kombucha, smoothies, and hot sandwiches. They serve locally roasted Kona coffee from Buddha's Cup, an award-winning roaster and farm located in the village of Holualoa. Plan a getaway around the Kona Coffee Cultural Festival this November and stay warm with delicious java all winter.
It gets hot in Arizona's sprawling capital city, which includes nature preserves, a cultural center, and student hubs. Downtown Phoenix is the best place to find coffee shops and cafes, because it's the most walkable neighborhood in the area and home to some of the most popular things to do in Phoenix. Coffee connoisseurs rave about the valley's growing bean scene, and Cartel Coffee Lab offers some of the best coffee in Phoenix. With its roots in nearby Tempe, this roaster produces rare flavor palettes, like lighter roasts with a smooth finish, or their super-sweet Pascual from Colombia.
What makes this coffee culture unique?
In a renovated house built in 1904, Songbird Coffee & Tea House serves fine teas and coffees in a peaceful, lush setting you wouldn't expect to see in Phoenix. Sit inside or in the front yard and people watch, or browse the art-lined interior walls while you indulge in a Thai iced tea. Turn up the volume—just a little—at nearby Jobot Coffee, also located in the Arts District. Every Sunday Jobot hosts Beats & Bruch with a live DJ, and they feature local artwork throughout the week.
Downtown is also where you'll find The Grand, an old-school speakeasy with a full coffee bar located in a venue reminiscent of an old train station. When you want coffee with cruelty-free cuisine, you've got to go to Urban Beans. Open 24/7, this hot spot caters to vegetarians, vegans, and anyone who craves a hot or blended espresso at all hours of the day. That covers everyone, right?
Welcome to Minnesota's low-key state capital with hipster aesthetics and fam-friendly vibes. The city is full of awesome history and cultural museums, art galore, and it's located on the Mississippi River. We love St. Paul—and its twin Minneapolis—because it's never short on friendly locals, beautiful greenspace, and craft coffee to sip and savor, especially in the Lowertown and Core neighborhoods. St. Paul coffee lovers take to social media every morning and especially on Tuesdays for their post-Monday pick up.
What makes this coffee culture unique?
Beloved Minneapolis café Dogwood Coffee opened a St. Paul location in 2016, which was perfect timing to serve fans as a pop-up Luke's Diner location for Netflix's promotion of the reboot "Gilmore Girls: A Year in the Life." That's nostalgic and adorable, but don't be fooled—Dogwood roasts some pretty powerful beans that even Lorelai would find impressive. Likewise, Bootstrap Coffee Roasters is all about strength. Founded in 2014 by Micah Svejda with just a six-pound roaster, Bootstrap even names their blends with industriousness in mind. Try the Blue Collar Blend, which rewards hard work with chocolate notes and nutty deliciousness.
When you want to #SlayAllDay with a full schedule of St. Paul activities, you need a coffee joint that has something to offer at all hours. Black Dog Lowertown comes pretty close. They serve espresso starting in the early hours and wine, craft beer, and cocktails in the evenings during live concerts.
Cold winters and adventurous summers make this place the perfect destination for cozying up to an afternoon coffee, and that's what locals do. Social postings show that Anchorage shares exponentially more coffee-themed posts at 5 p.m. When winter nights are long and cold and summer days seem endless, a late-afternoon buzz sounds about right. Grab a cup of pour-over and pore over the latest issue of Anchorage Coffee News, the city's own bulletin of caffeinated community updates.
What makes this coffee culture unique?
Wondering where to get that life-changing pour-over brew? Settle in at SteamDot Coffee. They boast several locations in Anchorage, with the flagship in O'Malley Center. They roast their own beans and serve espresso and slow pour-over coffee. If you're more of an a.m. coffee fiend, get up early and go to Snow City Café, our favorite brekkie spot, with fresh and hearty food options, like eggs benedict with house-smoked salmon cakes, as well as a full espresso menu and unconventional latte art.
When you can't decide between coffee and ice cream, choose both at Moose A'La Mode, where owners Lindsay and Michael Williams are all about coffee, ice cream, and community. The Williamses are very involved in local enrichment and you'll see them and the team volunteering with organizations like Young Women of Achievement and Habitat for Humanity. Add some Anchorage attractions to your itinerary, and get to know the community with a hot shot and cold scoop in hand.
In Wilmington, the coffee culture is interwoven with caring…and a lot of early-morning java runs. Those who share posts about their coffee start at 4 a.m. and the conversation peaks at noon. That's a lot of coffee. Maybe they're all waking up early to watch the sunrise over the Atlantic. Downtown is home to several established and smaller shops, like animal-friendly Java Dog Coffee House. Because doggos make mornings even better.
What makes this coffee culture unique?
This is an easy question. Bitty & Beau's Coffee is by far the most unique and endearing coffee community we've come across in a long time. Located east of downtown, Bitty & Beau's prides themselves on creating "more than a place to get coffee." The shop is run by people with intellectual and developmental disabilities, with the goal of helping people accept each other, no matter their differences. The vibe is so warm and joyful, and the coffee is on point. Wanna shop till you drop into a chair with a pastry and latte? Wander into Bespoke Coffee & Dry Goods, located downtown. Sip, shop, repeat, as fashion and home goods round out this relaxing experience.
Looking for breakfast and take-home beans? At Folks Café, their motto is "We exist to know coffee deeply," and they're crushing that goal. Founded in 1999 as a small coffee shop by Alan Swart and later bought by Juan and Tammy Pacini, Folks roasts all organic coffees, and many varietals are fair trade. Try Around the World in 12 Coffees, an international blend, and see if you can taste all the cultures in one cup.
Sitting between mountain ranges in almost every direction, Missoula is an adventure waiting to happen. The Clark Fork River runs right through the downtown area, and you can literally grab a cappuccino in the morning and row a kayak through the neighborhood on that a.m. lift. Florence Coffee Company is the epitome of Missoula coffee culture. Opened in 2003, this local chain is still family-owned with shops and huts all over Western Montana.
What makes this coffee culture unique?
When you taste Zootown Brew's French-pressed coffee, it will also come as no shock that they're the most buzzed about coffee shop in town. Located in the Heart of Missoula, Zootown hosts live music and makes a great space for meeting with friends or getting some homework done. Located on the south side of town near Spartan Park, Drum Coffee is small and on the rise. Serving espresso and house-baked treats and fresh lunch fare, Drum is funky and bright with patio seating—kick back with a latte and views of the Northern Rockies.
Good beans can be enjoyed black, hot, and fresh from the press. That's the idea behind Black Coffee Roasting's simple moniker. They source and roast organic craft coffee, specializing in blends and single-origin roasts. The blend Vinyl is all rock and roll with a medium roast and toffee and chocolate notes. We totally dig it.
Where can we get the best coffee in your neighborhood?