By Kohleun Adamson, on June 29, 2017
America's ultimate wine regions, rated
Do friends call you "Marilyn Merlot"? Is #RoséAllDay your summertime motto? Then this wine guide is for you. We'd like to thank the first person who suggested drinking fermented grape juice, but that was ages ago. Instead, let's honor their legacy with sommelier-inspired sojourns to the best wine regions in the United States.
You've heard about Napa, the Finger Lakes, and Columbia Valley—and we can't say enough how gorgeous they are—but you'll find some of the country's top wineries and vineyards in surprising locations. Each wine region is different and awesome in its own way, so we've taken the guess work out of selecting the drinking destination that best suits your sip style. Monitoring social media shares and posts, we've caught up on wine country buzz according to casual tasters, eager connoisseurs, industry experts, and our own palates. Here's what we've found:
Wine tourism and tasting is popular year-round with no particular season, but the conversation does peak on Fridays and Saturdays.
The majority of this conversation takes place on Instagram.
Of social media posts about wine tourism, 77 percent of people express an emotion in their post, and 92 percent of those emotions are joy—no surprise there.
Wine is for everyone! Women make up 60 percent of wine tourists and men take care of the rest of the bottle (about 40 percent).
---
Pour a glass of fab cab and pore over these ratings of each region based on:
[one_half]
Wine selection: 🍷
Dining options: 🍴
Transportation: 🚐
[/one_half]
Activities: 🎟
Buzz factor: 🐝
Social media presence: 📱
---
The more emojis, the more noteworthy that region is for that category, and five is as good as it gets. Does that look like a mouthful of data? Well, it is, but it's wine.
---
Taster's tally
Wine selection: 🍷🍷🍷🍷
Dining options 🍴🍴🍴
Transportation: 🚐🚐🚐
Activities: 🎟🎟🎟🎟
Buzz factor: 🐝🐝🐝
Social media presence: 📱📱📱📱
---
You already know you can find an iconic bar of chocolate in South Central Pennsylvania, an area anchored by Hersey and the state capital Harrisburg. But did you know over 40 wineries also call South Central home? Although people in the industry have been keen on this area along the Susquehanna River, wine tasting is still a serene, crowd-free experience. Chardonnay lovers will have countless choices, and award-winning riesling, cabernet sauvignon, and chambourcin is also easy to come by.
What's the buzz about?
South Central's cuisine scene boasts bold Italian flavors and steak houses, which pairs perfectly with its most popular wines. Who doesn't love to eat a spicy arrabiata dish with spicy cab sauv? To sample the local produce in many forms, sit down for a casual, farm-to-fork feast at Harvest Seasonal Grill & Wine Bar.
Add some sweets to your menu at Hershey's Chocolate World, because chocolate and wine are a match made in heaven…and in Hershey. If you're traveling with a friend who always orders beer, visit the Vineyard and Brewery at Hershey, the first two-in-one venue of its kind in Pennsylvania, and it's a fabulous idea! You'll find some spectacular ciders brewing too, because this is apple country after all.
Don't miss this!
Speaking of two-in-one wonders, cool off with a lovely wine slushy at Spring Gate Vineyard in Harrisburg. Yeah, it's wine…and a slushy, and you can try all five flavors as they're available. Each weekend from April through November, Spring Gate hosts outdoor events, like the Blueberry Festival this August and Cider Fest in November. Ready to roll? Rideshare companies Lyft and Uber have limited drivers in the area, but the wine tours by Premiere #1 Limousine close the gap between wineries.
---
Taster's tally
Wine selection: 🍷🍷🍷🍷🍷
Dining options: 🍴🍴🍴🍴🍴
Transportation: 🚐🚐🚐
Activities: 🎟🎟🎟🎟
Buzz factor: 🐝🐝🐝🐝🐝
Social media presence: 📱📱📱📱
---
Home to more than 500 wineries, the Willamette Valley stretches from the Greater Portland Area all the way to Eugene. The mix of dry summers and a prominent wet season are perfect for growing the region's world-famous pinot noirs, but you'll also find plenty of riesling, pinot gris, and syrah in these cellars. As you pursue your fermented muse, explore a seaside cityscape, charming small towns, and lots of open landscape.
What's the buzz about?
Winemakers in the valley are getting pretty used to accolades and awards. In fact, Domaine Serene 2013 Jerusalem Hill Vineyard Pinot Noir received the Platinum: Best USA Pinot Noir title from the Decanter World Wine Awards. You'll find this bottle and more in the sleepy and scenic towns of Dayton and Dundee, including Argyle Winery—a favorite of former POTUS Clinton. Book a private event in the Kitchen at Sokol Blosser and savor Executive Chef Henry Kibit's culinary creations fresh from the on-site garden.
The local cities have been receiving their own buzz, too. In 2014, McMinnville's 3rd Street was named runner up in America's Best Main Street contest conducted by Parade Magazine. Start at Pacific Highway and taste your way through tapas, tea, and of course, wine. Join a wine country bike tour with the folks at Lifecycle Adventures, and continue exploring!
Don't miss this!
On the south side of the valley, Eugene is one of Oregon's main college towns with easygoing hippie vibes lots of food, drink, and arts. In addition to being home to award-winning King Estate Winery, Eugene is a great place for craft beer connoisseurs and outdoor adventure-seekers. Sip on local libations from Ninkasi Brewing Company, Elk Horn Brewery, and others at the historic David Minor Theater & Pub.
---
Taster's tally
Wine selection: 🍷🍷🍷🍷
Dining options: 🍴🍴🍴🍴
Transportation: 🚐🚐🚐
Activities: 🎟🎟🎟🎟
Buzz factor: 🐝🐝🐝🐝🐝
Social media presence: 📱📱📱
---
They say Virginia is for lovers, and it's true—lovers of wine. Although small, Virginia has the fifth highest quantity of wineries in the 50 states, and smaller wine producers are leading the way. In fact, the northern portion of the Old Dominion State is one of the more buzzed about and up and coming U.S. wine regions. DINKtravelers—a resource for discerning travelers—claims wine tasting is the best thing to do in Northern Virginia, and we're not gonna argue with that. Now's the time to visit and get in on the crushing room floor.
What's the buzz about?
This area's wine scene is anchored on small businesses. Solar-powered North Gate Vineyard in Purcellville is LEED Gold-certified, so you can go green while drinking your favorite big red. Does talk of going green make you miss the Emerald Isle? Stop by Chateau O'Brien at Northpoint in Markham for an evening of live music and hearty food pairings inspired by Howard O'Brien, Jr.'s Irish heritage. Pro tip: Try the apple wine; it's a visitor favorite.
Northern VA is full of historic sites and, just like wine, they just get better with age. Between flights, take a guided tour of George Washington's Mount Vernon Estate & Gardens for an inside look at the first president's not-so-humble abode. Be sure to visit the on-site museum and educational center, and of course, admire amazing views of the Potomac River.
Don't miss this!
Not sure when to plan your #GrapeEscape? Attend the 8th Annual Shenandoah Uncorked Wine Festival this November 11 in Quicksburg. This event features tastings, agricultural demos, kid-friendly activities, lots of local art, and of course, plenty of wine. Sample flights from award-hoarding Narmada Winery, Castle Glen Estates Winery, and more. Plus, the rural valley setting is an Instagram gold mine. Sip, snap, and share.
---
Taster's tally
Wine selection: 🍷🍷🍷🍷
Dining options: 🍴🍴🍴
Transportation: 🚐🚐🚐🚐
Activities: 🎟🎟🎟🎟🎟
Buzz factor: 🐝🐝🐝
Social media presence: 📱📱📱
---
Yes, Illinois has a small wine industry compared to the Napas and Finger Lakes of the world, but what it lacks in size—so far!—it makes up for in variety and unique experiences. Wander along the renowned Shawnee Hills Wine Trail, catch an outdoor concert, or embark on some adrenaline-pumping adventures, such as zip lining with Shawnee Bluffs Canopy Tour. All followed by a glass of the region's most prevalent varietal, a dry, citrusy chardonel. This and other hard-to-find hybrid grapes, like chambourcin, vidal blanc, and vignoles, give this region extra points for selection.
What's the buzz about?
Southern Illinois wine country is home to more than rolling vineyards. It also spans several small towns and a national forest, as well as a state forest, perfect for those seeking outdoor adventures. If you've ever wanted to rock climb and hike by day and sip apple wine at sunset, this is the place to be! Take your gear to Ferne Clyffe State Park and trek among waterfalls before heading west to connect with the area's historic wine trail.
Along the Shawnee Hills Wine Trail, you'll find 11 gorgeous wineries and lots of rustic barbecue-forward dining options. Blue Sky Vineyard in Makanda isn't kidding about its name—the venue offers outdoor tasting tables looking out over the 13-acre, award-winning vineyard. Each Saturday and Sunday, Blue Sky hosts a free outdoor concert. Do you enjoy party hopping? Just south of Blue Sky, Orlandini Vineyard is also known for crowd-drawing live music when the weekend rolls around.
Don't miss this!
Not convinced Southern Illinois is a wine destination like no other? Well, journey to Carterville and wine and dine in a cave at Walker's Bluff. Book the unique venue for an event or wander in for a date night surrounded by wine on all sides. The secluded ambiance makes this one of the best wineries to visit for a romantic escape. Local driving services and tours are plentiful, and getting around is quite easy. For a guided tour, gather a few friends and contact Shawnee Shuttle for a shopping, dining, and tasting experience.
---
Taster's tally
Wine selection: 🍷🍷🍷🍷
Dining options: 🍴🍴🍴🍴
Transportation: 🚐🚐🚐🚐
Activities: 🎟🎟🎟🎟
Buzz factor: 🐝🐝🐝 🐝🐝
Social media presence: 📱📱📱📱
---
With Santa Cruz on the north end and Paso Robles on the south, California's Central Coast is one of the longest wine tour destinations in the U.S., spanning multiple counties. It's also critically acclaimed. Seven of Wine Enthusiast's 2016 Top 100 wines are from the Central Coast—including two in the top 10—beating out contenders from around the world. Cabernet sauvignon is by far the belle of this ball, but you'll also sample your share of merlot, chardonnay, and pinot noir in this region. Many travelers center their getaway on either Santa Cruz or Paso Robles, and expand their expedition from there.
What's the buzz about?
Paso Robles is home to over 200 wineries in a relatively small location, producing over 40 grape varieties. Halter Ranch is known for their refreshing rosés (yes, all day), and they offer unconventional Excursion Tours through the vineyards. There's no better way to get to know the Golden State than ambling through the great outdoors and sipping a good harvest. If riding a 4×4 through paradise makes you feel peckish, make Cass Vineyard & Winery your next stop. In addition to a tasting room on the veranda, Cass features a full-service café with signature dishes, like the BLAST—a bacon, lettuce, avocado, and sundried tomato aioli sandwich #WHAT. When you're ready to roll, get around like royalty with one of the region's many wine tour ride services, or book a Designated Wine Driver for a more personalized local commute.
Variety is the spice of life, so embark on a Private Sommelier-Led Winetasting Tour in Paso Robles with Lunch. For a more walkable destination, head to Santa Cruz. Several tasting rooms fill downtown with tannins and tastings near the waterfront, so you can walk and sample without driving. MJA Vineyards, Santa Cruz Mountain Vineyard, Rexford Winery, and many more line Ingalls Street. Walk out to the end of the wharf for a flight at sunset at Vino Prima Wine Bar, featuring casual vibes, stunning sights, and a list of local and international varietals.
Don't miss this!
Feeling fancy? Well, you're in luck. In addition to wine galore, Central Coast is home to Hearst Castle, built in 1919. Located 39 miles west of Paso Robles and 172 miles south of Santa Cruz, it's a great museum for families and a place to raise the "fancy factor" on any girls' weekend.
---
Taster's tally
Wine selection: 🍷🍷🍷🍷
Dining options: 🍴🍴🍴🍴🍴
Transportation: 🚐🚐🚐🚐🚐
Activities: 🎟🎟🎟🎟
Buzz factor: 🐝🐝🐝🐝
Social media presence: 📱📱📱📱📱
---
Located in Northern Michigan, this region is a favorite among spring and summer travelers from all over the country. Known for producing high quality white wines, like riesling and chardonnay, as well as blends, Greater Traverse City is a refreshing destination. Savor a chilled glass of your favorite vintage on the waterfront of a two-armed bay and let your troubles float away.
What's the buzz about?
The wine region begins in Traverse City and stretches along the east banks of Lake Michigan to Leelanau State Park and Grand Traverse Lighthouse. For a wondrous wine weekend, plan your trip around one of the three main loops: Sleeping Bear Loop on Lake Michigan, Northern Loop around the north shores of Leelanau Township, and Grand Traverse Bay Loop on West Grand Traverse Bay. Altogether, the peninsula features 26 wineries in a small space, which is a trip-planning dream.
Our traveling trifecta includes wine, stunning scenery, and complex cuisine that just shouts flavor. Better yet, Northern Michigan serves up all of the above in one place! Dining options include chic European-inspired bistros, such as amical in downtown Traverse City, as well as casual fusion food trucks slinging fast and fierce eats at the outdoor destination the Little Fleet. For fresh Americana fare with #WineComeRainOrShine, try Bluebird Restaurant & Tavern in Leland, featuring an impressive local wine list and patio seating. Prefer to dine at the winery? Black Star Farms offers on-site dining with plenty of Instagram shout-outs.
Don't miss this!
Getting around is made easy and stress-free with rideshare options, shuttles, and limo services along the trails. Grand Traverse Limousine is a local transportation team with vineyard tours, brewery excursions, and event transportation. If you're planning to stay on the sober side, join the folks at Grand Traverse Bike Tours for a bike ride or paddle boarding jaunt.
---
Taster's tally
Wine selection: 🍷🍷🍷🍷
Dining options: 🍴🍴🍴🍴🍴
Transportation: 🚐🚐
Activities: 🎟🎟🎟🎟
Buzz factor: 🐝🐝🐝
Social media presence: 📱📱📱
---
West of the Continental Divide, the Centennial State is making wine like it's going out of style…but don't worry, there's no chance of that. The region's winemaking centers on the biggest city, Grand Junction, and up and coming wine town, Palisade. Of course, if you find yourself on the west side of the Rockies during the winter, you might as well stop in Aspen for or Vail for a ski trip and local mulled merlot next to the fireplace. Not the outdoorsy type? That's A-OK. Trade the slopes for the spa!
What's the buzz about?
Make Grand Junction the main hub for your big #SyrahHurrah. It's home to fashion boutiques and antique shops, an impressive fleet of brew pubs, and fine regional dining. Prime your palate with dinner at the Winery Restaurant. Aptly named, this dining wonder has the ambiance of a keepsake cellar and a menu only farm-to-table cooking can inspire. Start your meal right with their beloved Whitefield mushrooms in garlic butter and do yourself a favor—order dessert.
Located about 15 miles east of Grand Junction, the town of Palisade may be small, but it's fierce. These days, Palisade is having more than a moment, thanks to its gorgeous, grape-pampering terrain and a reputation for stellar wine and spirits. Save room for a pint of crisp Laid Back Blonde Ale at Palisade Brewing Company, a locally sourced microbrewery. Or, sip something stronger from Peach Street Distillers.
Don't miss this!
To learn more about the wine production process, visit the friendly folks at the Varaison Vineyards tasting room in Palisade. Cleanse your palate with fresh peaches at Aloha Organic Fruit—a summer orchard tour smells like heaven. Driving apps, like Lyft, do service the area, but other transportation options can be limited, due to the mountain ranges and other factors, so plan ahead for the best experience.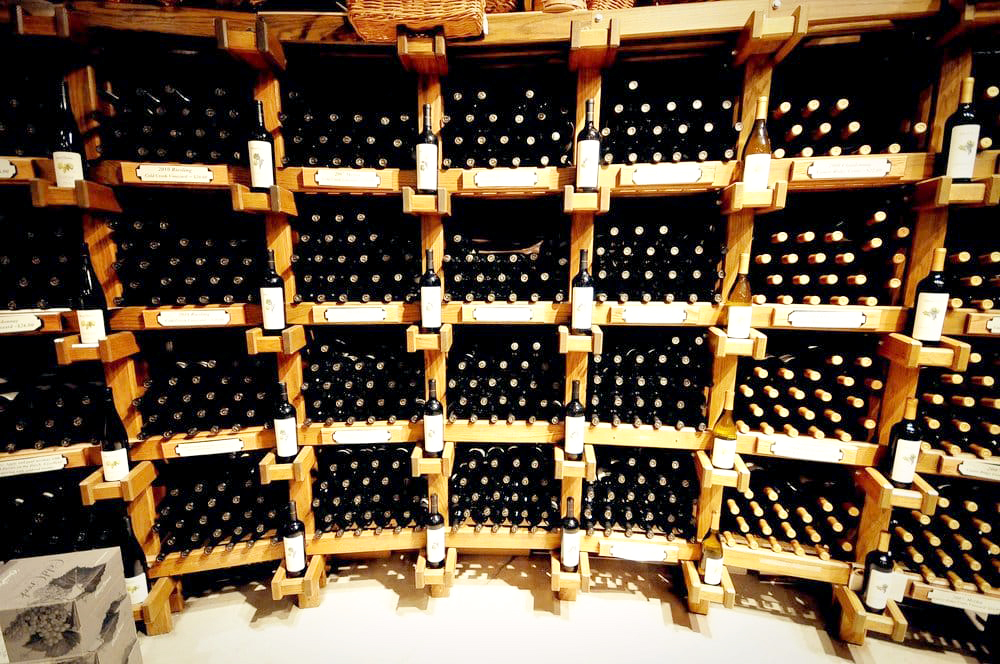 ---
Taster's tally
Wine selection: 🍷🍷🍷🍷
Dining options: 🍴🍴🍴🍴🍴
Transportation: 🚐🚐🚐🚐
Activities: 🎟🎟🎟🎟
Buzz factor: 🐝🐝🐝🐝
Social media presence: 📱📱📱📱
---
We already know how awesome the Columbia Valley is. With wine producers in almost every city—even on tiny islands—Washington's Puget Sound proves the Evergreen State is a force of nature. Known for European white varietals, including siegerrebe, riesling, and Madeleine Angevine, this region is the perfect summer destination for an eclectic palate. The main wine cities include Seattle and Woodinville, but even a ferry ride to Bainbridge Island or Vashon Island will end in a flight.
What's the buzz about?
Woodinville is less urban than Seattle and home to over 90 tasting rooms and Washington's oldest winery, Chateau Ste. Michelle, built in 1912. Many of the wineries and tasting rooms are within walking distance of each other, so pack your walking shoes and get a ride to the city center. Dine in Woodinville at critically acclaimed The Herbfarm for field-fresh fare and an extensive wine list. The nine-course tasting menu often begins with a stroll through the garden, weather permitting. We're charmed.
In Seattle, Elsom Cellars makes bold reds and was named on Food & Wine's "Where to Drink in Seattle" article. After a glass of their signature Isabella Red Wine Blend, you'll know why. Wine lovers from all over the country hone your sommelier skills at the Northwest Wine Academy, a fully operative winery and educational resource. Stop by the academy's tasting room for, you know, science.
Don't miss this!
Add a little island life to this journey with an afternoon on Bainbridge Island. Bainbridge Vineyards is one of the few wine producers in the region to make pinot noir. Once you've enjoyed the many activities in Seattle, ride the ferry to Bainbridge—your car can ride along, too—and drive from the dock to the tasting room, located a 2-mile drive to scenic Manzanita Bay. Love these island vibes? Wander around! Bainbridge is home to quite a few wineries and tasting rooms and peaceful shorelines #Saltwater+Wine.
---
Taster's tally
Wine selection: 🍷🍷🍷
Dining options: 🍴🍴🍴🍴🍴
Transportation: 🚐🚐🚐
Activities: 🎟🎟🎟🎟🎟
Buzz factor: 🐝🐝🐝🐝
Social media presence: 📱📱📱📱📱
---
We're glad Texas Hill Country is located smack dab in the middle of the Lone Star State, because more Texans have easy access to a darn good bottle. Hill Country includes historic, weird, and wonderful cities San Antonio, Austin, and Fredericksburg, so expect a busy itinerary. Don't be shy about the chardonnay in the state capital, and sip and swirl a glass of blanc du bois on the banks of the San Antonio River. These hills are covered in scenic walking and driving trails curated for many interests, from agriculture to dance halls.
What's the buzz about?
Hill Country's culinary options range from fine fusion to sports bar comfort foods. For a taste of the former, dine on wild game and seasonal veggie dishes with Asian flavors at August E's in Fredericksburg. On Tuesdays, Chef Leu serves gourmet Thai dishes with Texas wines—what a pairing! In San Marcos, Crafthouse Kitchen & Tap puts a farm-to-table spin on Texas pub grub, and features a large selection of wine, beer, and spirits. It's perfect when you want to drink wine with a sports bar vibe.
Over in Stonewall, Kuhlman Cellars is a popular place to spend some serious #WineTime. Their tastings are a culinary experience, with a light food pairing selected for each wine flight. Can't decide where to start your foodie foray? Join a Hill Country Barbecue & Wine Shuttle to combine some of our favorite things in Texas.
Don't miss this!
In the center of all these hills, Fredericksburg is the big wine hub, with more wineries than the other towns and cities in the entire area. In case you start to forget you're in Texas, you'll find a hearty serving of Lonestar sass at Fat Ass Ranch & Winery—yes, that's the real name, and their award-winning wines have just as much character.
Where will you be sipping like a sommelier on your next getaway?