By Expedia, on August 20, 2020
Arches National Park: Moab Region Vacation Ideas
[video-container][video-title]
[video-tag]
Arches National Park: Moab Region Vacation Ideas
[/video-title][full-width-paragraph]With COVID-19, it's important to stay safe and practice social distancing. We hope you find the following content entertaining, inspiring, or useful for a future trip. Always research official websites for up-to-date information on closures and new health and safety policies as businesses and destinations reopen.[/full-width-paragraph]
[video-blue-header]In Utah's Canyon Country, find the epic landscapes of Arches National Park. This park holds one of the world's largest concentrations of naturally formed stone arches. Seemingly everywhere you turn here, fantastic photo opportunities await. The memorable scenery of distinctive red sandstone draws many admiring visitors. This blog runs alongside our Arches National Park Vacation Travel Guide video, so you can check out the footage as you read. Planning a trip to Arches National Park has never been easier with our list of the top vacation ideas in the area. Take the 4-hour drive from Salt Lake City to Moab and continue your driving vacation to the many other national parks that span Utah, Arizona and Colorado.
[/video-blue-header]
[full-width-paragraph]
Ideas of places to visit in Arches National Park
Arches National Park's attractions are popular with hikers and nature enthusiasts. The 76,518 acres offer plenty of space to breathe and take in the views. From its beautiful trails, to its famous arches, this national park is the perfect place to visit for those seeking open space and adventure on their vacation. Although home to the greatest concentration of natural arches in the world, Arches National Park's allure stretches far beyond its namesake. The park is home to hundreds of towering pinnacles, breathtaking fins and giant balanced rocks. Check out the best spots to add to your travel itinerary. Witness the park's full majesty as you walk its trails. Make sure you catch the spectacular sunset and stay on for stargazing afterwards.
---
(0:41 in the video) Located just 5 miles north of Arches National Park, the rugged, red-rock city of Moab offers a diverse range of activities and attractions fit for all adventurers. With two national parks on its doorstep, this open-air playground is a must for bikers, hikers and outdoor enthusiasts.
---
Arches Scenic Drive
(1:50 in the video) Take in the artistry of the park at your own pace via the Arches Scenic Drive. With miles of panoramic views and plenty of roadside stops, you'll be hard-pressed making the drive without regular photography stops.
---
(2:51 in the video) This scenic trail gets its name from the famous New York street for its striking pinnacles and spires reminiscent of skyscrapers. A 2-mile round trip, the well-maintained Park Avenue Trail is suitable for almost all fitness levels making it a great addition to any Arches National Park itinerary.
---
(3:09 in the video) This teetering giant is a tribute to the ever-changing landscapes of the region. What appears to be a huge, precariously balanced sandstone block sitting on a thin column of rock, Balanced Rock is one of the most iconic attractions in Arches National Park. At an amazing 128 feet tall, this is a sight to behold while it lasts.
---
(3:15 in the video) In the heart of Arches National Park, the fascinating sandstone formation known as the Windows (or the Spectacles) offers unobstructed views of the red valley below it. Made up of two arches, the structure gets its name from its striking resemblance to a face, with holes for eyes and nose. Follow the 1-mile loop trail of the same name to visit the Windows and take in the surrounding terrain.
---
(3:47 in the video) Delicate Arch is perhaps the most iconic of Arches National Park's rock formations. You might recognize it from the state license plates and postage stamps. This spectacular free-standing arch, and the eponymous trail that leads to it, offers visitors incredible scenery and a chance to examine Ute petroglyphs of sheep and horses. When standing in the arch's opening, its size can truly be appreciated. Snap a photo as a memento.
---
(4:37 in the video) Outdoor enthusiasts planning a trip to Arches National Park should consider tackling one of the most popular, rewarding and challenging hikes in the park, Fiery Furnace. The trail is a 2-mile round trip, but the distance isn't the obstacle; it's making your way through the maze of towering canyon walls across irregular and demanding terrain. The National Park Service highly recommends first-timers join a ranger-led tour.
---
(4:42 in the video) Follow the mostly shady Sand Dune Arch Trail through the striking landscape. This 0.3-mile round trip is suitable for all skill levels, and as such is popular with families. The path leads to a secluded arch flanked by sandstone fins and surrounded by deep sand. This attraction is located not far from Moab.
---
(4:48 in the video) Adventurers flock to Devil's Garden, one of the park's premier locations. This popular area is located at the very end of the park's road, but is definitely worth the journey and a spot on your itinerary. Join sightseers, hikers, campers and stargazers amid the spires, fins and arches.
---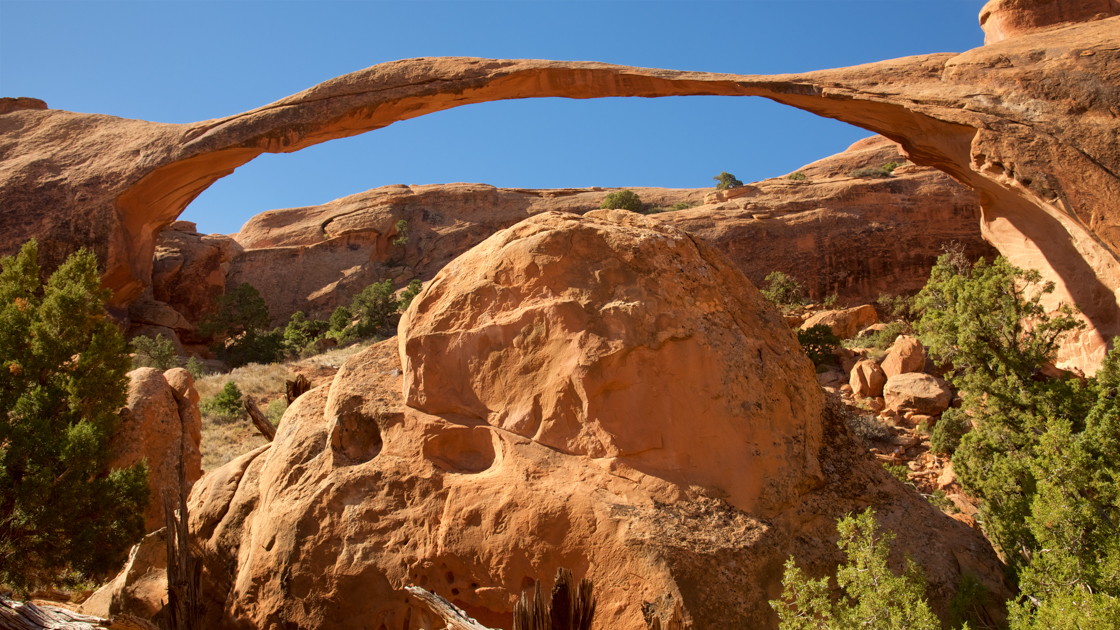 (5:12 in the video) Sunrise or sunset makes viewing Landscape Arch extra special. Follow the paved nature trail to this natural arch which spans approximately 300 feet, making it one of the world's longest. If you're looking for great photography opportunities to include in your Arches National Park itinerary, this top attraction could take the crown.
[/full-width-paragraph]
---
[full-width-paragraph]
Need more Arches National Park vacation ideas?
Want some more travel inspiration for your next vacation? Browse through our Arches National Park photo gallery to see more unique pictures of this incredible destination. If you want to broaden your horizons, our wider photo gallery houses pictures from around the world to help you envision that soon-to-be unforgettable vacation.
We have hundreds of travel videos from around the world. It's time to get inspired and excited for your next adventure.
Ready to start planning the trip?
Arches National Park hotels
Vacation packages to Arches National Park
Car rentals in Arches National Park
This article was originally published on [publish-date]. If you'd like to stay updated on new videos of the beautiful destinations that our planet has to offer, subscribe to Expedia's YouTube channel.
[/full-width-paragraph]
[youtube-cta-US]
[travel-video-cta-US]
[/video-container]