By Expedia, on August 11, 2019
Barcelona Vacation Ideas for Planning an Itinerary
[video-container][video-title]
[video-tag]
Barcelona Vacation Ideas for Planning an Itinerary
[/video-title][video-blue-header]Barcelona should be at the top of every traveler's bucket list. Spain's second-largest city sits on the Iberian coast, just a three-hour drive south from the French border and a short stroll from the sparkling Mediterranean Sea.
From the Romans to the Moors, many cultures have shaped Barcelona, but it was Catalan creativity that developed the destination which today attracts millions of wide-eyed visitors a year. Our Barcelona travel guide is filled with great vacation ideas and footage that will inspire the perfect travel itinerary. Learn about the best places to visit in Barcelona before you even book your flights, so you can land with a great trip planned.
[/video-blue-header]
[full-width-paragraph]
Ideas of places to Visit in Barcelona
When many travelers think of Barcelona they think of architect Antoni Gaudí and his as-yet-unfinished masterpiece, La Sagrada Familia. But beneath the shadows of Gaudí's spires, you'll find endless things to do in Barcelona.
From its UNESCO World Heritage sites to its staggering array of galleries and museums, from the never-ending parade of La Rambla to its miles of sunlit beaches, we've put together a list of Barcelona's best places to visit to help you get the most from your trip.
---
(1:15 in the video) Start your Barcelona itinerary with a visit to Catalonia Square, a popular meeting point where Ciutat Vella (the old city) and the Eixample district (the new city) converge. Cool off by the fountains and snap a few "day one in Barcelona" selfies surrounded by the statues, mosaics and flocks of pigeons, before you set off to explore the city's many attractions. As well as being the city's heart, Catalonia Square also marks the beginning of two of Barcelona's most important avenues: La Rambla and Passeig de Gràcia.
---
(1:35 in the video) Follow the scent of the sea breeze down one of the world's most popular boulevards, La Rambla. A leisurely stroll here is at the top of most travelers' itineraries whether on a day trip to Barcelona or vacationing for a week.
In the Middle Ages, La Rambla was little more than a muddy stream; today this avenue is lined with some of Barcelona's finest buildings and cultural institutions. But before you become too mesmerized by all the sights, sounds and scents of La Rambla, beware, the crowds here make the avenue a magnet for some of Europe's most skilled pickpockets too.
---
Passeig de Gràcia
(1:53 in the video) For some take-home treasures from your trip, walk along Barcelona's most stylish and upmarket shopping avenue, Passeig de Gràcia, which passes through the Eixample district. Eixample is a great area for sightseeing as it's home to some of Barcelona's finest architectural treasures, including the Block of Discord, a collection of four of the city's most celebrated buildings.
---
(2:30 in the video) After exploring some of Barcelona's most popular avenues, plan a visit to Barrio Gòtico and lose yourself in the side streets and medieval lanes. Known throughout Roman times as Barcino, the Old Town is another great area to stay in Barcelona. Set aside at least one or two days of your itinerary to wander this delightful labyrinth, home to Catalan-gothic churches such as Barcelona Cathedral and Saint Mary of the Sea. Barrio Gòtico is also filled with cafés and tapas bars which provide great refuge from the midday sun in summer.
---
(3:27 in the video) If you love the sea, include a trip to Port Vell in your Barcelona itinerary. Start at the Mirador de Colom, the towering monument to Christopher Columbus, who landed here after his incredible voyage to the New World. Visitors here like to spend time soaking up the sun and watching the boats bob in the shadows of the superyachts, which often moor here.
---
(3:50 in the video) Just beneath the Columbus monument is the Maritime Museum. Housed in the medieval dockyards, this is the perfect addition to a history-lover's itinerary. Here, visitors can learn about Barcelona's proud seafaring and trading past when it ruled the Mediterranean waves.
---
(4:05 in the video) While in Port Vell, history buffs will also want to visit the Museum of the History of Catalonia. Plan to spend an hour or two exploring the old general stores, a fascinating portal into the daily lives and aspirations of Catalans throughout the centuries.
---
(4:44 in the video) Continue your journey into Catalan culture with a trip to the Palace of Catalan Music. Allow at least an hour to take in the incredible modernista-style interiors of this concert hall, or better still, time the visit to take in a performance in one of the world's most beautiful music venues.
---
(5:01 in the video) When planning a trip, don't forget that Barcelona is also a symphony for the taste buds. Every visitor should allow for at least one visit to La Boqueria, while foodies will want to return every single day during their vacation! Situated just off La Rambla in the Ciudad Vieja district, the market is the perfect spot to sample culinary delights and specialties from all over Catalonia. Explore the colorful market stalls, or head to the back and take a seat at one of the tapas bars.
---
Art Museums
(5:47 in the video) Art lovers will find endless things to do. Follow Picasso's artistic journey through the halls of the Picasso Museum. Across the road is the European Museum of Modern Art (MEAM), which celebrates 20th- and 21st-century figurative art.
When planning an art tour of Barcelona, a visit to the National Art Museum of Catalonia is a must. After enjoying the sights of Plaça d'Espanya, climb the steps to the National Palace, which houses a collection spanning centuries of Catalan art, from early Romanesque murals to modern art.
---
(6:20 in the video) Those looking for picture-perfect views of Barcelona will want to add a visit to Montjuïc to their itinerary. Montjuïc offers incredible views across the city, as well as plenty of quiet green spaces where visitors can take a break from the busy streets below. For the best views of all, take a ride on the Montjuïc cable car to Montjuïc Castle, which has watched over the city since the 1600s.
---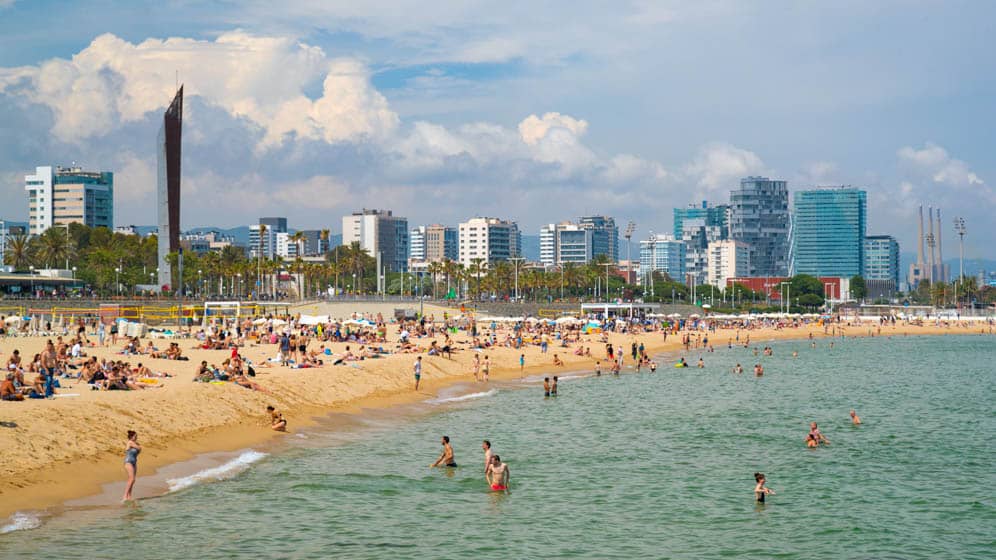 Beaches
(7:09 in the video) Looking for vacation ideas close to the water? Barcelona is one of Europe's top beach cities, so pack your swimsuit and include plenty of "beach time" in your itinerary. The city averages over 300 days of sunshine a year, so be sure to soak up the Spanish vibes and Mediterranean sun on Barceloneta Beach and Bogatell Beach, two of Barcelona's most popular beaches.
---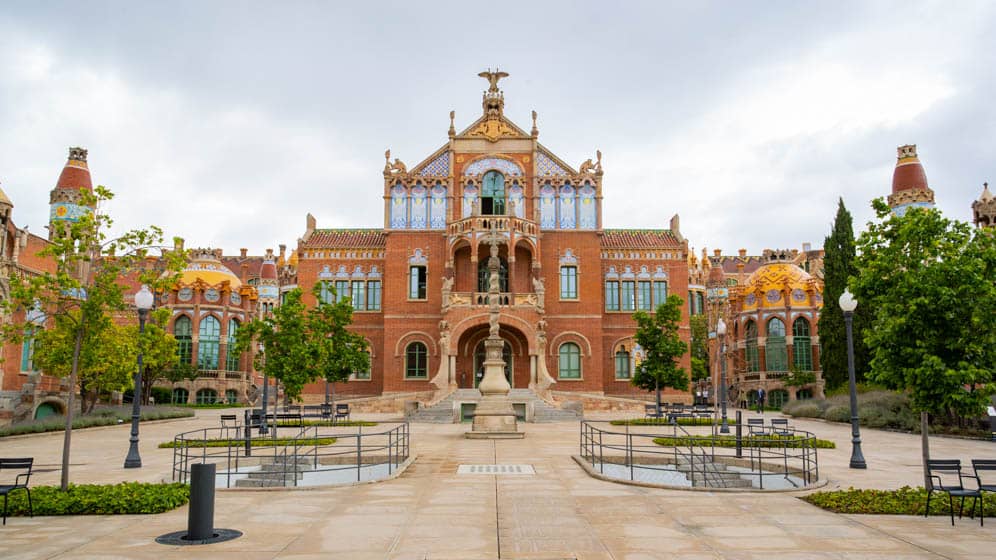 (7:51 in the video) A Barcelona sightseeing tour should include the city's show-stealing modernista and art nouveau architecture. No one wants to visit hospital while on vacation, but Barcelona's historic Sant Pau Hospital is certainly an exception. Designed by the visionary Catalan architect Lluís Domènech i Montaner, this vast hospital complex and its herb-scented grounds was designed to lift the spirits of the sick with its incredible beauty.
---
(8:33 in the video) Barcelona's skyline was shaped by some of the world's greatest architects, but it is the work of Antoni Gaudí that fills most visitors' itineraries. Of the nine UNESCO World Heritage sites in Barcelona, Gaudí is responsible for seven of them. Plan a visit to Casa Vicens, the very first residence designed by Gaudi.
---
(9:02 in the video) The next stop on every Gaudí trip planner should be Palau Güell, where Gaudí continued to develop his unique architectural style. Just a few steps from La Rambla, this 19th-century mansion, with its tree-like basement pillars and fanciful chimney pots, was just a taste of the wonders Gaudí would go on to create.
---
(9:19 in the video) If only in Barcelona for a day trip or weekend away, Casa Batlló is the one Gaudí residence not to be missed. One hundred years after completion, Gaudí's masterpiece still stops passers-by on Passeig de Gràcia in their tracks, for there is no other building on Earth quite like this. Known affectionately as the House of Bones, Casa Batlló seems to be entirely devoid of straight lines. Climb each incredible floor to the "ribcage" loft, before finally emerging onto the roof designed to evoke the back of a dragon.
---
(10:04 in the video) Trust us, once you've experienced just a little Gaudí you won't want to stop, so include as many Gaudí attractions into your itinerary as you can. Continue your sightseeing journey just around the corner at Casa Milà, the final private residence he designed. The rooftop holds a special place in the hearts of Stars Wars fans, for it was Casa Milà's strange chimneypots that gave a young George Lucas the inspiration for Darth Vader and his Stormtroopers.
---
(10:44 in the video) Antoni Gaudí's creativity knew no bounds and for him, landscape design was a natural playground for his genius. Make room in your itinerary for a couple of hours to explore Park Güell, one of Barcelona's must-see attractions. In peak tourist season it's a good idea to pre-pay the admission fee if you're keen on visiting Park Güell's famous Salamander sculpture and the Terrace; otherwise, the rest of the park is free. For some of the best views of Barcelona, head to Park Güell's southwest corner and climb the stairs to Turó del Calvari. From here, gaze across Barcelona's rooftops to the spires of Gaudí's greatest work, La Sagrada Familia.
---
(11:06 in the video) Even though we've left Gaudí's soaring masterpiece until last, La Sagrada Familia should be the number one attraction on every Barcelona itinerary. Though it won't be completed for at least another decade, over 4 million visitors to Barcelona line up each year to experience a cathedral that looks like something created from a dream. After having your breath taken away by the light-dappled, forest-like interior, head down into Casa Museu Gaudí to see the incredible scale models Gaudí devised to explore and prove his innovative design concepts. La Sagrada Familia is one of Europe's most popular attractions, so it's highly advisable to book all tickets online, especially the tours for the towers. A Barcelona vacation itinerary is simply incomplete without visiting La Sagrada Familia.
[/full-width-paragraph]
---
[full-width-paragraph]
Need more Barcelona vacation ideas?
We hope you enjoyed these ideas for getting the most from your next Barcelona vacation. If you need more inspiration before you book your flights and accommodation, check out our Barcelona images. Our wider photo gallery is also available for our world travelers and soon-to-be!
And remember, why limit yourself to just one destination? We also have hundreds of other Vacation Travel Guide videos from all around the world; so be sure to subscribe to Expedia's YouTube channel today.
Ready to start planning the trip?
Barcelona hotels
Flights to Barcelona
Vacation packages to Barcelona
Car rentals in Barcelona
Activities in Barcelona
Stay updated on new vids
This article was originally published on [publish-date]. If you'd like to stay updated on new videos of the beautiful destinations that our planet has to offer, subscribe to Expedia's YouTube channel.
[/full-width-paragraph]
[youtube-cta-US]
[travel-video-cta-US]
[/video-container]