By Expedia, on July 17, 2019
The Best Cities to Take a Literary Tour
Summer reading is as much a part of the season as baseball games or trips to the beach. Why not take it to the next level with a vacation to one of these literary hot spots? Below you'll find our picks for some of the best cities to find top literary tours. From the steps of John Steinbeck's Californian home to Mark Twain's former abode, if you travel for literary history this summer you're sure to create memories that will last.
---
Read also: Best literary destinations around the world.
---
It might not be San Francisco, it might not be Los Angeles, but Salinas can lay claim as the hometown of Nobel Prize laureate John Steinbeck. Take a stroll down the real Cannery Row, later the inspiration for the novel of the same name. As you gaze at the mountains and Pacific coast around you, take note that it's the same landscape that inspired Steinbeck.
Make your way to Monterey, only twenty minutes away. Monterey plays a prominent role in Steinbeck's novels Tortilla Flat, Sweet Thursday and the sweeping East of Eden. While you're in Monterey make sure to stop by the world-famous Monterey Bay Aquarium and Fisherman's Wharf. The city has more than literary landmarks, the Monterey Jazz Festival and California Roots Music and Arts Festival also take place in the city.
If there was a center of the literary world, New York City would be it. Many of the world's top publishers, writers and critics operate out of NYC. For the literary minded, the Big Apple has no shortage of landmarks.
Start at Strand Bookstore, home to "18 miles of books". This independent bookstore is a New York City institution. They have a notoriously knowledgable staff, so make sure to pick something up from their recommendations table. Then go on to the Morgan Library and Museum. Once the personal library of financier Pierpont Morgan, the library is now a public museum. It is also a visual masterpiece and makes for an excellent afternoon for any book-lover. Finish your trip with a literary pub crawl. Meet your favorite authors, interact with the literary community of New York City and enjoy great food and drink in the process.
What's a small college town in rural northern Mississippi have to offer the literary world? Perhaps best known for their most famous former resident, Nobel-prize winner William Faulkner, Oxford has no shortage of literary star power. Take a literary tour of his former residence at Rowan Oak where you can type on his typewriter, and catch glimpses of the doodles he left on the walls.
If you're looking for a great independent bookstore, stop by Square Books. Chosen by Publisher's Weekly for their 2013 Bookstore of the Year, Square Books is a local icon. They're known for their strong emphasis on literary fiction, especially great Southern writing. And with their setting in Mississippi, prepare for great food and drink when you need a break from your tours.
If you want to explore the literature of early America, it's hard to beat Hartford. Stop by this small New England city for a tour of Mark Twain's former house. The beautiful mansion was named one of the top historic homes in the world by National Geographic. And when you stop by, you'll see why. Right next door is the former home of Harriet Beecher Stowe, another titan of early American literature.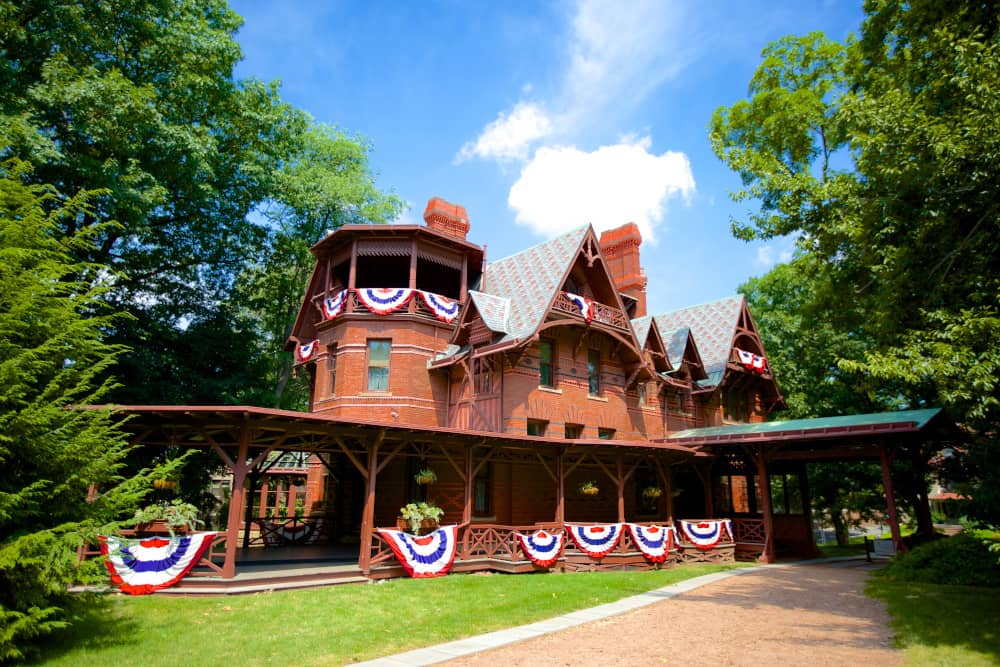 After your tours, relax with a good book in Bushnell Park on Trinity Street. The park deserves a full day to explore. Along with fountains, statues and an arboretum full of rare trees, the park also has a carousel dating back to 1914. Finish your trip with a visit to the Wadsworth Atheneum Museum of Art. The museum features films, live-music, and weekend brunches in addition to their permanent galleries.
Perhaps more than any other city, Iowa City is a writer's literary city. As the first UNESCO City of Literature in the United States, Iowa City is a hotbed of writing, reading, publishing and literary criticism. Every week features readings, conferences and other literary gatherings. There's the Mill, the Mission Creek Festival and the Iowa Writer's Workshop which graduated writers like John Irving and Flannery O'Connor.
The city's famous Lit Walk is a great opportunity to meet your favorite authors, engage with the local writing community and enjoy great food and drink.
Be sure to also stop by Prairie Lights, one of the best independent bookstores in the country and top venue for local literary groups since 1930. Finally top your trip off with a trip to Hamburg Inn No. 2, home of the famous pie shake (a slice of pie blended into a milkshake).
What is it about the South that makes such great writers? For the second Southern city on our list, immerse yourself in the literature of red beans and rice, steamships and street jazz. New Orleans has produced more than enough writers for a complete tour. Come see the streets that inspired Kate Chopin, Nic Pizzolatto, Tennessee Williams and many more.
Take a ride on the Carousel Bar & Lounge at Hotel Monteleone. The hotel was the former stomping grounds for writers like Ernest Hemingway and Jack Kerouac. Have a sazerac as your tour the 1842 house where Tennessee Williams would go on to write his famous "A Streetcar Named Desire".
Any bookworm's trip to Portland should start at Powell's City of Books. Widely acknowledged as the biggest used & new bookstore in the world, the store takes up an entire city block. Powell's has over a million books on their shelves as well as a rare books room. Here you'll find first editions and autographed copies at eye-popping prices.
But Powell's is far from the only bookstore in the Rose City. There's Annie Bloom Books in Multnomah Village, Broadway Books downtown, and the feminist bookstore In Other Words, famous for their satirical portrayal on the TV show Portlandia.
If you're in town for the Portland Book Festival (formerly known as Wordstock), make sure to stop by for author appearances, book signings, and writing workshops.
---
If you're looking for a vacation filled with culture and knowledge, try a city with a top literary tour for your next summer break.