By Jennifer Cuellar, on September 23, 2019
Best Thrift Stores in Anaheim
Southern California's Orange County is synonymous with the luxe life, and if you've ever visited Anaheim, it was probably for a larger-than-life experience: a trip to Disneyland, an Angels baseball game, or maybe a day of shopping and dining. Anaheim is the place to be for thrills, fun, and memory-building.
But just off the beaten path, hidden behind the tourism and entertainment, is a second Anaheim, a thrifters' paradise where locals know how to find great deals. When you're saving this much money on clothes, books, and home goods, you won't have to think twice about buying that resort dinner, so read on for fantastic thrift store finds in Anaheim.
1. Anaheim Thrift Store
It doesn't get much simpler than this! Anaheim Thrift Store is open Monday through Saturday from 9 a.m. to 6 p.m., and shoppers consistently marvel over the store's incredible selection of clothes, books, home goods, and accessories. Expect to find yourself saying, "Wow, they have everything!" as you browse endless rows of quality items. Plan to come with cash, as Anaheim Thrift Store doesn't accept credit cards, but there is an ATM on-site in case of a fashion emergency.
2. Goodwill Store
Do you Disneybound? This fun trend sees Disney fans dressing up in regular clothes—not costumes—that bring to mind the outfits of their favorite Disney characters. A woman wanting to evoke Ariel from "The Little Mermaid" might choose a purple top and teal pants, maybe putting a seashell clip in her hair for good measure. If you want to try Disneybounding, make a stop into Anaheim's Goodwill Store and be reminded why you can't beat a classic. The ubiquitous Goodwill charitable organization's Anaheim location has a familiar layout and consistently low prices, and this store accepts credit cards, too.
3. RARE by Goodwill
When you think of Goodwill, you probably think of great bargains and casual clothing, but you may not think of the glamour and fashion of an Orange County evening on the town. Think again! RARE by Goodwill is a curated collection of designer and vintage resale items that feels more like a consignment shop or vintage clothing boutique than your average thrift store. Expect to find designer boots and purses, eye-catching coats, and exquisite home goods at this store… but don't expect to pay Orange County prices! Because this shop is operated by Goodwill, it's still extremely affordable, and sales go toward charitable causes. Feel great about your stylish purchases while looking good and saving cash!
4. Working Wardrobes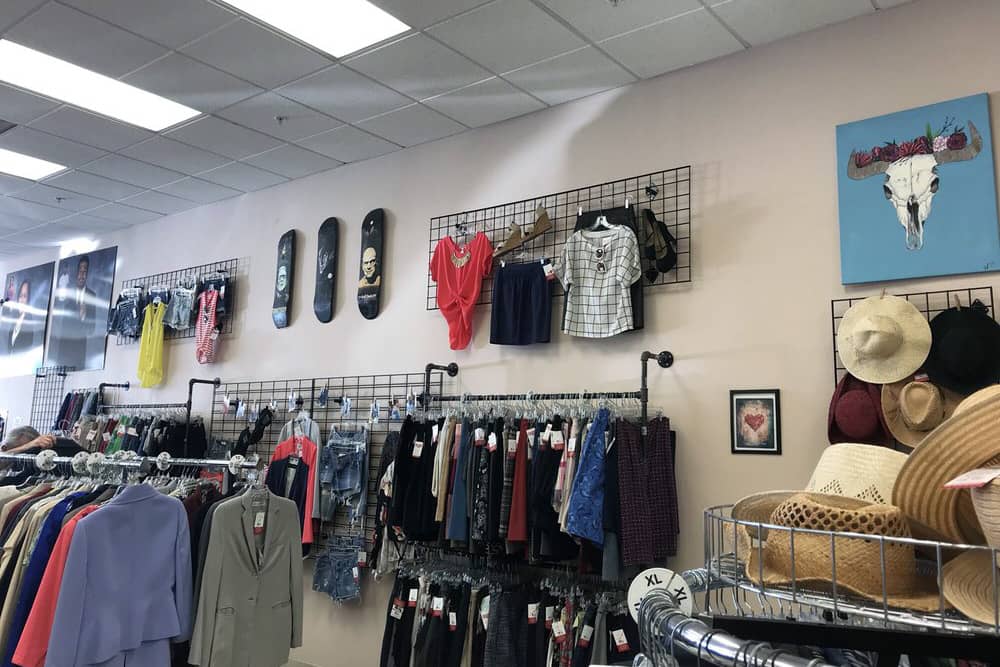 Working Wardrobes is a charitable organization with a powerful and transformative mission: Help people overcoming hardships to enter the workforce. Working Wardrobes assists people with career training, job placement, and wardrobe services for the workplace. Part of the funding for this mission comes from their Anaheim resale shop, which also happens to have a tempting selection of like-new clothes in great condition, as well as fantastic vintage pieces. This is not the type of musty thrift store you may be used to, but an inviting shop full of organized racks and well-styled outfits, making it one of the best thrift stores in Anaheim. Plus, shoppers love getting unbelievable deals on designer items.
5. Oki Doki Home Treasures
Thrifting isn't just for fashionistas. Oki Doki Home Treasures is a home goods thrift shop that feels almost like an antique mall, stocked with previously owned furniture and decorative items. You can get everything from a bed to a lamp to a China set at Oki Doki Home Treasures and have plenty of fun doing it. Meander through rows of trinkets and furnishings like a pirate seeking gold, and you'll have your whole house furnished for a fraction of the price you'd pay for new items.
6. Flatter Me…Again!
Like many boutiques in the O.C., Flatter Me…Again! specializes in high-end designer clothing, handbags, jewelry, and other accessories. Unlike many other boutiques, this shop is a resale store, offering consignment-based sales of luxury items at significantly lower prices than you'd find on new pieces. From Chanel bags to Tiffany bracelets to premium denim, you can find like-new garments for a fraction of the sticker shock at Flatter Me…Again!
7. BookTown USA
At the end of a long shopping day, what will you do to unwind? Maybe curl up with a comfy blanket and an even cozier story? Clothes aren't the only things you can buy used in Anaheim: BookTown USA is a used bookstore jam-packed with stories just waiting to be told. Go in, browse around, and choose your own adventure! You'll end the night reading a satisfying story after spending the day living one of your own.
Anaheim is a vacation paradise, full of resorts, restaurants, entertainment…and unbelievable thrift store bargains. Now that you've saved money on a great new outfit, you have the funds to flaunt it at one of these exciting things to do in Anaheim:
The best thrift stores in Anaheim put all other budget shopping to shame. With stylish stores and remarkable treasures, these hidden gems offer all the souvenirs you could want. When you enjoy a budget trip to Anaheim, all those leftover funds go a long way at the cash register.