By Camille Meyers, on October 5, 2019
Best Tours in Tokyo for Anime Fans
Between multi-floor anime and manga stores, huge arcades in Akihabara, and the kawaii (cute) fashion in Harajuku, Tokyo is an otaku (anime geek) heaven. Immerse yourself in modern Japanese culture by having a local show you around on an anime tour in Tokyo. Check out museums dedicated to Japanese animation, ride go-karts through Tokyo streets, and have a photoshoot while wearing traditional samurai armor.
Akihabara Anime Tours in Tokyo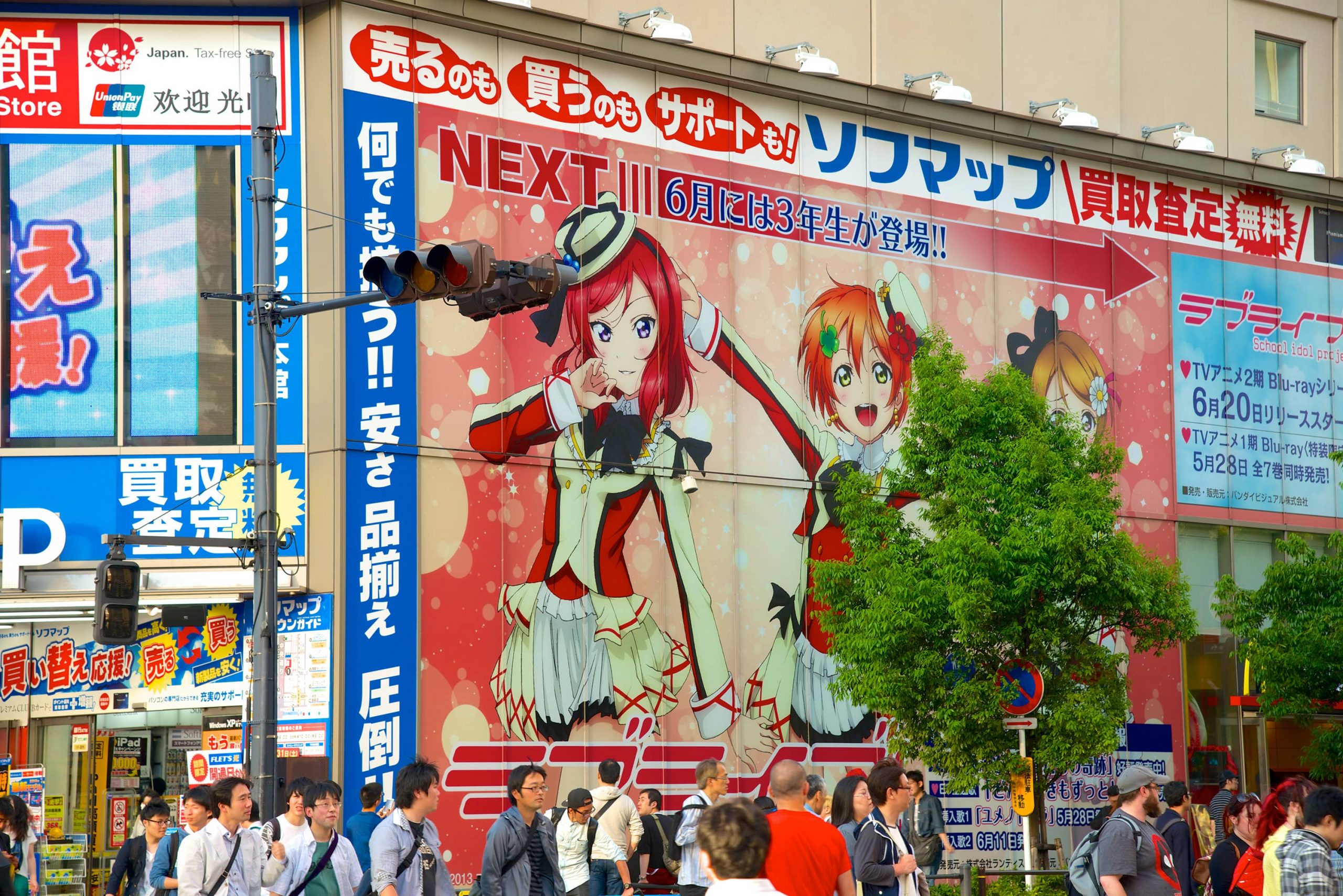 If you're an otaku visiting Japan, then Akihabara Electric Town is calling your name. There you'll find tall buildings packed with anime, manga, video games, figurines, and collectables. Exploring this jam-packed area can be overwhelming, but going on a guided otaku tour in Tokyo can help you get your bearings and ensure you don't miss the tucked-away entrances to the best anime shops around.
If you only have 48 hours in Tokyo, team up with a local guide in Akihabara to make sure you experience gachapon capsule toy machines, purikura photobooths, and kawaii parfaits at a maid café. To get your otaku fix and see more of the city, catch the best of Akihabara and Asakusa on an electric bike anime tour of Tokyo.
Another hot spot for anime, manga, and video game merchandise is the shopping complex of Nakano Broadway. Just a short walk from Nakano Station, you'll find most of the otaku stuff on the 3rd and 4th floors.
Tokyo for Gamers
For video game fun in Tokyo, be sure to check out multi-level arcades like Club Sega and retro gaming stores like Super Potato in Akihabara. Level up your sightseeing by go-karting on Tokyo roads dressed up like one of your favorite video game characters (yahoo!). Race with your friends or enjoy a leisurely drive while seeing the sights with a guide. It's no Rainbow Road, but you can still cruse past iconic buildings like Tokyo Tower and Meiji Shrine.
Anime and Manga Museums in Tokyo
A life-sized Totoro greets you with a wide grin at the ticket gate of the Ghibli Museum in Mitaka, Tokyo. This interactive museum imagined by Hayao Miyazaki celebrates the animation studio that created cult favorite films like My Neighbor Tototo, Princess Mononoke, and Spirited Away. You must buy tickets in advance and they sell out quickly. Ensure you get a chance to visit this legendary anime museum in Tokyo on a Ghibli Museum tour that includes a trip to Nakano Broadway.
Another must-see anime museum in Tokyo is the Suginami Animation Museum which traces the history of anime and lets you behind the scenes to how it is made. Interactive exhibits let you create your own short animation, try your hand at voice acting, and snap photos with various anime characters. Admission is free, as is the English audio guide. Other anime and manga museums in Tokyo include the Fujiko F. Fujio Museum and the Toei Animation Museum, which is Japanese language only.
Experience Harajuku Fashion
Step into the subculture of Japanese street fashion and get an insider's look on a guided tour of Harajuku. While exploring the unique boutiques of Takeshita Street, get tips on where to find the best cosplay or lolita-style accessories. Whether you wear visual kei or are just curious about the outrageous outfits Japanese teens sometimes wear, walking through Harajuku is a visual feast. And speaking of food, this is also the place to try gigantic rainbow cotton candy, delicious Japanese crepes, and other kawaii food, so bring your appetite.
Themed Cafés in Tokyo
After you've spent the morning walking around and shopping on a Tokyo anime tour, refuel in one of Japan's famous themed cafés. Enjoy food in the shape of your favorite characters at the Pokémon Café, order drinks served by ladies in maid outfits at a maid café, or hold an hedgehog at a hedgehog café. Many themed cafés in Tokyo have limited seating and require advanced reservations. Where else but Japan can you pet an owl and sip a hot drink all under one roof?
Wear Samurai Armor, Ninja Garb, or a Kimono in Tokyo
If you're into cosplay (wearing costumes), then what better way to experience Japan then by dressing up and touring Tokyo? Put on ninja garb and take a stealthy tour around Asakusa. Practice your ninjutsu (ninja arts) at the iconic red lantern of Sensō-ji temple and while cooking your own okonomiyaki (savory pancake) for lunch.
In Shinjuku, wrap yourself in layers of beautiful silk by trying on a traditional Japanese kimono. Experts help you get dressed and provide accessories perfect for a photoshoot. After learning about samurai warriors, choose from 7 different styles of samurai armor to try on and pose in for epic photos to remember your time in Tokyo.
If you're hoping to see locals in cosplay, you can sometimes watch people modeling their latest creations on Sundays in Harajuku or near the giant Gundam statue in Odaiba. Just be sure to ask permission before taking a photo.
Tokyo Tower
Although the newer Tokyo Skytree may have a higher observation deck (and penguins), no anime fan's trip to Tokyo is complete without seeing the iconic Tokyo Tower. Its been destroyed by Godzilla, hosted epic battles in anime and manga, and has recently been taken over by a One Piece anime amusement park. Meet your favorite characters from the popular One Piece series, see a live stage show of the Straw Hat Pirates' wacky adventures, and enjoy themed games and rides.
Robot Restaurant Show & Japanese Cabaret
If watching samurai battle robot dinosaurs to pumping techno music makes your heart go doki doki, spend an evening in Tokyo at the Robot Restaurant Show. Dancers in extravagant costumes, neon lights, and over-the-top animatronic pandas, dinos, and sharks—it's as cheesy and awesome as it sounds.
Beautiful women in kimono twirl fans and dashing samurai clash swords during the Japanese Dance Cabaret Show at Roppongi Kaguwa. A modern take on the red-light district atmosphere of the Meiji era (1868-1912) when oiran (Japanese courtesans) entertained, this cabaret is less risqué and more a blending of today's Japanese culture with old traditions. Enjoy unlimited drinks during the show and take pictures with the dancers afterwards.
What are your must-see spots on an anime tour of Tokyo?