By Expedia Local Expert, on March 31, 2017
Catching Cancun's Caribbean Islands
Scattered beyond the shores of Cancun, Mexico's Caribbean islands beckon visitors who have yet to explore their off-the-beaten-path beaches and pristine waters. From the adventure parks on Cozumel to the protected waters of untouched Isla Contoy, there's a host of islands ready to explore when you're looking for things to do in Cancun outside of town. Hop on a chartered catamaran to take in their not-so-distant shores by boat, take a day trip to immerse yourself in the area's island culture, or spend a stress-free day finding out if the margaritas really do taste better on an island.
Cozumel
Home to the Arrecifes de Cozumel National Park, Cozumel's protected coral reef make up a major chunk of the Mesoamerican Barrier Reef System. Second only to the Great Barrier Reef in size, this spectacular stretch of the Caribbean is the ideal place to explore if you're seeking out underwater sights, and with Atlantis Submarines, you can do it without getting wet. Settle into your seat on Atlantis XII to dive underwater and scope out up-close views of vibrant reefs filled with a kaleidoscope of colorful fish. Check out the remains of sunken ships, see how some wrecked vessels have turned into artificial reefs, and hover over the edge of the sponge-covered Cozumel Wall, which plunges 1,800 feet (244 m) down to the ocean floor.
On land, Cozumel's theme and eco parks are the perfect place to kick back and enjoy some island adventure. Spend the day at Discover Mexico park to immerse yourself in interactive exhibits like making rich bites of chocolate from scratch, learning to whip up classic dishes with trained chefs, or getting to know your anejos, reposados, and blancos with a spirited tequila tasting.
Isla Blanca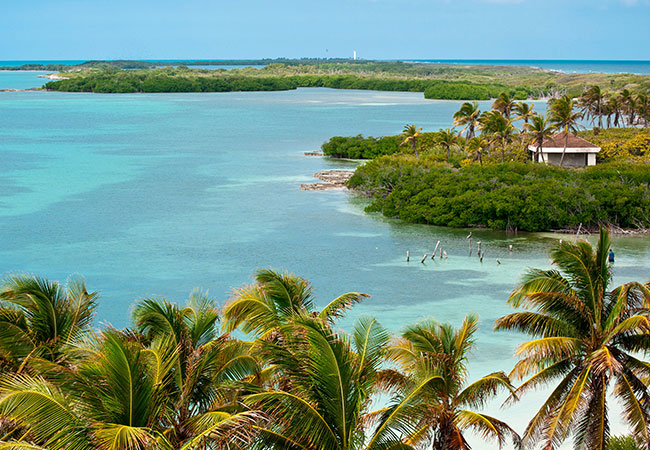 Island snobs might scoff at Isla Blanca on the technicality that it's actually a long and narrow peninsula that stretches out from Cancun like a feather in a cap. But for those who are willing to venture along the sandy lane that leads to its ultimate end, Isla Blanca offers a laidback getaway for day trippers looking to find peace beyond the resort strips.
Rent a car for the day—taxis out here are hard to get—and bring your beach essentials to find your own stretch of sand to set up camp. Spend your time watching kiteboarders zip around the peninsula's protected lagoon, scope out coral reefs perfectly for snorkeling, or simply wait for the sunset in perfect tranquility.
Isla Holbox
With more flamingoes and pelicans than residents, Isla Holbox hearkens back to the bygone days of Cancun, when beach amenities meant nothing more than a good place to swim and a nearby bar to whip up a cool drink. Take a day trip with Kaminos Travel to check out the islands' freshwater cenote, stop by shallow reefs home to bright pink flamingoes, and explore teensy weensy Isla Pasión, whose deserted shores can be reached on foot through shallow, sandy waters.
Isla Contoy
While countless beach destinations around Cancun claim to be remote and unspoiled, only Isla Contoy issues a hard limit. Daily access to the eco-rich shores of this bird-lovers paradise is capped at 200 people a day. Join BD Travel and be one of the lucky few to scout out the island with a trained biologist, learning about the more than 150 species of birds who make migratory homes here as you bounce down dusty trails in a golf cart. Enjoy a barbecue lunch with Yucatecan delicacies, enjoy ample time to go snorkeling in protected reefs, and swing by the onsite nature museum to find out what scientists have uncovered about the area's ecology.
Isla Mujeres
Just a 15-minute ferry ride away from the mainland, Isla Mujeres offers Cancun visitors the chance to get away without worrying about long legs of transportation. But, if you like a little luxury with your boat rides, hop on a beautiful catamaran with Cancun Sailing to head to the island in style. Go snorkeling in crystal clear waters, anchor up at a quiet beach club, and enjoy plenty of time to do some shopping the heart of Isla Mujeres before you sail back to Cancun.
What island is calling your name?