By Expedia, on December 1, 2017
City mash-up series: 7 hybrid cities brought to life
[full-width-paragraph]
City mash-up series: 7 hybrid cities brought to life
If you've seen Disney's animated feature Big Hero 6, you're familiar with the city of San Fransokyo – a mash-up between San Francisco and Tokyo. Well, the sight of the Golden Gate Bridge amidst Japanese-style architecture inspired us to create some fusions of our own.
We chose 14 iconic cities from around the world and paired them into hybrid cities. From New York to Rome, Rio de Janeiro to Cape Town and beyond, we combined the distinct architecture and attractions from each city to create a truly unique destination.
---
1. Rio Londoneiro
Want to kick back and relax, but also experience culture and museums? We've taken the best bits of London and Rio De Janeiro to create a hybrid city where you can do both. In Rio Londoneiro, you can spend a day sunning yourself on Copacabana Beach under the watchful eye of Christ the Redeemer. Once you've topped up your tan, take in one of the many tourist sights. Perhaps a ride on the London Eye for spectacular views of the beaches, mountains and famous buildings in this incredible city.
[/full-width-paragraph]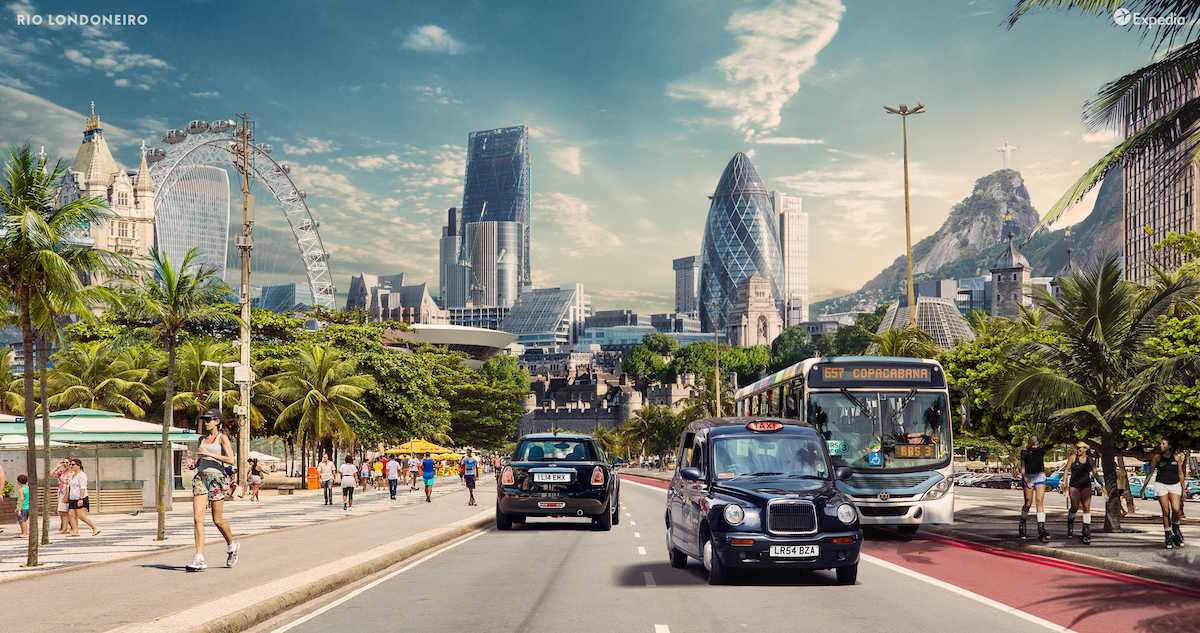 [full-width-paragraph]
---
2. Bang York
Bang York Bang York – the city that's so nice they named it twice. As you'd expect from a hybrid city created from Bangkok and New York, there's so much to see and do here. It's the city that never sleeps, so luckily there's no shortage of coffee shops and places to eat. Spend the morning getting zen by visiting one of the 400 Buddhist temples in the city. Then head over to Central Park, where you can find everything from boat rides and trails to the zoo and perfect picnic spots. The nighttime is when it all goes down, though. Take in a Broadway show and marvel at the the iconic skyscrapers and bright city lights.
[/full-width-paragraph]


[full-width-paragraph]
3. Cape Roma
If it's romance you want, we recommend a city break in Cape Roma. The perfect hybrid city of Cape Town and Rome. Walk around the classical ruins, renaissance palazzos and baroque fountains to make some truly magical memories with your partner. In the evening, you have your choice of cuisine – this historic port has it all. Have your meal on the waterfront in the shadow of Table Mountain before capping off the night with a walk along the beach. The sights and tastes of this magnificent city make Cape Roma one of the world's most romantic cities.
[/full-width-paragraph]


[full-width-paragraph]
4. Sydnakech
Sydney plus Marrakech equals Sydnakech; the hybrid city that takes you on a journey through time with its unique combination of old and new architecture. There's only one place to start: no trip to this city is complete without a walk over the Harbour Bridge on the way to the iconic Opera House. After that, it's time to go shopping. Sydnakech is home to some of the best and most authentic shops in the world. There is no end to the elegance of this city; the tiling, fountains and floral motifs make it a truly beautiful place to explore.
[/full-width-paragraph]


[full-width-paragraph]
5. Dubaris
If you have a passion for architecture, Dubaris is the place to visit. This hybrid city created from Dubai and Paris features examples of architecture from the Middle Ages to the modern day. To start, you can't miss the iconic Eiffel Tower. Why not take an elevator to the top and see the city from the sky? Dubaris is full of landmarks; majestic mosques, modern souks… and let's not forget the tallest building in the world, the Burj Khalifa.
[/full-width-paragraph]


[full-width-paragraph]
6. Moscanbul
Moscanbul is truly an unforgettable treat for the eyes, as you would expect from a hybrid city created from Moscow and Istanbul. On entering Red Square, you'd be forgiven for rubbing your eyes to check that you weren't seeing things. But it's very real: those multicolored bonfire flames rising into the sky are actually Saint Basil's Cathedral. This is a bustling city with much to see and do. There are numerous historical mosques, synagogues, palaces, castles, towers and markets to check out, so plan your time accordingly.
[/full-width-paragraph]


[full-width-paragraph]
7. Seoulhi
Created from Seoul and Delhi, Seoulhi is evolving quickly, but it has one foot firmly rooted in the past. On one hand, the city has a huge collection of futuristic architecture. Walking around here can feel like you're a character in the new Blade Runner movie. But when you feel like a change, step back in time to the the old town, where you can take high tea and explore the many eras of old architecture that the historical sector has to offer.
[/full-width-paragraph]


[full-width-paragraph]
Feeling inspired to travel? These imaginary fusion cities would be the perfect destination for any adventurer. It's a shame they're only fantasy. But hey, the real cities are out there for you to explore, and maybe you see them in a slightly different light now. So what's your next destination?
---
[accordion]
[toggle title="Sources" state="closed"]
[/toggle]
[/accordion]
[/full-width-paragraph]