By Rachel Sullivan, on June 8, 2022
Dawn Till Dusk:
A chef's guide to eating well in London
Brothers Luke and Theo Selby are the creative forces behind Soho's Michelin-starred Evelyn's Table, one of London's best-kept culinary secrets. So we asked them: where do two award-winning chefs go out to eat in their home city, with its 18,000 restaurants? 
"I like to think of us as the smallest theater in the West End," says Luke Selby, one of three brothers who, together, run the Michelin-starred Evelyn's Table, one of London's best-kept culinary secrets. 
The brothers' (Luke, Theo and Nat) establishment is as cutting-edge as it gets, but you may have to dig a little deeper than usual to find it, as it sits in a tiny basement underneath the Blue Posts, one of central London's iconic 18th-century pubs.
There are only 12 seats per night. Guests never know what to expect as the brothers change the menu regularly to ensure their food highlights what's seasonal and what's inspiring them at that very moment. But, with reservations snapped up within minutes of going live, guests can at least rest assured no matter what the brothers dream up, it's going to be good. (Join the waiting list here if you're keen to try it for yourself). 
The menu is kept secret until diners arrive. However, it always features a fusion of French and Japanese culinary techniques (head chef Luke worked in Tokyo and under iconic UK chefs Raymond Blanc and Clare Smyth). On the day we spent with the brothers, they were transfixed by the fact that courgette flowers are in their briefest of seasons and based a course around these hand-selected goodies from New Covent Garden Market, along with stuffed crab, scallop, ginger, and coriander. 
---
"In London, there's a feeling of punk, breaking the rules, cracking out of the mold, and doing your own thing."
Luke Selby
---
Diners who descend the dark, narrow steps to the basement room (the floor had to be specially lowered by the owners of the Blue Posts to make space for it) are treated to a mesmerizing spectacle of chefs at work. 
"Once that door closes," Luke says, "it's a show. Cooking is one of the only art forms where you engage all five senses. Sight, smell, taste, touch, sound: the restaurant experience encapsulates everything. Guests can see everything we're doing — they ask questions, and we chat with them, play hip hop, and we have a lot of fun."
It's a kind of creative experience that, the brothers believe, is unique to London's food scene, a city where the rules — and the menus — are being ripped up and rewritten daily by some of the most exciting chefs in the world. 
"In London, there's a feeling of punk, breaking the rules, cracking out of the mold, and doing your own thing," Luke says. "Young people especially are pushing each other to do things differently. It's not frowned upon, it's encouraged, and we all drive each other forward. Everyone is constantly raising their game, and we have to do the same." 
He believes it could only happen in a city where cultures constantly clash, driving evolution and creativity, compelling chefs from all over the world to be part of a boundary-pushing, iconoclastic, irreverent food scene that attracts some of the food industry's most exciting emerging talents.
---
"Guests can see everything we're doing — they ask questions, and we chat with them, play hip hop, and we have a lot of fun."
Luke Selby
---
That diversity, in turn, brings its own strengths. "We have a lot of people coming to live here from other cultures and ethnicities," Luke says. "Our mom is from the Philippines. Dalston, where Theo lives, is very Turkish. Brick Lane has some of the best curries in the world, while Peckham has an amazing Caribbean culture. All these different hotspots bring their food to the UK, it gets absorbed into our food scene, and that's why it's so exciting and vibrant." 
Where to eat in London now
The Selby brothers eat out a lot. "Hey," says Theo, "we're chefs! We like food." Who better, then, to give us a culinary insider's guide to London's best-kept foodie secrets.
Expedia: So, what's the London restaurant you go to the most?
Theo: I go to Perilla all the time, on Newington Green.They have a fantastic Sunday set menu. Really tasty food, quite simple, not pretentious, it feels like a neighborhood restaurant, and it's always packed. The chef is a friend, and we recommend it to our diners all the time.
Luke: There are loads of really cool spots in Dalston. Mangal 2 is another one we love: Turkish kebabs with a fine dining take.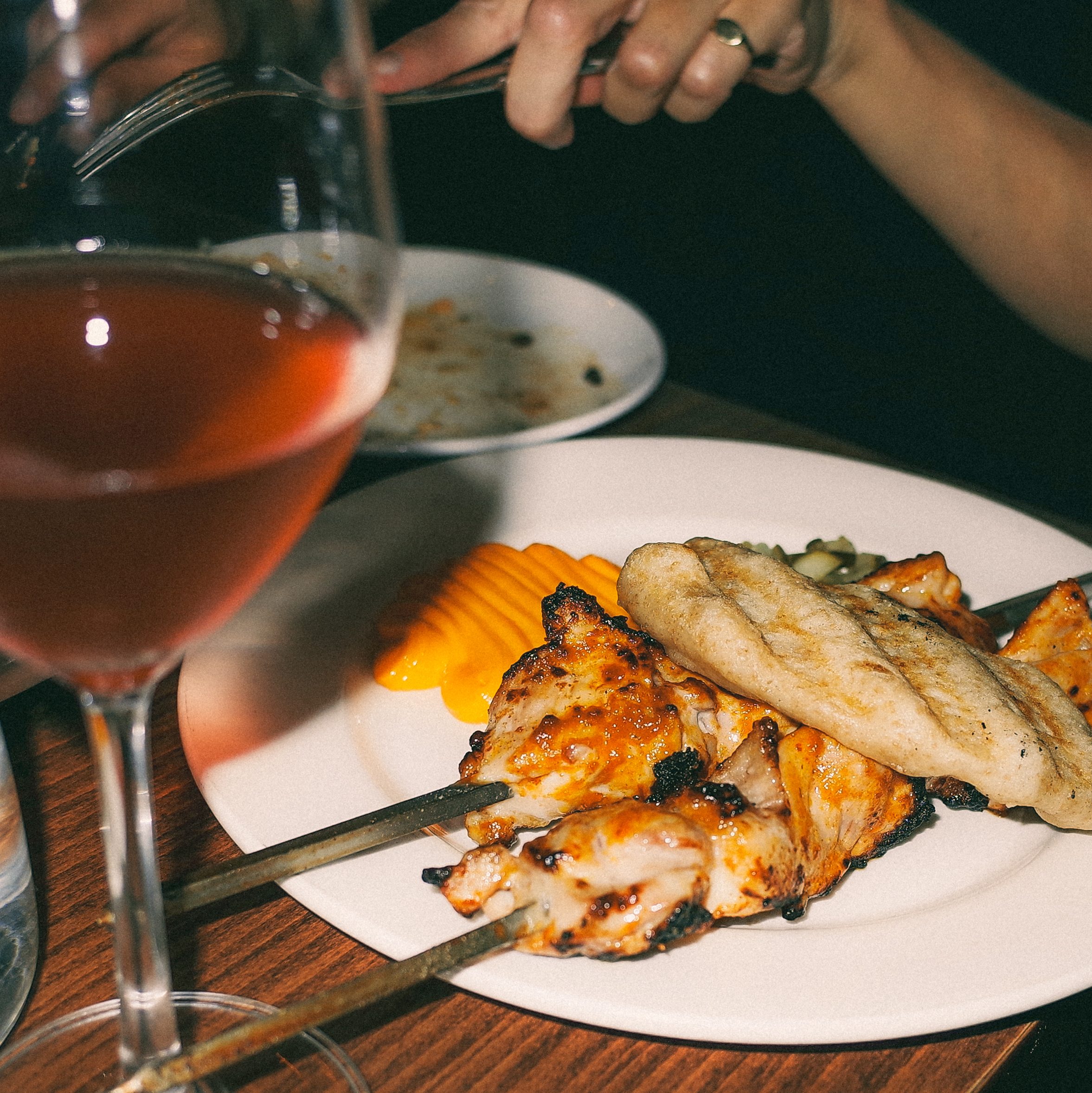 And where's a great place to go for a pint?
Theo: I have to mention The Blue Posts — the snacks are great — of course they are, we make them! Try the sausage rolls – they change seasonally. At the moment, we have a lamb sausage roll spiced with cumin and black pepper; we use the offcuts from the meat we're cooking downstairs. Chicken liver parfait, the burrata, nice beef tomatoes when in season, and bowls of spiced nuts, all made downstairs. Plus, great craft ales.
Luke: I'll go for The Grapes, right on the Thames in Limehouse. It's owned by Gandalf (Sir Ian McKellen), and it's a proper boozer with soul and history — dark and authentic, you can almost smell the smoke ingrained over the years.
Best place in central London for a quick pit stop?
Theo: There's an amazing place in Soho called Humble Chicken. They only do yakitori. You can literally just order a beer and a skewer.
When you finish work, where's your favorite late-night spot to unwind?
Theo: We're so close to Chinatown, so we often go for dumplings. Try the dim sum or the classic soup dumpling at Dumplings' Legend on Gerrard Street. 
Luke: There are lots of cool underground cocktail bars that we go to as a team. Opium is a stylish Shanghai-themed cocktail bar, or in Soho, there's Soma which we go to regularly. It's a hidden doorway below Indian restaurant Kricket on Denman Street. You'd never find it by accident. It has amazing cocktails infused with curry leaves and Indian spices, a beautiful all-steel bar, and a nice vibe. 
Theo: The other place I like is The French House: French-bistro style quality food, great value. It's a classic actor's hangout and you get a lot of actors there after performing in their West End shows. 
Best place to get a coffee and pastry?
Theo: The Dusty Knuckle is widely regarded as one of the best bakeries in East London. I also like Pophams, an artisanal bakery. You'll find us there quite a lot.
Best for fish and seafood?
Theo: The Sea, The Sea, a chef-led fish shop in Hackney. They have their own van that goes down to Cornwall and picks the fish up right from the boats and brings it straight back, so everything is super, super fresh. They have a counter restaurant there as well: it's really different and really cool. 
Best undiscovered foodie spot?
Luke: Peckham is well worth a visit. It's still relatively affordable, so it attracts lots of artists and creatives. I love and source ingredients from KanPai, the first sake brewery in the UK. Peckham is a real cultural hub, super diverse, and lots of exciting things going on. There's fantastic street food, loads of markets, and also Gosnells — a fascinating mead brewery.
And lastly, is there an iconic London sight that always inspires you?
Theo: Smithfield Market is an amazing piece of history. It's an old working meat market that used to be the place to go for meat in London for every single restaurateur or chef. It's now modernized and even has a website, but it hasn't changed that much — you can still get a beer and a bacon sandwich there at six in the morning.
Luke: I love the Shard. I used to live in Battersea and after work, at 2 or 3 am, I'd sit on the roof terrace of my flat and look across London — you can always see the Shard all lit up at night. It's so visually inspiring, a luminous monument to a modern, creative city.
---
This is the first installment of 'Dawn Till Dusk', an Expedia-produced series that digs into the buzzing creative cultures of some of the world's most fascinating cities. Each episode reveals some of the most delightfully unexpected facets of urban creativity that make each city worth your much-coveted vacation days.
Visit our London guide for additional dining tips, plus hotel and activity recommendations.