By Expedia, on December 19, 2019
Death Valley Vacation Ideas for Planning an Itinerary
[video-container][video-title]
[video-tag]
Death Valley Vacation Ideas for Planning an Itinerary
[/video-title][video-blue-header] It's hotter than the Sahara and the driest place in the USA, so it's hardly surprising that Death Valley doesn't rate highly on most travelers' bucket lists. Which is a shame, because Death Valley National Park is one of North America's biggest surprise packages.
Death Valley straddles the California-Nevada border and, at 3,000 square miles, is the largest national park in the contiguous United States. A road trip through Death Valley is more than a vacation, it's an adventure! You'll also find some great places to stay, from air-conditioned resorts to cool places to park your RV.
Before you hit the road, check out our trip planner which is packed with the best places to visit in Death Valley. You'll also find links to some amazing footage from our Death Valley vacation guide video.
[/video-blue-header]
[full-width-paragraph]
Ideas of places to visit in Death Valley
If you're thinking that Death Valley is filled with scorching sand and tumble weeds and not much else, think again! From atmospheric ghost towns to abandoned mines, from snow-capped mountain ranges to shimmering salt plains, you'll find a surprising number of attractions and activities to fill your Death Valley vacation itinerary.
---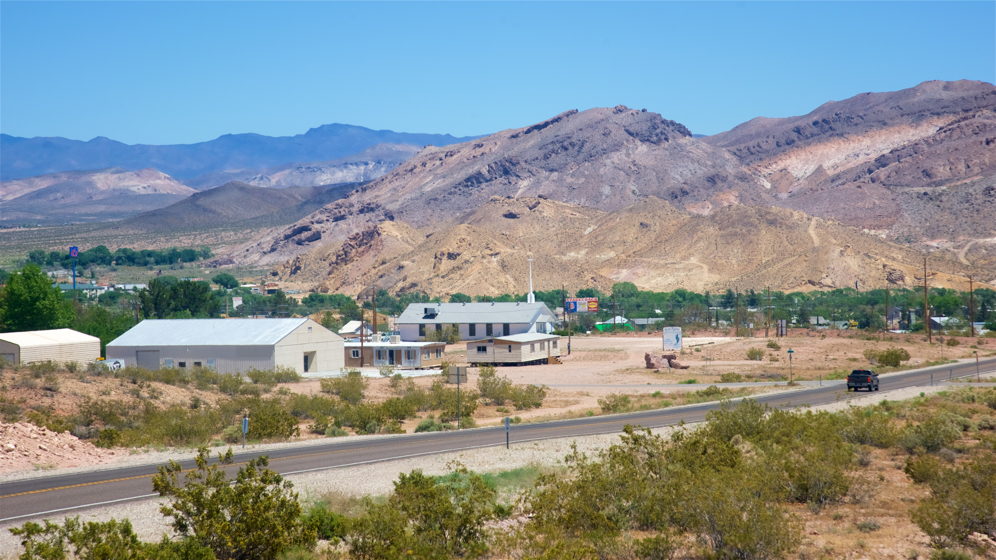 Beatty
(1:21 in the video) If you're traveling to Death Valley from the east, your adventure begins before you even hit the park. Spend a night or two in the town of Beatty, the Gateway to Death Valley. Beatty is only 9 miles from Death Valley's eastern entrance and makes a great base when the park's accommodations are full. Beatty also offers plenty of nearby out-of-park attractions, such as hot springs, casinos, the ghost town of Rhyolite, and the Goldwell Open Air Museum.
---
(2:31 in the video) Travelers entering Death Valley from the west should make sure their camera batteries are fully charged to capture the incredible views from Father Crowley Vista Point. Perched on the edge of Rainbow Canyon, the outlook is also a great place to photograph Air Force jets as they perform high-speed training runs through the narrow canyon.
---
(2:56 in the video) Despite its morbid name, Death Valley supports a surprising variety of life. Turn off Route 190 just before Panamint Springs and follow the Old Toll Road to the Darwin Falls trailhead; from here it's a moderate 1-mile hike to one of Death Valley's "coolest" attractions.
---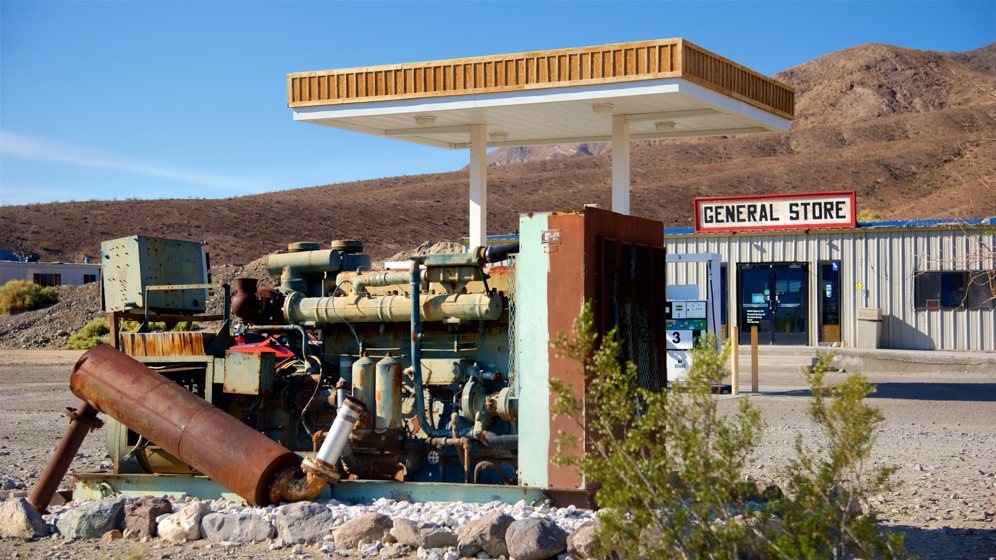 (3:21 in the video) Not far from Darwin Falls is the settlement of Panamint Springs. Spend a night in the resort opened in the early 1900s by Buffalo Bill's cousin, Agnes Cody. Whether you're staying the night or just passing through, remember to top up on gas and water before heading deeper into the park!
---
(3:43 in the video) Just a few miles south of Aguereberry Point is one of Death Valley's most unusual attractions. Looking more like Hobbit houses than kilns, these strange stone structures were built in the late 1800s to turn local pinyon and juniper into charcoal, an essential ingredient for smelting silver.
---
(4:00 in the video) The back roads around Panamint Springs offer plenty man-made and natural attractions to add to your Death Valley itinerary. Visit the Eureka Mine, worked by French immigrant Peter Aguereberry from 1905 until the 1930s. The mine is one of the best preserved and easiest to access of the many abandoned mine sites that dot the park.
---
(4:31 in the video) As Death Valley National Park transitioned from mining to tourism in the 1920s and '30s, Pete Aguereberry took delight in guiding visitors to a place he called "The Great View." From the Eureka Mine, follow the road ever upward to Aguereberry Point and enjoy the sweeping views of the valley floor and the Funeral Mountains beyond.
---
(5:00 in the video) Once you've explored some of the back road attractions around Panamint Springs, continue east along Route 190 to the village of Stovepipe Wells. The village offers comfortable accommodations, a restaurant, bar and general store. It's also a handy place to top up on gas before exploring the nearby attractions.
---
(5:54 in the video) Just a 2-mile drive east of Stovepipe Wells are the Mesquite Sand Dunes, the easiest to access of all Death Valley's dune fields. The best time to visit these 100-foot-high, ever-shifting sands is at sunrise or sunset when dramatic shadows really show off the dunes' dramatic forms.
---
(6:23 in the video) Another Death Valley attraction close to Stovepipe Wells is the Salt Creek Interpretive Trail. Follow the boardwalk trail across a wetlands of salt grass and pickleweed, the last remnants of a vast lake which once covered the valley floor. Resident pupfish make this attraction a favorite with children too!
---
(6:41 in the video) Stovepipe Wells is also close to Mosaic Canyon, a Death Valley highlight that should be on every visitor's itinerary. Follow the 4-mile trail (round trip) which winds through high-walled slot canyons of colored slick rock, polished marble and incredible mosaics of rock fragments.
---
(7:14 in the video) Continue south to Furnace Creek, the main settlement on the valley floor and since 1913 the title holder of the world's hottest ever-recorded temperature. Besides being close to many of Death Valley's most popular attractions, the village also features comfortable resorts, an informative visitor center and the Borax Museum.
---
(8:37 in the video) A 10-minute drive south from Furnace Creek is Zabriskie Point, one of Death Valley's most photographed attractions. Set aside an hour or two to soak up the colors and shifting shadows of this evocative erosional landscape which inspires generation after generation of musicians and artists.
---
(9:01 in the video) Another of Death Valley's most colorful attractions is Artist's Palette. Just a few miles south of Furnace Creek, turn off into Artist's Drive, a 9-mile, one-way road that dips, twists and rises through an incredible landscape of canyons and hills. The highlight of the drive is Artist's Palette, where oxidation has created an extraordinary palette of colors in the surrounding hills.
---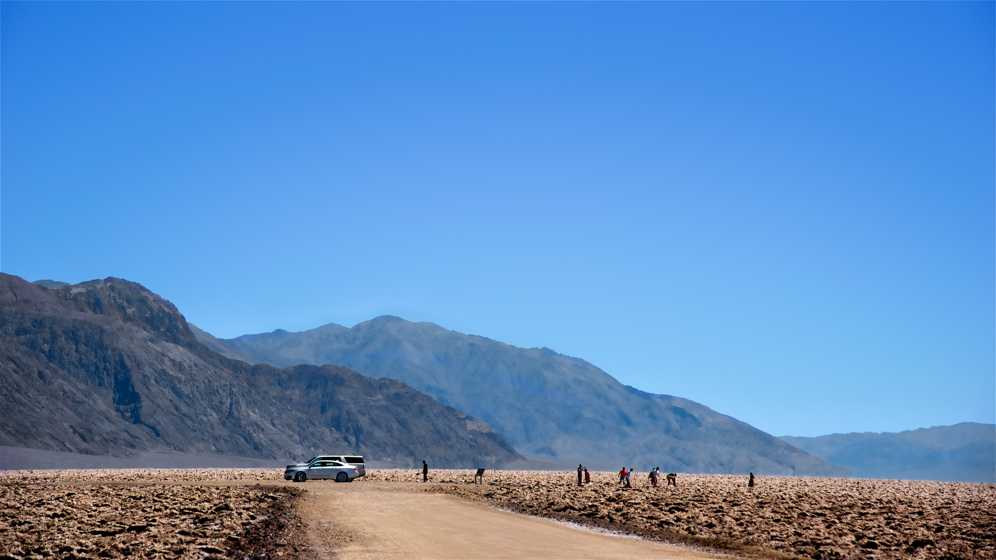 (9:27 in the video) After taking in the hues of the Artist's Palette, take the 20-minute drive to the Devil's Golf Course. Leave your clubs in the car, this is no place to tee off! If you want to walk out across the vast salt pan encrusted in jagged salt slabs, be sure to wear stout shoes and carry plenty of water.
---
(9:47 in the video) While the Devil's Golf Course is unforgiving, it's just an entrée compared to the surreal desolation that awaits at Death Valley's most popular attraction, the Badwater Basin. Grab a selfie at the "282 Feet Below Sea Level" sign and then follow the boardwalk onto the 5-mile long salt flats that cover the lowest point in North America.
---
(10:14 in the video) After exploring Death Valley's lowest point, take the journey to one of the park's highest attractions. Dante's View is a 45-minute drive from Furnace Creek and offers panoramic views of the Southern Death Valley Basin. The outlook is also a popular nighttime spot for stargazing.
---
(10:50 in the video) While Death Valley National Park offers a staggering variety of landscapes and historic attractions, one area that has it all is Titus Canyon. Follow the park's most popular back road through a spectacular canyon containing 30-million-year-old fossil beds, to the crumbling ghost town of Leadfield which is fast being reclaimed by Mother Nature.
---
(11:17 in the video) Visit a mine that was discovered quite by accident in 1907 when a miner chased his runaway burro into a remote canyon. Picking up a rock to throw at the burro, the miner noticed a tell-tale sparkle. The Lost Burro Mine went on to produce gold until the 1970s and today is a fascinating insight into Death Valley's rich history.
---
(11:54 in the video) Just over the hill from the Lost Burro Mine is a Death Valley attraction that, until recently, has perplexed visitors for decades. Spend an hour or two at the Racetrack, where on rare occasions when winter ice sheets cover the playa, 50 mph winds push heavy boulders for distances of up to a quarter of a mile.
---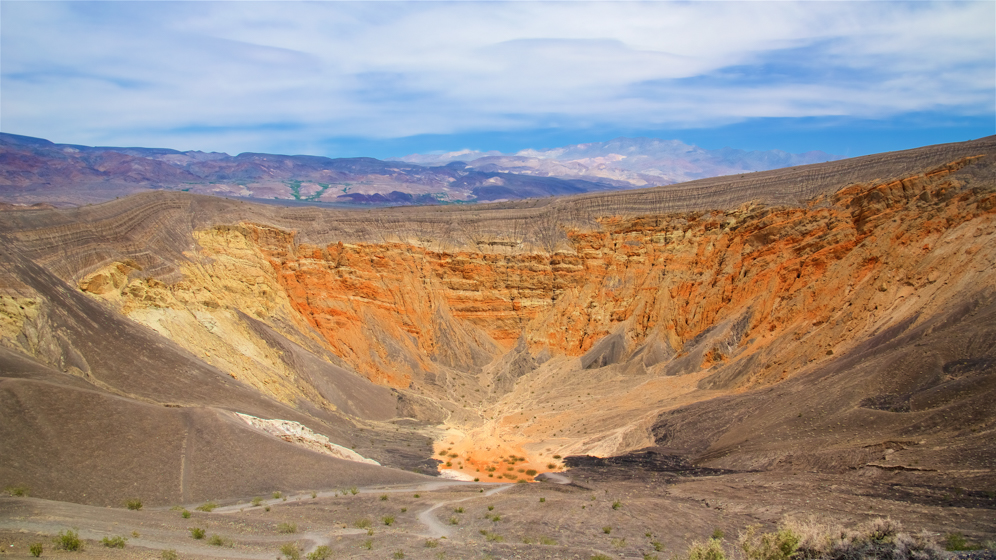 (12:31 in the video) The incredible diversity of Death Valley's natural attractions continues in the park's northern end, at Ubehebe Crater. Park your vehicle right at the edge of this impressive crater, formed only 300 years ago when rising magma turned cool underground water into earth-shattering steam.
[/full-width-paragraph]
---
[full-width-paragraph]
Inspiration for traveling to Death Valley
We hope you enjoyed these ideas for getting the most from your Death Valley vacation. Don't forget to check out our images from this incredible national park.
And remember, why limit yourself to just one destination? We also have hundreds of other Vacation Travel Guide videos from all over the world, so be sure to subscribe to Expedia's YouTube channel today.
Safety Warning
Due to its extreme heat, Death Valley IS NOT an ideal summer destination. The best times to visit are between mid-October and mid-May. This is not a destination for the foolhardy or ill-prepared. Always carry plenty of water and first aid supplies, and top up on gas at every opportunity. Before your visit, refer to the National Park Service website for visitor guidelines and updates on current road and weather conditions.
Ready to start planning the trip?
Death Valley hotels
Flights to Death Valley
Vacation packages to Death Valley
Car rentals in Death Valley
Activities in Death Valley
Stay updated on new vids
This article was originally published on [publish-date]. If you'd like to stay updated on new videos of the beautiful destinations that our planet has to offer, subscribe to Expedia's YouTube channel.
[/full-width-paragraph]
[youtube-cta-US]
[travel-video-cta-US]
[/video-container]