By Expedia Local Expert, on May 15, 2018
Denver Restaurant Spotlight: Top 7 Places to Try Right Now
The Denver area has no shortage of thrilling outdoor adventures, but the city itself has emerged as one of the country's most interesting culinary destinations.  There are plenty of things to do and events to see in Denver—not to mention countless dining options—so make it easy for yourself and try out one these top restaurants.
The Family Jones Spirit House
With vaulted ceilings and an angelically lit copper still sitting on a balcony above the bar like a church's pipe organ, The Family Jones Spirit House exudes the warm glow of a place of worship. But the spiritual awakening on offer comes in the form of locally distilled liquor that you can order straight up or as part of a fancifully named mixed drink, such as the First Kiss Gin Sour, Thief in the Garden, or Second Divorce Martini. As you sip your craft cocktail, indulge in an array of delectable small plates, including delightful duck confit, roasted artichoke fondue, and pork cheek pozole. Located in the LoHi neighborhood only a mile away from Coors Field, Family Jones is the perfect place to go for a drink before or after spending a day at the ballpark.
The Bindery
Just down the road from Family Jones sits The Bindery, which opens early to serve inventive and nutritious breakfast dishes that are perfect for fueling up before a tour of Rocky Mountain National Park. This LoHi hotspot bustles with activity all week long thanks to a weekend brunch, Blue Hour (aka happy hour), and dinner service. Locals and travelers alike appreciate the European-market atmosphere along with the wide selection of libations available. Thanks to being named one of the "Hottest Restaurants in Denver" by Zagat, The Bindery is among the most popular eateries in town, so don't wait to make your reservation.
Cooper Lounge
Whether you're staying at The Crawford Hotel at Union Station or you're a lifelong Denverite, The Cooper Lounge provides an elegant escape in the heart of the LoDo neighborhood. Located within the opulently restored Union Station, The Cooper offers unique interpretations of cocktails like the Vesper, Crystal Mule, and Pine Barrens. As you sip your drink, be sure to taste some of the Nikki Olst-designed menu, including fresh yellowfin tuna tartare and an indulgent nitrogen sundae. No matter if you take a seat at the marble-top bar and gaze out at the city through the oversized cast-iron windows or you choose to sit at a table overlooking the historic train station's grand hall, you're guaranteed to enjoy some of the best views in Denver. If you'd like to continue with the train theme, check out the Rocky Mountain Zephyr Escape Room, which pits you against the clock as you try to stop an out-of-control locomotive from careening off a mountain.
La Loma
Dark wood, exposed red brick, and warm lighting welcome you to La Loma, a Tex-Mex haven for more than 40 years. This Denver staple boasts house-made tortillas, unrivalled green chile, and spirited takes on classic margaritas. On the border of Downtown and Capitol Hill, La Loma is an ideal dining spot for locals and travelers looking to find great Mexican food in Denver. Whether you stop in for happy hour before a show at the Paramount Theater or tuck into brunch before taking a public art walking tour, La Loma is a great place to prepare for or decompress from your various Denver adventures.
Steuben's Uptown
Over in the North Capitol Hill neighborhood, an unimposing, white-brick building houses Steuben's Uptown, a bastion of classic American comfort food that also features tasty cocktails like the Moscow Mule and Old Fashioned. Step inside this retro diner and settle into a cozy, black-leather booth for a hearty brunch of cast-iron French toast or a smothered breakfast burrito. After an energizing meal, learn more about Denver's ghostly past on a spooky Capitol Hill walking tour, and then make it simple for yourself by popping back into Steuben's for happy hour. Lunch or dinner give you the opportunity to discover why Westword awarded Steuben's with their "Best Hamburger" award. And late-night diners are sure to find a refreshing cocktail or appetizer after seeing a show at the nearby Fillmore Auditorium.
Acorn
A lot of restaurants claim to have an industrial vibe, but Acorn actually resides inside a reclaimed 1880s foundry, giving the exposed brick and graffiti an authentic feel. Cathedral-like ceilings make the space feel even more expansive, and comfortable indoor and outdoor seating ensure the perfect atmosphere any time of year. With plenty of shared plates available, including wagyu beef tartare, wood-fired baby yams, and crispy Icelandic cod, Acorn is the perfect place to share a meal with friends and family. Wine lovers are sure to find the curated list of artisan wines pleasing to the palate and can continue their viticultural ventures on a daytime or evening wine tour.
Atelier by Radex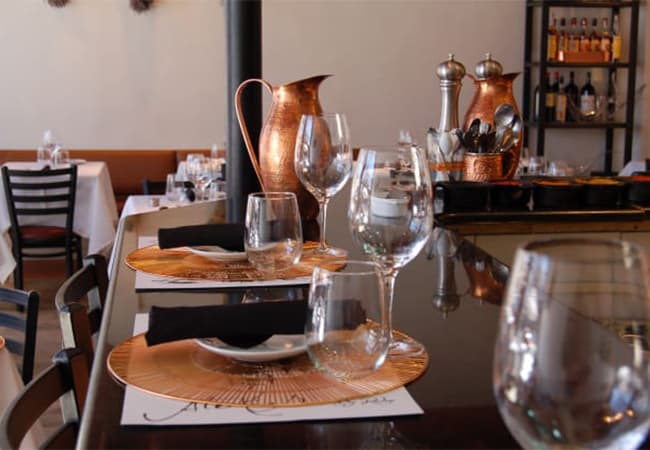 Set in the easy-going City Park West neighborhood, Atelier by Radex delivers French-influenced cuisine in a casual environment. Copper pans hang on the far wall near the open kitchen, giving the restaurant the relaxed feel of a French villa's dining room. With numerous amuse bouche options like foie gras and lobster ravioli as well as entrees like local cassoulet d'agneau and fassone piemontese, there are countless delicious combinations. If you don't feel like making any hard decisions, you can trust chef Radek Cerny's discretion and try the Chef's Tasting Menu, which features several courses designed to be harmoniously delicious. As a true foodie's paradise, Atelier by Radex is the perfect place to stop for dinner after a small-group food tour.