By Laura Powell, on August 12, 2022
8 Best Places to Visit in Europe in Fall
Autumn is a fantastic time to visit Europe. The high-season crowds are gone, which means hotel prices usually drop, and the temperatures (which have been particularly hot this summer) become more comfortable. Europe's fall season also brings with it festivals in the cities and countryside, and landscapes brimming with spectacular fall colors. And, of course, there's a cornucopia of seasonal food and drink, as various veggies and fruits (including wine grapes) are harvested.
Want to join the fun? Here are eight of Europe's best fall destinations and experiences.
Rambles in The Cotswolds
The Cotswolds, about 80 miles west of London, are known for charming English villages dotted with honey-colored cottages that seem to come fresh out of a painting. From early October until mid-November, there's a riot of color in the hedgerows along the country lanes, with trees dazzling in shades of gold, orange and red. Make sure to visit all of the region's most beautiful villages, in particular Broadway, Bourton-on-the-Water, Stow-on-the-Wold, Moreton-in-Marsh, and Lower Slaughter. Don't miss Westonbirt, The National Arboretum, which is tucked away in Gloucestershire in the South Cotswolds. With more than 600 acres and 2,500 species of trees, you could spend hours exploring. But if you only have a half a day or so to spare, head to the Colour Circle and Acer Glade area or walk the Loop Trail.
Foliage and Fjords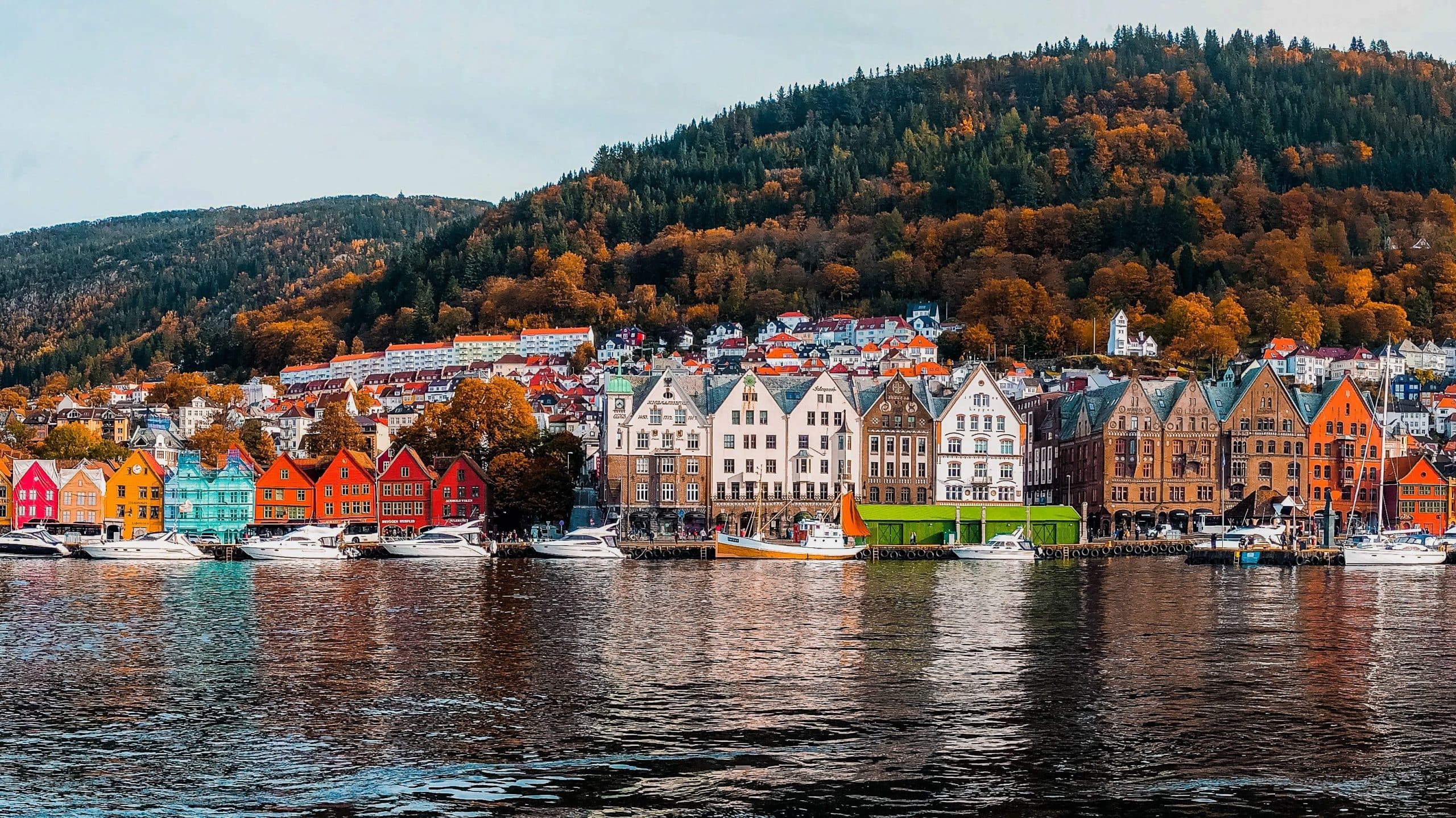 Norway's West Coast is fjord country, and fjord fall foliage is quite a thing. Start in Bergen (Western Norway's largest city) and then hop around to places like Geiranger, Norangsdalen Valley, Alesund, and more. Go on a hike and you'll discover rugged mountains paired with spectacular fjords, all surrounded by changing colors. And guess what? Since the coastal areas are the warmest parts of Norway, you won't even have to don too many layers. Autumn is also Norway's harvest season, so the food culture takes some delicious turns, favoring local ingredients and rich, slow-cooked dishes perfect for a chillier climate. Visit small eateries serving up hearty dishes filled with root vegetables and game (including reindeer, if you're, ahem, game). And at night, don't forget to look up – you might just catch the northern lights flickering in the skies above.
Beer in Bavaria
Bavaria for Oktoberfest. Need we say more? Okay, we will. Go to Oktoberfest and, in addition to tasting a lot of excellent beer, sample the best soft pretzels, bratwurst, and currywurst you're likely to ever eat. During the fest, many of Bavaria's cities and towns are in reveling mode, with locals often sporting traditional attire and playing an oompah tune or two. But, of course, the biggest celebration takes place in Munich. Do be aware, however, that Oktoberfest is a bit of a misnomer. This traditional beer festival starts the third weekend in September and runs through to the first Sunday of its namesake month.
Be sure to book your Munich hotel well in advance.
Harvest Season in France
For oenophiles, the Loire Valley is the place to be from September through mid-November. Thanks to the wide range of grape varieties grown here, the harvest season is long and, ahem, fruitful. The region's vineyards and forests also put on a show, presenting the full spectrum of autumn colors, which you can enjoy while sipping a glass of the local grape. If you pass through Paris on your way there, start celebrating the harvest right away in the Montmartre neighborhood of the French capital. The Fête des Vendanges, a five-day affair in early October, is a whirlwind of wine-tastings, concerts, exhibitions, dance parties, and samplings of artisanal products. The grand finale is an open-air concert held near the iconic Sacré-Coeur.
Find a grape stay in the Loire Valley here.
Peak Experiences in Italy
In Italy's South Tyrol, fall is a fascinating spectacle: an interplay of colors, highlighted by the low angles of the autumn sun. It's an ideal time for hikes, and one of the most famous theme trails is the Keschtnweg, or chestnut trail, in the Eisack Valley. The trail starts in Vahrn, near the Neustift Monastery, and runs for more than 50 miles, finishing near Runkelstein Castle, outside Bolzano. The path meanders through beautiful chestnut groves, meadows, and woods. For a more relaxed option, why not take in the view from on high? Hop on a cable car to the top of Mount Plose and admire the colorful peaks and valleys of the Dolomites region. Autumn just happens to also be the season for the Törggelen, a centuries-old South Tyrolean tradition. Back in the day, farmers went from vineyard to vineyard to taste and compare the young wine…and perhaps get a little tipsy in the process. Today, visitors can reenact the Törggelen, wandering through vineyards and stopping at centuries-old farms to sample this season's wine.
Find chalets and other accommodations in Vahrn here.
Swiss La Dolce Vita
While South Tyrol offers a taste of Switzerland in Italy, Ticino reverses the equation. Although located in Switzerland, the canton feels very Italian. Located at the foot of Monte Brè, the capital city of Lugano is beautiful in any season, but in fall the soft sunlight lends a dreamy quality to the town's many pretty alleys and piazzas, while the weather is perfect for alfresco dining. The Festa d'Autunno, which takes place in early October, offers the perfect opportunity to taste dishes loaded with freshly harvested local ingredients like chestnuts, squash, apples, and truffles. Try out Ticino specialties at grottoni: eating stations that are run by local vendors. They dish out classic Ticino specialties like polenta with stew, risotto, braised meat, minestrone, and gnocchi, along with excellent local wines.
Go Dutch and Dance the Night Away
Normally, fall foliage is associated with the countryside. But in The Netherlands, autumn is especially pretty in Amsterdam, especially on the canals. Everyone plays their part, with the leaves on the trees that line the waterfront changing color, while locals light candles in the windows of their townhouses. But not all of Amsterdam's fall fun is so serene. October is also the month of the Amsterdam Dance Event (ADE). It's the world's biggest dance party, with more than 300 electronic, house and techno events across the city, enticing around 2,000 DJs and 350,000 visitors to the Dutch capital every year. Outside of Amsterdam, an early fall trip means there's still time to catch Floriade 2022. The once-a-decade horticultural spectacular is currently on in Almere and will run until October 9, 2022.
Check out Amsterdam hotels here.
Roaming Romania
October means Halloween. And where better to spend it than at Dracula's Castle? While the wooded landscapes of Transylvania are heavily associated with scary old Vlad, the truth is that the real Transylvania is actually quite tranquil and beautiful. With its unspoiled landscapes of rolling hills, wildflower meadows, ancient oak forests, gothic castles, and medieval cobblestone villages, Transylvania is a fall foliage fan's fairytale. In Sibiu and Brasov, Transylvania's main cities, autumn offers a great range of cultural events, including concerts, opera and ballet performances, and beer festivals. But if you really want to check out Vlad's castle, go for it! It's open for tours, dance parties, and general spooky stuff.