By Expedia, on January 14, 2021
Grand Teton National Park Vacation Ideas
[video-container][video-title]
[video-tag]
Grand Teton National Park Vacation Ideas
[/video-title][full-width-paragraph]With COVID-19, it's important to stay safe and practice social distancing. We hope you find the following content entertaining, inspiring, or useful for a future trip. Always research official websites for up-to-date information on closures and new health and safety policies as businesses and destinations reopen.[/full-width-paragraph]
[video-blue-header]Lace up your hiking boots and grab your camera for your next outdoor vacation destination, Grand Teton National Park. The best travel accessory is a good itinerary so check out our list of top places to visit in the park to get started. From mountain peaks to glacial ravines and reflective lakes, Grand Teton National Park makes for a dramatic geological statement! Observe the wildlife and their beautiful surroundings here and see why this portion of Wyoming wilderness has been such a magnet for painters and photographers. For an extra dose of inspiration to plan a trip, hit play on our Grand Teton National Park Vacation Travel Guide video!
[/video-blue-header]
[full-width-paragraph]
Ideas of places to visit in Grand Teton National Park
Fill your Grand Teton National Park travel itinerary with all the top attractions in the region for an unforgettable vacation. Explore over 300,000 acres of epic, wild space with enough photo opportunities to fill an album. Get to know the elk, moose, bison and soaring birds of prey that call this rugged expanse home. This park is located just south of Yellowstone National Park and offers its own unique experiences to visitors. If you're in the area for more than a day, look into the multi-park passes with our vacation packages. And remember, you can visit Grand Teton's peaks, lakes and waterfalls at any time of year – each season offers something unique and wonderful.
---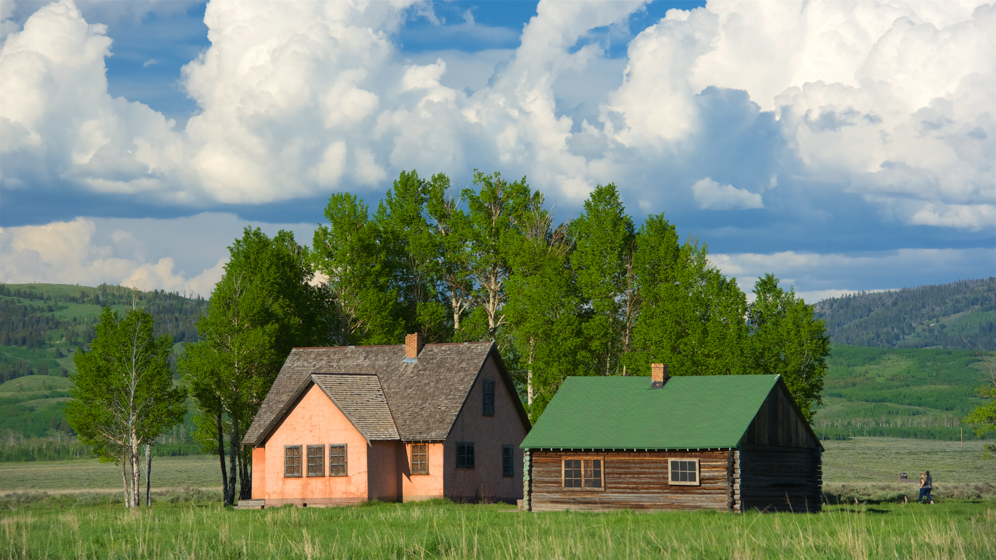 (2:05 in the video) Step back in time to the Wild West with a visit to the Mormon Row Historic District. Join a tour to discover how homesteading opened up America's West to future settlements and eventually. Don't miss the T.A. Moulton Barn, which has been often described as America's most photographed barn. Long before European settlement, this region was home to multiple Native American tribes.
---
(3:08 in the video) Set aside some time in your Grand Teton National Park itinerary to indulge your inner photographer here at Schwabacher's Landing. Feel the peaceful power emanating from Snake River and its vivid reflection of the snow-capped mountain range. Capture sunrise from this location as the first rays bounce off the Tetons or witness the magic of dusk as the sun sinks behind the range. Wade into the calm river's edge to go fishing or launch a raft to spend a lazy afternoon floating on the flat water.
---
(3:51 in the video) Oxbow Bend is a wide and shallow horseshoe-shaped curve in the Snake River and is one of the most visually impressive attractions in Grand Teton National Park. Marvel as conifer forests and mountain peaks reflect dreamily in the tranquil water on clear and sunny days. Spot animals roaming along the riverbanks and birds flying above the treetops. Come in winter, when snow and ice cover the mountains, river and valleys. Late September is a great time to witness the vivid orange, red and yellow hues of the fall foliage. Early in the morning is often the best time for watching and photographing wildlife.
---
(4:09 in the video) Visit Jackson Lake to re-energize and dabble in recreational activities under the mighty gaze of the Tetons. A great way to experience the lake is to rent a boat and explore its 15-mile stretch at your own pace. From May to September, motorized boats, canoes and sea kayaks are available at Signal Mountain Lodge. Spend a day cruising the calm lake water, exploring nature trails, fishing for trout and visiting islands.
---
(4:50 in the video) Looking for panoramic views? Hiking in Grand Teton National Park is one of many great things to do on vacation here. Make the climb, either on foot or by car, up Signal Mountain to enjoy the sweeping views of Jackson Hole and the Teton range. It's more than the hike that'll leave you breathless! At the summit, stop to take in the beauty and majesty of the world before you and beneath your feet.
---
(5:11 in the video) Plan a trip to Jenny Lake, a 12,000-year-old glacial lake set at the base of Cascade Canyon. Kick back for a few days here to properly marvel at the serene natural beauty here. Embark on family-friendly adventures on foot and by boat to get close to the remarkable landscapes of the Teton Range. Spend a day of your itinerary on the Jenny Lake Trail for views of snow-capped mountain peaks and forested valleys. At the Jenny Lake Visitor Center, plan short hikes or multi-day treks or join a guide on the flatter wheelchair-accessible walk to the lake's shores.
---
(6:39 in the video) Today, there are around 10 active glaciers in Grand Teton National Park, three of which can be seen from the Teton Glacier turnout on the Teton Park Road. As temperatures have risen over the decades, summer melts are frequently outpacing winter gains and the glaciers are retreating. The view from Teton Glacier Turnout may feel ageless, but it is ever-evolving. On your trip, be sure to capture a photo of the snow, ice and rugged earth as it stands in that moment in time.
---
Taggart Lake
(6:59 in the video) Although smaller than Jackson and Jenny lakes, Taggart Lake still serves up some incredible scenery. This natural attraction is easy to reach and offers something for all ages. The lake sits at the terminus of Avalanche Canyon and is the gateway to this glacier-sculpted region. Allow approximately 2 hours in your Grand Teton National Park itinerary to reach Taggart Lake along the Taggart Lake Trail.
[/full-width-paragraph]
---
[full-width-paragraph]
Need more Grand Teton National Park vacation ideas?
Want some more travel inspiration for your next vacation? Browse through our Grand Teton National Park photo gallery to see more unique pictures of this incredible destination. If you want to broaden your horizons, our wider photo gallery houses pictures from around the world to help you envision that soon-to-be unforgettable vacation
We have hundreds of travel videos from around the world. It's time to get inspired and excited for your next adventure.
Ready to start planning the trip?
Grand Teton National Park hotels
Flights to Grand Teton National Park
Vacation packages to Grand Teton National Park
Car rentals in Grand Teton National Park
Activities in Grand Teton National Park
Stay updated on new vids
This article was originally published on [publish-date]. If you'd like to stay updated on new videos of the beautiful destinations that our planet has to offer, subscribe to Expedia's YouTube channel.
[/full-width-paragraph]
[youtube-cta-US]
[travel-video-cta-US]
[/video-container]