By Expedia, on October 11, 2018
Iceland Vacation Ideas for Planning an Itinerary
[video-container][video-title]
[video-tag]
Iceland Vacation Ideas for Planning an Itinerary
[/video-title][video-blue-header] A "Land of Fire and Ice," Iceland is home to some of Europe's – and the world's – greatest natural wonders. This windswept northern land features on the bucket list of many a wanderer and if you're planning a trip here, you'll need to know what to add to your Iceland itinerary. Luckily, we've released a virtual tour of this incredible country with our Iceland Vacation Travel Guide video. If you're flying to Iceland soon, use this video as the ultimate trip planner, and you'll experience the adventure of a lifetime.
[/video-blue-header]
[full-width-paragraph]
Ideas of places to visit in Iceland
Our Vacation Travel Guide video will take you through the most important places to visit in Iceland. After watching this video you'll know all the best spots to add to your travel itinerary. All the attractions below are listed in the order of appearance in the video so you can refer to the footage and plan your adventure accordingly.
---
(02:31 in the video) One of the most prominent points of interest in Iceland's capital, Reykjavik, Hallgrímskirkja dominates the skyline. It was designed to mirror elements from Iceland's environment and when you stand before it you'll see how it truly honors the natural world.
---
(02:53 in the video) If you're looking for things to do in the capital, find out what's on at Harpa. Even if the event timetable is looking a little thin when you visit, you can still appreciate the stunning design of this cultural precinct, a spectacle in itself. This area is also brimming with restaurants and cafés offering fantastic local cuisine.
---
(03:17 in the video) A historical museum in Reykjavik, Arbaejarsafn offers you the chance to take a journey through time. The museum resembles a historic village, consisting of traditional turf houses, fully furnished as they would have been in the settlement age.
---
(04:20 in the video) One of the most popular attractions in Iceland, the Blue Lagoon is a must-visit point of interest. Take a soak in the mineral-rich thermal waters, said to heal skin conditions. This spa is just a 15-minute drive from Keflavík International Airport and a 30-minute drive from Iceland's capital.
---
(04:46 in the video) Take a walk between the slowly drifting tectonic plates of North America and Europe at Thingvellir National Park. This park has inspired many enchanting stories, myths and legends and is a perfect sightseeing location to witness some of Iceland's most epic environments.
---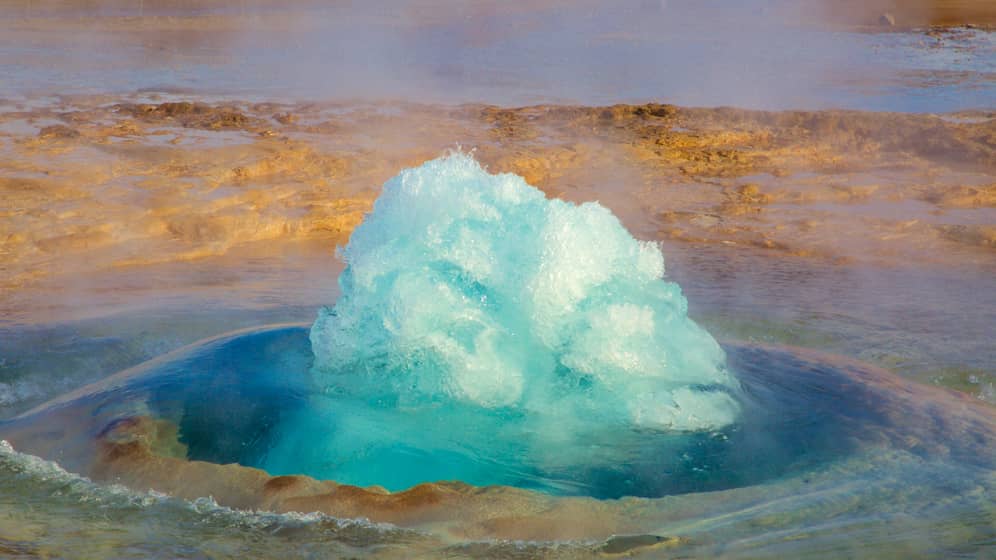 (05:40 in the video) Home to the Great Geysir, and its little brother, Strokkur, the Geysir Geothermal Field is teeming with amazing geothermal spectacles. Wander through hissing steam vents and caldron-like bubbling mud pools and experience the thrill of witnessing an erupting geyser.
---
(06:10 in the video) Stare out over Gullfoss, one of the most impressive waterfalls in the country. Unlike most waterfalls, all the Gullfoss viewpoints are from above. Here you can watch as up to 140 cubic meters of icy water cascade into the gorge below.
---
(07:15 in the video) Follow the rocky trail behind the cascading waters of one of the world's most beautiful waterfalls, Seljalandsfoss. These waters are believed to be sacred and originate from the volcano glacier Eyjafjallajökull.
---
(07:44 in the video) A site of colorful legend, Skógafoss is another picturesque sightseeing spot. One of the area's first Viking settlers is said to have buried a treasure chest behind the falls. Today visitors flock to this attraction for its immense beauty, a treasure in its own right.
---
(08:15 in the video) Wander along the dark basalt shores of Black Sand Beach. This is regarded as one of the most picturesque non-tropical beaches on the planet, drawing photographers from far and wide. Look towards the ocean to spot Reynisdrangar, impressive rock formations said to be the remains of two trolls who were turned to stone as they ventured out to sea. If you're looking for places to stay in the area, try the nearby village of Vík, a warm and inviting base.
---
(09:20 in the video) Famed for its spectacular views of Iceland's Southern Coast, Dyrholaey is a fantastic hiking location. Make your way across the natural arch and meet some of Iceland's feathered locals, including eider ducks and Atlantic puffins.
---
(09:40 in the video) Jökulsárlón is a glacier lagoon, filled with icebergs that slowly melt, eventually making their way out to sea. In peak season, take a boat tour across the water; if you're lucky you may meet some of the local wildlife.
---
(11:20 in the video) Take a tour through Namafjall, a highly active geothermal area in Northeast Iceland. This boiling landscape is a fascinating display of volcanic activity, but don't be surprised by the overwhelming stench of sulphur.
---
(11:45 in the video) Translating to "dark castles" in English, Dimmuborgir is a large area of strangely shaped lava fields. Reminiscent of the crumbling remains of an ancient city and steeped in folklore, the area has become one of Iceland's most popular tourist destinations.
---
(11:58 in the video) Stare out across the 7-mile caldera of Krafla Volcano. Part of a larger volcanic system, Krafla is one of the country's most active volcanos. The surrounding area is a geothermally active site with an abundance of lava flows, fissures and gullies.
---
(12:10 in the video) The site that saw the unification of Iceland under one religion, Godafoss translates to "waterfall of the gods." It was here that Iceland's Law Speaker (lögsögumadur) hurled his pagan idols into the cascading waterfall, a symbol that Christianity would be the country's official faith.
[/full-width-paragraph]
---
[full-width-paragraph]
Need more Iceland vacation ideas?
Need more inspiration for your trip? Check out our online Iceland photo gallery to see more breathtaking images of this amazing travel destination. And if you want to see what else is out there on our amazing planet, take a look at our wider photo gallery. This online database houses pictures from all corners of the globe, to help you envision the destination you'll be jetting off to next.
We also have hundreds more travel videos from around the world. Browse Expedia's YouTube channel to be inspired. After all, a journey begins far before touching down on the runway.
Ready to start planning the trip?
Iceland hotels
Flights to Iceland
Vacation packages to Iceland
Car rentals in Iceland
Activities in Iceland
Stay updated on new travel vids
This article was originally published on [publish-date]. If you'd like to stay updated on new videos of the beautiful destinations that our planet has to offer, subscribe to Expedia's YouTube channel.
[/full-width-paragraph]
[youtube-cta-US]
[travel-video-cta-US]
[/video-container]