By Camille Meyers, on June 24, 2019
9 Ideas for Fun Family Vacation Photos
Gather the family in front of an iconic view, entice your moody teen or squirmy toddler to smile at the camera, and then just pray that no one blinks. Sound familiar? Well, no longer! Learn how to take better family vacation photos with these creative ideas. Avoid taking the same travel photos as everyone else by mimicking famous works of art, posing at sunset to photograph silly silhouettes, and using simple tricks to create optical illusions. Not only will this enliven family road trips and long days of sightseeing you're sure to get a gallery of unique family photos to remember your vacation and share on social media.
Want the chance to win $50,000 to spend on your next family vacation to snap an epic holiday card photo? Scroll down to see how you can enter to win through Expedia's Holiday Card Giveaway!
1) Create Optical Illusions with Forced Perspective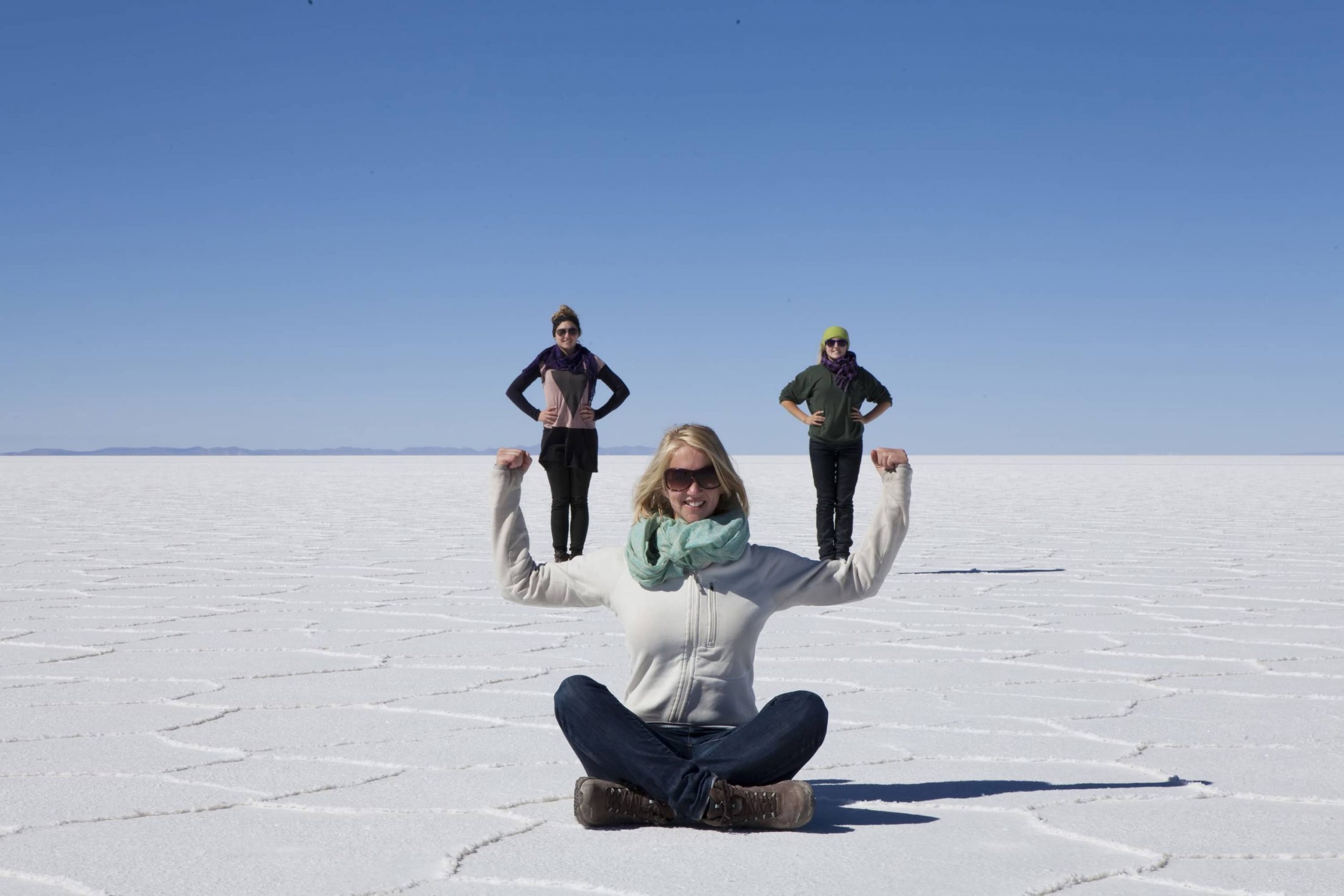 Take unique family travel photos using forced perspective to create optical illusions. Hold the Statue of Liberty in the palm of your hand or shrink your family members to the size of toys by carefully angling and framing your photographs. The technique of forced perspective may take a little planning and set up, but the hilarious results are worth the effort. The vast white salt flats of Uyuni in Bolivia makes the perfect backdrop to compose some mindboggling pictures. Or try it the next time you see a famous monument in the distance.
2) Capture the Action in Your Family Vacation Photos
Perfectly posed photos get boring quickly, so enliven your album with action shots of your family vacation activities. Have your guide snap some candid pictures of your family sitting astride gallant steeds on a horseback riding adventure or geared up for underwater escapades while snorkeling in Hawaii. Consider getting a waterproof case for your camera to capture aquatic moments in the ocean or hotel pool.
3) Dress in Costume
Learn about local culture with a hands-on experience by dressing up in the traditional clothing of the region. Additionally, a costumed photoshoot makes for great holiday photos with the perfect amount of cheesiness and local flair. You and your kids are sure to enjoy playing with props and getting the pose just right. Show off your Dutch wooden shoes in Amsterdam or beautiful kimono in Japan with a costumed photoshoot on your next family vacation.
4) Recreate Art in a Museum
Clever pictures with artwork can transform visiting a museum from a stuffy experience into a lively one for kids. If you're in a gallery with many portraits, challenge the kiddos to find paintings that resemble each member of the family, and then pose for a side-by-side comparison. Alternatively, recreate a famous work of art using just your bodies. Making museum visits more active can hold the attention spans of younger kids and help them appreciate art in a new way. Have fun but be careful not to disturb other museum goers.
5) Sunset Silhouettes
You don't always need to see your subject's face for a fantastic photo. Use the golden moments of sunset or sunrise to create spectacular silhouette pictures. Try to catch the sun in your hands as it sets, do some yoga poses, or have your kids work together to make a heart with their hands—the possibilities are endless! Beaches offer uninterrupted views of the sun setting and make great locations for silhouette shots. Or trust the locals by taking a sunset tour to the best spot for watching the sky bloom with color as day turns into night.
6) Pose with Statues and Play with Street Art
Challenge your kids to interact with public art such as statues and murals as you explore urban spaces on your family vacation. Can you mimic the statue's pose or pick the nose of the person in the mural? Let your children's creativity and goofiness flow! Take a family-friendly walking tour of Barcelona or a guided tour of the colorful Wynwood street art in Miami to find perfect places to pose and play.
7) Trick Eye and Illusion Museums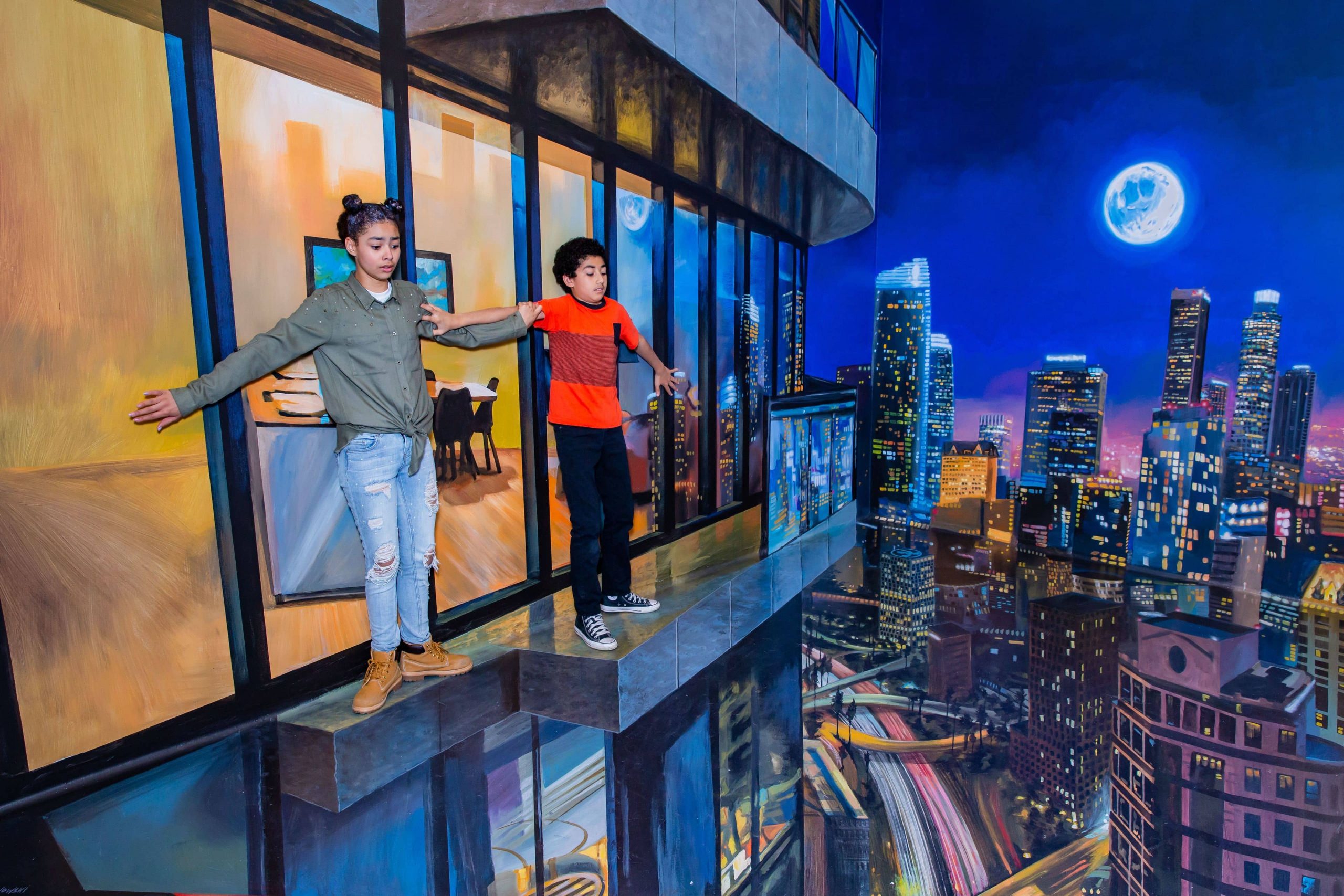 Ride a fire-breathing dragon, live inside a snow globe, and shrink to the size of a toy in a whimsical museum dedicated to optical illusions. Explore colorful rooms painted and designed specifically for you to capture mind-bending, quirky pictures using optical illusions. Staff can help you line up shots for gravity-defying and wonderland-like photos the kids are sure to love. In the age of Instagram, these attractions are growing in popularity. From Los Angeles to Singapore, find an illusion museum near you.
8) Go Retro and Give Everyone a Camera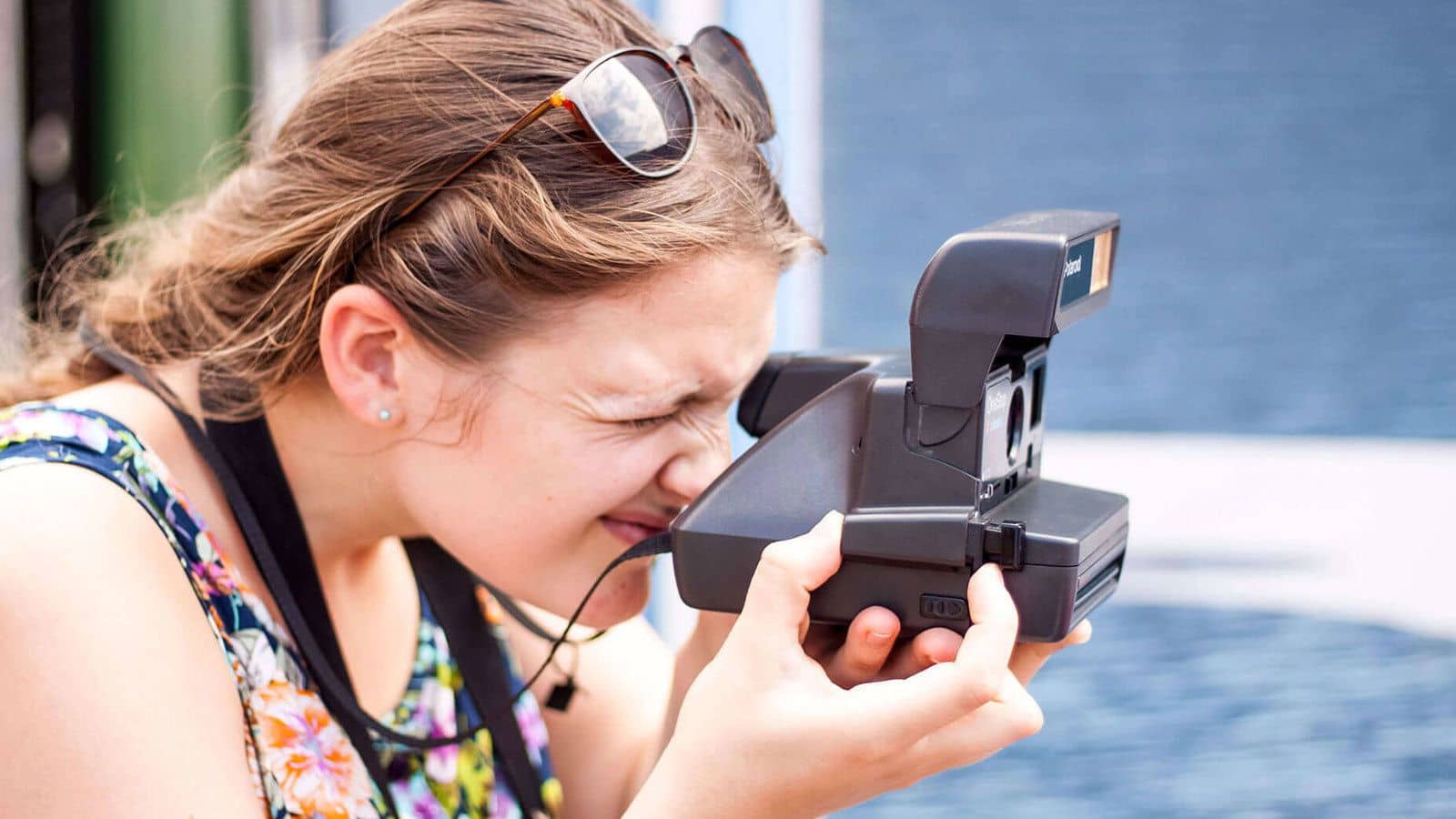 On your next family vacation, try giving each person a camera. You might be surprised by the variety of pictures everyone takes telling your family trip story from their own perspective. If you have phone-obsessed teens, take a step back from the digital age with a vintage photography tour with Polaroid cameras in Vienna or Washington, D.C.
9) Choose a Theme
Make a new family tradition by giving your vacation photos an entertaining theme. Spell out a greeting using your bodies to make the letters. Have the most limber member of your family do a handstand at every stop on your road trip. Or photograph one of your kid's stuffed animals or action figures seeing the sights like the travelling gnome or this adorable llama on Instagram. Let your imagination roam free and find a theme that fits your family.
Tips for Taking Great Family Vacation Photos
Dress your whole family in holiday-themed sweaters on your Hawaii trip or Florida vacation to snap fanciful holiday card photos under palm trees.
Stand in an archway or doorframe to add depth to your photographs. Also, you'll capture some of the unique architecture of the area.
Photograph reflective surfaces, such as smooth lakes, puddles, or even sunglasses to double up on beautiful sky or landscapes in a unique way.
Hire a professional vacation photographer for high-quality family vacation photos.
Holiday Card Giveaway
Think about the amazing family memories you could make and photos you could take if you had $50,000 to spend on a family vacation. Enter Expedia's Holiday Card Giveaway between June 17 and June 30 for your chance to win! Here's how to enter:
That's it! Click here to read the official rules.