By Expedia Local Expert, on June 10, 2018
Los Angeles Restaurant Spotlight: Top 7 spots to try right now
With restaurants named after the head-chef's pets, a historical tourist spot, or with no name at all, Los Angeles offers a mouthwatering array of places to eat and things to do nearby. LA chefs make it easy to eat your fruits and vegetables thanks to fresh local produce, including avocado for toast and pickled farmer's market veggies for nearly every occasion.
Orsa & Winston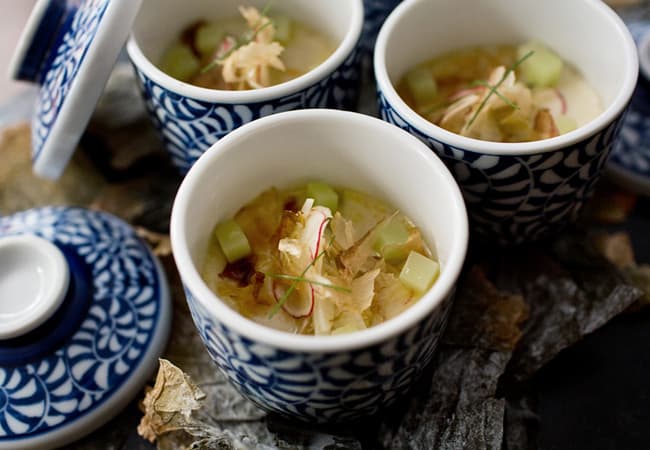 At Orsa and Winston, each plate arrives as a detailed work of art—a blossom of color from an edible petal placed with tweezer precision, a golden drizzle of glistening olive oil, a sprinkle of Japanese-inspired spices, and the orange pop of clustered roe. With such brilliance on every table, the intimate 32-seat restaurant keeps the décor minimal with a light-gray, modern aesthetic and stainless-steel open kitchen. Named after chef-owner Josef Centeno's 2 beloved dogs, the flavors at Orsa and Winston draw inspiration from Italian and Japanese cuisines to create a palate that is all Los Angeles. For dinner, the 6-course tasting menu changes daily based on seasonal ingredients, so every meal offers new masterpieces to discover. Follow up a romantic meal with breathtaking views of the city glittering at night from the roof of the nearby Skyspace tower.
Zinc Cafe & Bar Mateo
Meet up with friends for a relaxing brunch under the shade of olive trees or grab late-afternoon aperitifs beneath the timbered beams of an old barn turned into a country-chic cocktail bar. Zinc Café and Bar Mateo offer a vegetarian-friendly menu and spacious dining area in the trendy Arts District of LA. Enjoy some of the city's best avocado toast loaded with smashed avocado, lemon juice, radish salad, butter, chives, onion, and a poached egg. After admiring LA's architecture or celebrating International Sloth Day at the La Brea Tar Pits,  come for a quick lunch from the cafeteria-style salad bar or take your time with table service indoors or out.
Plan Check Kitchen + Bar – Downtown
Conversation buzzes around the exposed beams, metal barstools, and sunny outdoor seating of Plan Check Kitchen + Bar's popular Downtown location. Chef Ernesto Uchimura's modern American comfort food pulls inspiration from his Argentinian-Jewish heritage and the nearby Koreatown and to produce items like the pastrami nosh with melty swiss cheese, kimchi mustard, pickles, and a sunny fried egg. While all the restaurant's dishes are delectable, Plan Check's burgers steal the show with their signature ketchup leather that prevents soggy buns. Compliment your exploration of Downtown's filming locations by enjoying this upscale gastropub's delectable happy hour brews and snacks.
Testa
For modern Italian fare, head to Testa and request patio seating for a romantic night under a canopy of string lights or sit at the marble-topped bar near the boldly floral wallpaper. Handmade pastas crafted in-house like the cavatelli with button mushrooms, truffled pecorino, fried shallots, and dashi stand out from the menu. Conveniently located near the Staples Center, come share some small plates in this Italian bistro before seeing a hockey game, concert, or basketball game played by the Sparks, Clippers, or Lakers. Or celebrate a special occasion with craft cocktails like the Crack Berry that turns La Croix into a delightfully boozy beverage.
Freddy Smalls Bar + Kitchen
Slide onto a barstool in the retro tavern of Freddy Smalls Bar + Kitchen and choose from an impressive list of whiskey, bourbon, rye, and scotch or select a signature cocktail like the Wild Strawberry Smash. White subway tiles and black-and-white photographs complement a small menu of classic American gastropub fare, such as chicken parmesan and meatball sliders. Fried Brussels sprouts with smoked goat cheese and apple-cider glaze along with the jar of house-made pickled farmers' market vegetables make eating your veggies a delight. After a day touring LA's highlights, refuel at the relaxed neighborhood hangout of Freddy Smalls.
No Name
Surrounded by an air of mystery, the exclusive club No Name recently started accepting reservations. Low lighting and comfortable couches create a chic atmosphere sometimes invigorated with live music. The unmarked club serves New American fare like buttery corn risotto and fried chicken along with creative cocktails. Spend the morning driving through the Hollywood hills in a luxury sports car to feel like a celebrity, and then head over to No Name for a night you won't forget.