By Debra Pangestu, on March 12, 2019
5 European cruise ports worth getting off the ship for
A cruise vacation is a fun, convenient, fuss-free way to travel, especially if you're tackling a large region like Europe. But with many of the newer ships now offering Michelin-star dining, adrenaline-pumping activities and relaxing sanctuaries, some cruisers are more than happy to spend their port days on the ship, rather than exploring the beautiful European cruise ports. While the onboard features and amenities are certainly what makes the cruising experience so remarkable, there are five cities you can't miss during your Europe cruise, for the simple fact that there isn't another city quite like it.
1. Rome
Rome wasn't built in a day, but you can certainly see it in a day. The Eternal City is home to fabled myths and legends, renowned works of art, high fashion, and delectable cuisine, and if your cruise itinerary includes the Civitavecchia cruise port, it's certainly worth the effort to make your way to Rome. Here, you can wander through one of the many museums to marvel at the masterpieces by the likes of Da Vinci and Michelangelo, learn about the history of the Roman Catholic Church in Vatican City, and take a step back in time as you explore the historic ruins of the Colosseum and the Roman Forum. If you didn't have enough time to take in all the sights and sounds of the Italian capital, make your way over to the Trevi Fountain and toss a coin over your left shoulder to guarantee a return visit to Rome.
Search Cruises Departing from Rome
2. Seville
Seville is the capital of Spain's Andalusia region, and it's a popular destination for cruisers who have a port of call in Cadiz. The city, while modern and vibrant, is steeped in history and tradition, and visitors are treated to delectable culinary offerings, iconic buildings, and the cultural traditions of flamenco dance and bullfighting, all of which Seville has become known for. As you wander through the narrow streets of Santa Cruz, tour the Royal Palace of Alcazar, or stroll across the Plaza de Espana, you'll encounter architectural gems that are distinctly Sevillian. The city showcases a blend of cathedrals, minarets and palaces, owing to the influence of Christian, Muslim and Jewish cultures during various time periods. There's certainly a lot to see and experience in Seville, and luckily, there are a few cruise lines – such as Azamara – that offer overnight stays, so you can have ample time to explore all that this bijou city has to offer.
3. Dubrovnik
Perched prettily along the Adriatic Sea, Dubrovnik is becoming a popular destination for Europe cruise passengers. History buffs will appreciate the turrets and high walls of this UNESCO World Heritage Site. Game of Thrones fans can visit scenes where this popular television series was filmed.  Gourmands can sample fine wines and fresh seafood in one of the many restaurants discreetly tucked throughout the Old City.  Lastly, sun-seekers can splash around in the pristine beaches lining the coast. What makes Dubrovnik particularly special are its scenic viewpoints at nearly every turn. Within the Old City, ornate arches and medieval lanes are aplenty. As you walk on the top of the 13th century walls you'll get an unobstructed view of the city's cobbled streets and squares.  Alternatively, you can take a cable car up to the highest point of the city to take in the view of the Adriatic waters cresting against a walled medieval city.
Search Cruises Departing from Dubrovnik
4. Copenhagen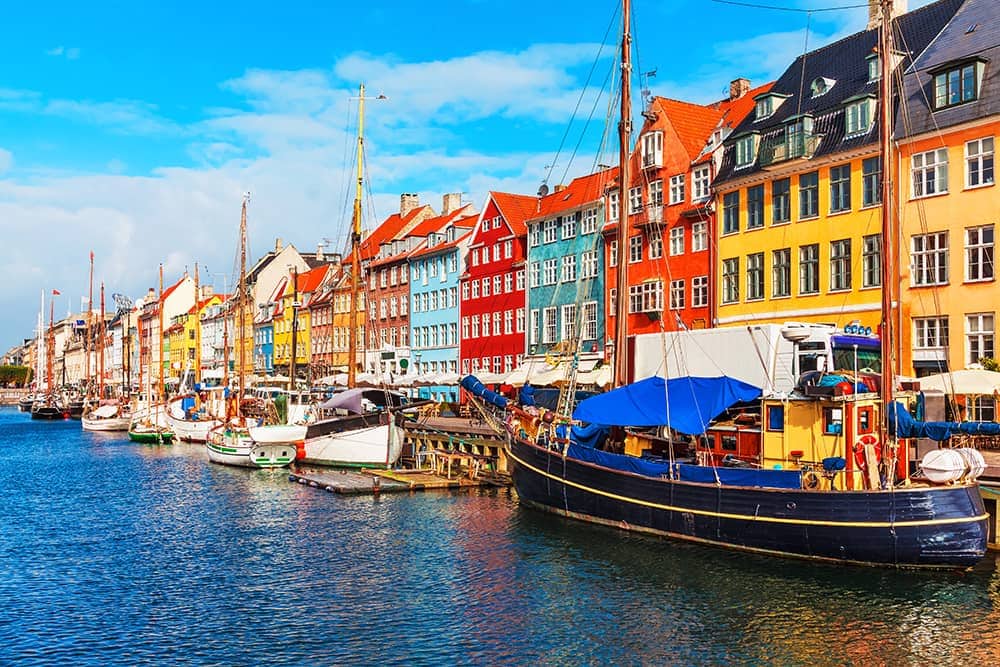 Copenhagen often tops the list of happiest places in the world, and if your Europe cruise includes a port of call in this Scandinavian city, you'll understand why. It's easy to discover Copenhagen on foot or by bike, and the city is brimming with picturesque neighborhoods and numerous green parks. Apart from the iconic Little Mermaid sculpture at the Langelinie promenade, Copenhagen is also home to Strøget, the longest pedestrian shopping street in Europe; Tivoli Gardens, one of the oldest amusement parks in the world; and the colorful – and easily recognizable — Nyhavn neighborhood, which is situated along a canal that once housed the busiest port in Copenhagen. While Copenhagen's stunning Scandinavian architecture alone can keep tourists occupied for hours, the city also offers much by way of food, culture and history. Copenhagen is glittering with Michelin star restaurants, cozy cafes and resplendent royal attractions, making it a true world-class destination.
5. Bruges
The beauty of Bruges lies in its diminutive charm. Stepping off your cruise ship onto the cobbled streets, you'll be greeted by a fairytale-like town that has preserved its medieval appeal of centuries past – complete with horse-drawn carriages, white swans languorously floating in the canals, and a Gothic bell tower looming in the distance. Market Square is the heart of Bruges, and is home to gabled houses, medieval architecture, and contemporary cafes and restaurants that rub shoulders with turn of the century pubs and breweries. After sampling some Belgian beer, chocolate, waffles and fries, you can make your way up the Belfry Tower to get a panoramic view of the city. Or, you can take a stroll along the canals, where you'll see countless storybook scenes waiting to be photographed. And, given that Bruges is a fairly small city, you can cover a lot of ground in a few hours, leaving you ample time to get back on your cruise ship.
A Europe cruise allows you to cover a lot of ground in a short period of time. While it can be tempting to stay onboard rather than exploring the different ports of call, there are a handful of port cities in Europe that shouldn't be missed. The unique architecture, defining history, and cultural traditions found in Rome, Seville, Dubrovnik, Copenhagen and Bruges make these cities unlike any other.  Each are certainly worth a visit on your next Europe cruise vacation.