By Captain And Clark, on June 15, 2016
National Parks Adventure: Grand Canyon
The Grand Canyon holds a special place in my family history. It's where my father fled shortly before he married my mother. Vanishing from Oahu just days before their wedding, my dad needed a safe place to ponder and reflect on his future. The vast canyon is where he found his solace and after realizing that my mom was the best thing to ever happen to him, he returned. They've been happily married for forty years.
I, personally, was indoctrinated to the wonders of the Canyon right before my own wedding. I was 27 before I was deemed worthy enough to hike the canyon with my dad. A mere months before we were married, Chris and I road tripped with my parents to the Grand Canyon. We spent a day hiking Bright Angel Trail (my father's hike of choice), twelve miles total to Plateau Point and back.
When we discovered that we were headed back to the Grand Canyon to celebrate the U.S. National Park Service's big Centennial, we knew the best way to get there was a good old fashioned road trip.
Stage 1: Planning
While looking at airfare and hotel options, we considered breaking up the three and a half hour drive from the Phoenix airport to the Grand Canyon. We were torn between stopping for a few days in either Sedona or Flagstaff. Both are cities that we've always wanted to visit but in the end, we chose Sedona.
We've been wanting to visit Sedona for a while and desperately wanted to hike Devil's Bridge and stop at the iconic Chapel of the Holy Cross. Since Flagstaff is on the way to the Grand Canyon from Sedona, we planned for a quick lunch stop as a little preview of the city.
The ease of the Expedia app expedited our booking process. Airfare, hotel, and rental car quotes were delivered to us within seconds. Before we knew it, the majority of our trip was booked and all at the touch of a button. We chose our hotels carefully. Comfort and location were our top priorities. I particularly enjoy hotels that are close to all the action. In Sedona, we chose the Southwest Inn at Sedona. This pregnant lady was instantly sold by the pictures of the enormous soaking tub in the bathroom. There's nothing wrong with adding a little luxury to any road trip.
Our first choice of accommodation at the Grand Canyon was El Tovar, but as we were booking last minute, it was sold out for our preferred dates. Our second choice was the freshly renovated Yavapai Lodge. And finally, we booked a hotel near the airport in Phoenix. We didn't want to feel rushed on our way out of Arizona and decided that booking a hotel near the airport the evening before our flight would allow us to get a good night's sleep and save us some stress.
The last big decision we had to make was which activity we wanted to experience on our grand adventure. After perusing the many options on the Expedia app, we ultimately chose a day trip to Antelope Canyon, a place that's been on our bucket list for years.
Our budget for the entire trip was $2,250. We knew that we needed to set aside some spending money for our time on the ground (gas, meals, miscellaneous). Here's a breakdown of what we spent before we landed in Phoenix:
Airfare and car rental: $475.26
Car rental: $153.12
Accommodation: $677.32
Antelope Canyon day trip: $336
Stage 2: On the ground
Once we hit the ground in Phoenix we had a few important decisions to make—all of them revolving around food. We picked up our rental car, grabbed a map, and then headed north. Once we were safely out of the hustle and bustle of Phoenix, we Yelped a doughnut shop and sat down to figure out the remainder of our day.
We plotted our route. As per usual, we decided to make our dining decisions based on recommendations from family and friends. We requested dining recommendations on our Instagram and instantly one follower replied with intel on an old saloon in Prescott. Upon further research we learned that The Palace first opened its doors in September of 1877 and is said to be the oldest frontier saloon in the state. We were also intrigued by the claims that The Palace was a popular haunt of Wyatt Earp and Doc Holliday.
A light blanket of snow dusted the road as we detoured to Prescott. While it was an indirect way to reach Sedona, the history behind The Palace and the hearty bowls of chili made the trip more than worth it.
Stage 3: Explore
It seemed like our trip was off to a great start but one thing we didn't account for was the weather. Neither of us expected to encounter snow on our road trip. Luckily, it was never too heavy to affect our drive. We did, however, have to change our plans in Sedona.
Being nearly 6 months pregnant, we decided to forgo our hike to Devil's Bridge. While it's a relatively easy hike (only two miles roundtrip), we heard that the trail was pretty icy and we didn't want to risk any slips or falls.
Instead, we stuck to safer, better manicured trails. We spent our two days in Sedona exploring the Amitabha Stupa and Peace Park, taking in the beauty surrounding the Chapel of the Holy Cross, and chasing legends of Sedona's energy vortexes. The latter took us on an easy hike to one of the prettiest panoramic views of the area.
Since most hikes were out of the question, two days was the perfect amount of time to explore Sedona. Before we knew it, it was time to pack up the car and head north to the Grand Canyon.
The Canyon was even colder than Sedona but that didn't stop us from bundling up upon arrival and heading straight to the Bright Angel trailhead. Due to the recent snowfall, cramp ons were highly suggested for the hike. We cozied up on a bench and watched as day trippers emerged from the canyon below. I gently patted my growing belly knowing that it won't be long until we introduce our little one to the wonders of the Grand Canyon.
Just watching the hikers conquer the canyon had me working up an appetite. Even though we weren't resting our heads at El Tovar, it didn't stop us from enjoying a delicious dinner at the hotel's restaurant. Chris feasted on roasted duck while I enjoyed the gooey and cheesy homemade French onion soup. We made sure to leave just enough room for the desert fruit creme brûlée.
Early the next morning, we left our cozy room at the Yavapai lodge and headed out to meet up with our tour group for Antelope Canyon. We signed up for an all-day tour that included round trip transportation to Antelope Canyon, bottled water, snacks and a fresh lunch, a personal Navajo tour guide to accompany us into the canyon, and side trips to Glen Canyon Dam and Horseshoe Bend.
Viewfinder Tip: When photographing Antelope Canyon on your iPhone, use the chrome filter to really make the colors pop.
Our 2 hour drive through the painted desert was accompanied by informative documentaries about the area and before I knew it, we were at the entrance to Lower Antelope Canyon. We met up with our knowledgeable Navajo guide who led us to the opening of the canyon.
Not only did the sheer beauty of Antelope Canyon exceed our expectations but our guide proved to be quite the photographer. He was more than willing to adjust the settings on our cameras and phones so that we could take the best photos possible.
We spent over an hour wandering through the red, orange, and sometimes purple walls of the canyon. Since we were there at the end of winter and in the off season, we were free of other tourists and it felt like we had the place to ourselves.
In the end, our six-day road trip couldn't have been more perfect. We loved having our rental car and being able to hit the road at our own pace. Here's to more national park adventures in our future.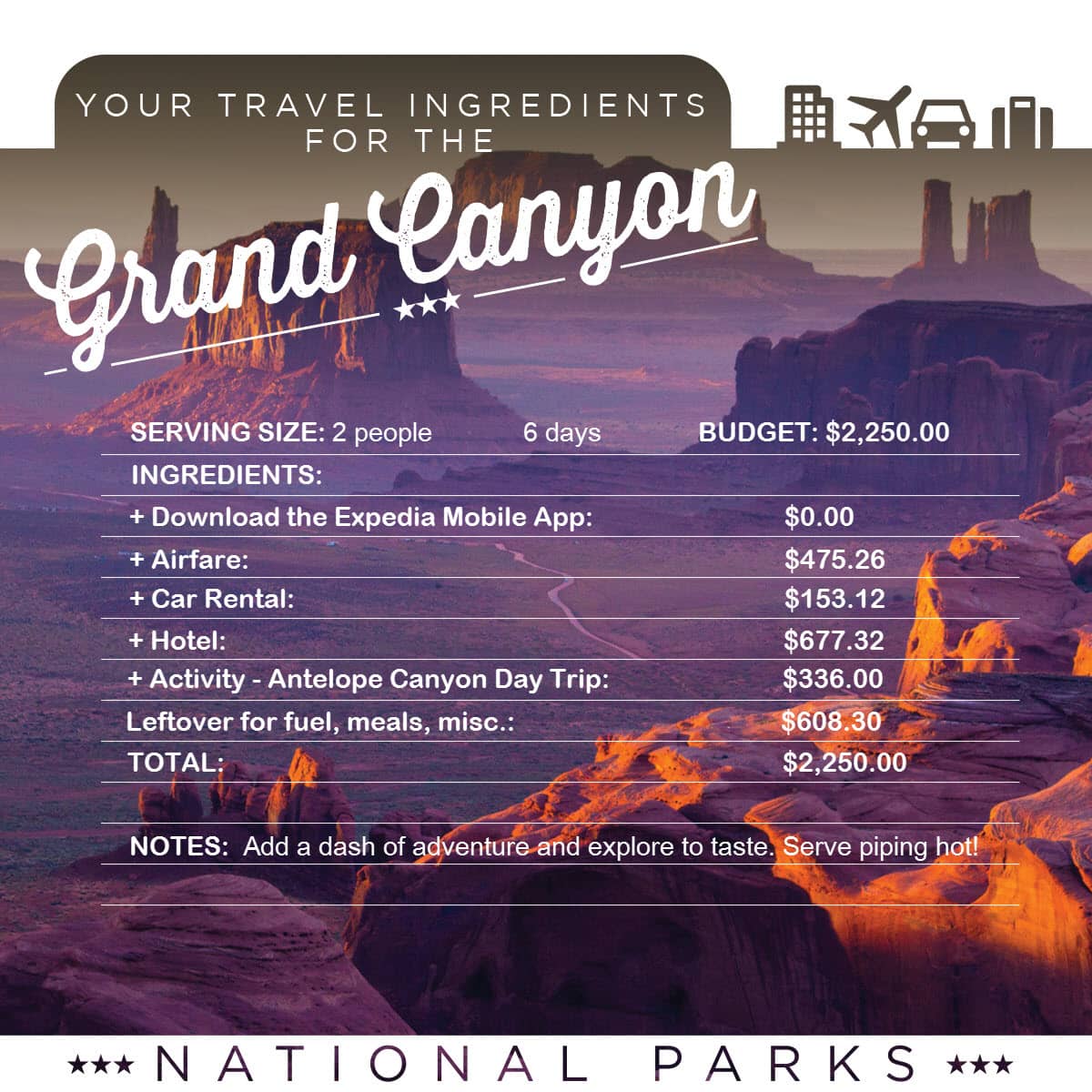 Our recipe for an epic national park road trip:
Start with the Expedia app. Combine airfare with hotel and blend until smooth. Add dash of activities and a rental car for some added flavor and ease.
Mix up your dining options with recommendations from friends and family. This will make your road trip recipe more unique and catered to your distinct tastes.
Add a dash of adventure and exploration to taste. Serve piping hot.
What are your tips for planning a national parks road trip?