By Expedia, on October 10, 2019
Outdoor Activities in Nashville
Though it's better known as Music City, Nashville is an incredibly green destination. Which means it's perfect for travelers who love nothing better than the feeling of being outside, whether it's relaxing with a picnic in a park or trekking through scenic surrounds. If you're planning a weekend in Tennessee's capital and looking for some recommendations on the best outdoor activities in Nashville, you're in the right place. Here's our pick of things to do.
Bike the Greenway
Nashville has 180 miles of greenway trails, half of which are off-road and perfect for biking. The easiest section is the four-mile-long Shelby Bottoms Greenway, which crosses the famous Cumberland Bridge for amazing views of Nashville's skyline. It's perfect for a relaxed affair. You can rent lightweight mountain bikes from Bike The Greenway, located at the Two Rivers Park Trailhead where the greenway begins.
Paddleboard Down the Cumberland River
One of the best ways to get outdoors in Nashville is on a paddleboard – cue the Cumberland River, which flows through the city. Paddle Up Nashville offers stand up paddleboarding trips, as well as kayaking and pontoon boat rentals if you don't feel like being on your feet. Trips depart from Rock Harbor Marina in west Nashville.
Go Zip-Lining at the Adventure Park at Nashville
At the Adventure Park at Nashville, outdoor activities are the order of the day, from zip-lining to ropes courses and forest bridges. The park consists of a combination of aerial forest activities that make up adventure trails that you follow through the forest. They also offer a 'Glow in the Park' experience where you can climb through the park at night wearing glow-in-the-dark attire.
Hike to Cummins Falls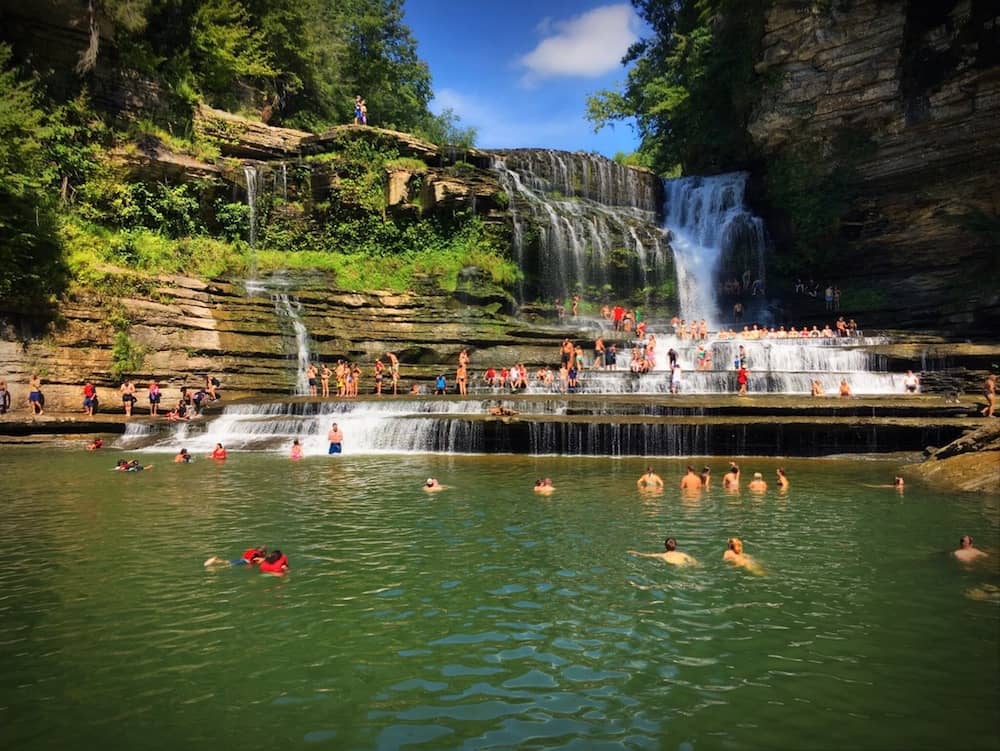 About an hour and a half's drive from Nashville is the impressive Cummins Falls State Park. And while it's not technically in the city, it's one of the most popular day trips among locals. Located on the Blackburn Fork River, Cummins Falls is a 75-foot waterfall with a swimming hole at the bottom. It's a two-mile hike downhill from the parking area to the swimming hole.
See an Outdoor Concert at Warner Parks
Nashville's version of Central Park, Warner Parks is located nine miles southwest of downtown. You'll find plenty of hiking, biking and horseback trails throughout, as well as lots of amazing green spaces to explore. But that's not all – the park also plays host to numerous events and outdoor concerts too. Festivals are held every summer, and there are monthly Full Moon Pickin' Parties each full moon.
Have a Picnic With a View at Riverfront Park
Riverfront Park is Nashville's most centrally located public park, with walkways along the Cumberland River and grassy knolls. It's a great place for a picnic, especially as it comes with a view of the Nashville skyline.
Take a Nashville Walking Tour
A walking tour of Nashville is a great way of getting outside and experiencing the city – and it keeps you active too. There are lots of options, from traditional guided tours to more unusual and novel experiences like a scavenger hunt. You can also learn about Nashville's part in the Civil Rights Movement with a tour of protest sites, as well as African American culture in general.
Walk Around the Parthenon at Centennial Park
Centennial Park is one of the most popular Nashville parks. It's packed with outdoor activities, including sand volleyball courts and an exercise trail. There's a dog park too. One of the best thing to do at the park is to wander around a replica of the Greek Parthenon, built for the 1897 Tennessee Centennial Exposition.
Take a Peaceful Stroll Around Radnor Lake
Radnor Lake is the closest state park to Nashville, located 10 miles from downtown. There are seven hiking trails in the park that are limited to hiking and wildlife watching only. With faster activities like jogging and biking not permitted, Radnor Lake is a good place to enjoy a slower pace of outdoor life. Along the way, you might spot otters, beavers, muskrat, deer, and a huge variety of birds.
Go Stargazing at Dyer Observatory
Also at Radnor Lake is Vanderbilt University's astronomical observatory, Dyer Observatory, which offers stargazing sessions. Set up like a come-and-go open house, several telescopes are opened for night-sky viewings. You can also chat with astronomers and ask them questions about all sorts of things to do with the universe.