By Expedia Team, on September 27, 2017
A theme park map of the United States


[full-width-paragraph]
A theme park map of the United States
Welcome to the USA, the greatest theme park in the world. Here we've got everything from mountains and glaciers, to deserts and everything in between.
[/full-width-paragraph]
---
[full-width-paragraph]
The map
[/full-width-paragraph]
[full-width-paragraph]
Start with a stop by Bear River in Katmai National Park, where you can observe literally thousands of big, beautiful brown bears. Looking for spectacular natural surroundings? Why not head to Denali National Park and make your way to the Top Of The World, North America's tallest peak.
While you're there, take in the Taigo Forest, with its high alpine tundra and snowy mountains. If you're after icy glaciers and snowy panoramas, make your way to The Ice Cube Adventure in North Cascades. Here you can explore the alpine landscape and more than 300 glaciers.
Whatever you do, don't miss The Canyon Cliffhanger, one of the most spectacular natural wonders in the world. No words can do justice to this 1 mile drop – it needs to be experienced to be believed. And if you're hungry for water fun, get yourself over to Splash Valley in Yosemite National Park, where the waterfalls will blow you away.
At the end of a long day exploring, why not unwind with a night under the stars? Starry Night at Joshua Tree is perfect for stargazing.
Water slides, vertical drops and stargazing are not your thing? Well, we've got you covered there too. The Mighty Goliath in Cathedral Caverns is one of the largest stalagmites in the world, measuring in at over 45 feet tall. We also have The Underground Labyrinth at Mammoth Cave, the world's longest known cave system. Just don't get lost in there – the name gives you a clue what to expect.
If it's relaxation and recuperation you need, head straight to The Healing Pool in Hot Springs Arkansas. Dive into the thermal waters for some natural healing, you'll feel reborn and ready for your next adventure. Ease back in with a visit to The Sleeping Mammoth at Waco Mammoth National Monument, the site of our nation's only recorded discovery of a nursery of mammoth fossils.
Now that you've seen the fossils, it might be time to inject some adrenaline into your trip, and what better way to do so than riding the Double Trouble? Located in Hawai'i Volcanoes National Park, this rollercoaster takes the passengers on a unique adventure around two of the most active volcanoes on the planet: Kilauea and Mauna Loa.
[/full-width-paragraph]
---
[full-width-paragraph]
National Parks and Monuments of the United States
[/full-width-paragraph]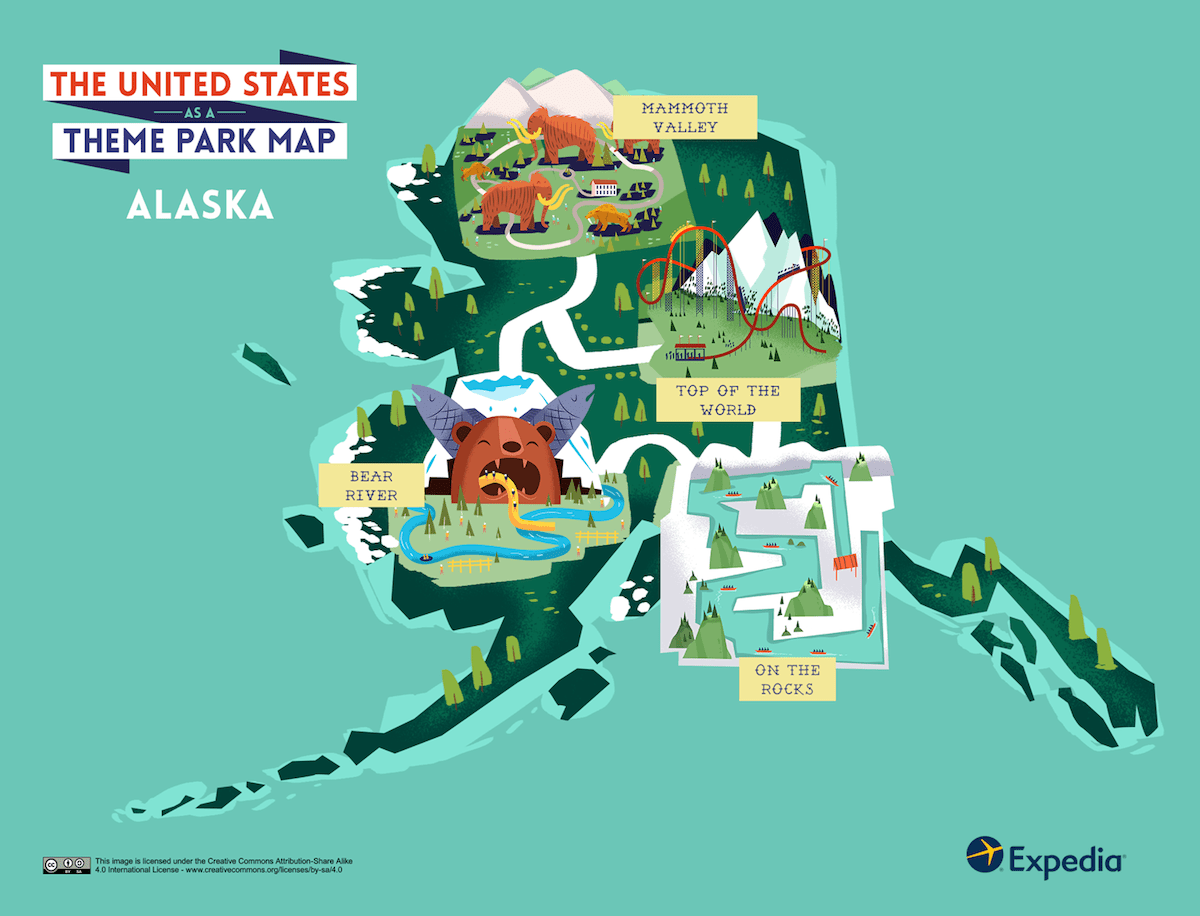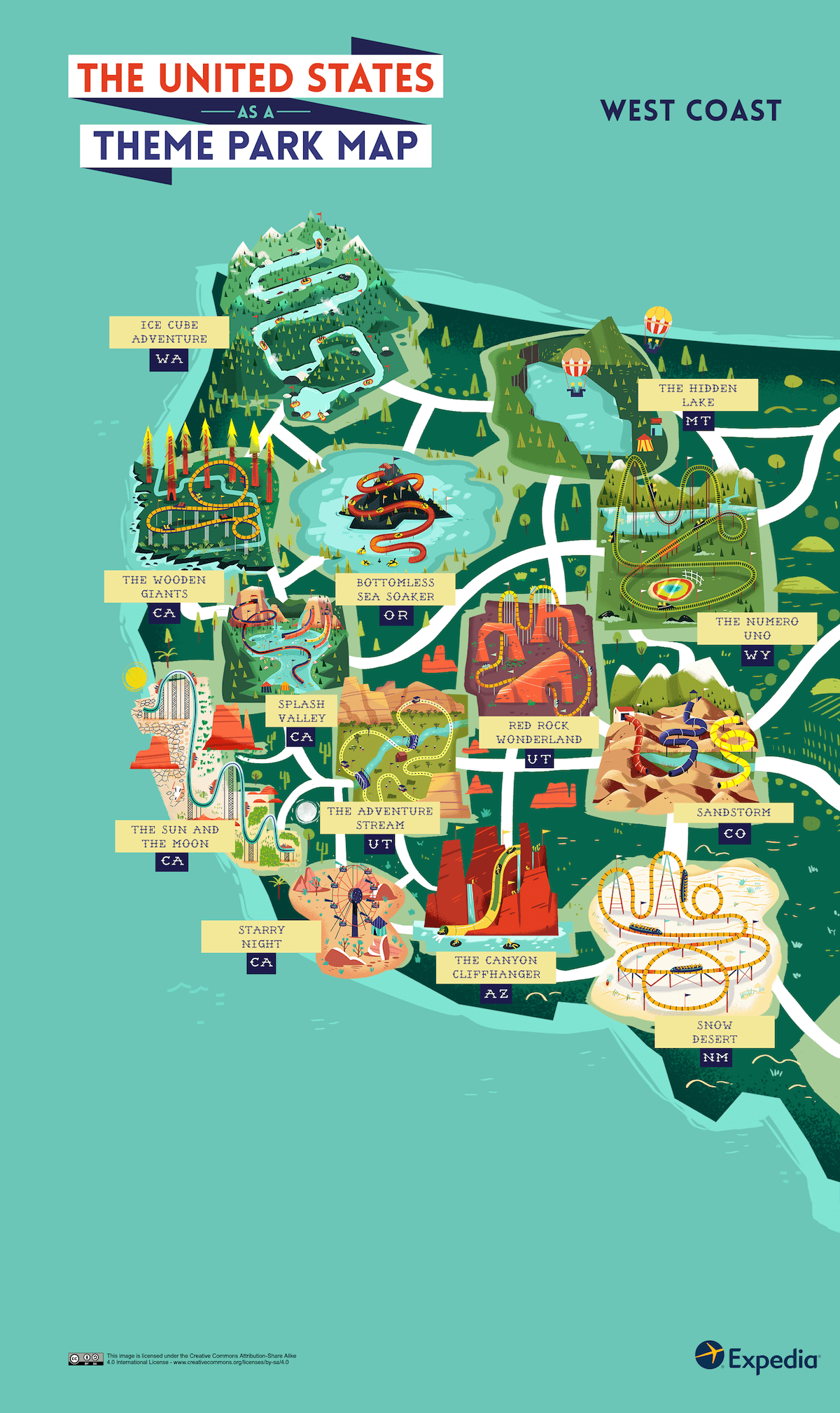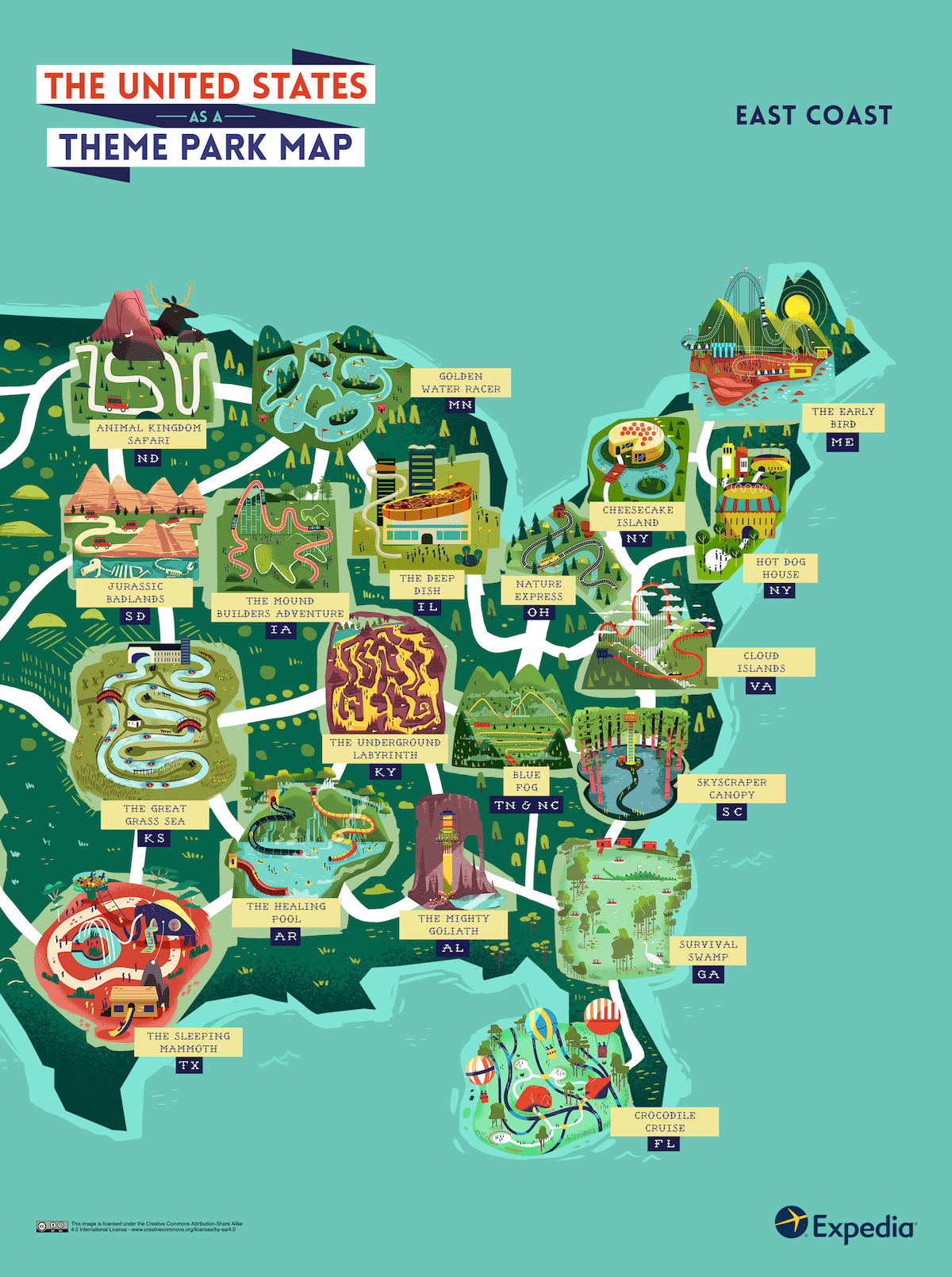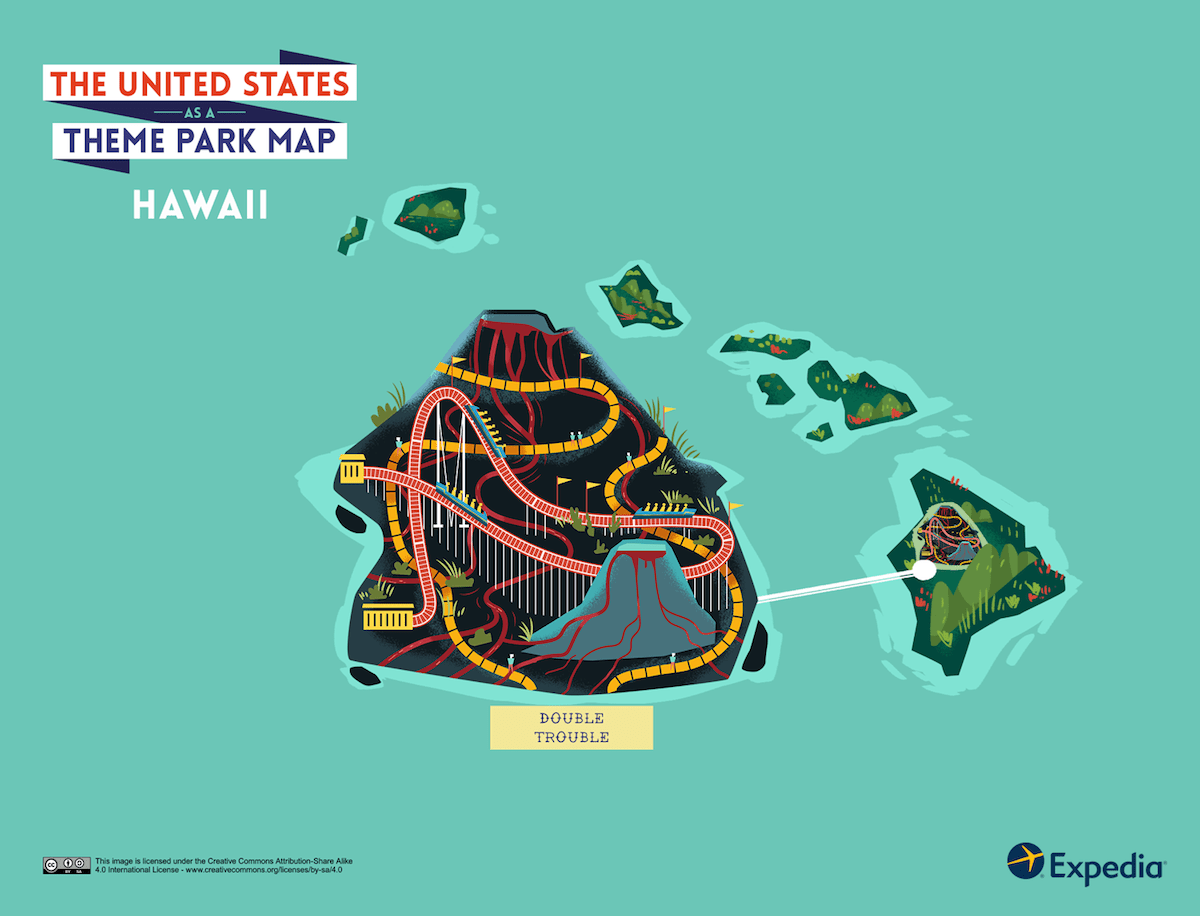 [full-width-paragraph]
And these examples are just for starters – there is so much see, do and discover here. This map will help guide you to some of the most memorable experiences you'll ever have.
Which will you try first?
| | | | |
| --- | --- | --- | --- |
| State | National Park or Monument | Description | Theme Park Ride |
| Alabama | Cathedral Caverns | Featuring one of the largest stalagmites in the world, "Goliath," which measures 45 feet tall and 243 feet in circumference. | The Mighty Goliath |
| Alaska | Denali National Park and Preserve | 6,000,000 acres of wild land. Includes North America's tallest peak: the Denali. | Top of The World |
| Alaska | Katmai National Park and Preserve | Active volcanic landscape; important habitat for salmon and thousands of brown bears. | Bear River |
| Alaska | Kenai Fjords National Park | A field of ice. Nearly 40 glaciers flow from the Harding Icefield, Kenai Fjords' crowning feature. | On The Rocks |
| Alaska | Kobuk Valley National Park | Wooly mammoths and saber toothed cats roamed the valley 15,000 years ago. | Mammoth Valley |
| Arizona | Grand Canyon National Park | One of the 7 natural wonders of the world. Beautiful geologic color and erosional forms decorate the one mile deep canyon. | The Canyon Cliffhanger |
| Arkansas | Hot Springs National Park | Thermal pools that have attracted people since Native Americans called this the Valley of the Vapors." | The Healing Pool |
| California | Death Valley National Park | In this below-sea-level basin, steady drought and record summer heat make Death Valley a land of extremes and contrasts. | The Sun and The Moon |
| California | Joshua Tree National Park | Joshua Tree is a popular southern California location for amateur astronomy and stargazing. | Starry Night |
| California | Redwood National and State Parks | Housing the tallest trees on Earth, the park protects vast prairies, oak woodlands, wild riverways, and nearly 40 miles of rugged coastline. | The Wooden Giants |
| California | Yosemite National Park | Known for its waterfalls, it also harbors deep valleys, grand meadows, giant sequoias and a vast wilderness area. | Splash Valley |
| Colorado | Great Sand Dunes National Park and Preserve | The tallest dunes in North America in a diverse landscape of grasslands, wetlands, conifer and aspen forests, alpine lakes, and tundra. | Sandstorm |
| Florida | Everglades National Park | A river of grass, the park provides important habitat for rare and endangered species like the manatee, American crocodile, and the Florida panther. | Crocodile Cruise |
| Georgia | Okefenokee Swamp | One of the largest and most primitive swamps in the country, it is a refuge for native flora and fauna including many uncommon and endangered species. | Survival Swamp |
| Hawaii | Hawai'i Volcanoes National Park | Home to two of the world's most active volcanoes: Kilauea and Mauna Loa. | Double Trouble |
| Iowa | Effigy Mounds National Monument | The mounds preserved here are considered sacred by many. Numerous effigy mounds are shaped like animals, including bears and birds. | The Mound Builders Adventure |
| Kansas | Tallgrass Prairie National Preserve | The preserve protects a nationally significant remnant of the once vast tallgrass prairie and its cultural resources. | The Great Grass Sea |
| Kentucky | Mammoth Cave National Park | The world's longest known cave system. Vast chambers and complex labyrinths have earned its name. | The Underground Labyrinth |
| Maine | Acadia National Park | Granite peaks, pine forests and historic carriage roads. One of the first places in the country to see the sunrise. | The Early Bird |
| Minnesota | Voyageurs National Park | The lakes were once traversed by Native Americans, explorers and gold miners. The park is popular with canoeists, kayakers, other boaters, and fishermen. | Golden Water Racer |
| Montana | Glacier National Park | Headwaters for streams that flow to the Pacific Ocean, the Gulf of Mexico, and to Hudson's Bay. Includes 762 lakes, including the Hidden Lake. | The Hidden Lake Balloon Ride |
| New Mexico | White Sands National Park | Dramatic landscape of rare white gypsum sand dunes. | Snow Desert |
| North Carolina and Tennessee | Great Smoky Mountains National Park | World renowned for its bio-diversity, its ancient mountains, and the quality of its remnants of Southern Appalachian mountain culture, this is the most visited national park in the US. | Blue Fog |
| North Dakota | Theodore Roosevelt National Park | This park is a memorial to one man's love of the American landscape. Home to a wide variety of Great Plains wildlife including bison, coyotes, cougars, feral horses, badgers, elk, and at least 186 species of birds. | Animal Kingdom Safari |
| Ohio | Cuyahoga Valley National Park | The park offers an array of preserved and restored displays of 19th and early 20th century, including railroad tours on the Cuyahoga Valley Scenic Railroad. | Nature Express |
| Oregon | Crater Lake | Deep water in a sleeping volcano. Fed by rain and snow, it's the deepest lake in the USA and perhaps the most pristine on earth. | Bottomless Sea Soaker |
| South Carolina | Congaree | This one of the highest temperate deciduous forest canopies remaining in the world. | Skyscraper Canopy Freefall |
| South Dakota | Badlands National Park | The land includes isolated steep hills, canyons, pinnacles, spires and one of the world's richest fossil beds. | Jurassic Badlands |
| Texas | Waco Mammoth National Monument | This paleontological site represents America's only recorded discovery of a nursery herd of Columbian mammoths. | The Sleeping Mammoth |
| Utah | Arches National Park | The park has over 2,000 natural stone arches, along with hundreds of soaring pinnacles, massive fins and giant balanced rocks. | Red Rock Wonderland |
| Utah | Zion National Park | Hiking the Narrows in Zion is an adventure that has to be experienced. | The Adventure Stream |
| Virginia | Shenandoah National Park | Mornings often bring views of a phenomenon known as a fog ocean, where the mountaintops rise from cloud-filled valleys like islands in a cottony-white sea. | Cloud Islands |
| Washington | North Cascades National Park | An alpine landscape, with jagged peaks crowned by more than 300 glaciers. | Ice Cube Adventure |
| Wyoming | Yellowstone | The world's first national park, Yellowstone's hidden volcano rises up in colorful hot springs, mudpots, and geysers. | The Numero Uno |
---
Want to share USA Theme Park Map on your site? Just copy and paste the embed code below:
---
[toggle title="Sources"]
Powers, R. (2016). America's Natural Heritage. washingtonpost.com
National Parks Service. (2017) Homepage. nps.gov
National Parks Service. (2017) Denali. nps.gov
National Parks Service. (2017) Katmai. nps.gov
National Parks Service. (2017) Kenai Fjords. nps.gov
National Parks Service. (2016) Kobuk Valley. nps.gov
National Parks Service. (2017) Grand Canyon. nps.gov
National Parks Service. (2017) Death Valley. nps.gov
National Parks Service. (2016) Joshua Tree. nps.gov
National Parks Service. (2017) Redwood. nps.gov
National Parks Service. (2017) Yosemite. nps.gov
National Parks Service. (2017) Great Sand Dunes. nps.gov
National Parks Service. (2017) Rocky Mountain. nps.gov
National Parks Service. (2017) Biscayne. nps.gov
National Parks Service. (2016) Effigy Mounds. nps.gov
National Parks Service. (2017) Tallgrass Prairie. nps.gov
National Parks Service. (2017) Mammoth Cave. nps.gov
National Parks Service. (2017) Acadia. nps.gov
National Parks Service. (2017) Glacier. nps.gov
National Parks Service. (2017) Cuyahoga Valley. nps.gov
National Parks Service. (2017) Crater Lake. nps.gov
National Parks Service. (2017) Congaree. nps.gov
National Parks Service. (2016) Badlands. nps.gov
National Parks Service. (2016) Waco Mammoth. nps.gov
National Parks Service. (2017) Arches. nps.gov
National Parks Service. (2017) Zion. nps.gov
National Parks Service. (2017) North Cascades. nps.gov
National Parks Service. (2017) Yellowstone. nps.gov
[/toggle]
[/full-width-paragraph]