By Jennifer Cuellar, on January 22, 2020
Peace, Love, and the SF Street Food Festival
San Francisco is a celebration. A city with deep roots, a long history, myriad cultural influences, and stories so epic they sound like tall tales, San Francisco is a town where everything is just a little more colorful. Nowhere is this truer than the culinary scene. And the SF Street Food Festival might be the perfect distillation of everything that makes San Francisco—and its world-famous food—so right.
More than just a fun social event, the SF Street Food Festival is a good cause. Hosted by La Cocina, a nonprofit organization that works for business equity on behalf of marginalized groups, the festival promotes and celebrates the contributions of women, immigrants, and people of color. You can feel good eating your heart out for a great cause.
What is there to eat at the Food Festival?
With a cultural focus on the diversity that makes San Francisco so remarkable, this food festival will truly have something for everyone. Down-home comfort foods, gourmet restaurant creations, finger-lickin' barbecue, grilled seafood, fresh Mexican grub, and San Fran's legendary Chinese cuisine will be just a few of the options available at the food fest.
And of course, this is California—so vegans, vegetarians, and gluten-free folk will have no trouble finding safe options to fit their dietary restrictions.
What should I wear in San Francisco?
San Francisco is a coastal city with rugged terrain, so the weather can vary by the day or even the hour. In October, expect plenty of sun and temperatures in the upper 60s and low 70s, but bring a jacket or sweatshirt for chilly nights and foggy mornings.
Closest airport & transportation
Flights to San Francisco land at San Francisco International Airport. From SFO, the SF Street Food Festival's Central Waterfront location is about 15 miles away (or 25 minutes by car). There are plenty of ways to get from the airport to the Street Food Fest or your hotel with minimal hassle:
• BART: The Bay Area Rapid Transit (BART) is a light rail line that moves locals and visitors alike throughout the city of San Francisco, and you can catch it at the airport. The online fare calculator will help you figure out the price of your journey, but you'll most likely be able to get to your San Francisco destination for under $10.
• Rental Car: If you want your own set of wheels to explore (and maybe take a drive down the famous Lombard Street, "the crookedest street in the world"), take SFO's people mover, the AirTrain Blue Line to the Rental Car Center. SFO has a number of onsite car rental agencies, and you can reach additional offsite rental agencies by using a free shuttle.
• Rideshare: Each terminal has a designated rideshare pickup location, making it easy to meet your driver. Remember that using a rideshare during peak days or hours might lead to surge pricing, so be prepared to pay a little extra if you arrive in town at a busy time.
• Taxi: Of course, good old-fashioned taxis are still a solid option. There are several cab companies that serve SFO, so give them a call if you'd like to request a cab. And keep in mind that, while reliable, taxis can be a little pricey.
Where should I stay in San Francisco?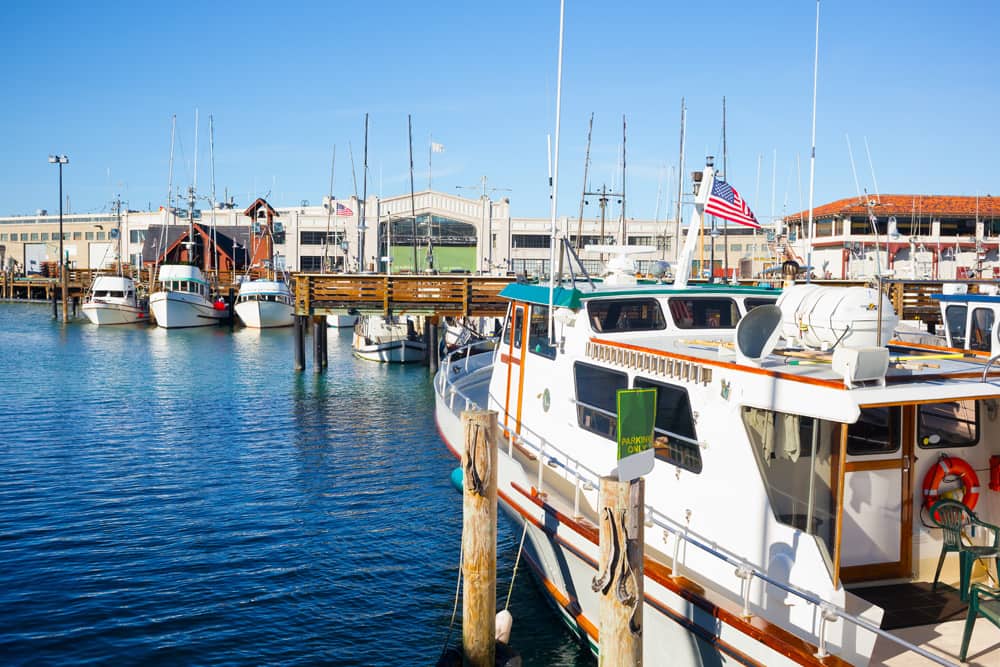 San Francisco is one of America's most unique and visually striking cities. With so many neighborhoods to explore and hotels in San Francisco for every budget, choosing a home base for your visit could be daunting. Don't stress—consider one of these fun areas:
• Dogpatch isn't just the site of the San Francisco Food Fest, it's also a very cool neighborhood of converted industrial buildings, mouthwatering restaurants, and art galleries.
• The colorful, Latin-influenced Mission District is a feast for the eyes as well as the belly. You'll be hard-pressed to find better tacos than the ones in the Mission.
• Fisherman's Wharf is the place to be for fresh air, gorgeous views, and classic San Francisco flavors—from sourdough bread and seafood on the Wharf to an ice cream sundae at Ghirardelli's.
Other things to do in San Francisco
Dull moments? You won't find those in San Francisco. Don't leave town without exploring some of its local treasures:
• Cable cars: It's cliché, its's cheesy, and it's an absolute blast. San Francisco's historic cable cars are a genuinely great way to see the city—and get up and down all those steep hills without breaking a sweat.
• Alcatraz Island: Take a half-day to book a tour of Alcatraz, one of America's most infamous prisons. You'll learn about the prison, some of its inhabitants, the families of prison employees who lived (and attended school!) on Alcatraz Island, and significant events that happened on "The Rock." It's an unforgettable history lesson.
• Haight-Ashbury: For rock fans and flower children, a pilgrimage to "The Haight" is a must. Once the central gathering point for San Francisco's 1960s counterculture, the Haight-Ashbury district holds on to its hippie history. Head shops, record stores, and vintage clothing boutiques abound, and there are some unique bars worth a visit.
San Francisco is the pride of the West Coast, and its food scene is one of its greatest gifts. So pack your bags and leave your heart in the "City by the Bay," because The Golden Gate is always wide open for hungry travelers.
Header image: Via Alessandro Colle/Shutterstock.com