By Expedia Local Expert, on January 7, 2018
San Francisco Restaurant Spotlight: Top 7 places to try right now
In the Bay Area, you'll find locally grown, organic, hyper-seasonal, menu-changed-on-the-daily restaurants that make every visit a toothsome surprise. Whether you work up an appetite hiking under redwoods and gazing at waterfalls, sampling local wine in Napa Valley, or wandering through world-class museums, you'll discover a restaurant to suit your tastes in San Francisco.
Lers Ros Larkin
With a base menu offering 114 authentic Thai dishes and rotating daily specials featuring seasonal ingredients, it is hard to choose what to order at Lers Ros. The good news is that you can't go wrong. Adventurous carnivores can try rabbit or alligator, while even a familiar dish like pad Thai impresses with a perfectly balanced mix of spicy, sour, sweet, and salty. Open until 2 AM every day, Lers Ros on Larkin St. provides the perfect dining option before or after seeing a concert at the Bill Graham Civic Auditorium or the San Francisco Symphony. With unassuming décor, attentive service, and reasonable prices, Lers Ros may become your go-to spot for Thai in San Francisco.
Locanda
Let your taste buds travel to Rome on fork of cacio e pepe (cheese and pepper) pasta prepared to perfection in San Francisco's Locanda. The Jewish-style artichoke boiled with spices and then fried into a golden bloom with crunchy, fried Castelvetrano olives on the outside and creamy cheese on the inside will surely make you wish your Instagram could convey flavor. With a supremely mixed cocktail or glass of select European wine in hand, you can watch the chefs prepare your whole fish acqua pazza (poached) in the centrally located open kitchen. If eating here puts you in a European mood, you can visit the Legion of Honor art museum or return for brunch to indulge in Locanda's chocolate hazelnut bombolone (Italian filled donut) or lemon-ricotta corzetti pancakes with huckleberry-basil compote.
Maruya
At Maruya, the sushi chefs don't scrimp on time or effort when employing traditional techniques to coax the fullest flavors out of fish. Yet, the appetizers, like aioli tuna tartar, reflect culturally blended bites unique to Maruya. This tranquil, wood-paneled restaurant serves meals omakase, which translates to "I'll leave it up to you." This style allows the masterful chefs to present innovative dishes of seasonally fresh seafood. Request seating at the cypress-wood bar to watch culinary artists slice glistening fish with the deft flick of a knife. Due to a limited seating capacity, be sure to reserve your spot days in advance. San Francisco provides many opportunities to experience Japanese culinary culture, but Maruya is a shining star of the omakase tradition.
Finn Town Tavern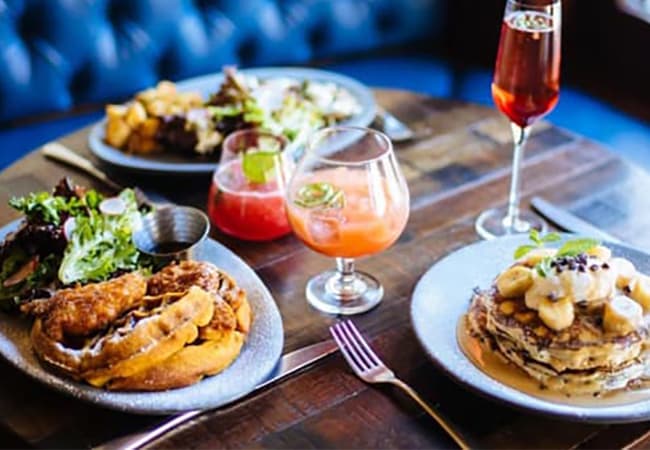 Decorated with vintage city maps, wallpapered with pages from the books of SF authors, and hung with black-and-white photos of the city's movers and shakers, Finn Town Tavern offers a truly unique and truly San Fran dining experience. A creation of Top Chef alum Ryan Scott, Finn Town dishes up American comfort food with a twist like fried mac and cheese with celery root, pumpkin seeds, and chili aioli. This gastropub ups the ante with a double stack burger featuring house-made pickles and house-baked bun. If drinking a cocktail paying homage to Harvey Milk (vodka, lychee milk, lime, ginger) or Diego Rivera (blanco tequila, mezcal, lime, fire bitters) piques your interest in local history, then continue your education with a social justice-focused walking tour of the Castro and Mission districts. Come to Finn Town for the lively vibe and local flare during dinner, happy hour, or weekend brunch—or just indulge in a sumptuous dessert.
Kusakabe
Awarded a Michelin Star and The Plate for fresh ingredients carefully prepared, you'll find a harmony of flavors in omakase sushi created in the kaiseki style at Kusakabe. The art of kaiseki balances taste, texture, appearance, and color to craft miniature masterpieces that delight both the eyes and the tongue. An a la carte menu appears only after you finish the night's curated omakase selections. To ensure your seat at the elm counter, where you can watch the delicate work of the chefs, be sure to make a reservation. If you want a relaxed fine dining experience as artfully arranged as any piece in the San Francisco Museum of Modern Art, look no further than Kusakabe.
Mister Jiu's
In the United States' oldest Chinatown, Mister Jiu's invites you to an elegant Cantonese banquet elevated with seasonal Bay Area ingredients. Inside, golden lotus chandeliers float over large round tables with built-in lazy Susans, and palm plants add a touch of green to the mid-century white-and-black décor. Tables overflow with flavorful dishes meant to be shared family style, such as the barbeque pork buns stuffed with local, organic pork and garnished with the SF-staple Dutch Crunch bread as well as the steak fried rice with wagyu skirt, crispy garlic, and cured tuna heart. Even on a food tour of San Francisco's Chinatown, you won't find anything else quite like Mister Jiu's.
Marla Bakery Restaurant
Bathed in morning sunshine on a patio surrounded by herbs and fruit trees, take a bite of eggy French toast topped with vanilla bourbon cherries and whipped cream fraiche. Then, wash it down with a sip of  fresh-squeezed orange juice mimosa in the garden seating area of Marla Bakery Restaurant. The baker-and-pickler couple Amy Brown and Joe Wolf run this cozy, neighborhood bakery work with local farmers to source the freshest organic ingredients for a menu that changes each day. During the week, come for breakfast, lunch, and, on Fridays, the fried-chicken dinner. Reserve a table for their popular weekend brunch, which may feature succulent sautéed greens or fresh-baked bagels smeared with house-made cream cheese and loaded with lox cured in-house. After your meal, you can head to Golden Gate Park carrying a baguette or sticky bun still warm from Marla's wood-burning