By Camille Meyers, on December 5, 2018
Where to see penguins in the wild
From the nightly parades of little blue penguins in Australia to sunbathing penguins in the Galapagos, you don't need to go all the way to Antarctica to see cute penguins in the wild. When the weather starts getting brisk in the Northern Hemisphere, travel south for your best chance to see penguins chilling in their natural habitats. Luckily, unlike penguins, you can fly. So, pack your tux and your camera and set out to these top locations to see penguins in the wild.
See Penguins in Australia at the Penguin Parade on Phillip Island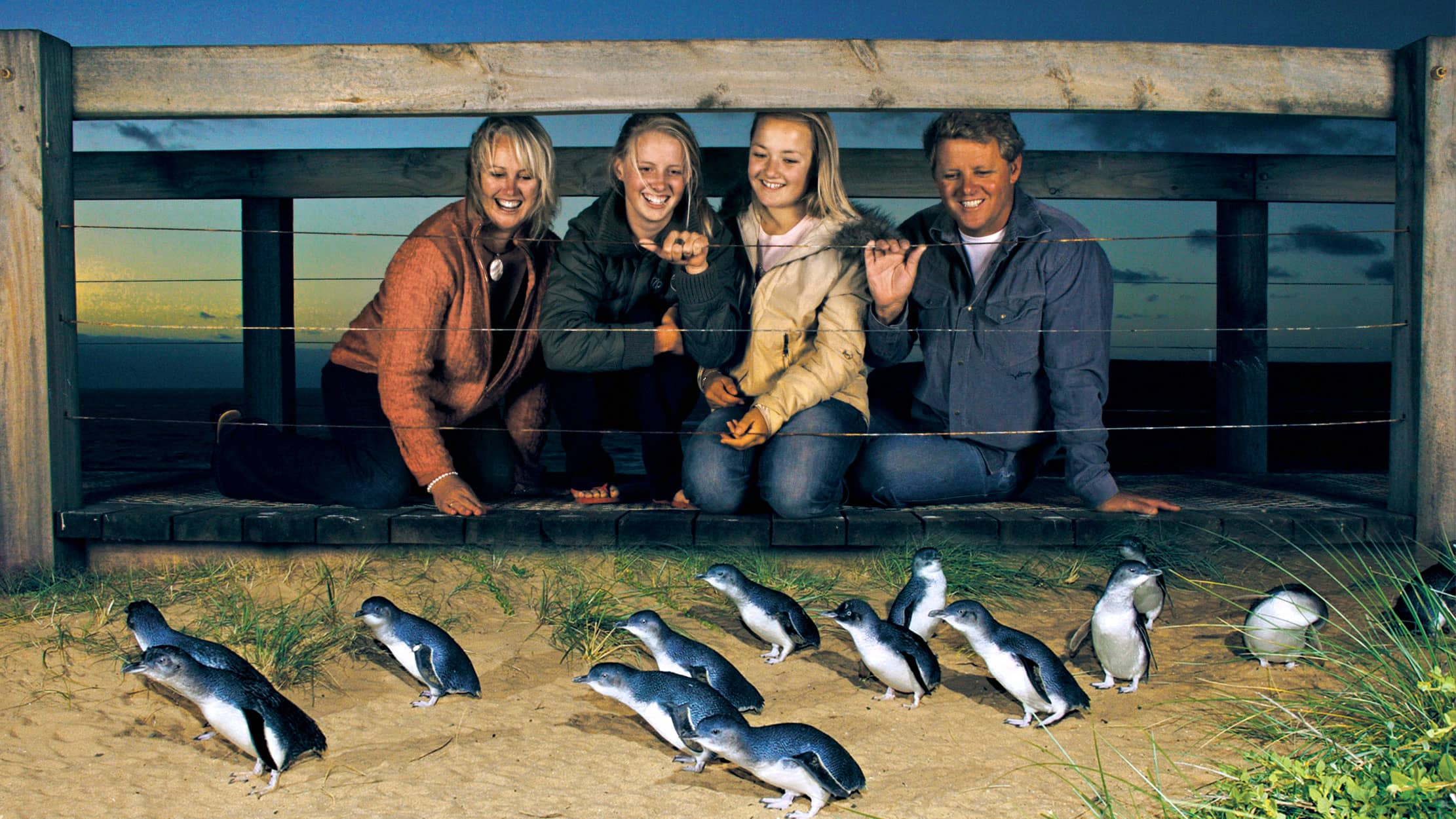 As the sunset turns the sky orange, hundreds of little blue penguins tumble, trot, and waddle out of the sea. They scurry across the sand so close you could almost pet them. Leave busy Melbourne behind to partake in this nightly Penguin Parade on Phillip Island. The smallest—and possibly the cutest—penguins in the world, also referred to as fairy penguins, spend the day fishing in the ocean and march the same route to their burrows every night. At the popular Phillip Island Nature Park, spend the day interacting with Australian wildlife, such as cuddly koalas and bouncy kangaroos, before sunset heralds the enchanting Penguin Parade.
Watch Penguins in New Zealand
Famous as the home of another iconic flightless bird, the kiwi, New Zealand is a bird-lovers paradise. Book a trip to Penguin Place, a private conservation reserve just outside Dunedin on the Otago Peninsula. Here you can watch rare yellow-eyed penguins making their way home for the night. Near Christchurch live white-flippered penguins. Fiordland crested penguins hide out in the glacial waters of Milford Sound. Take the ferry down to Stewart Island to scope out the burrows of little blue penguins and ask a friendly local about their favorite place for penguin watching.
Where to See Penguins in South Africa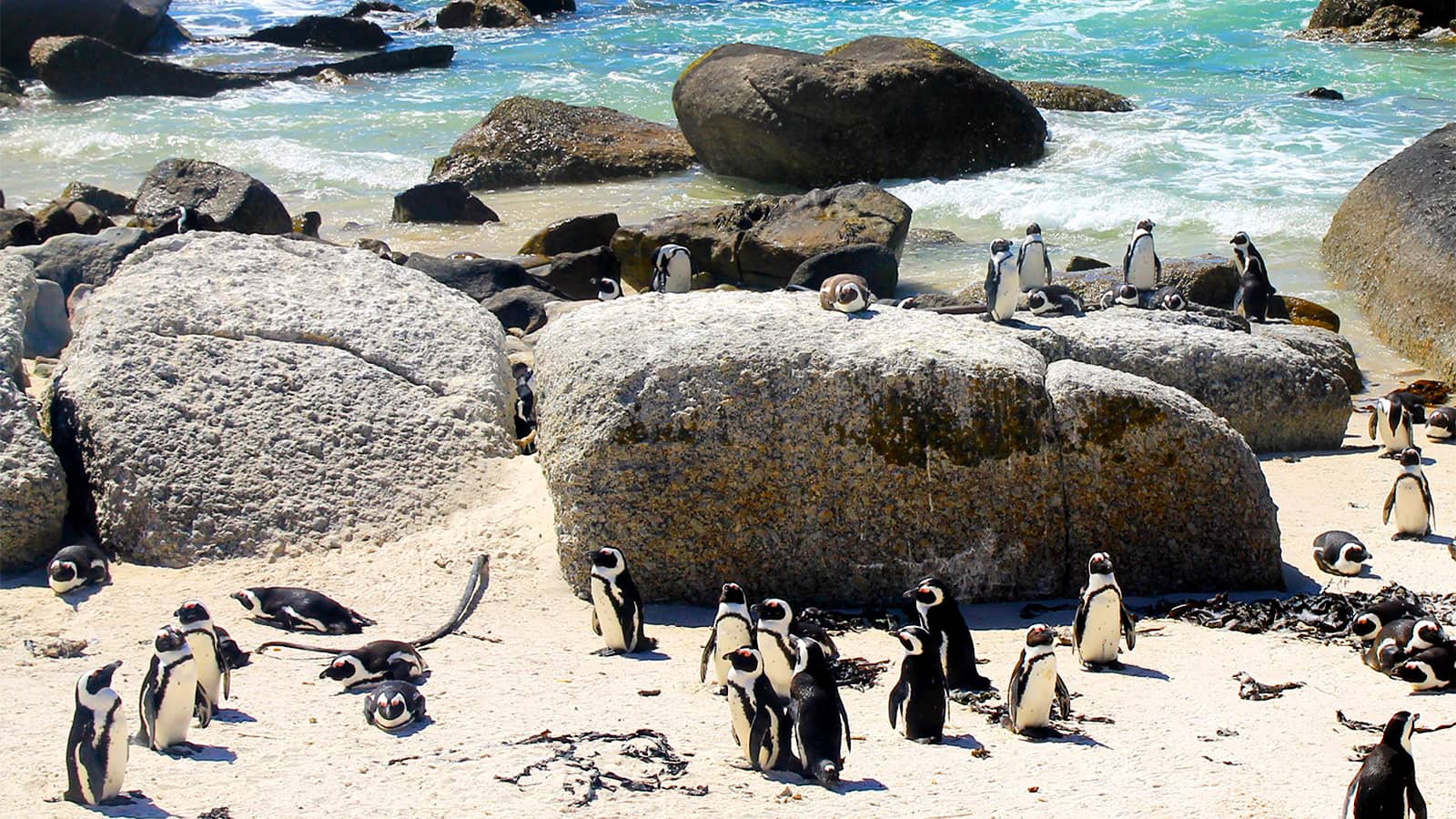 Head to Cape Town to see lions, giraffes, and penguins all in one weekend. Watch hundreds of African penguins sunbathe on the white sands and giant granite rocks that give Boulders Beach its name. To cope with the hot African sun, these penguins have pink patches of skin above their eyes that help them cool off.
If you look closely, you can see that African penguins have random patterns of little black spots on their white bellies. This gives each penguin plumage as unique as a fingerprint and helps researchers tell individuals apart. Pair your penguin encounter with a wine tasting for your own unique escape.
Where to See Penguins in Antarctica
If you want to see as many of the 17 species of penguins as possible in one trip, then board a cruise to Antarctica. The frozen continent is the best place to view vast colonies of these black-and-white birds waddling around. Bundled up on the bow of your ship, you may see emperor penguins standing a grand 4 feet (122 cm) tall, rockhopper penguins with their spiky yellow crests, or Adélie penguins tobogganing over snow.
You'll likely swing by some remote islands on your way to Antarctica, such as the Falkland Islands where king penguins live. With no natural land predators, king penguins are pretty laid back on shore. Don't be surprised if these inquisitive birds wander close. So, have your camera ready to take some cute penguin pictures.
Meet Penguins in Argentina
To spend the day with charismatic Gentoo penguins, make your way down to the world's southernmost city—Ushuaia—on the tip of Argentina. From there, you can sail to one of their breeding colonies on Martillo Island. Male Gentoo penguins woo their sweethearts by presenting them with gifts of pebbles. If she accepts his affections, she will add his stones to her nest, and they will remain partners for life.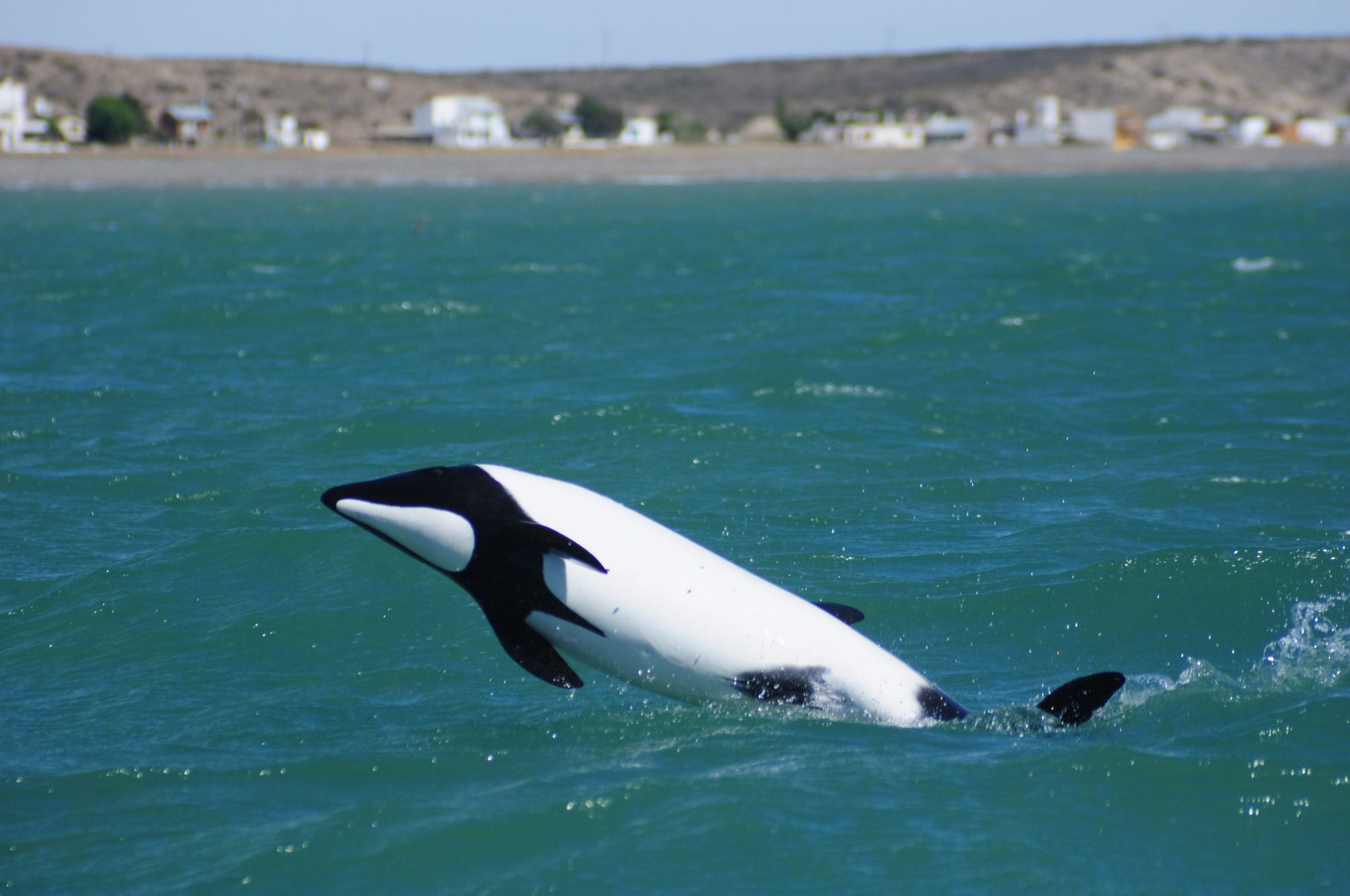 While snapping hundreds of photos of Magellanic penguins on a day trip from Puerto Madryn, keep an eye out for other black-and-white animals like orcas feeding offshore or Commerson's dolphin, the world's smallest dolphin species. On land, penguins cohabit with other unique animals like guanacos (relatives of llamas) and the large flightless rheas (distant relatives of the ostrich).
Chill with Penguins in Chile
From Punta Arenas, sail through the legendary Strait of Magellan to make landfall on Magdalena Island, also known as Los Pinguinos National Monument. Penguins mate for life and over 60,000 pairs of Magellanic penguins nest under the watchful red lighthouse turned environmental interpretation center on this island. Continue exploring the mountainous Tierra del Fuego for a chance to see wild king penguins, the second largest species of penguins, in the aptly named King Penguin Park. Further up the coast of Chile, sight more Magellanic penguins fishing for squid, krill, and jellyfish not far from Santiago.
Spot Penguins on the Galapagos Islands
Living among gigantic tortoises, sleepy fur seals, and Darwin's finches, you'll find the northernmost living species of penguin—the Galapagos penguin. As if you needed one more excuse to visit the nature documentarian's dream archipelago, here it is dressed in a tux. Search for the dapper birds around the jutting lava rock formations of Bartolome Island and look for them bobbing in the cool waters around Isabela Island.
Swim with Penguins in Peru
Journey to the Palomino Islands from Lima for a chance to swim with wild penguins and sea lions. Here, you can join Humboldt penguins in the water as they dart past at speeds of up to 20 miles per hour (32 km per hour). However if you want to keep your feet dry, take a boat ride from Paracas to view hundreds of Humboldt penguins living on the Ballestas Islands. This wildlife sanctuary is also home to thousands of other seabirds like Inca terns and Peruvian pelicans.
Penguins are plump waddlers on land, swift torpedo swimmers underwater, and adorable wherever they are. If you're itching to see penguins a bit closer to home, check out the San Diego Zoo's live penguin cam for some everyday African penguin antics. Or snag some cheap Penguins tickets to see Pittsburgh's hockey team become emperors of the ice. If that's not enough, book a room in Miami's stylish penguin hotel for some extra inspiration while planning your ultimate penguin vacation.
Fun Penguin Facts:
Penguins have 2 dedicated holidays: Penguin Awareness Day on January 20 and World Penguin Day on April 25.
The penguin tux isn't just for show, its underwater camouflage. Things are fancy in the sea.
Penguin memes are found all over the internet, but wild penguins live only in the Southern Hemisphere and the Galapagos.
Baby penguins form groups called crèches, but they can also be called adorable.
In 2008, the King of Norway knighted a king penguin named Sir Nils Olav at the Edinburgh Zoo. This penguin holds the rank of Colonel-in-Chief in the Norwegian King's Guard.