By Expedia, on August 22, 2019
St. Petersburg, Florida Vacation Ideas for Planning an Itinerary
[video-container][video-title]
[video-tag]
St. Petersburg, Florida Vacation Ideas for Planning an Itinerary
[/video-title][video-blue-header] Located at the end of Florida's Tampa Bay peninsula, St. Petersburg is surrounded by water on three sides, providing sun-seeking vacationers with endless opportunities to work on their tans. If you're worried that all that sunshine and sand means culture's put on the back burner, fear not; the walls of St. Pete's downtown arts district are literally bursting with art. Check out our top vacation ideas to inspire your St. Petersburg trip planner. We've shone a light on some of the best places to visit in St. Pete's – don't miss the links to the amazing footage from our St. Petersburg Vacation Travel Guide video.
[/video-blue-header]
[full-width-paragraph]
Ideas of places to Visit in St. Petersburg
While the endless beaches of St. Petersburg's Gulf Coast are the main draw for vacationers, away from the beach visitors will discover plenty of fun ways to spend their days here. From world-class galleries and museums to innovative restaurants and craft breweries, you'll find no shortage of attractions to fill your St. Petersburg itinerary.
---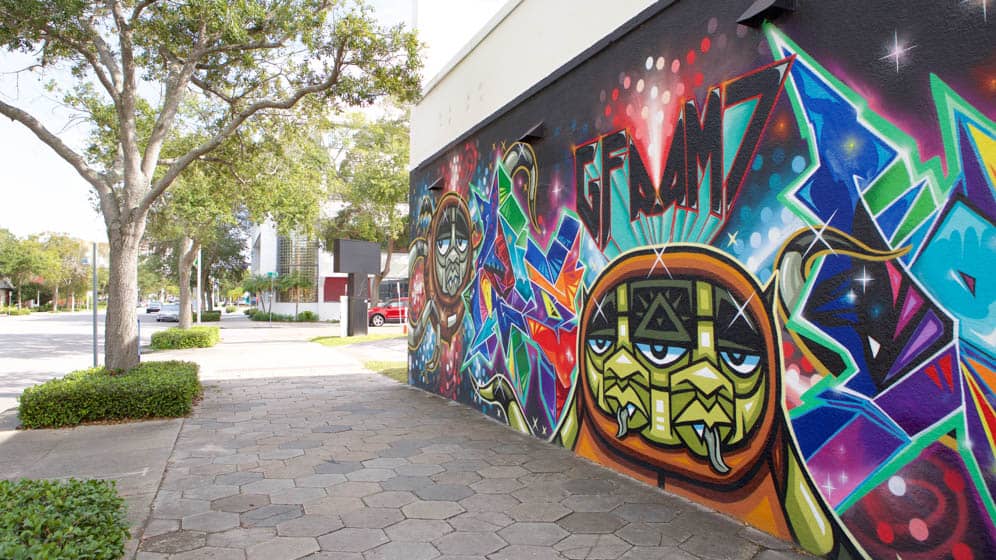 St. Pete's Urban Murals
(0:53 in the video) St. Petersburg holds the world record for registering the most consecutive days of sunshine – 768! All that clear weather has made the city a hot spot for urban mural artists from all over the globe. Set aside a few hours in your travel plans to explore the murals of St. Pete's, which are found mostly in the downtown area. Join a walking tour, download an interactive map, or just follow your nose: the city is home to over 70 fabulous urban murals.
---
Craft Breweries
(1:22 in the video) The sun has made St. Pete's the perfect setting for craft brewing too. After all, there's no better way to beat the heat than with a cold brew. St. Petersburg has over 12 craft breweries, so be sure to add in a few "hop stops" into your itinerary.
---
(1:55 in the video) Art lovers won't want to miss the Dalí Museum, which houses the largest collection of works by the father of surrealism outside of Europe. Even if you're not a Dalí fan, chances are you will be after exploring this vast collection of oil paintings, drawings, photographs, and film. The Dalí Museum is one of St. Petersburg's most popular places to visit, so it's a good idea to arrive early to avoid the long lines.
---
(2:15 in the video) Another highlight for every art-lovers vacation to St. Petersburg is the Chihuly Collection. When planning a trip to St. Petersburg, set aside a couple of hours to explore incredible works by acclaimed glass artist Dale Chihuly, whose individual pieces and large-scale installations almost outshine the Florida sunshine!
---
(2:24 in the video) Crafty visitors keen on learning more about the world of glass art should mark out a few hours in their itinerary for a trip to the Morean Arts Center. Catch a demonstration in the Glass Studio & Hot Shop, or if you're feeling really creative, why not sign up for a workshop and create a glass masterpiece of your own.
---
(2:49 in the video) Continue your journey into the incredible world of glass art with a visit to the Imagine Museum, which presents hundreds of eye-popping works from some of the world's most daring glass artists. The Imagine Museum shop is also the perfect place to pick up unique gifts, keepsakes, and souvenirs from your Florida vacation.
---
(3:03 in the video) Once you've explored St. Petersburg's glass art, pay a visit to the Museum of Fine Arts. Featuring over 20,000 artworks including masterpieces by Monet, Rodin and O'Keeffe, as well as priceless antiquities from ancient Roman, Greek, and Egyptian times, the museum is a cultural highlight for visitors.
---
(3:13 in the video) One of the more unusual cultural attractions in St. Petersburg is the James Museum, which brings the Old West to the East Coast. This stunning museum features traditional artworks as well as new pieces by some of America's most exciting western and wildlife artists.
---
(3:36 in the video) Escape the heat of the Florida sunshine beneath the cool canopy of St. Petersburg Sunken Gardens. Starting life in the 1920s as a 25-cent roadside attraction, they have bloomed into one of Florida's most popular botanical gardens. If you're looking for postcard-worthy things to do, this is also a great place to see and photograph Florida's iconic pink flamingos.
---
(3:51 in the video) Florida is also famous for its swamps and gators, so be sure to take the 15-minute drive north from downtown St. Petersburg to Sawgrass Lake Park. Featuring a mile-long boardwalk through one of the largest maple swamps on the Gulf Coast, this is a must-visit attraction for all nature lovers.
---
St. Pete's Beaches
(4:15 in the video) No visit to St. Petersburg is complete without a visit to its fabulous beaches. Just a 10-minute drive from St. Petersburg is a 30-mile chain of barrier islands, where you'll find some of America's best beaches. When planning a trip to St. Petersburg, set aside a day to soak up the Florida sunshine on the pure white sands of St. Pete Beach, one of Florida's most popular beaches. If you're looking for beaches that are a little more out-of-the-way, check out the secluded beaches at Fort De Soto Park.
---
(5:20 in the video) Just to the north of St. Petersburg is the popular seaside town of Clearwater. Blessed with warm, shallow waters, Clearwater's beaches have been popular with families for generations. A visit to Clearwater Marine Aquarium is also a must-see attraction for travelers of all ages with an interest in marine conservation.
---
(6:16 in the video) Why not add a visit to neighboring Dunedin to your St. Petersburg itinerary? Home to Florida's oldest microbrewery and peppered with miles of bike paths and trails, old-school Dunedin is a great place to chill beneath the Florida sun.
[/full-width-paragraph]
---
[full-width-paragraph]
Inspiration for traveling to St. Petersburg
We hope you enjoyed these ideas for getting the most from your St. Petersburg vacation. If you need more inspiration before you book your flights and accommodation check out our St. Petersburg, Clearwater and Dunedin images.
Why limit yourself to just one destination? We also have hundreds of other Vacation Travel Guide videos from around the world, so be sure to subscribe to Expedia's YouTube channel today.
Ready to start planning the trip?
St. Petersburg hotels
Flights to St. Petersburg
Vacation packages to St. Petersburg
Car rentals in St. Petersburg
Activities in St. Petersburg
Stay updated on new vids
This article was originally published on [publish-date]. If you'd like to stay updated on new videos of the beautiful destinations that our planet has to offer, subscribe to Expedia's YouTube channel.
[/full-width-paragraph]
[youtube-cta-US]
[travel-video-cta-US]
[/video-container]