By Expedia Guest Author, on October 13, 2020
The beauty of Medellín, Colombia
The land of eternal spring—that is what they call my city of Medellín. I was born in Medellín and moved to Miami when I was young, but it wasn't until I went back to Colombia that I remembered what makes being Colombian so special. Let me start off by saying every time the plane lands and I see the mountains of Medellín, and the houses on the mountain side, a warm feeling comes over me. Medellín has had an amazing transformation over the last 20 years that has made it one of the best destinations for tourism, and in my opinion, it is one of the best places to visit. Take for example the amazing transformation that has happened to Comuna 13, a neighborhood that suffered a lot from lack of access, now has structures in place that have helped make it one of the no. 1 tourist destinations in Medellín, filled with artists and culture that provides an amazing experience.
When I arrive at my grandma Lola's house the smell of bandeja paisa reaches my nose and I know I am home.
Food is a special part of Colombia, our cuisine incorporates our diverse and complex culture. One of my favorite parts about going to visit family is eating the Colombian cuisine they always offer cooked to perfection. It is not just the food but the welcoming love of the people that makes Colombia special.
Colombia is one of the most biodiverse countries on Earth by area—that's right on Earth. This means Medellín is surrounded by incredibly beautiful diverse towns outside the city where you can travel to spend some time and immerse yourself in the land and culture. That was my favorite part about my last trip. We headed to a town called Titiribi, where the stars are clearly visible at night, and the daytime feels like a dream. To wake up in the little mountain town of Titiribi is a dream. It holds a special place in my heart because before I left Colombia we used to spend time there on weekends with family and friends. Often I would end up rolling down this hill with my mom, which still exists when I go visit.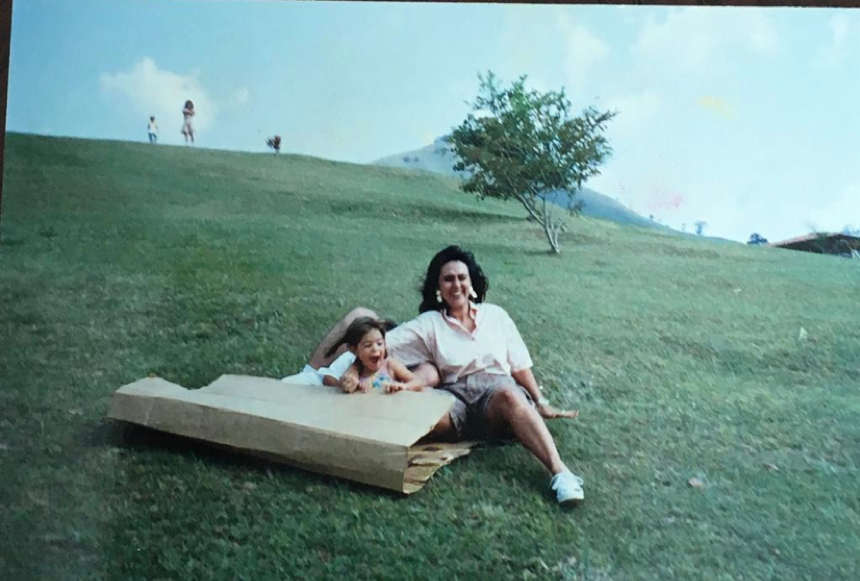 I know it's a special place because it is close to El Cerro Tusa, which is a mountain with many legends. In Titiribi, I feel like a kid again. The nature and calm that exists in that remote area of Colombia completely take over and I can say I truly enjoy the simpler things in life. I find myself laughing with family, listening to nature while we sit outside in perfect weather, sharing delicious paisa food, listening to music, and truly remembering what it is like to live.
During the day on that trip, we roamed around the little towns, and the smell of arepas being sold on the corner of the town instantly reminded me I am home.
One of my favorite memories from my last trip was when my family and I decided to hike to a waterfall nearby. Medellín, Colombia, and its surrounding towns are beautiful ways to explore the incredible biodiversity that exists there.
I love visiting my great aunts and uncles who all live together. Horseback riding in the Colombian mountains is the best there is.
Travel tips for visiting Medellín
1. Take the metrocable to Parque Arvi—it is amazing!
2. Go to El Peñol de Guatapé.
3. Head to Comuna 13 with a tour guide for the best experience.
4. Ride the metro in Medellín. It's new and clean, and can get you anywhere in the city.
5. Eat a bandeja paisa! And an arepa!
Have you ever visited Colombia? What is your favorite city to visit?
This blog is written by employee, Manuela Barreneche. Manuela was born in Medellin, Colombia and moved to USA when she was young. She misses her country everyday but takes it with her in my heart wherever she go. Manuela is passionate about driving business value through the use of technology and so she really enjoys being a Technical Product Manager II at Expedia. She is also the founder of LatinasWhoCode where she helps spread free tech resources to young Latinxs to provide opportunities and access for the Latinx community!