By Expedia, on June 17, 2016
What to See in Nashville
If you're looking for a pitch-perfect getaway, Nashville, Tennessee, hits a high note. This charming city is so much more than the home of country music; it boasts a booming culinary scene, likable locals, and shops that could make you change your tune on the Canadian Tuxedo. From Music City USA's A+ attractions to its smash-hit eateries, we've gathered our chart-topping favorites.
Ryman Auditorium
No Nashville must-see article would do the city justice without a mention of the institution that put the city on the map: the Ryman Auditorium (the original home of the Grand Ole Opry). Built as a tabernacle in 1892, the "Mother Church of Country Music" has hosted preachers and performers who have flocked to the iconic stage for its atmosphere and acoustics.
In 1943, the Ryman became the main venue for the Grand Ole Opry radio show, a tenure it held for 31 years. Today you can tour the seasoned setting—still sporting pews instead of individual seats—and live the legend by catching a live show. Once you're there, you'll see why Keith Urban says "there's no place I'd rather play."
Country Music Hall of Fame and Museum
Even if you're not a country music super-fan, a visit to the Country Music Hall of Fame and Museum will surround you with the sweet sounds of the South. Memorabilia like stage outfits from Taylor Swift's 1989 tour and Elvis' 24-karat gold-leafed piano is enough to make you want to break out in twangy song. If you go, plan on a few hours to fully appreciate the museum's 350,000 square feet of galleries, interactive displays, and education rooms. Warning: One visit may make you register for a doctorate in music.
Centennial Park
One of the premier green spaces in the city, Centennial Park features a lake, rolling green lawns and a full-size accurate replica of the Ancient Athenian Parthenon. The replica includes a reproduction of a statue of Athena as well as housing a small art gallery and museum. The park is a great place to relax and enjoy history in a natural environment.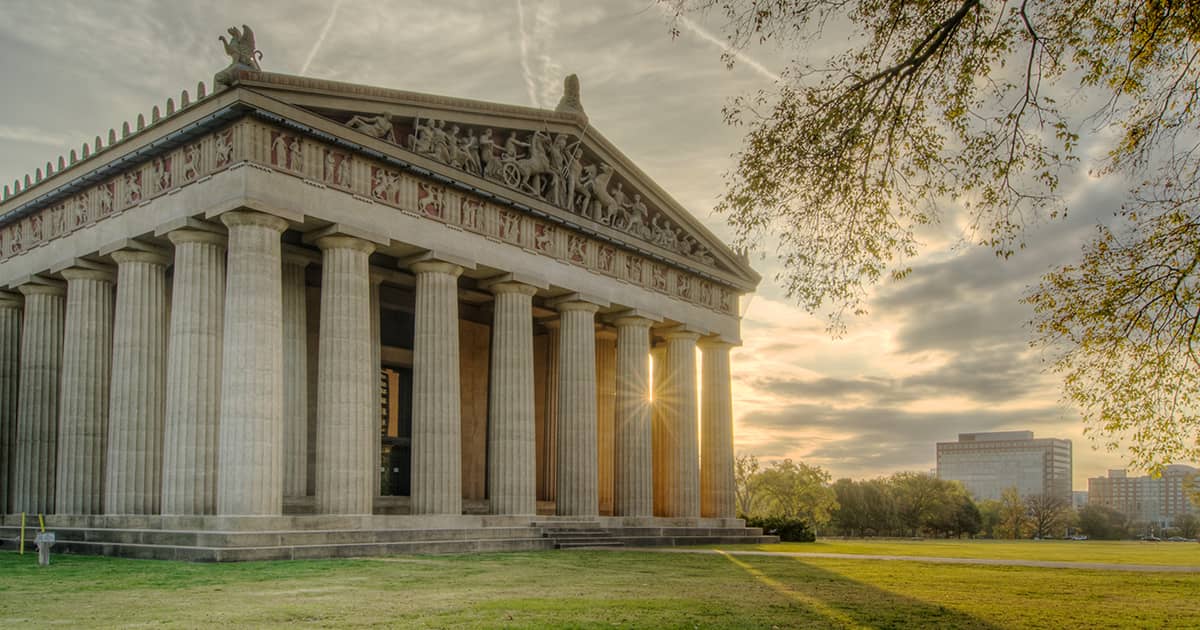 Honky-tonks 
Dubbed "Lower Broad" by locals, the neon-lit honky-tonks lining Broadway add to Nashville's 24/7 soundtrack. With electric exteriors and dimly lit interiors, these legit lounges host acts who entertain visitors and locals from mid-morning into the wee hours of the night. The only cover charge is a beer at the bar to see where the likes of Willie Nelson got their start. While a dozen venues dot the strip, start at Robert's Western World for a musical moment that goes straight to your soul—and your soles.
Viewfinder Tip: Zip from one venue to the next on two wheels via Nashville's bike-share program. B-cycle's 31 stations and 263 bikes ensure you stay fit while you explore!
Local talent
For a window into the city's live and local music scene, visit the haunts where indie singer-songwriters spend their time off the road. Check out 3rd and Lindsley (a few blocks from Lower Broad) to see acts such as the Time Jumpers on Monday nights, or head to the four-story cocktail, culinary, and crooning venue, Acme Feed & Seed, for a new take on Nashville entertainment. If you're there on a Wednesday night, check out "Trapped above Ground," hosted by Guthrie Trapp, and don't miss the sushi—yes, sushi—bar on the second level.
Country duds
Who doesn't like to dress the part, or at least take home a swath of country music style? Find wearable souvenirs—think: hats, boots, denim, plaid shirts—in western shops such as Trail West or Boot Barn saddled up on Lower Broad.
Southern eats
As much as Nashville is known for its music, a new genre—of the culinary variety—has the city abuzz. Outposts such as 5th & Taylor, Rolf and Daughters, and Jeni's Splendid Ice Creams take the cake for evening eats, sweets, and cocktails infused with the sound and soul of the South. Breakfast belongs to the Loveless Cafe. Located a half-hour outside of town—it's worth the drive—this Tennessee institution bakes 7,000 biscuits a day. Here, expect southern favorites such as country-fried steak and eggs, peppy hospitality, and portions that will keep you more than satisfied as you move between the city's must-sees.
Nashville lovers: What must-sees should we add to this list?