By Expedia, on February 10, 2020
Travel Podcast Ep. #17: Festival Season Do's & Don'ts
[full-width-paragraph]
Music festival season is upon us, but before you pack those Insta-worthy outfits and lock in your lineup, there are some things you should prepare for. In this episode, our guests share advice and stories from their favorite festivals around the world. Spoiler alert: Coachella isn't on the list, but you may just discover a new, cool festival (hello Bombay Beach Biennale) that sparks your interest!
---
---
---
Festival Season Do's & Don'ts
Courtney Scott: You all know that sound… It's that frantic search on the internet when you're trying to score tickets to the hottest festival in the world, but with so many festivals in so many locations offering such different experiences, how do you sort through which one is right for you? I'm Courtney Scott, travel filmmaker and TV host and I'm guest hosting this episode of Out Travel the System, filling in for Nisreene Atassi. I am by no means a festival expert — six years ago I discovered Burning Man though, which is actually not a festival and quite specifically states this in all of its official communications, but Burning Man really set the bar for me in terms of how multi-day, multisensory community gatherings could transform your life. To take a deeper look at what's out there and how the festival scene may be evolving, I've brought along two guests who are experts: Dutch DJ and music producer, Duncan Meulema, better known as "Unders" in the music industry and Lauren Brand, founder of The Portal, a company that produces events like the Bombay Beach Biennale that takes place on the shores of the Salton Sea in California. Duncan, I'd like to start with you. A lot of people start getting into the music scene as teenagers or young adults, but you were pretty much just a kid when you got started right?
[/full-width-paragraph]


[full-width-paragraph]
Duncan Meulema: Yeah, I started very early. I think I started at the age of eight or nine by collecting music, mixing different musical genres and the first steps of organizing small parties for my friends, school and the local town that I was living in at the moment, that's was 26 years ago.
Courtney Scott: You said that your dad even had to drive you to your gigs, right?
Duncan Meulema: Yeah, I think the first four or five years he was my roadie and my driver, he got me from A to B with me and my gear.
Courtney Scott: I want to break it down to basics here and acknowledge that some of our listeners might never have attended a music festival at all. So could you help us understand what is a festival and how is it different from a traditional concert or music event?
Duncan Meulema: A festival often tries to combine a variety of different musical genres, talent, art, theater, food, education, wellness, nature, and most of all, the element of human interaction, which is a little less when it's a concert because it's more of a consuming kind of interaction. I think festivals are a meeting place for music lovers and creatives and at the same time, the festival environment inspires guests to be part of that experience and leave their daily lives behind.
Courtney Scott: Lauren what are the top three festivals you've ever been to and what has made them so memorable?
Lauren Brand: It's hard to choose, there are so many awesome experiences out there. To caveat what you said earlier, Burning Man is not technically a festival, but for me, it is sort of the ultimate experience and it's sparked my interest in all of this. A really great festival to me is anything that is an experiment in a temporary community that allows people to step outside of their default world and into a new state of being. So I would say Burning Man was fantastic and I really loved Further Future when that was happening. That was an experience that took place also in Nevada, a little bit outside of Vegas, and was produced by the people behind Robot Heart, which is sort of an infamous Burning Man art car and stage. I loved those for a local to the U.S. festival.
Courtney Scott: Duncan, what are a couple of festivals that stand out on your side?
Duncan Meulema: There's a bunch of amazing festivals around the world, including Rainbow Serpent in Australia, Boom Festival in Portugal, which is really a unique transformational experience, Wonderfruit in Thailand, which happens in December and Lightning in a Bottle in California. Envision Festival in Costa Rica is a unique one, which happens in the middle of the jungle right on the coast. There's a little tiny one in Holland called Wildeburg which is for me one of the most unique ones in the world. A good festival is a space where they develop and innovate creative solutions for sustainable living and bring together communities to celebrate these. If it spreads this kind of ethos, that for me is a great festival.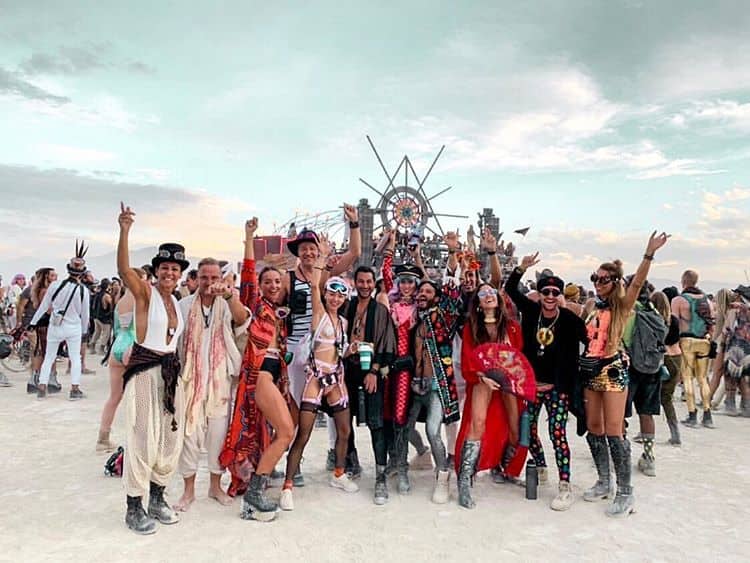 Courtney Scott: As we're talking about our favorite festivals around the world, tell us about the one experience you had, I think it was in Germany where you were deejaying on a lake?
Duncan Meulema: I was deejaying on a stage in front of the lake, but in my backdrop, which I didn't really notice until halfway through my set, I realized there was a float which held about 150-200 people, but the only way to actually get on the float was A, if you were naked and B, if you swam naked to the float. So for the entire day, it was one of the most popular stages, as people who couldn't get onto the float were kind of swimming around the thing and there was one naked DJ that was keeping the whole thing together the entire day. It was definitely a highlight for me during the festival season to see so much joy of people celebrating life in this naked manner.
Courtney Scott: That wasn't you, the naked DJ?
Duncan Meulema: It wasn't me, no.
Courtney Scott: Oh, so will you be playing this stage next year?
Duncan Meulema: Probably.
Courtney Scott: Lauren, the experiences that you help create have a strong focus on art and culture and really have an interesting community component. Bombay Beach Biennale is a perfect example of this. How do you make this event happen?
Lauren Brand: Ironically it's about 45 minutes from Coachella and the first couple of Bombay Beach Biennale events were actually timed at the same time as Coachella because we figured maybe the more commercial festival-goer wouldn't make it out to Bombay Beach. It's a really nice filter for us because people who were looking for entertainment rather than engagement maybe went to the more commercial festival, whereas people who really wanted to be involved in the creation of something came to us. I think it's actually a great first festival experience for an individual who is able to be somewhat self- reliant in terms of their own comfort, safety, food, beverage, what have you, and for someone who wants to roll up their sleeves and really get involved and be able to look back and reflect on that experience, not just as something that was entertaining and fun, but to feel like they left the world a better place by putting their hands and their hearts into something.
Courtney Scott: Talk a little bit about the concept of a temporary community or temporary city.
Lauren Brand: A festival is something that is engaging. Much like any city plan, which has streets, parks, restaurants, various commercial establishments, a great festival is planned in the same way to take care of all of the needs holistically of its attendees. The participants in that experience have to engage with each other, take accountability for their own experience, contribute something, not just be taking away from it. I think that environments like this really challenge participants to think of life and reality in a different way. If you can step outside of the default world and engage with people, it's a wonderful opportunity to open up the possibilities of what can be.
[/full-width-paragraph]
[full-width-paragraph]
Courtney Scott: Duncan, I also wanted to touch back on something that you said. You talked about a tiny festival in Holland, and I heard a crazy statistic about the sheer number of festivals that happen in Holland. Can you tell us a little bit about that?
Duncan Meulema: Holland is about the size of Maryland I would say and I think across the four months of summer, we have about 1,200 festivals. There is a vast selection of festivals in all different genres, not only focused on music, also ones that go more towards art or theater or food, so it's really a great landscape for someone who hasn't been to a lot of festivals, to maybe take a vacation to the Netherlands and do the combination of both exploring the country and touching down on some of these festivals.
Courtney Scott: And they won't break the bank, we're talking $15 and up?
Duncan Meulema: Yeah. There's a lot of festivals which offer a bizarre program for a little amount of money, which usually starts anywhere from 15-20 Euros. Some of the bigger ones come up to about 40-60. There's so much happening left and right that people love the festival landscape and the professionalism that the organizations put into the events.
Courtney Scott: So, the disaster that was the Fyre Festival — It began with high-end promotions and glamorous influencer endorsements, but ended with ticket holders stranded on an island with nowhere to sleep, nothing to eat, received loads of news coverage and might have scared people away from ever attending a festival again. Lauren, what kind of research do you think people should do to make sure they are attending a properly run event or festival?
Lauren Brand: I think reading a lot about it online, reviews from people who have attended that event in the past. Really just making sure that you're well prepared on a personal level I think. It's always good to bring your own reusable water bottle. It's always good to bring electrolytes to help stay hydrated and keep your energy levels up if it's a hot environment. Packing appropriate clothing makes a huge difference and make sure you have comfortable footwear. All these things seem really basic, but they have a profound impact on your experience.
Courtney Scott: Duncan, what are your top tips and tricks for making sure a festival experience is a good one?
Duncan Meulema: I definitely agree with eating and hydrating well, dressing accordingly, not only to be prepared for the weather but maybe go out on a limb a little bit and pack something crazy that you usually wouldn't wear. Many of these festivals are encouraging people to step out of their comfort zone, so that's definitely one thing you will see at festivals and which will get you into a good headspace. Set an example to those around you, just by your attitude, how you treat other people, how you treat staff, but also how you deal with things like trash or waste, how you're getting to the festival or any of those matters. My main tip is to try to lose your friends for a little bit and kind of see it as a blessing. This might sound weird for a lot of people, but that is I think the best way to experience the festival, meet new people and end up in places that you never really expected.
Courtney Scott: And you've both brought your parents to a music festival? Because I think similar to going rogue and losing all your friends at a festival, I think for many people, the concept of bringing your parents to Burning Man is completely foreign. Talk a little bit about what brought that on, how that experience was, and would you do it again?
Lauren Brand: I have been going to Burning Man with my dad for the last five years. Actually he invited himself and I was thrilled when he did, he's a lot of fun. I want to reflect back on maybe what sparked my interest in festivals in the first place — It was really him. I grew up in a suburb of Houston, Texas, it was kind of a boring place. It was very homogeneous, you didn't see a lot of different types of people and my dad would always pull over at every roadside show. It could be a carnival, could be the Renaissance fair. He was always trying to change reality for us a little bit and as I look back and reflect, it's like that's actually where it all started for me. He shows up to everything that I've ever produced and he adds to the experience. He's never a burden, he's always got just a great vibe and he enjoys interacting with people. He's a fantastic conversationalist and it's sort of cool to see. I compare it to the experience that our parents have seeing something through their children's eyes for the first time. I get to re-experience that with my dad, but it's almost as though he is the child and it deepens my experience so much to have him there. It's really quite a privilege it's brought us a lot closer.
Courtney Scott: That's incredible. Getting my mom to Burning Man is a goal for the next two to three years, so hopefully that will happen. Duncan, I know you brought your mother to Burning Man, did you bring both of your parents?
Duncan Meulema: Yeah, I brought both of my parents. The first time we brought them it was their 40th wedding anniversary and they wanted to take the entire family on a trip. They proposed to do like a jungle exploration kind of safari type of adventure, but I proposed to take them on our safari so we took them into Burning Man for three days. We secretly got them remarried, which they didn't expect. Yeah, they loved the experience so much, but it was way too short for them, the year after they actually came for the whole week and my mom is dying to come back. So when we take your mother then my mother can tag along.
Courtney Scott: We'll create a camp just for the moms and dads. So great tips guys, losing your friends, going with an intention, being an example to others. Let's talk about getting to the festival and logistics because for so many travelers it's a big piece of the puzzle and one of the most challenging. How far out should people buy tickets? How do they make sure they're getting tickets? When do you guys recommend that travelers book their flights and reserve accommodations? Lauren, what do you think?
Lauren Brand: I kind of plan my whole year around these experiences. Front-load the logistics, get them out of the way, get your flights, make sure you know where you're staying, and then really open yourself up to getting creative with the rest. Think about your outfits, think about your self-expression. Think about what you can contribute to others at that experience.
Courtney Scott: Many of these festivals happen the same week every year, so if you're smart, you'll book your flight way in advance and get hotel accommodations and you'll end up saving yourself a ton of money. Duncan, do you have any other tips for logistics? I know from the artist's side you probably push out a newsletter and on social media, you're constantly updating your fans on where you'll be. Do you think that social media is a good place to keep track of advanced ticket releases and things like that?
Duncan Meulema: Yeah, I would definitely suggest that following social media and digging into more of the messages that the organization is putting out. On a preparation level, I would get started as soon as you can, like Lauren said, one because a lot of festivals actually sell out very, very quickly. Most of the festivals that I know that are really amazing sell almost 30,000 tickets in under 10 minutes. So if you miss this round there's usually a second or third round, but those go equally as fast, so everything fills up and becomes more expensive the longer you wait. Also, see if there are other things around the festival that you would like to attend. Support the local communities, especially if the festival is in another country go explore these beautiful places.
Courtney Scott: Duncan, we've seen the trend from huge festivals to more intimate and invite-only events. What do you think is next for the festival scene?
Duncan Meulema: I think more transformational festivals that focus on wellness, health, sustainability and inspiring the community, not only at the festival but especially gathering like-minded individuals to take some of that knowledge and some of those learnings outside of the festival. I also see a much different trend in the commercial market where there's a lot of festivals which are doing bigger stages and stadiums and there's a whole wave of that happening. I think some of the elements that we saw in those festivals where there's a lot of money for production I see now more intimate events kind of also taking on this art meets technology meets futuristic lighting and audio to create an experience which the visitors haven't experienced before.
Courtney Scott: Lauren, you're on the forefront, what do you see being next?
Lauren Brand: I see a trend toward smaller, more intimate invitation-only events, as we mentioned earlier, usually combining some element of hospitality where people stay overnight, bring their own camping accommodations or have some sort of accommodation set up. So really like creating a container in which people can immerse for a number of days instead of checking in and checking out or having it be one day only. I think there's also a big trend toward more intentional gatherings that model changes that we would actually like to see in the world at large, so not just zero impact but positive impact. That applies to the type of food and drink and where it comes from and how it's prepared to how we handle our waste solutions, composting, recycling, choice of materials. Also, the way that artwork and stages are designed out of sustainable materials as well. So really thinking about sustainability and solutions as a through-line for every element of the experience and not just an underlying intention but one that is stated as part of the mission statement of the experience.
Duncan Meulema: I definitely agree with that. Especially the last year alone, I've seen a number of really big festivals stepping up to the plate and setting a good example. One of them, in particular, that's been doing that for almost the entire time that they've been operating is the Fusion Festival, which they call the "mother of all festivals." It happens in Germany, but also a big brand like Digital has gone completely meat-free in their food selection but has also now set up a campaign to inspire some of the other big players in the scene to make the same move and kind of apply pressure to these festivals to set an example to both the community and the guests that attend. So this is an amazing positive new trend.
Courtney Scott: Okay, last question real quick. Your ultimate festival packing item. I'm going to start. It has to be comfortable, waterproof footwear.
Lauren Brand: Reusable water bottle.
Duncan Meulema: I always bring a speaker for any type of situation before, during or after the festival. That is definitely an item I don't want to miss on my trips.
Courtney Scott: Spoken like a true DJ. Well, thanks guys for making our festival conversation so festive. Thank you for joining us on another episode of Out Travel the System brought to you by Expedia. Follow Expedia on Facebook, Twitter, and Instagram to join the conversation about travel. DJ and producer Duncan Meulema is @undersmusic on Instagram. You can find out more about the events Lauren Brand creates at theportal.is. I'm Courtney Scott, guest-hosting for Nisreene Atassi. Join me again soon for our look at solo travel!
Latest episodes:
[archivist template="Category" category="podcast" pagination="3″ controls="false"]
Listen to more travel podcast episodes
[/full-width-paragraph]