By Chloe Mulliner, on November 8, 2019
Travel Tips to New York City
When people talk about New York City, they never use small words. Chances are, you've heard people gush about the Big Apple in superlatives: The best pizza, the tastiest dumplings, the tallest Christmas tree, the most incredible rooftop view, and so on.
If you've never been to New York, you might feel intimidated by a place whose reputation is so huge. And you might be pleasantly surprised to find out how manageable this world-famous city actually is. Feeling lost as you plan your first visit to the city that never sleeps? Don't panic! Here are the best travel tips to New York City.
When is the best time to visit New York City?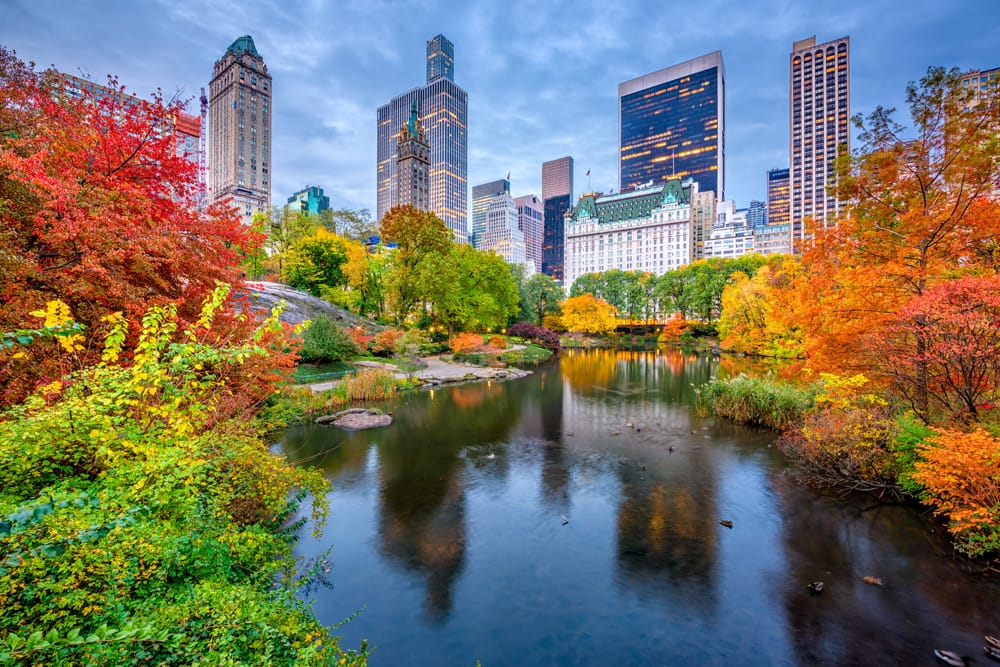 Via Sean Pavone/Shutterstock.com
New York's magic doesn't wax and wane throughout the year—it just changes. In spring, trees are budding and flowers are blooming in Central Park. Summertime is perfect for warm nights walking the streets of Little Italy. Autumn brings blue sky and brisk air, perfect for wearing a peacoat and meandering Greenwich Village. And nothing is more festive than Macy's window displays in December. When it comes to travel tips to New York City, there's rarely a bad time to visit.
However, if you're looking for an ideal time to see the city with fresh eyes, the best time to visit New York is autumn or late spring. During both these seasons, you'll be safe from extreme temperatures—both the summer mugginess and the sharp winter winds whipping off the Hudson River. Aim for mid-April through mid-June, or mid-September through mid-November, to find the most pedestrian-friendly weather to walk around in.
What's the best airport in New York City?
New York is a global city, and there are three primary airports welcoming flights to New York City. John F. Kennedy International Airport, or JFK, is in the borough of Queens, as is LaGuardia Airport. Newark Liberty International Airport is just over the border in New Jersey, but it serves as one of the main airports for the New York metropolitan area. Great news for budget-conscious travelers: All three airports are accessible from Manhattan by light rail or bus.
How many days do you need in New York?
New York City is expand-to-fit. You can get a good deal of sightseeing done in as few as three days, but to give yourself enough time to really soak up the city, you should aim for a five-day trip. There's always something new to see, taste, or experience in New York.
What is the best way to travel in New York?
When it comes to travel tips to New York City, the golden rule of transportation is: Don't drive unless you must! While rental cars might be convenient in a city such as Los Angeles, the majority of New Yorkers get by just fine without a vehicle. With walking, hailing a cab, and taking public transportation such easy options, there's no need to fight against gridlocked traffic or search in vain for parking.
Walking: Manhattan in particular is extremely walkable, and its streets follow a user-friendly grid pattern. If you're in lower Manhattan, the Williamsburg Bridge is pedestrian-friendly and crosses the East River to the hip and color Brooklyn neighborhood of Williamsburg. Just remember: New Yorkers walk fast on their crowded sidewalks and appreciate when visitors do the same!
Subway: The best way to get around when visiting New York is the famed New York City Subway. This rapid transit system operates throughout Manhattan and in Queens, Brooklyn, and the Bronx. The subway is quick, efficient, and easy to navigate. A one-way trip is $2.75. If you're going to be in New York for a number of days, consider buying a weeklong unlimited MetroCard for $33.
Taxis: And, of course, there are the famous New York City taxicabs. Taxis are plentiful and easy to flag down. Just make sure you're bold and decisive when hailing a cab—or someone else might beat you to it!
What's the story on New York tipping?
Porters, doormen, hotel housekeepers, and bartenders all work hard to keep the Big Apple running like clockwork. And they'll all appreciate being shown some gratitude through gratuity.
If a doorman helps you nab a cab or a porter brings your bags into your hotel room, a tip of a couple dollars is customary.
Taxi drivers should be tipped, too, at about the same rate you'd tip in a restaurant or bar—about 15-20%.
Waiters and bartenders should be shown the same respect and tips you'd give them anywhere else. Keep in mind that employees in the service industry often rely on tips for a significant portion of their wages, and they'll be deeply grateful for your generosity.
Where should you stay in New York the first time?
Of all the New York travel tips you'll get, where to stay might end up being the most handy. Of course, there are many excellent hotels in New York City to choose from, but some neighborhoods have especially vibrant character, making them perfect for visitors seeking local color:
Midtown: The snapshot in your mind when you think of New York City? That's Midtown. Broadway, Times Square, Rockefeller Center, the Chrysler Building…they're all there! Stay in Midtown for easy access to these New York landmarks and many more.
Greenwich Village: The bohemian neighborhood where the New York folk and beatnik scenes exploded in the 1950s and '60s still beats with a poetic rebel heart. You're likely to hear people strumming guitars as you wander Washington Square Park, and you'll find Greenwich to be particularly LGBTQ-friendly.
Lower Manhattan: Home to the bustling streets (and incredible food) of Little Italy and Chinatown, crowded with quaint 19th century tenement buildings, and walking distance from Wall Street, Lower Manhattan is the perfect place to get a taste of old New York, away from the bright lights and sleek exteriors of Midtown.
Soho: Chic Soho is a haven for trendy travelers who love an upscale experience. Hip restaurants, designer boutiques, and art galleries abound in this beautifully maintained neighborhood.
What is there to do in NYC at night?
It's called "the city that never sleeps" for a reason: There are things to do in New York at every hour of the day or night. If you're a night owl, try one of these fun activities:
Go see a Broadway show. You can purchase tickets for specific shows online. If you're feeling adventurous, go to the TKTS booth in Times Square for half-price day-of theatre tickets on select shows.
Of course, you must see Times Square at night! Its glittering lights are pretty in pictures, but they're nothing short of dazzling in person.
Many of New York's elegant hotels have bars and lounges perfect for a nightcap. The Plaza, the St. Regis, and the Ritz-Carlton are just a few of the places you can stop by for a swanky cocktail.
The Empire State Building is open until 2 a.m. every day of the year, and you'll never see a view like the one from the 86th floor observatory. At night, the whole city sparkles from this vantage point.
If nightclubs are your thing, good news: Most of the ones in New York City don't close until 4 a.m., so feel free to dance off your jet lag into the wee hours.
What are the best places to visit in New York?
New York sightseeing is an unforgettable adventure. Though it may be hard to know where to start in a city so impressive, the real challenge is knowing where to end. You could spend a year in New York and never get bored… but if you only have a handful of days, you can still check a lot of things off your bucket list.
The Metropolitan Museum of Art: One of the most renowned museums in the world, the Met could easily be a daylong adventure but you'll see plenty if you only have a few hours. Ancient Roman statuary, golden Greek jewelry, Renaissance paintings, Egyptian funerary art, medieval suits of armor, and so much more can be found at this incredible art & culture museum.
The Plaza Hotel: One of the most well-known luxury hotels in the city, the Plaza is a beautiful property to explore, even if you're not renting a room. Have a drink, stay for a sophisticated meal, or just wander the ornate halls of the first floor.
Central Park: Right across from the Plaza is perhaps the most famous city park in the world. Central Park is an unbelievably vast network of trees, lawns, trails, and ponds. Favorite Central Park attractions include the Central Park Zoo and Strawberry Fields, the memorial to John Lennon.
The Statue of Liberty and Ellis Island: America is a nation of immigrants, and many of them came to the USA through Ellis Island. Learn about the immigrants who made New York—and America—the colorful place it is, and pay homage to Lady Liberty.
New York City is a place you've likely dreamed about your whole life. And once you visit, you'll have amazing memories to treasure forever afterward. In fact, you'll probably be eager to plan your next trip to NYC as soon as you get home. Only next time, you won't be a newcomer anymore—you'll be an experienced pro, ready to navigate Manhattan like a local!