By Heather McManus, on June 20, 2019
5 things to know about planning a Hawaii cruise
Perched in the North Pacific surrounded by crystal blue waters, the Hawaiian archipelago seems like a destination made for cruising. But planning a Hawaii cruise is more complicated than one might imagine. Its remote locale and protective regulations mean surprisingly few cruises are offered to this Polynesian paradise.
Among the many perks of a Hawaii cruise is the ability to see four islands within the span of a week—a logistical feat only accomplished through several flights for land vacationers. Cruising is also a highly economical way to see Hawaii, a notoriously expensive vacation destination.
Last but certainly not least, the wonders contained within the islands themselves are what bring in over nine million visitors each year. Cascading waterfalls, revered volcanoes, abundant marine life, postcard-perfect beaches—each of Hawaii's islands offer unique and memorable experiences for guests to enjoy.
Here are the five most common questions answered about planning a Hawaii cruise.
1. How long is a cruise to Hawaii?
Hawaii cruises range from seven nights to 18 nights or longer, depending on the itinerary. A cruise only within the Hawaiian Islands sailing round trip Honolulu is the shortest (and only) seven night option, while any cruise from California to Hawaii will take at least 15 nights due to the islands' remote location. Round trip sailings are available from Los Angeles, San Francisco and San Diego, but be prepared to spend at least eight days of that cruise at sea getting to and from Hawaii. Choose your ship wisely as you'll be spending a lot of time on it!
Many ships alternate between Hawaii or Polynesia in the Winter and Alaska in the Summer so you'll often find repositioning cruises to and from Hawaii in May and September as ships make their way across the Pacific. 10-night cruises from Vancouver, BC to Hawaii are a common repositioning itinerary.
2. What cruise lines go to Hawaii?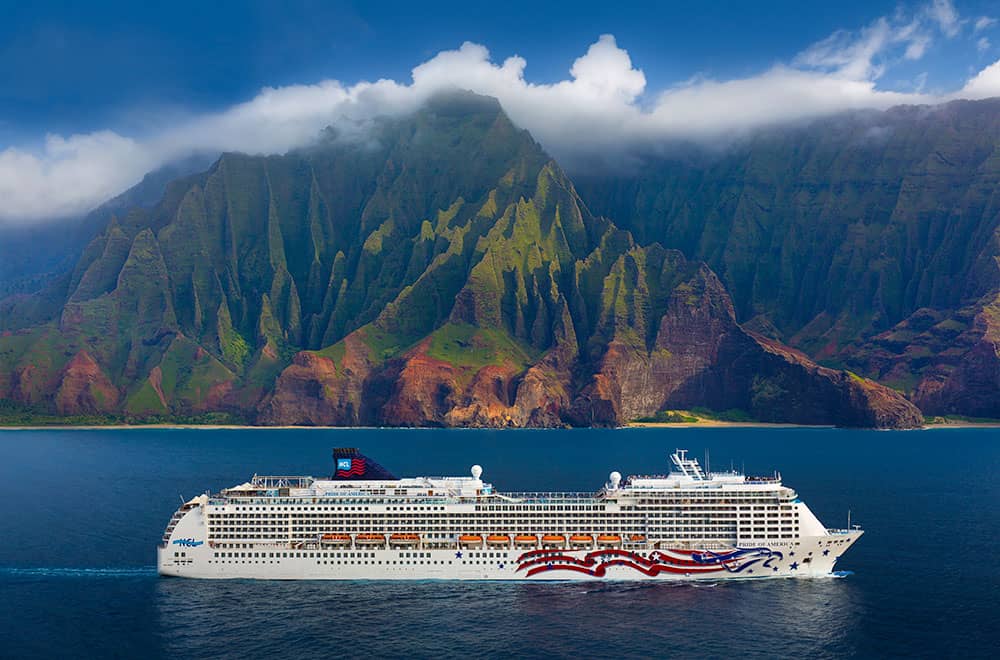 Considering the popularity of this island tourist destination, surprisingly few cruise lines offer Hawaii cruises. The main reason for this is the strict requirements for operating itineraries solely within the Hawaiian Islands. Ships must have a mostly-American crew and be registered in the United States–criteria that currently only Norwegian's Pride of America meets. Consequently, Norwegian is the only cruise line able to offer 7-night Hawaii cruises, which they do every week, all year long.
Pride of America's itinerary is an enticing option, sailing round trip Honolulu and providing guests with 100 hours of in-port time on Hawaii's idyllic islands. With overnight calls on Maui and Kauai, you'll have the opportunity to experience more of these destinations by renting a car or by booking multiple excursions, which are generally required to see anything of interest beyond the pier.
If you don't mind spending several consecutive days at sea, Princess, Carnival and Holland America all offer 15-night (or longer) cruises from California to Hawaii. Most of these include the benefit of a call at Lahaina, Maui's most charming town, which Pride of America does not visit. Round trip California itineraries also often include a bonus stop in Ensenada, Mexico, the birthplace of the Margarita and home to the best wineries in the country!
Celebrity and Royal Caribbean offer several options for cruises to and from Hawaii to Vancouver, BC. Some luxury lines call on the Hawaiian Islands, but usually as part of a longer, multi-destination itinerary.
3. When is the best time to cruise to Hawaii?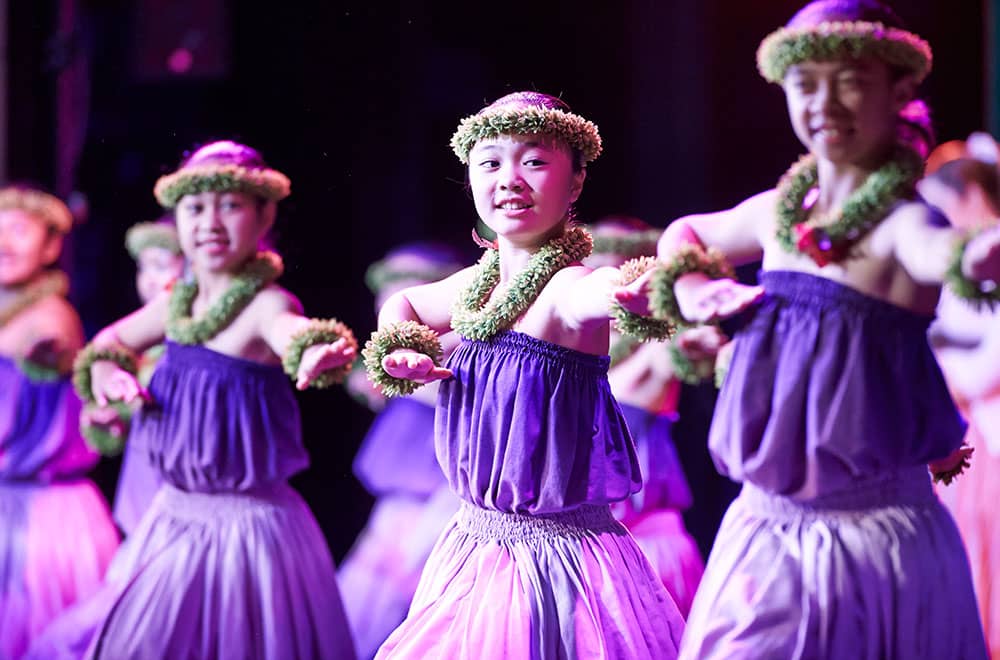 Boasting excellent weather all year long, there is never a bad time to visit Hawaii. You'll find the most tourists on the islands (visiting by land or cruise) between December and April, however this window also coincides with "wet season". Not to worry though, it never rains much or for very long. You'll find the most consistently good weather in April, May, September and October and may even snag a deal on a repositioning cruise during those months.
You'll have the ports to yourself from mid-May to mid-September as Pride of America is the only ship sailing Hawaii during that time. However, you may find the beaches to be crowded with locals enjoying their summer vacation.
If whale watching is on your must-see list, late February to early March offers the best chances of a sighting after the calves are born.
4. What are the best Hawaii shore excursions?
Unlike Caribbean islands, you'll find that the main points of interest on a Hawaii cruise require travelling away from the pier, either with your own rental car or through a planned excursion. For this reason, Hawaii shore excursions are extremely popular and should be booked well in advance! Here are a few of the best.
Visit Volcanoes National Park from Hilo, Big Island
Home to Kilauea and Mauna Loa, two of the most active volcanos in the world, Volcanoes National Park can't be missed on a visit to Hawaii's Big Island. Explore craters and lava tubes as you learn about the volcanic evolution of the Hawaiian Islands.
Snorkel at Kealakekua Bay from Kailua Kona, Big Island
This marine sanctuary famous for its Captain Cook monument boasts some of the best snorkelling in Hawaii. Your zodiac will help you avoid the hour-long hike in by land and will deliver you to the best areas of the bay to explore. You'll find turtles, sea caves and maybe even a pod of spinner dolphins who call the bay home.
Drive the road to Hana from Kahului, Maui
The winding road to Hana Bay is legendary, and for good reason! En route you'll stop at tropical waterfalls, black sand beaches and breathtaking lookouts including Ho'okipa, where you can watch some of the world's best windsurfers. This is a full day excursion best enjoyed before an overnight stay in Kahului.
Tour the Garden Island by helicopter from Nawiliwili, Kauai
Considered by many to be Hawaii's most beautiful island, there's no better (or other) way to take in Kauai's lush vegetation and spectacular mountainscapes than by helicopter as most of the island is inaccessible by road. Soar over picturesque waterfalls and towering pali (sea cliffs) as you learn about the island's history and legends from a knowledgeable local pilot.
5. What to wear on a Hawaiian cruise?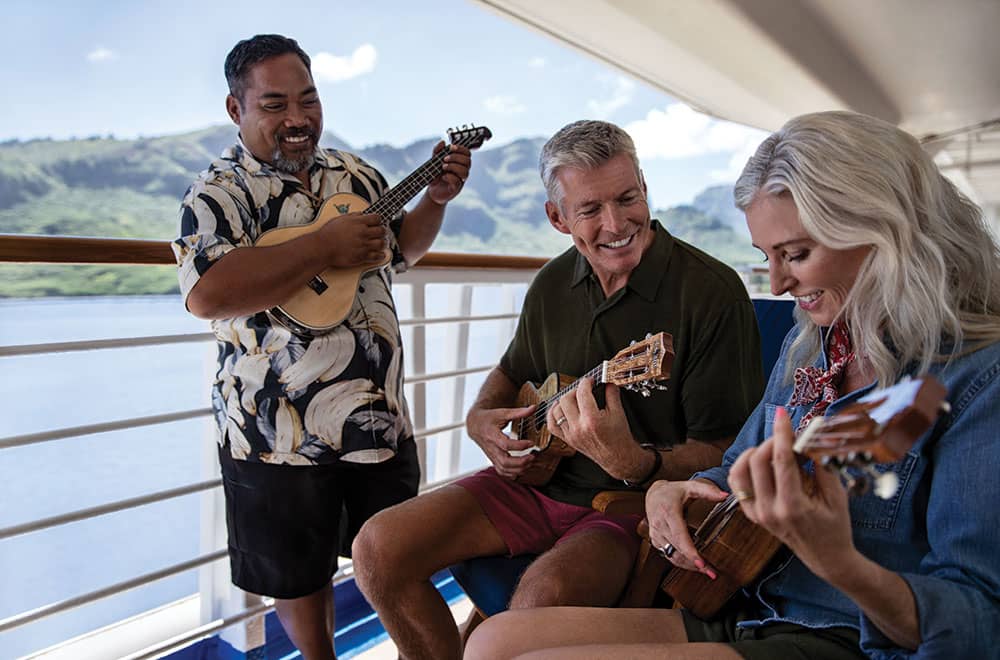 With average highs exceeding 80° F all year round, loose-fitting, breathable fabrics will make the heat more bearable until your next ocean plunge or air-conditioned reprieve. In typical aloha style, the local Hawaiian dress code skews casual, but your ship may have special events going on to dress for so check your itinerary in advance. Pride of America's White Hot Party, for example, is a white-attire celebration you'll definitely want to pack for!
It's likely you'll encounter the occasional rain storm, especially from October to March, so having a packable poncho or rain jacket on hand is a good idea if you're planning an outdoor adventure far from cover. These tropical storms are usually brief, but can leave you drenched!
Planning to summit a volcano or two? It can get very chilly up top, especially if you're visiting at sunrise or sunset, so layer up for the elevation change. Some tour companies provide jackets for guests to stay warm but it's worth asking if you should bring your own.
We hope you found this article helpful in planning your Hawaii cruise. No matter what time of year or who you're travelling with, you're bound to have the time of your life exploring this island paradise. Remember to book your excursions before you leave home to avoid disappointment!