By Spencer Spellman, on July 31, 2018
What to do outdoors around Antigua
Guatemala has been near the tip-top of my Latin America bucket list for years. While I've lived in Costa Rica, and visited a number of other Latin American countries, there's always been something about the culture and landscape of Guatemala that's stood out.
And there's no Central American city that I've wanted to visit more than Antigua. In Antigua, there's a contrast of Mayan culture, colonial history, lush forest, and towering volcanoes surrounding the city that you won't find elsewhere. And it's these things that I sought out to explore on my recent trip to Guatemala a couple weeks ago.
So with my camera, hiking boots, and a little bit of Spanish to get by, I hit the streets and great outdoors of Antigua. Below, see a few of my favorite things to do outdoors in Antigua from my recent trip to Guatemala.
Take a walking tour
Seeing a city by foot is often the first thing I do upon arriving to a new destination. And there's no Latin American city I'd recommend more for a walking tour than Antigua. That's because Antigua is a UNESCO World Heritage Site, characterized by cobblestone streets and well-preserved Spanish Baroque architecture that can be seen everywhere you turn.
My local guide, Cesar Chilel, and I spent my first afternoon walking up and down the cobblestone streets of Antigua. We first stopped at Arco de Santa Catalina, one of Antigua's most iconic landmarks, characterized by a bright yellow 17th-century arch, hovering above the cobblestone streets, and with Agua Volcano towering over it in the distance. Other historic landmarks included La Merced, which is a baroque church from the mid-1700s, Parque Central (Central Plaza), and Palacio de los Capitanes Generales.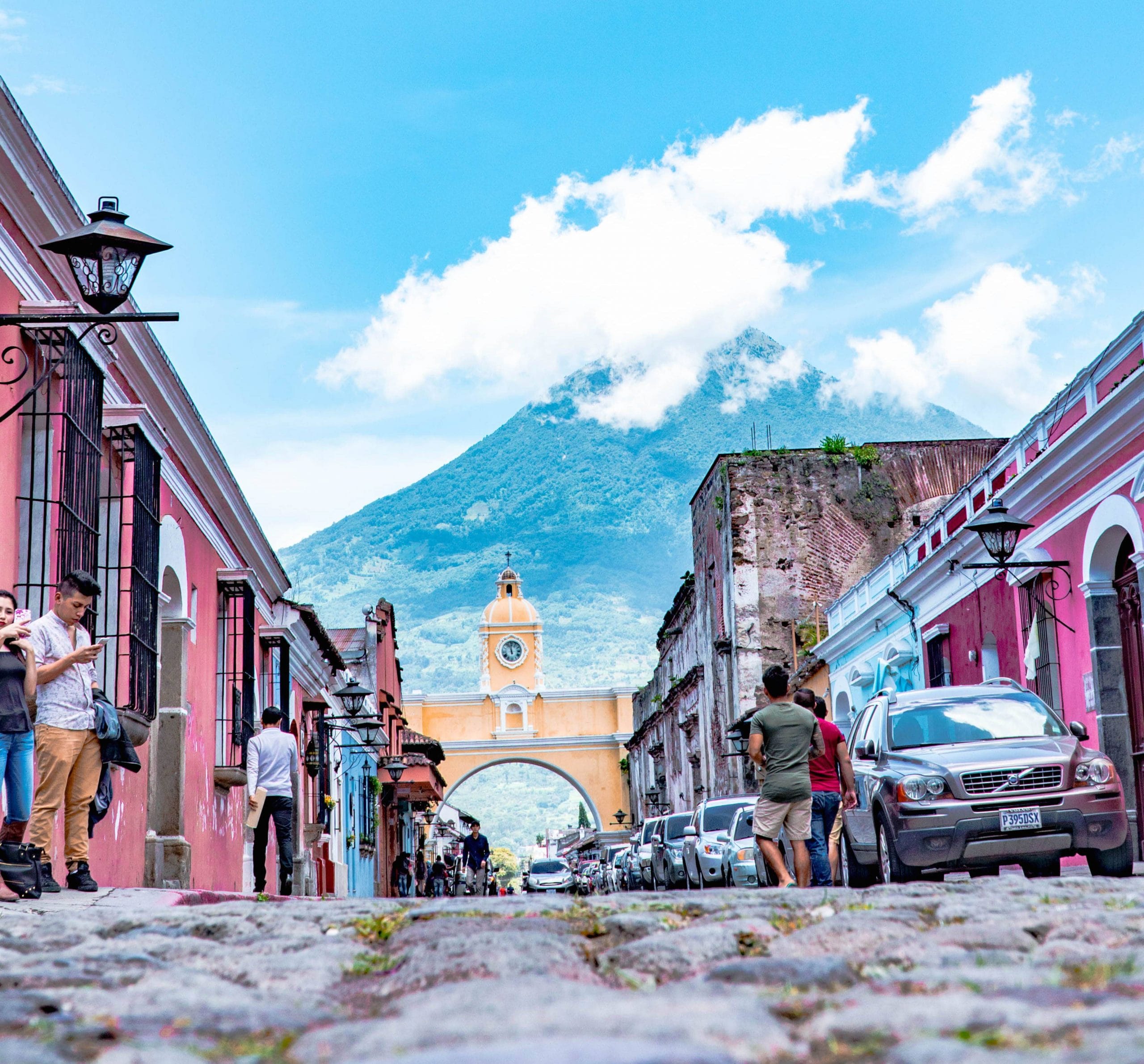 Fittingly, we ended at ChocoMuseo, a chocolate museum where you can learn about the history of chocolate in Guatemala and even sample it before buying any number of chocolate products. Finally, for those cocktail and rum connoisseurs, don't miss La Casa del Ron (The House of Rum), specializing in rum cocktails and drams of Guatemala's famous rum, Ron Zacapa.
Take a biking tour of Antigua and the villages beyond.
While I consider a walking tour of Antigua a must, equally important is a biking tour of the villages and some of the unique places beyond the main thoroughfare of Antigua. Cesar and I started at Old Town Outfitters, where we rented a couple mountain bikes before starting a route he put together.
We first biked through Antigua to San Pedro las Huertas, where we visited a beautiful historic church that dated back centuries. From here we continued to San Juan del Obispo, visiting one of Guatemala's first churches and the former residence of Guatemala's first bishop, Francisco Marroquín. Just around the corner were a couple of wine makers, producing wine from local fruit, as well as a boutique chocolate maker, Chocolate del Obispo. Naturally, I walked away with a couple large pieces of chocolate, the cardamom and vanilla chocolate bars.
Finally, we ended our bike tour at Finca del Pilar, which is part farm, network of hiking trails, natural pool, and hummingbird sanctuary. It was one of the coolest, most extraordinary places I've ever visited, and was the perfect end to our bike tour.
Hike Pacaya Volcano
One of the most unique things about Antigua's landscape is that it's surrounded by volcanoes, including Fuego, Acatenango, and Agua. However, one of the best volcanoes to hike in Guatemala is just outside of Antigua, called Pacaya (8,373′). Here you can hike through jungle, over volcanic rocks, and within sight of molten lava just below Pacaya's peak. You're required to have a hiking guide, but you'll be glad you did, learning insider information along the way and discovering some tricks, too, like roasting marshmallows over lava rocks (yes, seriously). Our guide, Augusto, had hiked Pacaya several thousand times, and was an endless source of stories. If you're not up for hiking up, or if you're visiting with kids, you can ride horseback up the volcano. Not to mention that the views of Acatenango and Fuego volcanos are pretty stellar.
Take a dip 
While I myself visited a thermal pool after hiking Pacaya Volcano, I really recommend this whether doing something adventurous or not. Located about 20 miles from Antigua is Santa Teresita, which is a thermal water resort and spa, and one of the most interesting spas I've visited. Here you'll find thermal circuit therapy, steam saunas, and LEED-NC gold certified hot springs.
But if you do one thing, I recommend the thermal circuit, which consists of immersing yourself in thermal water of varying temperatures for short periods of time. Benefits of this include improved circulation, muscle relaxation, and stress elimination. What more could you ask for? If you're not staying at the hotel itself, I'd recommend spending at least a half day here. Santa Teresita even has a restaurant too. (Order the churrasco dish!)
Otherwise, for your own self-guided spa experience, I recommend staying in the heart of Antigua at Hotel Casa Santo Domingo, where I stayed for two nights. Formerly a monastery, Casa Santo Domingo is part hotel, museum, and spa. Among the spa's bells and whistles are indoor/outdoor relaxation areas, pools, Jacuzzis, wet and dry saunas, and rooms for a number of different spa treatments, including reflexology, deep tissue, Mayan, and Thai massages. It was one of the nicest, most unique hotels I've ever stayed at. 
Visit Cerro de la Cruz
For an outdoor activity of the more soft adventure type, then I recommend hiking Cerro de la Cruz. But don't worry; this isn't hiking through jungle or over volcanic rocks. Cerro de la Cruz is a short 20-minute walk uphill on a paved path, ending with one of the most beautiful views of Antigua, perched high above the city, and with a glimpse of Fuego, Acatenango, and Agua. If you're looking for that iconic overlook, look no further. While this is a light hike, since it's on pavement, you can easily do it with casual shoes.
What are you favorite things to do outdoors?