By Expedia Local Expert, on February 18, 2017
How to experience the Mayan ruins
With its sprawling white-sand beaches and temples surrounded by tropical forest, the Cancun region is a traveler's paradise. Whether you want to soak up some history before swimming in a refreshing cenote, or are looking to indulge in a multi-day discovery of the Maya pyramids, there are a range of things to do in Cancun. Here's how to experience the ruins according to your preferences—in addition to mouthwatering eateries to check out when the day is done.
The Charms of Chichén Itzá: Unlock the charms of the Yucatan's most notorious ruins during a day tour with early-access to the ancient Maya city. The pros at Amigo Tours escort you from your hotel to the UNESCO World Heritage Site in time for sunrise. Inside the 1,000-year-old park, a knowledgeable guide leads you past the El Castillo monument and countless other pre-Colombian relics in the city thought to have been home to one of the most diverse populations in the Maya world.
In the evening, treat yourself to a sumptuous meal at El Tábano—where a fusion of contemporary Mexican, Mediterranean, and Caribbean flavors are on full display.
Sightseeing and Swimming Combo: With its dramatic cliffs and swirling aqua surf, Tulum is an enticing destination for history buffs and sun-worshippers alike. Take a day-long excursion to Tulum and the watery oasis of Xel-Há Park—an ecotourism site near a lagoon. A friendly local from Experiencias Xcaret reveals the vast walled city constructed between the 13th and 15th centuries. After your time in Tulum, perfect your doggy paddle in the blue-green shallows at Xel-Há Park.
Following your memorable day tour, wash up at the hotel and consider returning to Tulum for dinner at Ziggy's Restaurant on the beach. Lulled by distant waves, feast on ceviche with cilantro and avocado and short ribs in a flavorful sauce.
Off-the-Beaten-Path Archaeology: If you tend to prefer the road-less-traveled, embark on a guided tour to Coba with Chichen Itza Sightseeing. A guide ushers you deep into the Yucatan jungle to an abandoned city with the largest network of stone causeways in the Maya world. Meander Coba's elevated roads, imagining its bustling thoroughfares during the city's heyday. Then, check out two nearby cenotes—natural sinkholes in the midst of the tropical forest—where you can swim to your heart's content.
Following your tour, all signs point to dinner at Mur Mur Tulum, where an acclaimed chef works with regional providers from the Yucatan and Caribbean to produce a tasty menu every night of the week.
Maya Ruins and a UNESCO Lagoon: Want to pair your visit to jaw-dropping ruins with a chance to admire a UNESCO-listed lagoon? Visit the exquisite Muyil pyramid on the banks of the Sian Ka'an Lagoon Biosphere Reserve during a private outing with EcoColors Tours. Climb past African tulip and royal palm trees on the way to the ruins of a trade port. At your destination, marvel at the Muyil pyramid and take an invigorating swim surrounded by tropical fish at Cenote Azul.
Didn't wrangle any fish during your aquatic adventures? No problem! Consider visiting Muelle in Playa del Carmen for dinner. With an assortment of Italian seafood dishes—think, octopus bruschetta and linguini with the catch of the day—there's no chance of going hungry.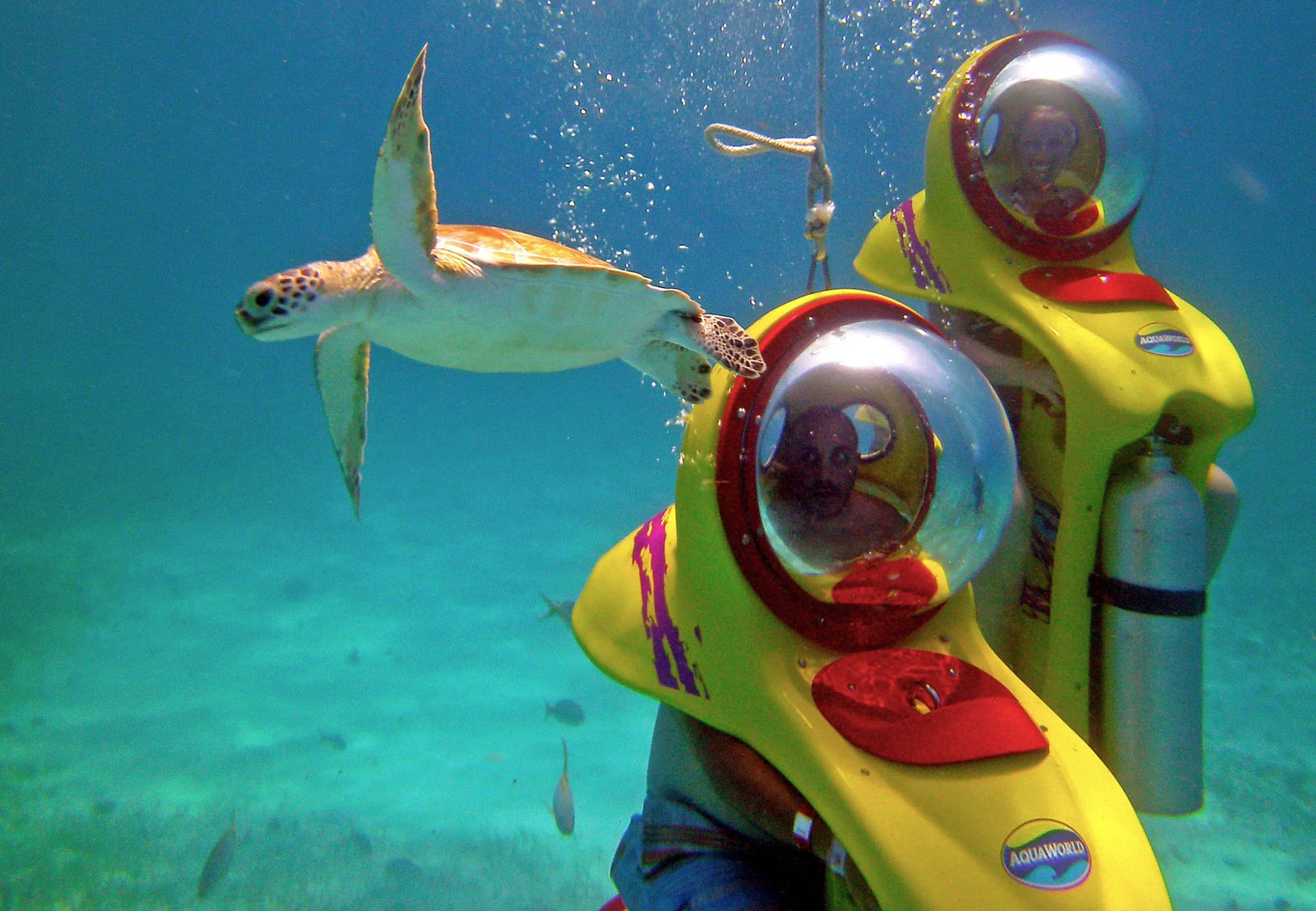 Multi-Day Immersion: With so many things to do in Cancun, why not let the pros handle the travel plans? A private five-day immersion with Tez Mexico lets you fully experience the history of the region, with stops at awe-inspiring ruins each day. Stop at Palenque, Uxmal, and Chetumal—a frequently overlooked site where an otherworldly temple rises like a pale giant from the jungle—and sate your appetite for all things Mesoamerican.
Your five-day adventure isn't only a feast for the eyes—it's a treat for the belly. Each night, frequent a beloved eatery that showcases regional seafood and produce. In Chetumal, refuel at laid-back Marisquería El Taco Loco, tasting spicy shrimp tacos and their hearty torta. In Mérida, visit Kuuk Restaurant, where a celebrated chef fuses traditional Maya flavors with modern techniques, resulting in scrumptious entrees and tempting desserts.
Where would you head to marvel at the Maya ruins near Cancun?