By Expedia Local Expert, on May 27, 2017
6 ways to dive into the secrets of Cancun's cenotes
The Riviera Maya might be famed for its beaches, those long, romantic swaths of white sand that stretch along the balmy turquoise waters of the Caribbean. But there are things to do in Cancun that let you take a dip other places than the seaside, and the geology of the area's freshwater pools is totally fascinating. Beneath the jungle-blanketed limestone of the Yucatan, an underwater river flows. Trees drop their roots down to pull water from deep below the forest floor, and cavernous pools known as cenotes let travelers dive into the peninsula's luminous, subterranean world. Go for a swim in these cool caves to tread water among bats and turtles, pass through tunnels lit from beneath by sunlight, and discover what the ancient Maya considered mystical portals to the world of the gods.
Visit more than one. Venture out for a full day of cenote exploring, discovering the different forms these fascinating pools can take on an outing with Experiencas Xcaret. At four different cenotes, you can try out various adventure activities like ziplining, rappelling, kayaking, and snorkeling—all of which give you a different perspective on these magical grottos.
Go spelunking. For a real up-close look into the geology behind cenotes, grab a headlamp and venture into the Rio Secreto, where an expert guide leads you through more than 7.5 miles (12 km) of sunken caves.  Walk and swim among the stalactites and stalagmites that adorn every surface of the caverns, and then jump into the water for a dip in a natural swimming pool that's like nowhere else on earth.
Cool off after touring ruins. You definitely want to visit Chichen Itza, the sprawling, UNESCO World Heritage Site of towering pyramids that offers fascinating insight into ancient Maya civilization. But let us tell you—the archaeological zone gets hot. After sweating your way through a captivating sightseeing tour with Amigo Tours, cool off by making your way to nearby Cenote Ik Kil for a respite from the heat of the jungle.
Ponder the world of the gods. When sunlight filters through the bottom of the cenotes and the water glows blue, it's easy to see why the ancient Maya ascribed spiritual import to these mysterious lacunas. Head out for a day with Kaminos Travel to delve into Maya culture at the ruins of lakeside Coba and beachfront Tulum. After roaming the grounds and imagining what life was like in these long-abandoned stone cities, stop at Cenote Tankach-Ha, where you can plunge into the world of the gods from a towering platform built over this surreal swimming hole.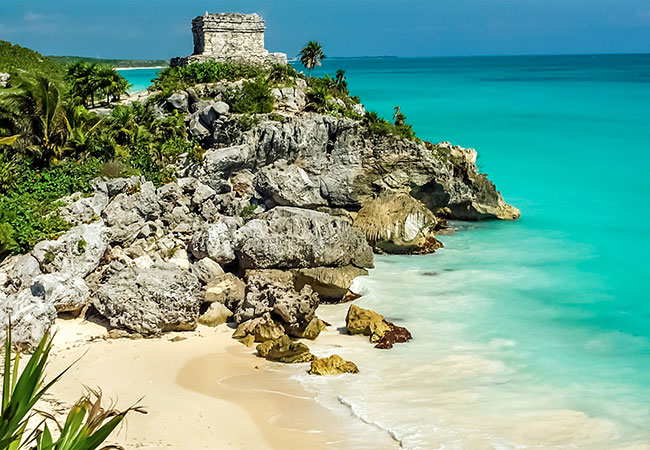 Top off an extreme adventure at a cenote. Head out for an action-packed day experiencing the best of the Yucatan with Aventuras Mayas. You can start off with an adrenaline-pumping ATV ride, fly through the trees on an exciting zipline course, and then wrap up your outing in a wondrous cenote filled with crystal-clear water. Swim, snorkel, and splash in this subterranean pool before refueling over a tasty buffet of Mexican cuisine.
Swim with bats. Of course, humans aren't the first inhabitants of the Yucatan to discover the cool wonders of cenotes. Fish, turtles, and—naturally—cave-loving bats all live within these freshwater ecosystems. With Two Eyes Tours, you can learn about the geological and natural history of the Yucatan at a Prehistory Museum, which displays bones of Ice Age creatures recovered from the nearby Dos Ojos cenote. After peeking into the past of this peaceful waterway, head to a nearby cenote known as "the Batcave," where mineral deposits form fantastical shapes and harmless nocturnal creatures flit around above your head.
What's your favorite way to experience the Yucatan's famous cenotes?