By Ming Tappin, on January 23, 2020
The best romantic cruise lines for Couples
Onboard any given cruise, the majority of the passengers are usually couples. Why is cruising so popular for couples? First of all, it's a stress-free vacation – every detail from accommodations, meals and entertainment, to activities and sightseeing are looked after and prepaid. Once onboard, there's no need to lift a finger or make a decision, except to order a beverage or choose which dinner entrée to have.
Cruising also brings couples to their destinations safely and conveniently. No unpacking and packing, changing hotels or deciding on where to eat and how to get there. The ship is a floating resort that whisks them to interesting places, and after a day of sightseeing, it welcomes them home with a delightful dinner, fantastic entertainment, and a comfortable bed – guaranteed. All the details being taken care of means more time for couples to spend with each other.
Last but not least, cruises for couples offer so many activities to do together from romantic dinners, spa treatments to ballroom dancing, and star-gazing. And at every port, couples can discover exciting destinations and build lifetime memories.
Most Romantic Cruise Destinations
Typically, romantic destinations tend to be idyllic islands in a faraway land, where couples can escape from their busy lives and focus on each other. Places like French Polynesia, the Caribbean islands, the Maldives, and Fiji usually top the list because of their exotic locale, turquoise lagoons, and peaceful serenity. Europe also exudes romance with its centuries-old castles, gilded palaces, and various romantic pursuits – think gondola ride in Venice, Seine river cruise in Paris, and frolicking in the Greek Isles – the playgrounds of legendary gods and goddesses.
The good news is that all of these destinations can be reached by cruise ship. In French Polynesia, Paul Gauguin Cruises and Windstar Cruises sail year-round, with occasional trips to Fiji, which is also visited by numerous other cruise lines as part of a repositioning cruise or South Pacific itinerary. Luxury cruise lines Crystal, PONANT, and Seabourn sail to the Maldives, along with Costa Cruises and Oceania Cruises. All major cruise lines from budget to luxury sail to Europe, as well as a variety of river cruise lines.
Below are some of our recommendations for a romantic vacation at sea:
1. Best Cruise Line for Couples on a Budget
Carnival Cruise Line, MSC Cruises, and Norwegian Cruise Line generally have excellent cruise fares for those on a budget. We have seen Carnival offering prices for as low as $50 per person per day for a four-night cruise to $60 per person per day for a week-long sailing. MSC Cruises also offers similar pricing, even on their newest amenity-filled vessels such as the MSC Seaview, MSC Meraviglia and MSC Bellissima. Norwegian Cruise Line offers an ongoing promotion on every ship where couples can receive a choice of complimentary open bar, specialty dining, shore excursions, and Wi-Fi in addition to low fares. All three cruise lines have beautiful ships and are perfect for both first-time cruisers and experienced sailors.
2. Best Cruise Line for Couples Looking for Luxury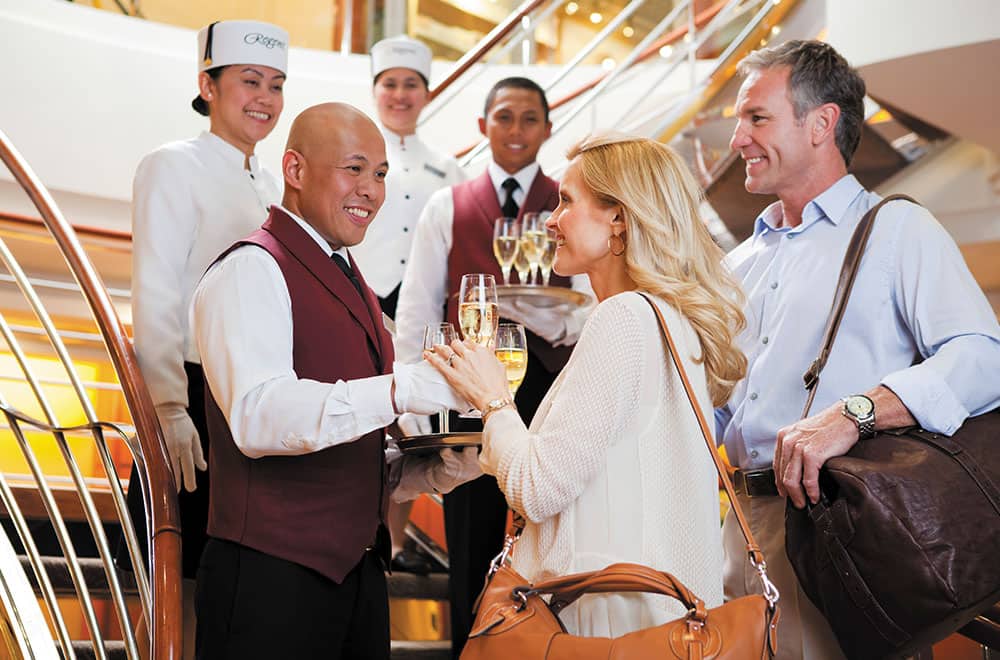 Couples looking to celebrate a special milestone, to reconnect, or simply to be absolutely spoiled should consider a small-ship luxury cruise. Cruise lines such as Crystal Cruises, Regent Seven Seas, Paul Gauguin Cruises, Silversea Cruises, and Seabourn cater to guests looking for sumptuous suites, butler service, fine dining, and free-flowing champagne and caviar. Luxury cruise lines dedicate nearly one staff to look after each guest, ensuring prompt and personal attention. And since these ships carry fewer passengers, it means more space and hideaways for couples to spend alone-time.
3. Best Cruise Lines for Couples on the Go
Couples looking for an active vacation can look to Carnival, Norwegian Cruise Line, and Royal Caribbean, which offer action-packed activities and entertainment onboard their biggest ships.
Carnival Cruise Line's fun ships have multiple entertainment venues, as well as hopping bars and night clubs, ensuring a lively onboard atmosphere day and night. Outdoor activities include pools and hot tubs, twisting waterslides, volleyball, mini-golf, and more. Onboard the Carnival Vista and the Carnival Horizon, you can find the SkyCourse, a thrilling ropes challenge perfect for adventurous couples. Another new attraction is BOLT – the ultimate roller coaster at sea that will be available onboard Carnival's upcoming new ship, the Mardi Gras.
Norwegian Cruise Line offers a long list of activities onboard its newest ships. The Norwegian Bliss, Joy, and Encore all have the Racetrack – the first go-kart course at sea, an outdoor laser tag, and thrilling waterslides. The Joy and Encore also have the Galaxy Pavilion, a large arcade with VR games, rides, and race cars. Headline shows include Broadway hits such as Jersey Boys and Kinky Boots, and other entertainment includes a comedy club, and a Beatles cover band. There is no shortage of bars and lounges onboard, ranging from a mojito, wine, and whiskey bar, to a brewpub.
Royal Caribbean operates the biggest ships in the world that are filled with amenities and activity options. The Oasis, Allure, Harmony, and Symphony of the Seas have it all – surf simulators, towering slides, rock climbing walls, ziplines, and skating rinks. Full production shows such as Grease, Hairspray, and Chicago are on deck, as well as high-diving water acrobatics at the Aqua Theater. Casinos, pools, shopping arcades, spas, fitness centers, and more will keep couples on the go.
4. Best cruise lines for Honeymoons
Our picks for perfect honeymoon cruises start with Celebrity Cruises. Celebrity's fleet is designed for modern luxury, with grand dining rooms, exquisite specialty restaurants, and inviting public spaces. Celebrity is best known for its top-level accommodations, and onboard the newest Celebrity Edge, they range from two-room suites to two-level villas bigger than most apartments – the perfect cocoon for newlyweds. Suite guests have exclusive access to a specialty restaurant, a private lounge, an expansive sun deck, and services of a butler and concierge. On every Celebrity ship, an expansive spa with thermal suites and couples treatments are available.
Princess Cruises – the original Love Boat – continues its romantic connection to this day. The adults-only Sanctuary can be found on the top deck of most ships, with gorgeous views, food and beverage service, and private cabanas. Couples sailing on Princess' newest ships such as the Royal, Regal, and Sky Princess can utilize the Medallion technology to have food and beverages delivered to them anywhere onboard the ship, so they can enjoy in-suite room service, or champagne on deck at sunset, without having to leave each other. Princess also offers Ultimate Balcony Dining, with a sumptuous breakfast served with sparkling wine, or a multi-course dinner served with champagne, lavishly set up on the balcony of the couple's stateroom.
Celebrating a honeymoon onboard one of the ships of Windstar Cruises may just be the most romantic of all. With just 148 to 342 guests, a honeymoon onboard feels more like an exclusive voyage on your own private yacht. Imagine sailing into Monaco and the French Riviera, the Greek Islands, and French Polynesia with the sails billowing in the wind and the sun warming the deck, or cozying up in a quiet corner to enjoy the sunset!  Windstar ships also have a fold-out Water Sports Platform that offers complimentary use of stand-up paddleboards, kayaks, sailing, and snorkeling equipment.
5. A Wedding at Sea – the Ultimate Romantic Cruise
While we're on the subject on honeymoons, how about combining a wedding and honeymoon into one cruise? A wedding at sea is extremely easy to plan. Couples have the choice of getting married on embarkation day, thus allowing non-sailing guests to attend, or they can choose a wedding at sea, or in a destination during the cruise. Wedding planners help with the legalities and arrange everything from reception, cake, and photographer, to anything else that the couple desires. Wedding cruises are available onboard Carnival Cruise Line, Celebrity Cruises, Cunard Line, Disney Cruise Line, Holland America Line, MSC Cruises, Norwegian Cruise Line, Princess Cruises, and Royal Caribbean. Some ships onboard Carnival, Princess, and Royal Caribbean even have wedding chapels to host the ceremony.
With so many options to choose from, couples will have no trouble finding the perfect romantic cruise!