By Heather McManus, on September 13, 2019
Cruising 101: Best Cruise Lines For First Time Cruisers
I'm often asked, "Which are the best cruise lines for first time cruisers?" and like most questions related to booking travel, getting to the best answer requires asking more questions. Every cruise line offers a similar list of onboard amenities, like pools, entertainment, dining options and activities for all ages. But where they differ is in which type of traveler they cater to most. Before you start down the path of choosing the right cruise line for your first cruise, think about what type of traveler you are. What do you like to do on vacation? What kinds of amenities and activities are most important to you?
Cruise line branding will give you a lot of clues about what kind of travelers they're targeting, but if I had to completely stereotype some of the major cruise lines and their typical guests, here's how I'd do it. Consider this your cheat sheet on the best cruise lines for first time cruisers.
1. Carnival – For short sailings and the budget conscious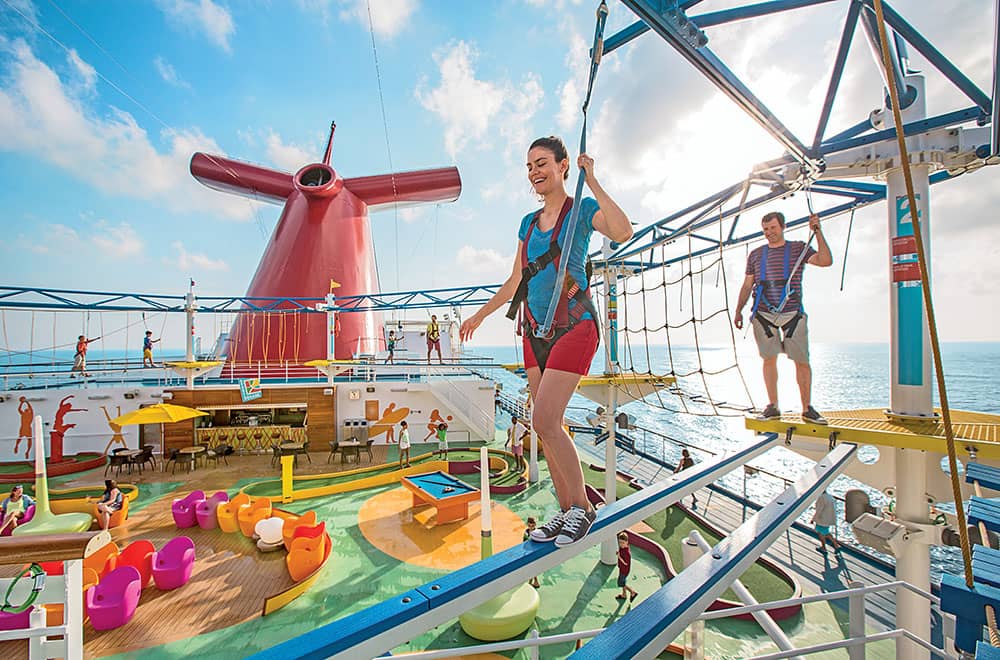 As a line that caters specifically to first timers, many consider Carnival to be one of the best cruise lines for first time cruisers. A lot of that has to do with vacation value. If you've never tried cruising before, you may not feel comfortable spending what you normally would on a land vacation. If that's the case, Carnival is a great option offering some of the cheapest fares at sea. The line also offers tons of three to five-night cruises providing opportunities to save both dollar bills and precious vacation days as you dip your toes into this new form of travel.
Carnival also provides more options for cruise departure points in the US than any other cruise line. You'll find Carnival cruises leaving from 18 different embarkation ports in 11 different states! When you can drive to your cruise instead of flying, this leads to significant savings, especially for families. While Carnival would not be considered a luxury cruise line, all those savings don't mean you won't enjoy some awesome onboard amenities. Calling their fleet The Fun Ships, Carnival boasts its own set of noteworthy experiences including the first roller coaster at sea and restaurants created by some of the biggest names in cuisine like Emeril Lagasse and Guy Fieri.
2. Disney Cruise Line – For Disney lovers and families with small kids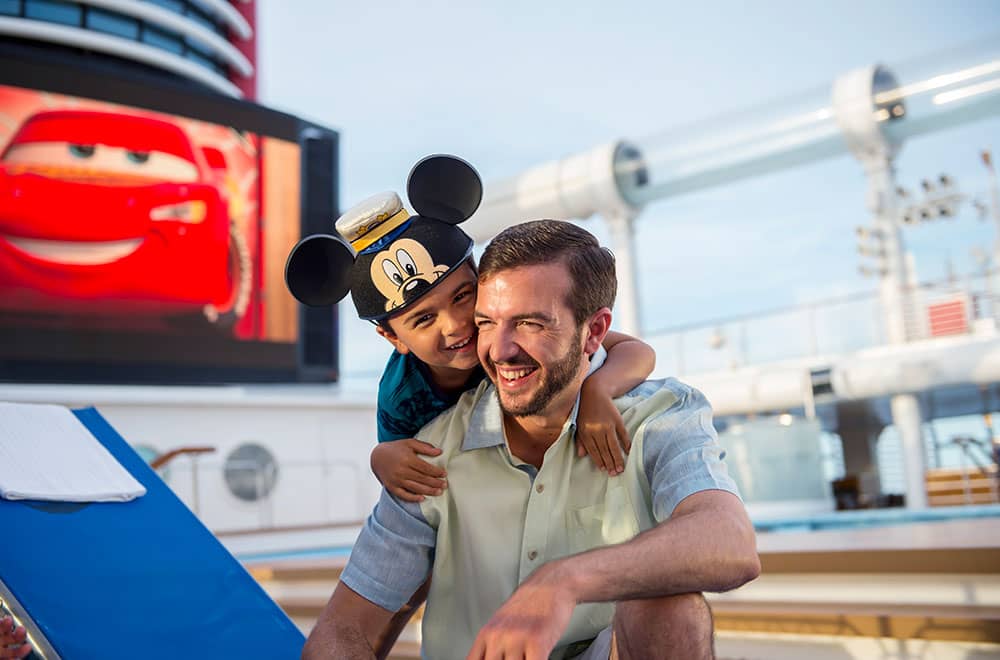 Not surprisingly, Disney hits it out of the theme park when it comes to cruising amenities for kids, but particularly for families with small children. Infants as young as six months old can sail on most Disney itineraries and can be left in the expert care of the It's a Small World Nursery between 9am and midnight so parents can take advantage of a romantic dinner, or even a shore excursion. The babysitting service isn't free, but can be reserved in advance of your cruise so you can plan ahead.
Travel cribs and Diaper Genies are available free of charge for in-room use, and unlike nearly every other cruise line, Disney staterooms have bathtubs! Other thoughtful touches include a room dividing curtain making naptime a breeze and parenting essentials like diapers and kids' sunscreen available in the gift shop. You'll pay a premium to sail Disney, but all those extras that make your life easier are well worth the price of admission. Not to mention the look on your child's face when they realize Mickey and Princess Elsa are fellow cruise guests!
3. Royal Caribbean – For adventure seekers & families with older kids
Boasting some of the biggest and most impressive ships at sea, Royal Caribbean's fleet features some seriously brag-worthy amenities that tweens and teens will love. Light up your social media feed with onboard experiences like a zip line, surf simulator and trapeze school where you and the kids can live out your circus dreams. Challenge each other to a race down Ultimate Abyss, the tallest slide at sea, or feel what it's like to fly on RipCord® by iFLY® , Royal Caribbean's exhilarating skydiving simulator.
The thrills continue ashore on Royal Caribbean's private island, Perfect Day at CocoCay, which is exclusively visited by the line's ships on Caribbean and Bahamas itineraries. The island offers even more action including North America's tallest waterslide, the Caribbean's largest freshwater pool, and a helium balloon ride soaring high over the island.
How to Spend the Perfect Day at CocoCay
4. Princess Cruises – For relaxation lovers and wellness enthusiasts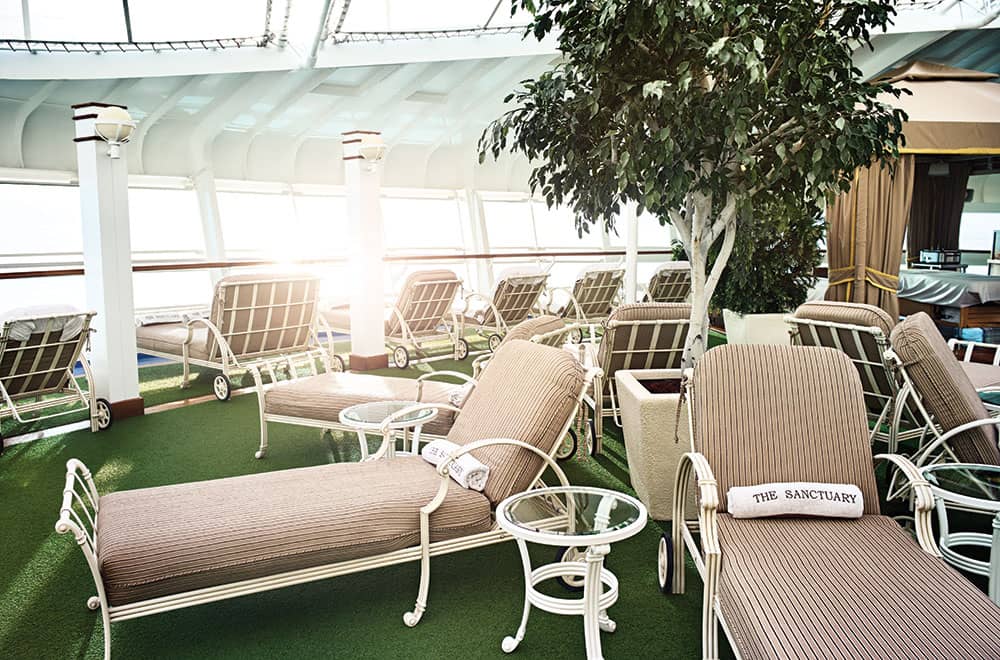 Roller coasters and race tracks aren't for everyone. If you want to relax and recharge on your first cruise, Princess Cruises is an excellent option. With their tag line "Come Back New", Princess emphasizes onboard amenities that are designed to help you unwind from the stress of daily life. Pamper yourself with a massage as the onboard Lotus Spa® or get your zen on at a free yoga class on deck.
The Sanctuary, a spa-like retreat tucked away at the back of every Princess ship, is described as an "Ocean of Calm" and is exclusively for adult guests. Serenity Stewards in The Sanctuary tend to your every need providing everything from chilled towels, to noise cancelling headphones, to healthy meals. The relaxation even continues through the night on the Princess Luxury Bed, exclusively designed for the line and named the Best Bed at Sea by Cruise Critic!
6 Reasons Princess Cruises Might be the Right Fit For You
5. Norwegian – For entertainment buffs & the indecisive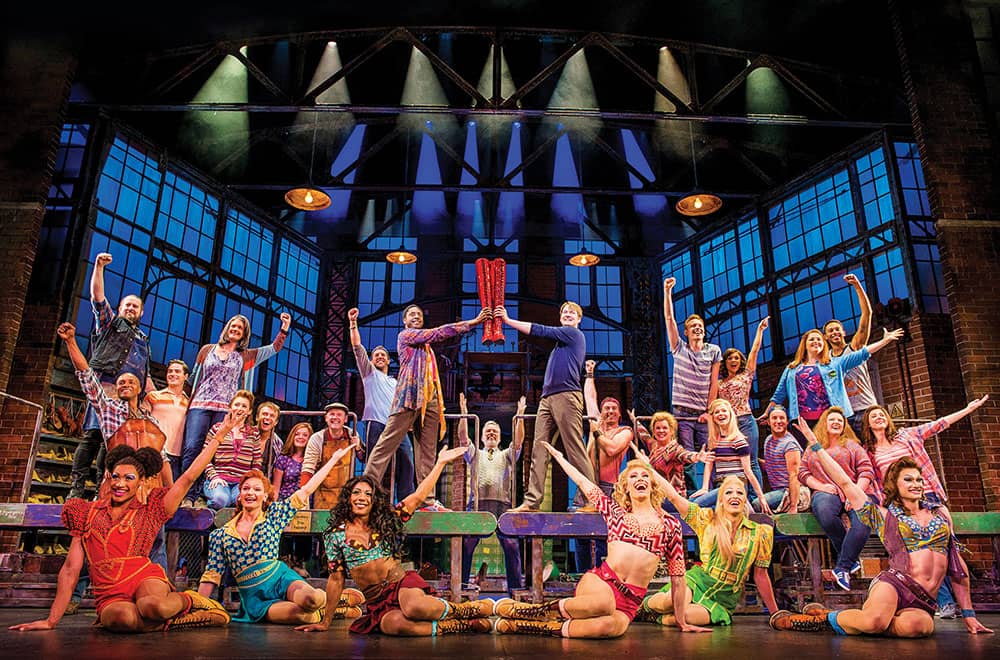 If your ideal land vacation is a trip to New York or Vegas to experience the best of the dining and theater worlds, look no further than Norwegian for your first cruise. The line was voted Best Entertainment by Cruise Critic and for good reason! With musicals like Rock of Ages, Footloose and Kinky Boots performed onboard, you'll forget you're at sea and not on Broadway. Cirque Dreams, Norwegian's unforgettable theatrical dining experience, showcases acrobatic feats you never dreamed possible, while Burn the Floor will have you swaying in your seat along with the dance theater company's Latin beats.
In line with their Freestyle Cruising philosophy, Norwegian offers something for everyone, from solo staterooms to the largest suites at sea; from delectable fine dining restaurants to pool-side burger joints; from relaxing retreat areas to a thrilling, multi-level race track. If you can't decide what kind of traveler you are, Norwegian could be a good option for your first cruise.
6 Reasons Norwegian Cruise Line Might Be the Right Fit For You
6. Oceania Cruises – For refined travelers and intimate experiences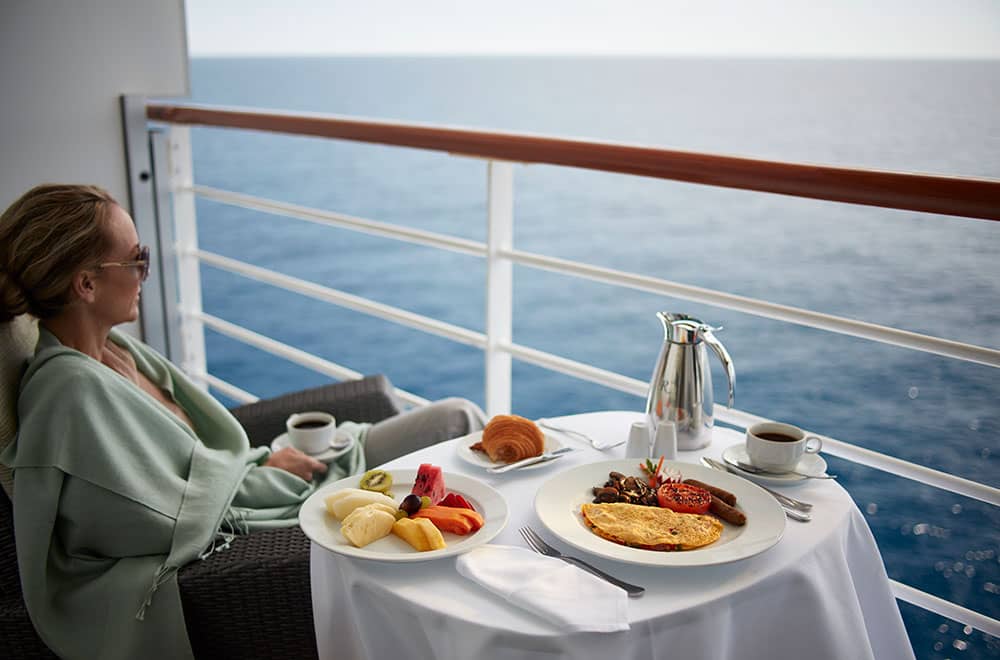 If a normal vacation for you involves staying at four-star hotels and enjoying a higher standard of service, the popular cruise lines may not be right for you. While all contemporary lines do offer different tiers of service and staterooms, you may consider upgrading to a premium or luxury line for a more intimate cruise experience. Oceania Cruises calls itself the world's only upper-premium cruise line and provides an excellent introduction to the luxury world of cruising–without the sticker shock of some of the more expensive lines.
Oceania's mid-sized ships hold up to 1,250 guests and sail to lesser-visited, boutique ports that larger ships simply cannot access. This makes for interesting itineraries and more intimate, authentic travel experiences (both on and off the ship). Although the price tag is higher for Oceania, you'll find more inclusions with your base fare like free Internet, butler service, in-port shuttles, and even complementary airfare from select US cities. Items that usually incur an upcharge on popular lines like specialty coffees, soda and bottled water are also included on Oceania.
7. Cunard – For bucket list journeys and old world cruising
If you've been idealizing the luxurious world of sea travel since you first saw Kate & Leo on Titanic back in 1997, the closest you'll come to that old world cruise experience is on Cunard. Oozing tradition at every turn, Cunard's iconic black, white and red ships will take you back in time as you listen to classical music, enjoy Shakespeare performances and leaf through literature at the largest library at sea.
With iconic itineraries like the Transatlantic crossing on Queen Mary 2, Cunard offers bucket list experiences that can only be found on a cruise vacation. The crossing involves at least a week at sea, but there is truly no better way to experience this once-in-a-lifetime journey than in the comfort and luxury of a Cunard ship.
We hope you found this guide helpful in determining which are the best cruise lines for first time cruisers! Taking the time to think about what kind of traveler you are and which cruise line aligns most closely with your preferences can make a huge impact on your cruise experience! Not all cruises are the same so choose wisely. For further reading in this series, take a look at Cruising 101: First Time Cruise Tips.