By Expedia, on November 27, 2018
5 best spring break family cruises
Looking for a spring break getaway that's fun for the kids and provides a much-needed breather for the parents too? Does this utopia exist? If you haven't considered a warm-weather cruise, then this may be your answer. It's hassle-free, there's nonstop entertainment for the kids, and you can carve out time for just you and your spouse without the added expense of paying a babysitter. We've rounded up the 5 best spring break family cruises for you.
5 best ships to consider for spring break with your family
What parents will love: Enjoy time with your spouse at the adults-only pool or adults-only restaurant, knowing that your kids are well taken care of. Talk to anyone who has been on Disney Magic, and they'll tell you they had to drag their kids away from the kid's club because they were having so much fun.
For the kids: There's the MARVEL Super Hero Academy with surprise super hero visits; Andy's Room, where the Toy Story movies come to life with slides and games; and story time and special visits from Disney characters, to name a few.
What parents will love: Achieve absolute serenity in Serenity Bay on the private island Disney Castaway Cay. Treat yourself to an open-air cabana massage or have a specialty frozen cocktail in peace at this adults-only oasis.
For the kids: Disney Castaway Cay has fun activities for the kids, too, like Pelican Plunge, a 2,400-square-foot floating platform with 2 twisting water slides that carry you into the lagoon.
What parents will love: While the kids are enjoying the kids club, enjoy a date night at Boleros or the Bionic Bar, where robots concoct unique mixed drinks right in front of you.
For the kids: Hearing "I'm bored" from your kids won't even be a possibility during this spring break cruise with 18 decks filled with activities like The Perfect Storm water slides, a zip line, Flowrider surf simulator, the 10-story slide Ultimate Abyss, and laser tag.
What parents will love: Stay in a Havana Cabana cabin and you won't have to go far to find serenity and relaxation – it will be on your own private patio, with a hammock-style swing and exclusive access to the far less-crowded Havana pool.
For the kids: I have 2 words for you: SkyRide and WaterWorks. SkyRide lets you operate a pedal-powered bike high above the deck on a two-lane suspended course. Waterworks offers the new Kaleid-O-Slide, where riders navigate 455 feet of twists and turns on one- or two-person rafts.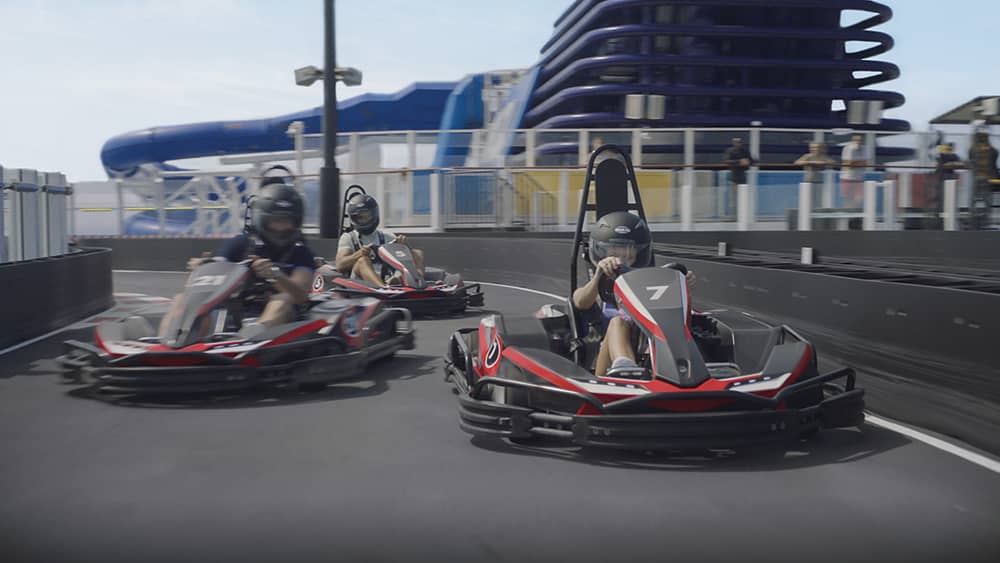 What parents will love:  Have an impromptu evening out with Broadway-style entertainment featuring the musical "Jersey Boys", or the high-energy performance, "Havana", a celebration of Cuba's music and culture.
For the kids: Go-karts, anyone? There's nothing like a little friendly competition on a 1,000 foot-long racetrack to get a family vacation started. Kids will also love the open-air laser tag area and thrilling Aqua Racer water slides.
These ships do a fantastic job of catering to the needs of families and offer something for everyone. Short term, you'll feel refreshed from the uninterrupted moments you spent with your spouse.  Also, your kids will love having some independence at the kids' clubs or other onboard activities. Long term, you will establish memories that last a lifetime.  So seize the few spring breaks that you get as a family and consider a cruise for your next family vacation.