By Matt Villano, on August 19, 2016
Cable cars in San Francisco, daughter-style
As a veteran travel writer, I make a living writing about my experiences in the world at large. And as a blogger with a concentration in family travel, I often write about our family's travel adventures through my own point of view.
Recently, however, some friends of mine shared a series posts on Facebook from their family trip to Paris, and many of the pictures and videos they shared were the work of their daughter, who is 8. The project got me thinking: Why not do a similar series of my own, through the eyes of the oldest of my three girls?
When I approached my Big Girl with the concept, she literally shrieked. We limit her screen time here at home, and the thought of using Daddy's old cell phone to photo-document our travels enthralled her.
She was in.
We spent the better part of a Saturday planning some trips for her to shoot. Weekend in Portland in September? Check. Week in Tucson in October? As long as Mom says yes. Lake Tahoe in November? Most likely. The two of us filled out our dance cards excitedly. But when my Big Girl realized our first adventure was still a way's away, she said she wanted to "practice" sooner than that. Basically, the kid didn't want to wait.
Viewfinder Tip: Plan your trip on the cable cars early in the day, by afternoon the lines can be hours long.
So, on a whim, I sprung her from camp one morning and we drove into San Francisco for the day. Our only plan was to board a cable car in Fisherman's Wharf. She controlled the agenda from there.
What ensued was one of the most wonderful and spontaneous visits to San Francisco in recent memory. According to my daughter, it was one of the best trips of her life, too. Here are some of her photographs and insights from our experience, and some of the shots I took of her along the way.
We boarded the Powell Street cable car in Fisherman's Wharf, across the street from the famous Buena Vista Cafe. My Big Girl was uncomfortable using the phone as we climbed up Russian Hill. On the descent, however, she got brave and snapped some pix at the intersection of California Street.
Here's the picture she took of the cable car at the intersection of Powell and California. When she spotted the other cable car, she exclaimed, "Another one!" Everyone around us smirked.
We stepped off the cable car on Powell near Union Square and my Big Girl snapped another pic of it before it zipped away. Upon taking this shot, she remarked that she had no idea how many of us were "packed in" when we were on the car itself. A little perspective goes a long way!
We walked down toward the turntable at the bottom of Powell Street (near Market) hoping to hop on board another car and ride it back, but the line was literally around the block. Instead, Big Girl grabbed her camera and snapped about 90 pictures of the cable cars waiting for their passengers.
From the turntable, we walked up Powell to Union Square, where we stumbled upon an outdoor art show. My daughter was amazed at all of the different multimedia techniques. She spent 15 minutes shooting macros. She studied them for most of the drive home.
One of the macros. This piece was actually a giant painted metal heart.
After our time in Union Square, my Big Girl shot this one while we were heading back toward Fisherman's Wharf. She couldn't believe how "old" everything in the car looked. When she learned the car itself was pushing 80 years old, she said, "That's older than all of my grandparents!"
We ended up riding another cable car back toward Fisherman's Wharf and got off to walk the last few blocks. On that walk, we noticed a few maple trees wearing "sweaters" that someone had knit. My Big Girl thought it was the funniest thing she'd ever seen. She just kept exclaiming, "A tree sweater!" She had about 30 versions of this same shot.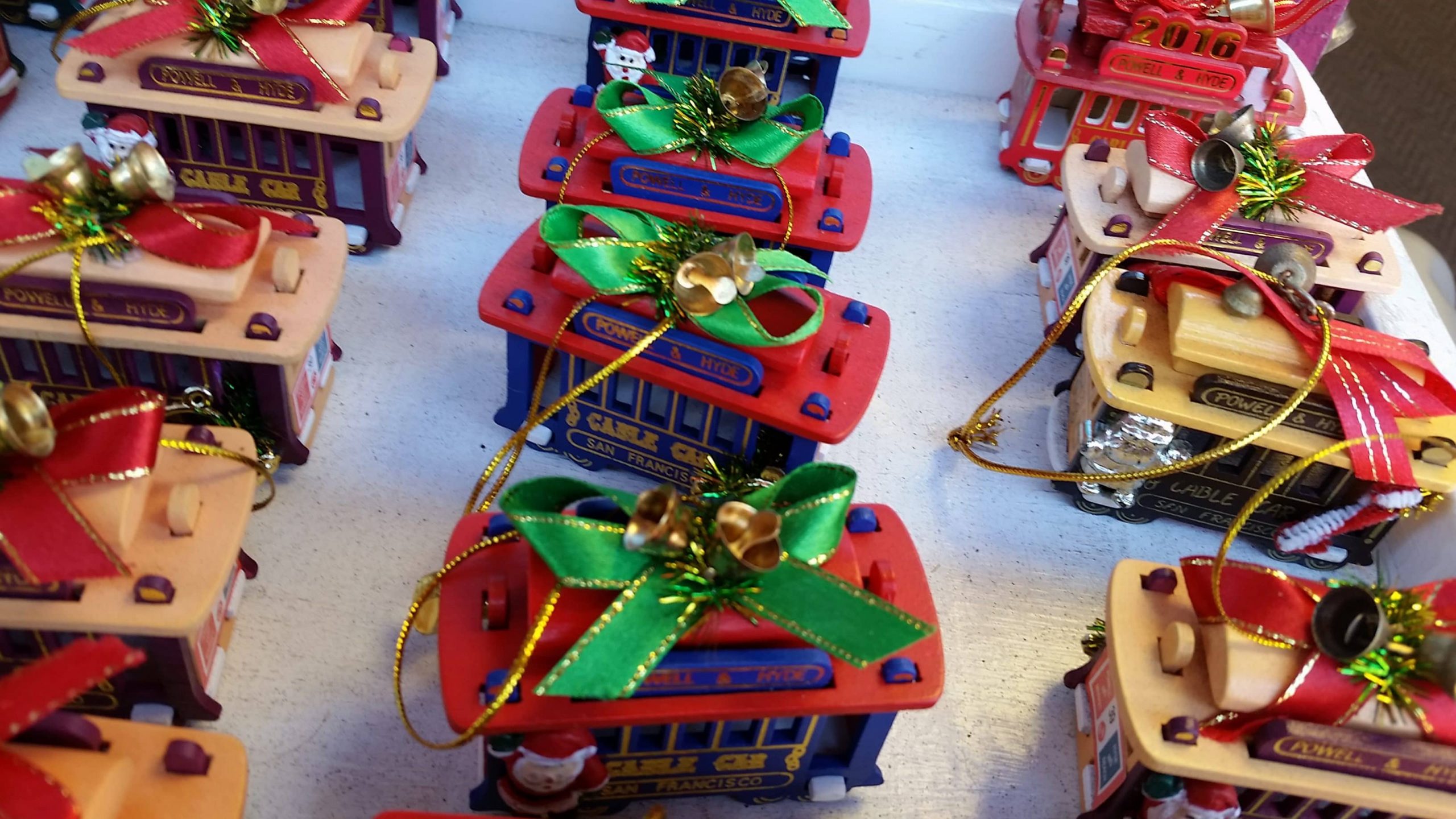 On our walk back to the car, we stopped in a bodega to (buy Dad mints and) look around. On the way out, my daughter spotted a display of cable car Christmas ornaments and thought it'd make for a fun picture. I couldn't agree more.
What is your favorite way to get around a new city?