By Tarran Street, on December 19, 2016
Introducing the Expedia Bot on Skype
Today we are excited to announce the Expedia Bot on Skype, providing travelers the ability to manage complex travel itineraries—including booking, cancelling, or updating plans.
Available now, Expedia is the first bot experience on Skype to connect a traveler to a call with an agent within the platform. Customers can easily search for and make a hotel booking, or manage select elements of travel bookings, including hotel or flight confirmations or flight cancellations. Should a traveler have an additional request that is not yet supported, Expedia will handoff the experience to an Expedia travel representative, or the traveler can call directly from within Skype for no charge. We're also proud to be developing the first travel experience for Cortana, the personal assistant that helps users be more productive.
I caught up with David Fleischman, VP of Global Product at Expedia to learn more about what we're doing in this space. "We are excited to work with Microsoft on an array of Expedia experiences for Skype and Cortana users," he said. "Before working with Microsoft, we'd focused on hotel purchases. Now, we're expanding our offerings so travelers can book trips and manage complex travel arrangements without needing the support of Expedia customer service agents. Adding features like confirming a hotel or flight reservation, or canceling a flight reservation, mark our first time offering customers an automated path to self service with a bot, as well as a way to connect to agents via a call if they need more help. Microsoft's Bot Framework has made it easy to reuse services on our Expedia conversational platform to publish quickly and smoothly across Skype and Cortana. We're eager to see the response from the Skype platform and look forward to testing Cortana and other functionalities with Microsoft in the future."
[viewfinder-gallery]
Dave went on to describe that this is a great opportunity to more deeply engage with travelers on whichever Cortana-enabled platform or device they choose. In fact, Expedia is the first travel provider to work with Microsoft as an early Cortana Skills Kit partner. From a technical perspective, we only have to code once and our work spans the various Skype and Cortana platforms. When we release our Expedia skill for Cortana, it will make it easy for travelers to quickly complete travel-related tasks just by talking. For example, Cortana will be able to remind travelers of their upcoming trips, share information about their plans and help them book a hotel using relevant traveler details like past preferences and payment information.
Expedia remains committed to investing in Natural Language Processing and Artificial Intelligence to better serve travelers. As supporting platforms evolve and more devices and services begin offering similar chat and voice control functionality, we will continue to work with our existing partners and new emerging technology players to build features and products for Expedia customers to make planning travel more intuitive than ever.  Our early capabilities like the Expedia skill for Alexa and the Expedia bot for Facebook Messenger are examples of our work in this space. We're excited about the Expedia bot on Skype and to unveil more with an Expedia experience for Cortana soon. This is just the beginning so don't forget to keep an eye out for exciting new Expedia tech products and updates in the future.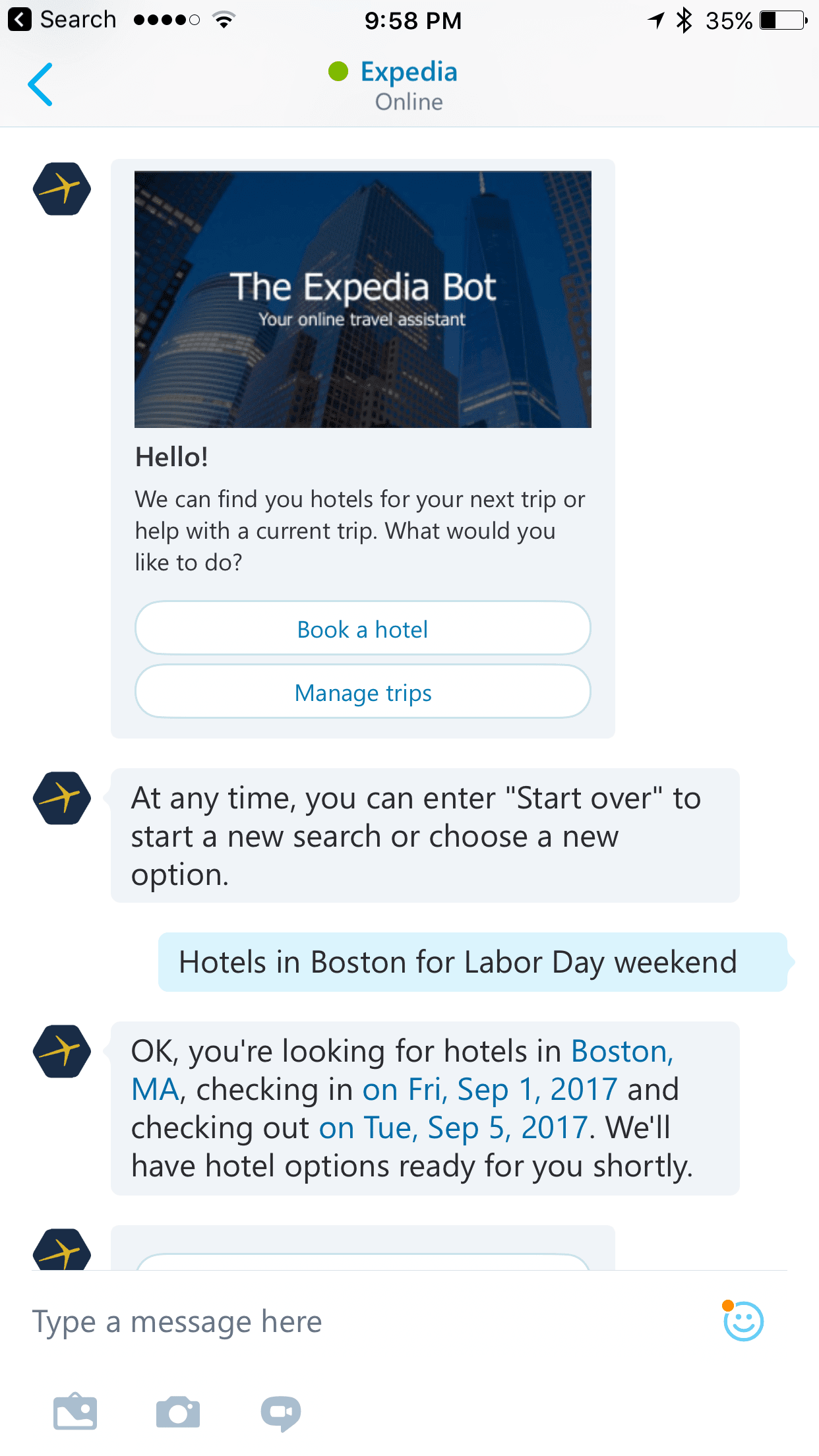 The Expedia Bot for Skype is now available across all Skype platforms in the U.S. Simply search for Expedia on Skype and begin planning your trip with our bot today!