By Camille Meyers, on June 18, 2019
Learn How to Take Amazing Travel Photos
Thanks to the popularity of image-sharing apps like Instagram, more people are taking up photography as a hobby. And where better to improve your skills than by learning to take amazing travel photos on your next trip? Discover the best settings for photographing the neon glow of Times Square at night and for composing stunning landscape shots at Lake Tahoe. Take a photography tour with a local guide to find where to photograph elephants in Sri Lanka or the elusive Northern Lights in Finland. Whether you're off the beaten path or at one of the most photographed places in the world, follow these tips and tricks to raise your travel photos to the next level.
Want the chance to win $50,000 to spend on a trip to snap an epic holiday card photo? Scroll down to see how you can enter to win through Expedia's Holiday Card Giveaway!
Learn to Use Your Camera
A once-in-a-lifetime trip is a good excuse to buy that fancy new camera you've had your eye on, but just because you have an expensive camera doesn't mean your travel photos will automatically become National Geographic level. Play around with your settings before your trip and see how that affects your images. If you don't have time to learn more than the basics before you fly, take a beginner's photography workshop, like this one in Sydney, that will teach you how to maximize your camera's features. Even on a smartphone, figuring out how to manipulate your settings can help you generate Instagram-worthy images.
Photography Workshop VS Photography Tour
Typically, a photography workshop is geared toward teaching you camera techniques while a photography tour is more about taking you places to snap majestic pictures. However, a workshop in Brisbane can still take you to interesting locations, and your guide on a photo tour of Amsterdam may suggest settings and angles for best capturing the place. The best part about a photography tour or workshop is that you're not rushed from site to site. You have the time to compose your photographs and get your settings just right.
Composing Amazing Travel Photos
Mastering the rule of thirds can turn blah vacation pics into captivating travel photos. Imagine your image divided into 3 horizontal sections and 3 vertical sections to create a grid of 9 rectangles. Many digital cameras and smartphones have a setting to do this for you. For landscape photography, try to align the horizon to one of the dividing lines to create a balanced composition. Putting a focal point, such as a person overlooking Lake Tahoe, into one of the 4 intersection points naturally draws the viewer's eye around the image and creates more interest. Play around with the rule of thirds. You might be surprised by the difference it makes.
Try out Night Photography
Whether your trying to capture the vibrancy of New York's Times Square or the majestic glow of the Northern Lights in Finland, night photography can be a tricky thing. First, to get a good photo at night, turn off your flash. Then, set your aperture (f-stop) as low as it goes, change your shutter speed to 10 seconds, and your ISO to 1600. The whole idea is to allow your camera to absorb as much of the ambient light as possible to get a clear picture in the dark. Because of this long exposure, you'll want to set your camera on a tripod or wall to keep it as steady as possible. Take a photo or two and then adjust your settings until you get that perfect picture of Paris, the City of Light, at night.
Get a New Perspective
Changing your angle can grant a new perspective on a familiar monument or sight and help you achieve amazing travel photos. Get low and shoot upwards to make buildings or statues look grander and more imposing. You can also try climbing to new heights. Take your camera to an observation deck to get stunning shots of the sky and the city far below. Going at twilight can yield some beautiful photos. For a little thrill with your photography, climb aboard an open-door helicopter for an aerial photography workshop.
Find the Light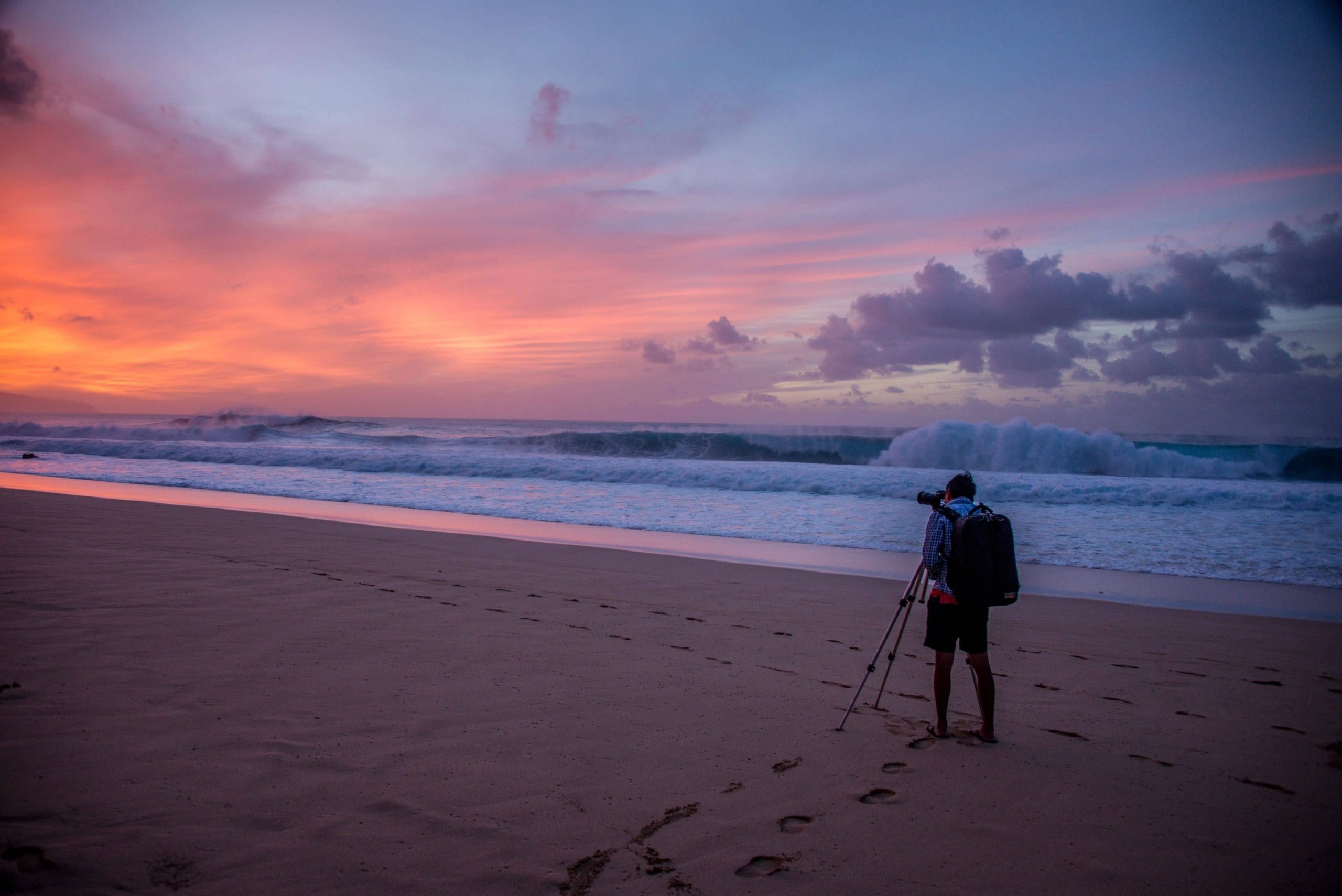 Photography is all about light. So, plan your trip to take advantage of the golden hour. About an hour after sunrise and an hour before sunset, the low angle of the sun casts long shadows and a golden glow making even an ordinary street scene in Santorini look stunning. Of course, sunrise and sunset also provide opportunities for gorgeous travel photos. Trust a local to know the best place around to view that spectacular sunrise over the mountains or Hawaiian sunset over the ocean. Planning a nap in the middle of the day when the light is harsh can help ensure you get some rest and relaxation as well as good photos on vacation.
Photographing Wildlife
Getting good wildlife pictures is notoriously tricky. It takes planning, knowledge, patience, and a healthy dose of luck to score amazing wildlife photos while traveling. Knowing where and when to find the animals you want to photograph is key. Go with a local guide who knows the area and its animals to find the best locations look for wildlife. Take a day tour to a monkey sanctuary in Cancun, or seek out leopards and elephants during a 5-day wildlife photography tour in Sri Lanka. The more time you spend in the field, the more likely you are to snap a winning wildlife photo.
Food and Photography
Trying local delicacies is one of the pleasures of visiting somewhere new. For amazing photos of your culinary escapades, try shooting from above for plated food and hold your glass of bubbly up to the light to capture its sparkle. Arrange other objects on the table, such as forks, flowers, or even your sunglasses to help your photo tell a story. A photography and food tour can provide more tips on taking appetizing pictures of your plate. For example, document your gastronomic travels through Santa Barbara or drink it all in on a wine tasting and photography expedition in Greece. Indulge in your scrumptious subject and then watch the likes pour in when you post on social media.
More Travel Photography Tips
If you want to photograph a local, be sure to ask their permission. Most likely they will say yes. Also, if you strike up a conversation, the portrait won't just be a picture of a random stranger, but of someone interesting you met on your travels.
Pack backup batteries and memory cards. You shouldn't have to spend time deleting pictures instead of taking them.
Remember to relax. If you're always feeling pressured to capture every second of your trip, chances are you're not going to enjoy the moment very much. Set your camera down for a while and make some organic memories.
Like any skill, becoming a fantastic travel photographer takes time. The more you do it and the more familiar you get with your camera the better travel photos you're sure to get.
Study other people's amazing travel photos and see how it inspires your own photography—and maybe even your next trip!
Holiday Card Giveaway
Think about the amazing memories you could make and photos you could take if you had $50,000 to spend on a family vacation. Enter Expedia's Holiday Card Giveaway between June 17 and June 30 for your chance to win! Here's how to enter:
That's it! Click here to read the official rules.