By Heather McManus, on February 2, 2020
4 reasons Royal Caribbean might be right for you
If you want to experience everything a modern cruise has to offer, look no further than Royal Caribbean International. Their fleet of innovative, awe-inspiring, adventure-filled, megaships have earned them the title of Travel Weekly's Best Overall Cruise Line for the past 17 years! Once you're onboard, you'll understand why the accolades keep piling up. From Broadway-style theater productions, to impressive waterparks, to luxury suites – there's a mind-boggling number of experiences and amenities to be found on every single ship.
The megaship vacation style isn't necessarily for everyone, but if you're considering hopping onboard one of Royal Caribbean's 26 ships, here are four reasons this cruise line could be the right fit for you.
1. If the ship IS the destination
Some people choose their cruise itinerary based on the ports of call they'll visit and the local cultures they'll be exposed to, but with Royal Caribbean, each class of ships has a culture that's all its own. Known for over-the-top, packed-to-the-max megaships, Royal Caribbean is famous for pushing the boundaries of what's possible to experience on a cruise ship. They were the first to introduce onboard skating rinks, rock climbing walls, boxing rings, zip lines, and surf simulators, just to name a few. They boast the tallest slide at sea and the largest cruise ship in the world, Symphony of the Seas, measuring 1188 feet long–that's nearly four football fields!
When you pair the sheer size of their ships with their history of innovation, a Royal Caribbean cruise ship isn't just a hotel, or a restaurant, or a means to get to the next port of call, it's a destination in itself. You'll even find some of Royal's newer ships on Google Street View–helpful for finding your way around these floating behemoths!
2. If you're an active family with older kids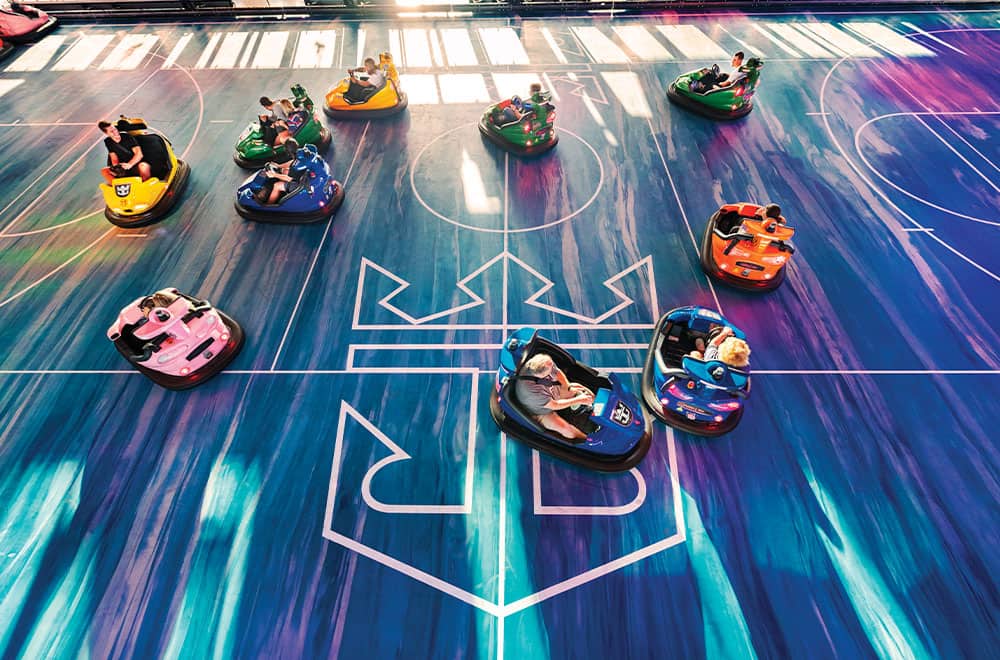 Although Royal Caribbean does have programs for children as young as 6 months old, their ships' amenities are best suited to older kids who are tall and brave enough to experience everything included with their cruise fare. Here are just a few of the family-friendly highlights:
Glow-in-the-dark laser tag
The Yetis take on the Snowshifters in this post-apocalyptic battle on a frozen wasteland: Clash for the Crystal City. Fellow cruisers become either friends or foes in this unforgettable faceoff for kids (and adults!) ages 5 and up.
A Royal Escape Room challenge
Nothing encourages family bonding like solving a problem together and Royal Caribbean's series of onboard escape rooms for ages 12 and up offer exciting opportunities to do just that. In one challenge, Mission Control: Apollo 18, you're transported back to 1973 and tasked with pulling off a difficult lunar expedition before time runs out (additional fees apply).
SeaPlex® Active Space

Boasting the largest indoor active space at sea, SeaPlex takes family fun to a whole new level. Here you'll find the only bumper cars on a cruise ship, a full-size basketball court, a roller rink, and even a circus school where you can learn the art of flying trapeze! If hunger strikes before you've experienced it all, fuel up at the SeaPlex food truck and keep on going.
Hideout Hangout for teens
Let's face it, sometimes teens don't want to hang out with their parents. Luckily, Royal Caribbean has a new hangout just for 13 to 17-year-olds. Entered through a secret, speakeasy door, the Hideout Hangout is an exclusive space to play pool or video games, listen to music, or lounge on the outdoor patio day or night.
3. If you're cruising for the thrill of it
If it's bragging rights you want, Royal Caribbean offers gloating opportunities galore with a plethora of biggest, tallest and longest experiences to light up your social media feed with. Challenge a rival to a race down Ultimate Abyss SM, the tallest slide at sea, featuring two mirroring slides that plummet down 10 of the ship's stories! Add water and you've got The Blaster SM, the longest waterslide at sea. This aqua coaster is ridden on a tandem tube that will dip and drop you downwards, including through the longest stretch of slide ever suspended over open water.
You may not be able to surf on the open ocean behind cruise ships or attempt a skydive landing onboard just yet, but Royal Caribbean offers the next best things with their onboard FlowRider® and RipCord® by iFLY®. FlowRider's perfect standing wave simulates the surfing experience without all that saltwater in your eyes, while RipCord lets you feel the weightlessness of freefalling without ever leaving the ship! For something slightly less active, but equally bragworthy, book a reservation on the North Star, a globe shaped observation capsule that takes you 300 feet above sea level for panoramic views from its glass sphere. Not surprisingly, it holds the Guinness World Record for tallest viewing deck on a cruise ship.
4. If you like to party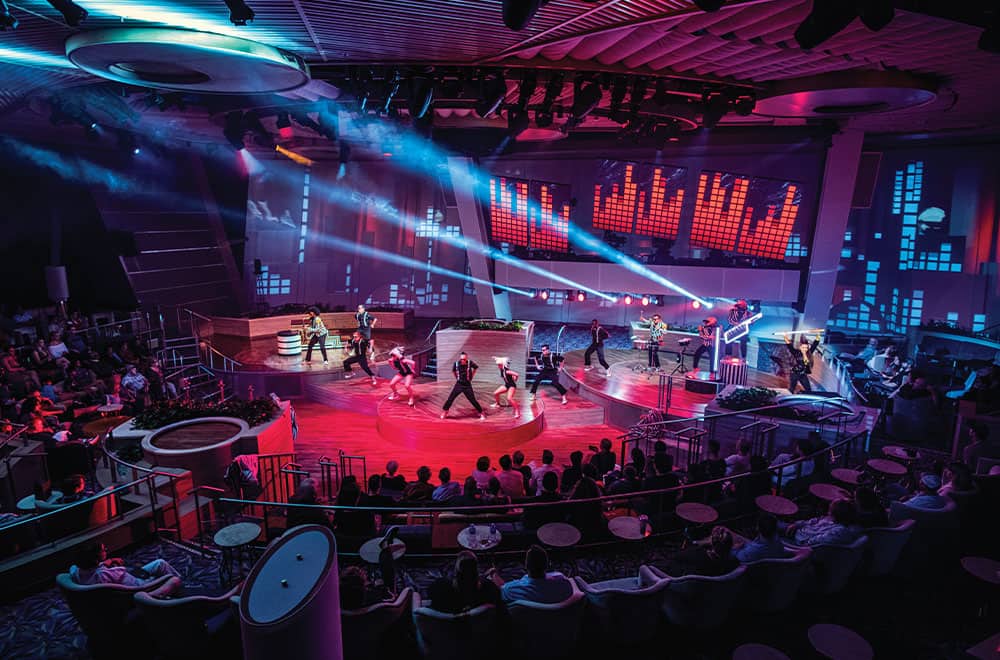 Whether you fancy a glass of red paired with a charcuterie board or a casual pint at an English pub, Royal Caribbean offers both these options and everything in between with their wide range of onboard watering holes and entertainment venues. Enjoy island vibes and tropical cocktails day or night at The Lime and CoconutSM, or opt for a beverage with a view at Two70 bar's stunning venue featuring floor-to-ceiling windows. By night, Two70 bar transforms into the hottest nightclub on the ship so bring your dancing shoes!
Once you've built up your liquid courage, hit the main stage at SpotlightSM Karaoke to belt out your favorite tune to the masses – or opt for a private room if you're not quite ready yet. Don't miss the Rising Tides bar on Oasis Class ships, which moves up and down between decks like an elevator as you sip the night away. For an added splash of novelty, visit the Bionic Bartenders who can mix up any concoction you can think of ordered through the nearby tablet. Just place your order and watch your robot bartender work its magic.
Bonus: If you want to visit CocoCay

The thrills continue ashore on Royal Caribbean's private island, Perfect Day at CocoCay, which is exclusively visited by the line's ships on Caribbean and Bahamas itineraries. The island offers even more action including North America's tallest waterslide, the Caribbean's largest freshwater pool, and a helium balloon ride soaring high over the island. Read more on how to spend the Perfect Day at CocoCay.
There's nothing quite like the energy you'll find on a Royal Caribbean cruise ship. With so much to see and do onboard (along with 5,000+ fellow guests), you're sure to find something to love, no matter what type of traveler you are. We hope you found this guide useful in determining whether a Royal Caribbean cruise is the right choice for your next vacation!