By Expedia Guest Author, on February 20, 2017
Stories from Skull Island
With the extraordinary new film Kong: Skull Island, director Jordan Vogt-Roberts and the producing team behind 2014's Godzilla are reimagining the origins of one the most powerful monster myths of all with a whole new legend—one that unfolds almost entirely within Kong's domain—a primal Eden where humanity does not belong.
Coming to cinemas on March 10, 2017 from Warner Bros. Pictures, Legendary Pictures and Tencent Pictures, the much anticipated action epic will bring one of the most iconic movie monsters back to the screen with a heavy-hitting cast led by Tom Hiddleston (The Avengers, Thor: The Dark World), Samuel L. Jackson (Pulp Fiction, Avengers: Age of Ultron), John Goodman (Argo, The Big Lebowski), Brie Larson (Room, Trainwreck) and John C. Reilly (Guardians of the Galaxy, Chicago).
To bring the film's seminal title character thundering back to the screen, Vogt-Roberts drew together an A-team of behind-the-scenes collaborators, who would push the envelope on design and effects, and raise the bar on digital character creation.
And to achieve the full scope and scale of the exotic and dangerous Skull Island, Vogt-Roberts swept cast and crew on an ambitious 6-month shoot across three continents to film on location in some of the world's most breathtaking landscapes—Oahu, Hawaii, Australia's Gold Coast, and Vietnam, where filming took place across multiple locations, some of which have never before been seen on film.
Mary Parent (Producer)
"Early in the process, we fixed on the potential of Skull Island, which has its own weather system and otherworldly qualities," said Parent.  "We aimed to show audiences something they haven't seen before."
Jordan Vogt-Roberts (Director)
"When you're bringing a myth to the screen not as a symbol but in the flesh, it's critical to place him in an environment that feels tactile, real and absolutely alive," the director said.  "So it was incredibly important to shoot the film practically in environments the actors can interact with, as opposed to putting them on a green screen stage.  I want people to look up at the screen and say, 'I believe that could exist.'"
KUALOA RANCH, HAWAII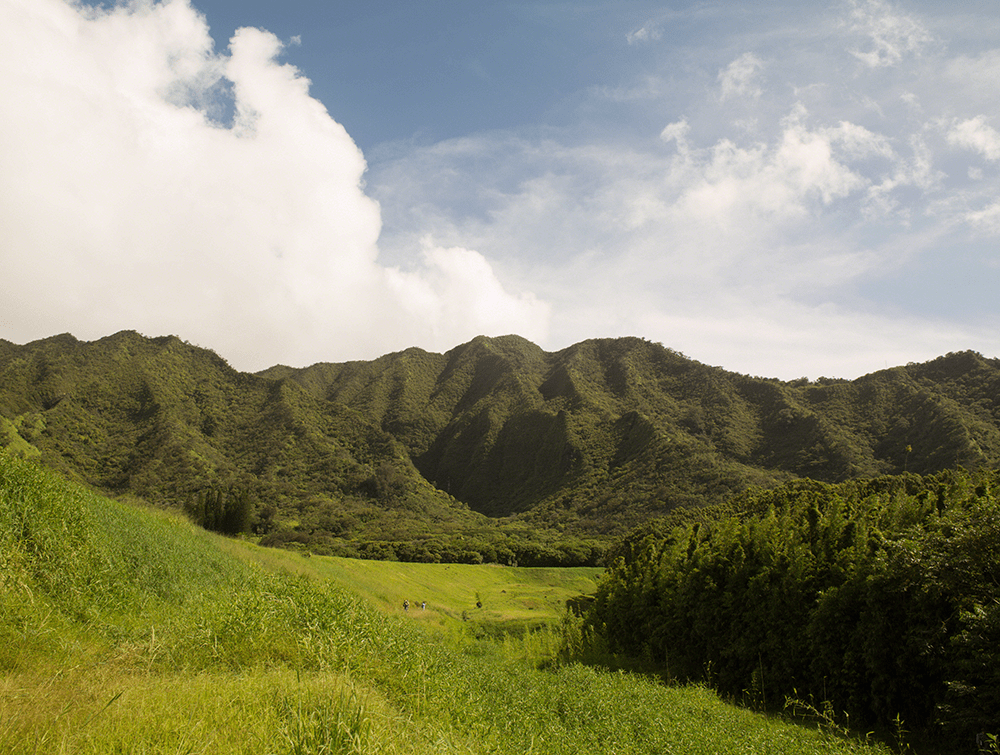 The Kong: Skull Island adventure begins when a team of scientists, soldiers and adventurers come together to explore a mythical, uncharted island in the Pacific, unwittingly igniting the ultimate battle between man and nature.
In Oahu, Hawaii, Vogt-Roberts and company found the ideal backdrop for the film's otherworldly destination on the lush, diverse terrain of Kualoa Ranch.  Nestled between towering peaks, one of the lush valleys that wind through this 4,000-acre private reserve on the windward side of O'ahu was transformed by the production team into an evocative boneyard – one that could only exist on Skull Island.
In one key sequence, the film's exploration team—a combustive mix of soldiers, scientists and adventurers—moves cautiously through this vast wasteland of ancient remains only to realize that while the enormous bones that surround them are ancient, the boneyard is very much alive.
John Goodman (Bill Randa):
John Goodman plays Bill Randa, a senior operative of the mysterious government organization Monarch, who has spent years looking for Skull Island.  According to the actor, while Kong is the island's biggest creature, he's far from the most vicious thing here.
"There are other, even more terrifying creatures on the island, and this is a boneyard of these creatures' victims," confided Goodman.  "It was pretty unbelievable what they developed, with the smoke machines and all kinds of crunchy stuff to walk on.  I hope they aren't human bones," he joked, "but they sure look like 'em."
Tom Hiddleston (Capt. James Conrad)
Tom Hiddleston stars as former SAS officer Capt. James Conrad, who is recruited as the tracker on the expedition to Skull Island.  During the Vietnam War, he had trained both American and South Vietnamese troops in jungle warfare and was sent into wild and war-torn terrain to find and extract soldiers who'd been lost.  "I've always been fascinated by human beings who endure the greatest extremities of nature, and that's Conrad," Hiddleston says.
While he found the real landscapes of Hawaii are breathtaking, the actor noted that it's just a hint of the astonishing world audiences will see in the film. "Skull Island is a place where the natural order of things has been accelerated and expanded.  Like any ecosystem, there is a food chain and a natural order here.  And when human beings tamper with that, Kong comes out of the woods and into their midst."
Samuel L. Jackson (Lt. Col. Preston Packard)
As Lt. Colonel Packard, the battle-hardened Vietnam vet leading the airborne survey of the island, Samuel L. Jackson said his character takes the assignment just as he and his loyal helicopter unit, the Sky Devils, are preparing to rotate home.  "Packard seizes the opportunity for them to have one last flight together before it's time to go," Jackson noted.  "He wants his soldiers to feel like winners, and sees this as an opportunity for them to be heroes and come home with some kind of victory."
While Jackson had been scheduled to film at Kualoa Ranch as one of the stars of Jurassic Park, a seasonal hurricane got in the way.  Needless to say, he relished this new experience. "I like being in warm places when it's winter all over America," he said.  "It really is a blessing and a privilege to able to go out every day and pretend to be something else, and to have as much fun as you possibly can while you're doing it."
Brie Larson (Mason Weaver)
Brie Larson plays Mason Weaver, a self-described "anti-war" photographer who muscles her way into the mission out of curiosity about its true purpose.
Her character comes to the mission after braving some of the most dangerous combat zones and hotspots in the war.  "She has a hard-earned reputation for being fearless and willing to do whatever it takes to expose the truth," Larson described.  "That passion has gotten her into trouble because a lot of publications—and the men captured in her lens—aren't so crazy about seeing the dark side of the war held up to the light.  Another dimension of her is that in the '70s, the battlefield was a very masculine place, and this was a chance to pay respect to the women who really did do this job in that world and are still doing it today." "Weaver has a hard-earned reputation for being fearless and doing whatever it takes to expose the truth," she revealed.
During filming in Hawaii, Larson arranged a whole series of activities for cast and crew, including karaoke, which she called "comedy gold!"  The actress, who earned an Oscar for her performance in the intimate independent film Room, plunged into the adventure of the epic Kong: Skull Island location shoot.  "The whole experience was incredible," she raved.  "This was a far more physical role than anything I've ever done, and it was great to be able to utilize my physicality in a new way."
For the cast and crew, the Oahu shoot spanned not only the jungles of Kualoa Ranch and the Waikane Valley's Ohulehule Forest Conservancy, but Honolulu's Chinatown district.
Tom Hiddleston (Capt. James Conrad)
The adventure also took the cast to the skies.  "Brie and I went with the second unit in a formation of Hueys," Hiddleston recounted.  "We were flying over this volcanic valley and the Pacific in a stunt helicopter, which had no doors, and Brie and I were both leaning out, but fully strapped in and safe.  To get to do that and call it a job is amazing."
QUEENSLAND, AUSTRALIA
After braving the elements in Hawaii, the cast and crew traveled to the Gold Coast of Australia to take full advantage of the country's diverse locales and shoot interiors at Village Roadshow Studios.  The studio facility's huge soundstages became the staging ground for the movie's biggest set—the rusting shell of the SS Wanderer, a derelict ship that long ago washed up on the shores of Skull Island.
Much of the movie's lighter moments are thanks to a character who has made his home within the interior of the ship – Hank Marlow, played by John C. Reilly, a World War II pilot who crash-landed on Skull Island and has spent the last 28 years here.
John C. Reilly (Hank Marlow)
"Hank Marlow is an amazing character," said Reilly.  "He is a man out of his time, but he's also kind of out of his mind from being on the island for so long.  He has gone through his 20s, his 30s, and his 40s pretty much cut off from everything he knows.  I would go stir crazy after six months, let alone 28 years.  Hank has probably gone mad, become sane, and gone mad all over again a dozen different times." 
In addition to the studio work, cast and crew took full advantage of the stunning landscapes on the Gold Coast hinterland, including such breathtaking sites such as Tamborine Mountain, Tallebudgera Valley and the Paperbark Forest.
The sand dunes of South Stradbroke Island provided the magnificent backdrop for the film's opening sequence.  But getting there mirrored some of the scripted adventures.
[viewfinder-gallery]
Alex Garcia (Producer)
"We took a 30-minute boat ride through Jumpinpin Inlet; then a 40-minute ride down to the beach on dune buggies," Garcia said.  "The Gold Coast was fantastic because there are various environments available," Garcia said, "including a desert, dense jungle and rocky outcroppings, as well as stage facilities and top-notch crews at Village Roadshow Studios."
Tom Hiddleston (Capt. James Conrad)
Conrad being an ace tracker, Hiddleston spent as much time as possible out in the wild, learning how to read various terrains.  He said his character, like the best trackers, has a "peculiar sixth sense" when it comes to the natural world.  "He sees the power of nature in Kong and his experience in the wild has taught him the futility of resisting.  It's like shouting into a hurricane.  A certain humility is necessary, and Conrad understands that immediately in a way that perhaps Packard, with all his weapons of war, doesn't.  But on this mission, even Conrad's considerable experience and education is trumped by something new—something primordial and monolithic."
Samuel L. Jackson (Lt. Col. Preston Packard)
Naturally, cast and crew also got up close and personal with the continent's dazzling array of wildlife—from koalas in the trees to families of kangaroos. "It's funny when you're shooting a scene and have to stop because there's a kangaroo hopping by that's not supposed to be in the shot," Samuel L. Jackson said with a chuckle.  "One day, our base camp was invaded by hundreds of kangaroos for some reason.  I guess they were hungry … but Australia is generally not the place where you want to go up to anything with your hand out!"
Jing Tian (San)
In such exotic locales, the crew encountered other, more frightening forms of wildlife. Jing Tian, who plays Monarch biologist San, got the surprise of her life when she encountered two native species at the same time. "A huge caterpillar landed on my head and a snake was just under my seat," she recalled. "A snake!  I was a little scared, but it's all part of the experience of being in such an amazing place."
NINH BINH, VIETNAM
Having circled the globe to create their mythical Skull Island, Vietnam, says Jordan Vogt-Roberts, "was the real show-stopper."  The first major feature film to shoot extensively in Vietnam, it entailed a complex logistical operation to open up the pristine environments in northern Vietnam for filming and to safeguard the ecology before, during and after principal photography.
The production shot for three weeks at various locations in Vietnam, some of which had never before been captured in a feature film.  Filming took place in Yen Phu, Tu Lan and Phon Nha Overlook; in Ninh Binh along the Tam Coc River, Trang An, and Van Long Marsh; culminating in the spectacular vistas of Ha Long Bay.
Tom Hiddleston (Capt. James Conrad)
Some of the country's more remote locations could only be reached by river.  The journey took cast and crew across paddy fields inhabited by grazing water buffalo, then navigate through water-caves in vessels piloted by local boatwomen.  "It was absolutely stunning," Hiddleston said.
Samuel L. Jackson (Lt. Col. Preston Packard)
Jackson described Vietnam as, "It's beautiful and exotic, with incredible topography.  I love traveling, but had never been to Vietnam, so I'm really happy to have finally experienced it."
Jordan Vogt-Roberts (Director)
Vogt-Roberts was left with a lasting appreciation for the country.  "My hope is that audiences will fall in love with Vietnam and that our film inspires an understanding of its beauty," he said.  "My experience there was life-changing.  I fell in love with the culture and the people of Vietnam, and nothing would make me happier than for the rest of the world to see how incredible and strong the country is."
To create the final film experience, footage from three continents was seamlessly woven together to create the home of King Kong.   Kong: Skull Island marked only the second film—and by far the biggest—that Vogt-Roberts has made, but he was undaunted.  He reflected , "What guided me through this epic journey was to create an experience for the audience that will feel so real that it will open up a space for myth and mystery in their lives.  Even though we're making a completely new movie with, with a very different narrative…this is King Kong."
And on March 10, 2017, audiences will embark on an adventure that's even more thrilling when Warner Bros. Pictures and Legendary Pictures bring Kong: Skull Island crashing into cinemas worldwide.
Which filming location would you love to visit?
Check out more about Kong: Skull Island with these articles:
Plan your own Skull Island adventure
Otherworldly activities on Skull Island