By Expedia Guest Author, on September 28, 2020
Traveling to Mexico with Multi-Generational Family
Traveling to Mexico to visit relatives was an annual event that I always looked forward to. Both my parents were born in Mexico and our adventures to visit family were always special to me. As I grew older, I started to venture there on my own.
Last November, we visited my mom's family in Tepic, Nayarit, Mexico. Life got away from me and I realized I hadn't been there in six years! I was craving good mariscos (seafood), tacos, and my family's home cooking. I looked up prices and dates that my kids would be off from school and obtained their passports. I asked my mom if she had any preference for when she wanted to arrive and she was a bit hesitant, which surprised me. But I knew the reason for her hesitation—this would be the first time that we would go to Mexico and need to find somewhere to stay during our trip. My grandmother was much older and could no longer take care of herself and wasn't living at home. Growing up, we always stayed at my grandma's house, so that was never a concern, but this time it was different.
As I was finding flights and places to stay, my mom mentioned to me, "Oh hey, your Tío (Uncle) Miguel may be coming from California and your cousins. Have you asked your older brother if he wants to go too?" I wasn't shocked by this at all, and it seemed to be a tradition for us to tell everyone where we were planning to go and see if they wanted to join us. It was like our informal way of planning a family reunion. We planned for Thanksgiving week and just needed to factor in where we could stay. There were many hotel options in the city of Tepic, but we chose a vacation home to rent. It gave us the space and flexibility to cook our own meals and host family and friends.
On the day of our trip, I was ready, excited, and nervous. It was my daughter's first trip to Mexico—and a long time since I had been. Our flight left at around 1 a.m. and was relatively smooth, until we tried to land. There was a deep fog that prevented our pilot from seeing the ground and landing in Guadalajara. We were diverted to Puerto Vallarta and waited on the runway for over five hours until the fog lifted. I didn't anticipate how exhausted and cranky we would all be as we debated between renting a taxi van or taking the charter bus to Tepic, Nayarit. Looking back, I would have preferred to arrive in the late evening, check into a hotel by the airport, and then venture out the next day to our destination.
I was so happy to arrive because it had been such a long journey. Immediately, I was ready to go and visit my grandma, who was staying at one of my Tía's (Aunt's) house. I didn't want to waste any time and was excited to do everything we had planned. However, I could see how tired my kids and my mom were. I was, too but I didn't want to admit it. So, we settled in, ordered food to be delivered, and notified relatives and friends that we arrived.
The next day was one of my favorite days of the week—Saturday. It was the day the flea market vendors would set up on the street near my grandma's house in Tepic. As a kid, staying in my grandma's house, we couldn't sleep once we heard the vendors setting up at 4 a.m. But my brothers and I didn't mind, we couldn't wait to go shopping and buy toys. As we arrived, it was exactly as I remembered and I could see my kids were excited, too. My mom was happy as she saw familiar faces and neighbors, and purchased some of her favorite licuados (smoothies).
Later that day, we went to visit my grandma and brought her some Kit Kats, which she quickly ate up and hid from my aunt. My grandma has quite the sweet tooth. She would typically hide the cookies or cakes I brought from my favorite bakery in Chicago so she could have it with her cafecito for breakfast. I knew my sweet tooth came from my grandma because my mom was the complete opposite!
The rest of the week went by too quickly. We spent a day at two different beaches—San Blas and Playa Los Amigos, which were roughly an hour's drive from Tepic. At San Blas, we ate at a seafood restaurant called La Picanteria and were able to go from the restaurant to the beach. We left late in the afternoon to visit Playa Los Amigos but didn't stay too long because the ocean waves were too strong and the mosquitos were feasting on us.
We packed a ton into our trip, especially all the food. I love and missed the seafood so much that I was going as far as stealing food from my own mom. We were eating at my cousin's restaurant Muelle 77 Mariscos-Bar in Tepic, and I didn't remember what I ordered, so when the waiter put my mom's plate down, I grabbed it thinking it was mine. A little while later my plate arrived and I laughed because I realized I had eaten my mom's tostadas. I was lucky that tostadas were quick and easy to make, so she wasn't mad at me for too long. We also had what I considered to be the best Thanksgiving dinner: Tamales, carne asada (steak) tacos, and rice.
We shopped in the main square of Tepic where the beautiful cathedral church Catedral de la Purísima Concepción is. The native Huichol Indians sell an assortment of beautiful beaded jewelry, purses, and other artwork. Every time we visited, I bought something to give as gifts when I went back home, or often kept for myself. It's super important to support them as artists and natives of Tepic!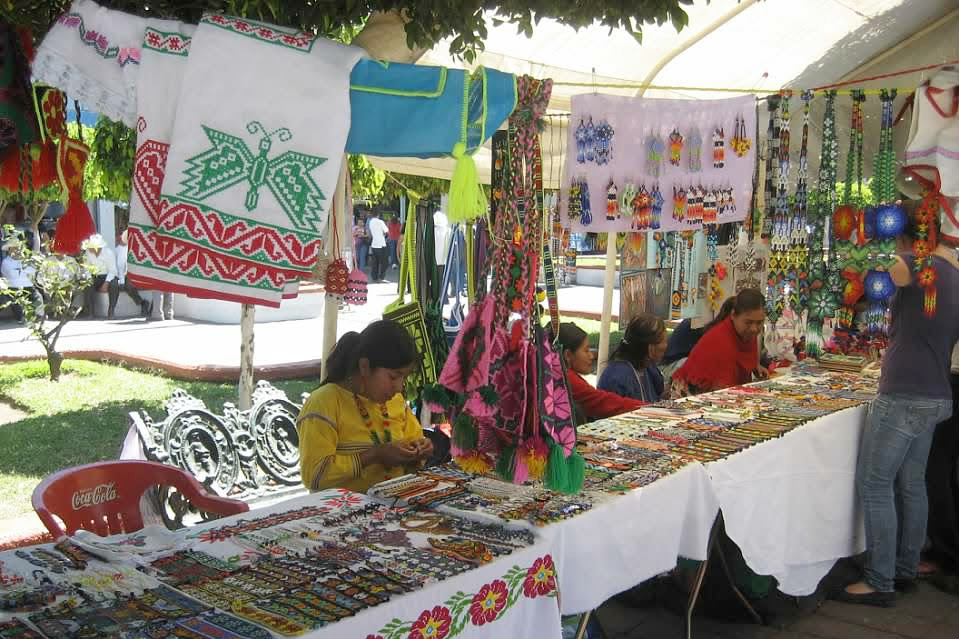 My brother, cousin, and I even had some firsts. One of the things we had never done prior to that trip was drive a car in Mexico. One of our uncles lent us his car, and one day my brother left to go with a friend to a restaurant—he was the one driving us everywhere until that morning. My mom wanted to visit my grandma, so she looked at me and said, "Well, here are the car keys, why don't you just drive?!" I was so scared because I didn't know the city that well, and I knew that it was very different from driving back home. My biggest fear was that in Tepic there are a lot of hills, and I was used to driving in Chicago where everything is flat. I was so proud of myself for being able to get around and also extremely grateful for the GPS on my phone!
Some of the things that I learned on our trip was that kids will adapt to anything. I was worried because my kids didn't speak much Spanish and didn't know most of our family and friends. I was proud and impressed with how respectful they were greeting all of them. Two of my uncles loved my daughter so much they wanted me to leave her in Mexico with one of them because their daughters were all grown up. (As a kid, I often would travel to Yuriria, Guanajuato, Mexico with my dad and spend a couple of weeks with my grandma for Christmas break, so it wasn't uncommon to leave kids with family.) I could see how comfortable my kids were during one afternoon when they went with my uncle to pick up my aunt from work. There wasn't enough room for me to go, so my kids happily went with to pick her up. I thought that was so funny because they couldn't really communicate with each other.
Tepic is a beautiful city and one week is not enough time to do everything it has to offer. In past years, we would exercise by hiking up the beautiful mountain called Cerro de la Cruz. It gives a beautiful view of the entire city and it has these large cross statues at the top that are amazing to see up-close. I also love swimming or renting a boat at the lake, Santa Maria del Oro. In the future, I hope to take my kids back to visit my family and friends as often as I did growing up. There's something special about visiting and connecting with your relatives and exploring where your family is from.
Tips for traveling with your family
1. Be prepared
Pack extra snacks, water, and extra change of clothes in your carry-on. You never know if you will have delays on your flight or spill something on your clothes and need to change. I typically buy water and snacks after the security checkpoint to bring with on the plane.
2. Give yourself extra time for long trips
If possible, try to arrive in the afternoon or evening and stay at a hotel nearby to get some rest before you finish your journey to your destination. This will help set your trip off on the right foot.
3. Bring gifts or treats with you
I always try to bring desserts or Chicago memorabilia to give to family and friends. Likewise, on my return, I typically buy desserts or gifts from where I visited to take back home. It's often easier to buy things after security checkpoint and shop duty free (tax free) in the airport.
4. Take a lot of pictures
Take pictures to capture your trip. It's great to reflect on and talk to your kids about what they remembered or enjoyed on their trip. I also printed the best pictures to make a book and give to my mom and brother as gifts for Christmas.
5. Try to accommodate everyone on the trip
Try to do things for everyone on the trip and understand what is important to those traveling with you. In our case, the priority was visiting specific places and seeing relatives and friends, which was important to my mom (and of course the rest of us).
What are your tips for traveling with family to a new destination?
This blog was written by guest author and employee, Marina Gaytan.
Marina is a product manager on the Expedia Partner Solutions team and recently appointed Vice President on the Latinx Inclusion and Diversity global board at Expedia Group. When she is not in the office, she enjoys experiencing new places through food, music, art and sports with her family and friends.