By Kohleun Adamson, on September 13, 2019
What You Need to Know About Oregon Shakespeare Festival
"Can one desire too much of a good thing?" Orlando asks in "As You Like It." Each year, the Oregon Shakespeare Festival puts Orlando's query to the test with several months of plays and musicals in Ashland, Oregon. Well, theater enthusiasts like you know there's no such thing as too much performing arts. This celebration of storytelling has a new lineup every year, with a mix of Shakespeare's plays and the works of contemporary playwrights. The 2019 season features compelling productions, including the world premiere of "Mother Road" by Octavio Solis and Tony Award-winning "Indecent" by Paula Vogel.
Keep reading to learn everything you need to know to get the most out of your OSF experience.
What You Need to Know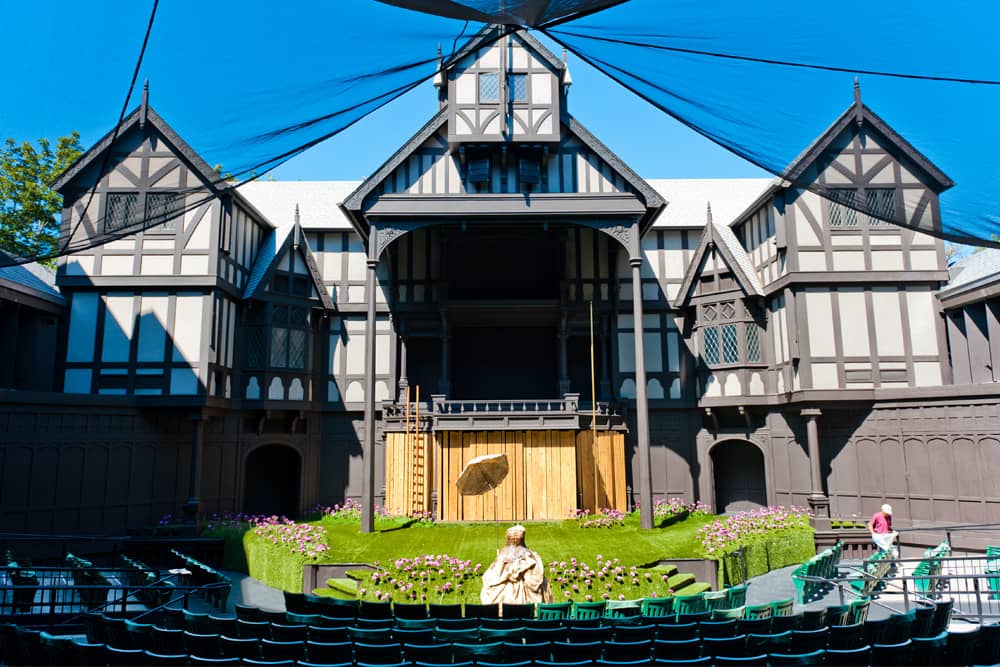 Time and Date: Mar. 1 – Oct. 27, 2019, various times
The Oregon Shakespeare Festival fills the city of Ashland with performing arts for more than half the year. The dates and lineup vary each season. March 1 marks the first performance of 2019, the opening night of "As You Like It," and the final performances of the festival will take the stage on October 27.
2019 Season Highlights
Each year, the lineup at OSF includes a mix of plays and musicals that will challenge and delight you. Whether you want to see the Bard's work come to life in new ways or you seek out contemporary offerings from today's boldest artists, you'll find it in Ashland.
In 2019, Bill Rauch concludes his 11-year tenure as Artistic Director by directing two productions: "Mother Road" and "La Comedia of Errors." The latter is a bilingual staging of the Shakespearian classic.
At the same time, Nakita Garrett begins her role as Oregon Shakespeare Festival's Artistic Director and directs "How to Catch Creation."
Make sure you see "Cambodian Rock Band" by Lauren Yee, winner of the 2019 Harold and Mimi Steinberg/American Theatre Critics Association New Play Award, among other accolades.
Matinee Discussions follow each midday performance and offer insights into the creative process, as well as a chance to explore the themes of each play.
This season's hotly anticipated production "Indecent" has been commissioned by OSF's American Revolutions project and directed by Shana Cooper.
Oregon Shakespeare Festival Tickets
Oregon Shakespeare Festival tickets are available directly from the OSF tickets website or by calling the box office. You can book season tickets or plan ahead for the new season and reserve preview tickets for an early look at the year's top productions.
Ticket Discounts
Full-price season passes to the Shakespeare festival in Oregon are very affordable, considering the season runs for 8 months and includes several plays. You may also be eligible for the following discounts:
Youth 6-17 Discount (30% off)
Member Discount until March 1 (25% off)
Bricks Member Discount (15% off)
Previews Only Discount (25% off)
Weather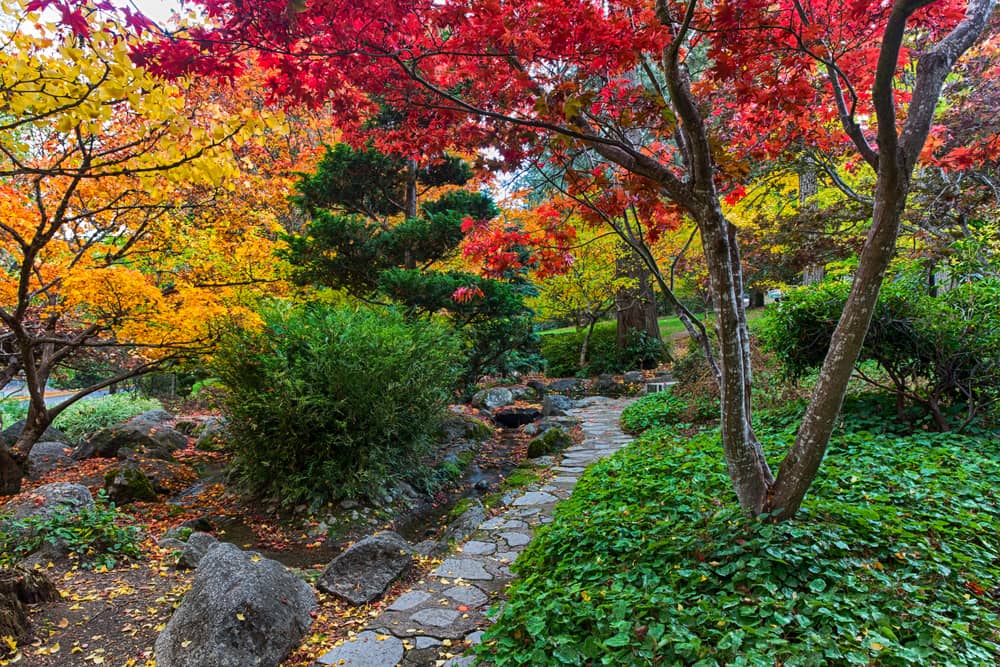 Ashland's Oregon Shakespeare Festival enjoys the temperate weather of Southern Oregon. In fact, Shakespeare could have been daydreaming about June in Ashland when he penned, "Shall I compare thee to a summer's day?" (he probably wasn't).
Because OSF spans several months, consider the seasons to help you pack for the best experience possible.
Spring: When the events kick off in early spring, expect mild weather with cool temperatures in the 50s and chances of gentle rain.
Summer: As the festival continues through the summer months, pack for sunshine and warm temperatures ranging from 70 to the high 80s.
Fall: Finally, autumn in Ashland is beautiful and one of the best times to visit the region. Expect cool, crisp days with clear skies.
Food and drink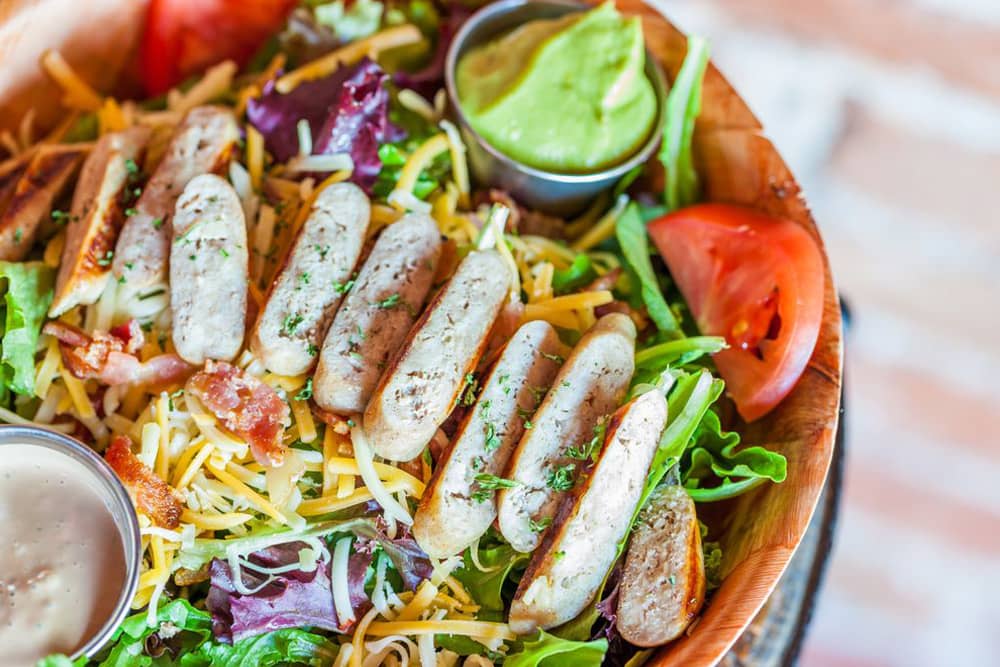 While you're attending Ashland's Shakespeare festival, take time to savor the local eats. It's easy to find vegan, vegetarian, and gluten-free menu options in this city. Check out these locally loved hot spots:
Closest Airport
Does Ashland, Oregon have an airport? The closest major airport to Ashland is Rogue Valley International-Medford Airport in nearby Medford. If you fly in to attend the festival, you'll arrive just 16 miles northwest of downtown Ashland. Medford Airport receives flights from all over the western United States, so finding flights to Ashland is easy.
Transportation
Driving is a convenient option, especially if you're traveling in a small group. Ashland is small and the festival welcomes over 400,000 visitors each year, so navigating the city is straightforward, but parking will require some planning (arrive at least 20 minutes before performances begin to find parking).
For handicapped parking spaces and parking for patrons with mobility needs, look for spaces on the lowest level of the parking garage behind Thomas Theatre.
For more detailed parking information, check out this map of downtown public parking options provided by the City of Ashland.
Biking and walking are great transportation options for people who want to save money on rental cars. Ashland is very environmentally conscientious, and it's easy to make eco-friendly transportation choices while you visit.
Downtown Ashland is very walkable and public transportation is available for your airport commute.
Ashland is a great place for cyclists, whether you're seeking adventure or simply trying to get around town. Park your wheels at the bicycle corrals on Oak Street and Third Street.
Public transportation is plentiful along Main Street, with several bus stops between Wilmer Street to the north and the Southern Oregon University Campus near the south side of Ashland. The bus commute from Medford Airport takes approximately one hour and includes a transfer, but it's a direct route.
Where to Stay in Ashland
Ashland hotels do fill up for the Oregon Shakespeare Festival. Fortunately, the events last almost year-round, so there is less of a spike in rates and occupancies.
The main festival venues—Allen Elizabethan Theatre, Angus Bowmer Theatre, and Thomas Theatre— are all located in downtown Ashland directly north of Lithia Park. Thanks to the small-town vibes and nonstop performances all over the city, you can stay practically anywhere and enjoy OSF.
Book these top hotels near the Oregon Shakespeare Festival:
What to Do in Ashland, Oregon
If you ask any local, "What is Ashland, Oregon known for?" you're going to get a few answers, and Oregon Shakespeare Festival is just one of them. The city is a renowned community for artists of all disciplines, award-winning wineries, and unforgettable outdoor adventures. Include these activities on your itinerary when you aren't celebrating the Bard:
Oregon Cabaret Theatre: This city landmark produced its first show in 1986 and has been filling Southern Oregon with song, dance, and sequins ever since.
Local performances: In addition to the official OSF lineup, local theater artists produce popup performances all over the city.
Lithia Artisans Market (LAMA): Southern Oregon has a diverse and active community of artists and craftspeople. LAMA is dedicated to developing and selling their work and showcasing the region's musicians.
Wine tasting: Ashland is surrounded by some of the best vineyards and wineries in Oregon. Take time to enjoy a tasting at nearby favorites, including Dana Campbell Vineyards, EdenVale Winery, and Irvine & Roberts Vineyards.
Schneider Museum of Art: Schneider Museum of Art is affiliated with the Oregon Center for the Arts at Southern Oregon University and features sculptures, mixed media, and other visual arts. It's a great conversation starter!
Water adventures: For thrills and chills, take a whitewater rafting trip on nearby waterways. You'll want to carve out a few hours for an exciting half-day raft trip on the Rogue River.
As Shakespeare once wrote, "All the world's a stage, and all the men and women merely players." If that's the case, play the role of savvy traveler on your next trip to Ashland!