By Heather McManus, on July 16, 2019
6 reasons Norwegian Cruise Line might be the right fit for you
Choosing the right cruise line can be one of the toughest decisions you make as a new cruiser. Each line offers its own distinct flavor with accommodations, amenities and itineraries that cater to specific types of travelers. If you're considering Norwegian Cruise Line for your next vacation, here are six reasons it might be the right fit for you.
1. If you like freedom and flexibility
Norwegian was one of the first cruise lines to do away with the rules that many people associate with the early days of cruising. Norwegian Cruise Line introduced the concept of Freestyle Cruising. Although most cruise lines have now followed suit by removing set dining times and formalwear nights, Norwegian Cruise Line is still a pioneer in this area, boasting itineraries, activities and dining options that let guests to do what they want, whenever they want.
Even Norwegian's booking offers allow for generous flexibility depending on your interests and travel habits. With Norwegian's Free at Sea offer, guests can choose up to five free offers like an onboard beverage package, free specialty dining, free wi-fi or discounted shore excursions.
2. If you're traveling solo
For many years, cruising was not a particularly economical or thoughtfully designed vacation for solo travelers. All that changed when Norwegian Cruise Line  introduced their innovative studio staterooms, specifically priced and marketed for travelers cruising on their own. The popular studios average 100 square feet and cost significantly less than paying double a single fare.
The staterooms alone aren't what's earned Norwegian the title of "Best Cruise Line for Solo Travelers" from Porthole Magazine for five years running. The experience for solo cruisers onboard Norwegian's ships is also incredible. Solo travelers have plenty of opportunities to meet others travelling alone during onboard meet-ups. The Studio Lounge is an exclusive area accessible only by studio stateroom guests where they can enjoy complimentary refreshments, relax or have a drink with fellow solo cruisers onboard.
3. If you want to experience the best of Broadway at sea
Why spend hours (and a small fortune) getting tickets in New York when you can experience the best of Broadway every night with Norwegian Cruise Line? Since the introduction of Blue Man Group on Norwegian Epic back in 2010, the cruise line has continued to set a new standard for entertainment at sea.
Each ship offers an exciting musical that could just become the deciding factor for which ship you choose! Onboard the new Norwegian Breakaway you'll relive the anthems of the 1980's with the musical, Rock of Ages. On Norwegian Encore you'll enjoy the six-time Tony® Award winner, Kinky Boots, while the smash hit Footloose will have you dancing in your seat aboard Norwegian Joy.
Musicals not your thing? Guests of all ages will be dazzled by world-class acrobats and aerialists flying through the air in the Cirque Dreams performance on Norwegian Getaway and Norwegian Epic. You'll also find live music, including the legendary Beatles cover band singing all your favorites at The Cavern Club. With comedy acts, dance performances, variety shows, and deck parties to entertain you throughout your cruise, you'll never be bored.
4. If you're all about the onboard thrills
Norwegian Cruise Line's newer ships in the fleet offer some of the most brag-worthy  amenities at sea. Here are a few you won't want to miss.
Two-Level Onboard Race Track
As the first cruise line to offer a race track at sea, Norwegian enables guests to take a hairpin turn onboard at speeds of over 20 mph! With electrically-powered cars, floodlights and a full timing system, this race track spans two levels on the top of the ship giving racers a thrilling ride with a side of ocean views.
Galaxy Pavilion Augmented Reality Center
Have you always wanted to save a kitten on a busy street or escape the oncoming attack of vicious dinosaurs? Find these adrenaline-inducing experiences and more in Norwegian cruise lines' 10,000 square-foot augmented reality center, Galaxy Pavilion. With convincingly realistic 3D screens, a 7D cinema, and virtual reality goggles, you can experience a whole other world without ever leaving the ship.
Epic Waterslides
Norwegian boasts some of the best waterslides you'll find on a cruise ship including Free Fall, the fastest drop slides at sea on Breakaway Class ships. On Norwegian's newest ships, you'll find Ocean Loops, a waterslide extending 11 feet off the side of the ship and towering 159 feet above the ocean. With clear tubes appearing periodically on the way down, you'll catch a glimpse of the ocean way, way down below on this unforgettable ride.
Walk the Plank
Once voted "Best Onboard Thrill" by Porthole Magazine, The Plank gives you a taste of the pirate life by letting you walk out high above the ocean along a skinny board. Although you'll always be safely strapped into your harness, it's still guaranteed to get your heart pounding!
5. If you have the budget for upgraded accommodations
Every cruise ship offers suites, but Norwegian Cruise Line takes their upgraded accommodations to a new level with The Haven. Tucked away at the top of the ship, this onboard sanctuary is home to the largest suites at sea (sleeping up to 8). The Haven feels a world away from the hustle and bustle of the rest of the ship. Not only are the staterooms themselves amazing for families or groups (say hello to 6,700 square feet of luxury!), guests staying in The Haven also receive exclusive access to their own private lounge, restaurant, sundeck and fitness area.
Hate line ups? The Haven is for you. Just flash your platinum keycard and skip the lines wherever you go—from embarkation to disembarkation, specialty restaurants, onboard entertainment and tenders to shore. If that's not enough, you'll also enjoy 24-hour butler service, a full-stocked mini bar, and an exclusive invite to a cocktail party with ship's officers during your cruise. No big deal.
6. If you want to cruise to Hawaii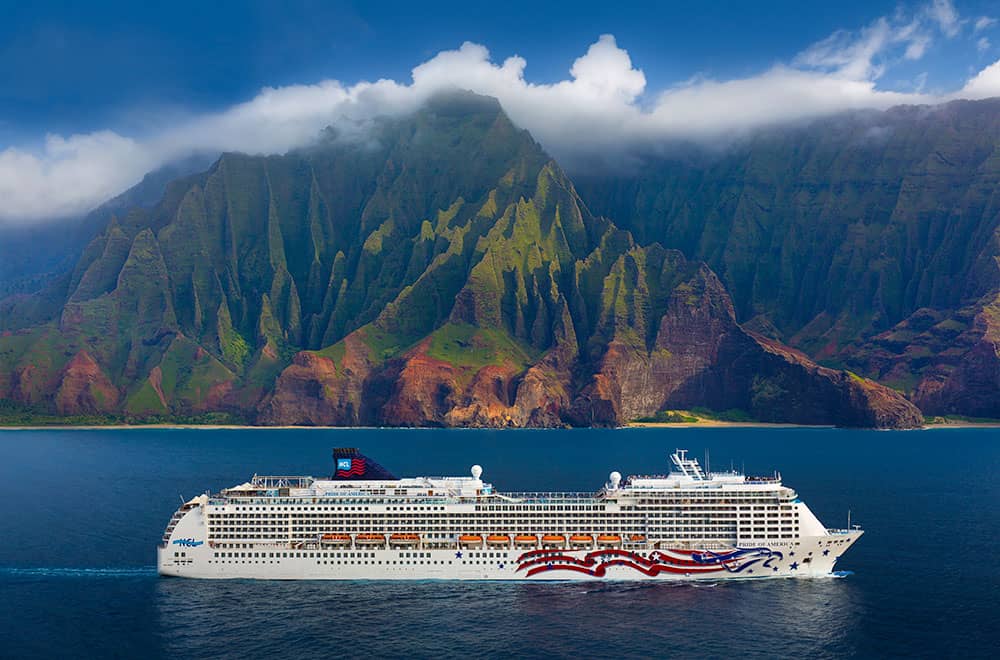 Looking to get your aloha on? Norwegian Cruise Line's year-round, 7-night sailing on Pride of America is by far your best option for experiencing Hawaii on a cruise. Earning Porthole Magazine's "Best Hawaii Itinerary" for 12 years in a row, Norwegian enables you to experience four of Hawaii's idyllic islands in the span of just a week! With overnight stays on Maui and Kauai, you'll enjoy 100 hours of in-port time giving you the opportunity to experience more of Hawaii's Polynesian paradise in a short period of time.
Since Norwegian is the only cruise line to homeport in Hawaii, you won't find a round trip Honolulu sailing on any other ship. Since most other lines only offer Hawaii sailings of 15 days or longer departing from the US mainland, over half your cruise will be spent at sea just getting to and from Hawaii's remote archipelago.
Whether you're a family on a budget, a couple looking for luxury, or a single wanting to meet others while cruising solo, Norwegian has great options for every type of traveler. We hope you found this guide helpful in deciding if Norwegian cruise line is the right fit for you!
Search Norwegian Cruise Line Cruises